Weighted Blankets, Vests & Scarves Book Review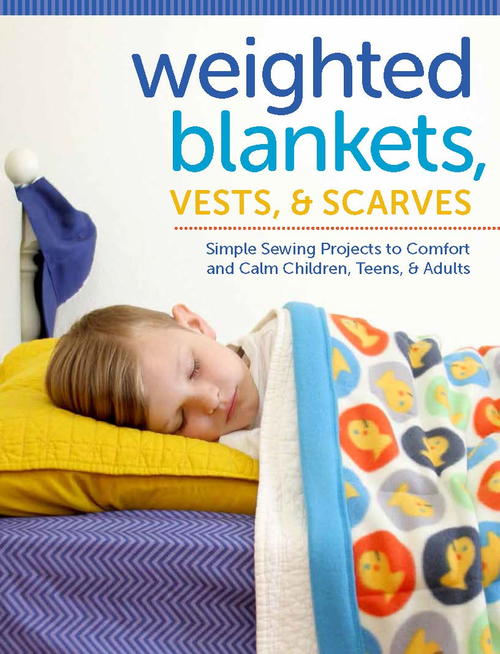 Weighted Blankets, Vests & Scarves Book Review
www.susanwhitesullivan.com
Reviewed by , Editor, AllFreeSewing.com
A blanket that hugs you back sounds pretty comforting, doesn't it? Weighted Blankets, Vests and Scarves provides sewing patterns for wonderfully soothing blankets and garments.

Susan Sullivan's method of adding weight to sewing projects involves using polypropylene pellets. It's a fairly simple method that can add a therapeutic element to blankets, vests, scarves and more.

Fascinatingly, weighted blankets, vests and scarves are used as treatment for anxiety, autism and more, as Sullivan explains in the book. She mentions a 2008 study that showed weighted blankets are an effective anxiety aid for adults.

At the end of the day, it's very comforting to snuggle in bed under a heavy comforter. With the projects in this book, you can have that level of relaxation in any setting. The weight of the pellets will relax and soothe adults and children alike.
Children are comforted by the weight of a blanket, lap pads or scarf as it adds to their feeling of security. It can be very calming, especially for children with autism, ADHD and more.

The book provides five full projects including instructions, photos and detailed figures. Sullivan gives recommendations based on the weighted blanket community's preferences, including brands, amount of pellets, and more.

Pellets are an easy tool for sewists to make sewing projects even more valuable, and this book is a great way to ease into using them in other sewing projects confidently.

If you've ever wanted to make a weighted sewing project, Weighted Blankets, Vests and Scarves is a straight-forward, concise and easy-to-follow guide. This book is available at Amazon and Target.
 
Your Recently Viewed Projects