Me & My Sister's Fun Quilts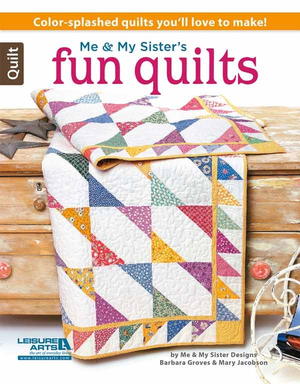 Me & My Sister's Fun Quilts
Gifted by: Leisure Arts
www.leisurearts.com
Reviewed by Laura Fernandes for AllFreeSewing.com


Me & My Sister's Fun Quilts from Leisure Arts is the next collection you'll want to add to your stash. The six quilting patterns in this book are beginner friendly while a seasoned quilter could use them whip up a quilt over a long weekend. These are designs put together by two very talented quilters who also happen to be sisters, Barbara Groves and Mary Jacobson.

All the designs in this book include clear instructions for completing the quilts. Precise measurements for cutting up the fabric are included in every design. All the designs have straight edges that make the patterns extremely simple to piece together. The patterns provide excellent color combination ideas for choosing the fabrics. Every design provides measurements for the individual block sizes and for the completed quilt size making it easier to plan and choose the appropriate project size.

The Star Search (p. 4) gives a unique twist to the use of half square triangles. The completed quilt would make a wonderful gift for a child in the family and with proper fabric color selection could work for an adult too. The pictures provide detailed instructions making this seemingly complicated design easy to piece together in a jiffy. As with all the designs in the book, the basic block can be used to imagine other different creative designs.

The Leap Frog design (p. 16) is extremely playful quilt having all straight edges for the building blocks of squares and rectangles. The quilt pattern could be adapted to make an excellent crib blanket for a newborn in the family. The names for the quilt designs match the choice of color fabric used, which means that the completed quilt could be named as per ones imagination. The design for the Orange Slices and Pink Lemonade (p. 36 and p. 10) could be easily adapted to any fabric color combination on hand.

An entire section in the book is devoted to general instructions on completing the quilt. The tips provided in obtaining perfect points when piecing would be helpful to any quilter. Various ways to border the quilt, including techniques to make the binding from fabric are included in this section.

This book will be a great addition to any beginner wanting to take up a quilting project and to experienced quilters looking out for adding new tricks and inspiration for a project.
Your Recently Viewed Projects