How to Plan Sewing Christmas Gifts
Whether you are making Christmas sewing projects to sell or give as gifts to loved ones, these tips will help you plan ahead and succeed.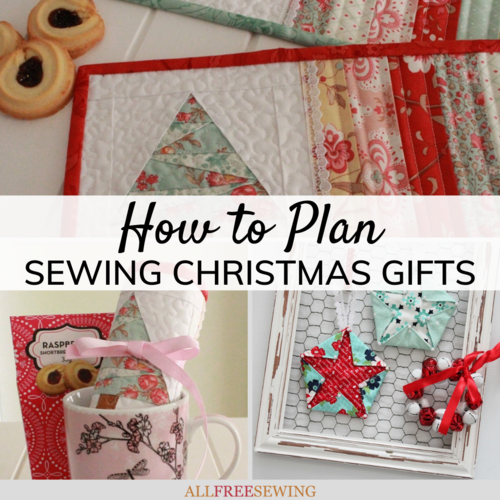 Christmas is the most magical time of the year but the hustle and bustle of Christmas shopping can be stressful, tiring, and a huge drain on the family budget.

With a little forward planning, you can sew personalized gifts for everyone on your shopping list without breaking the bank or falling into the holiday blues. Retailers will tempt us with the latest gadgets and the most sort after products, but a handmade gift portrays a whole lot of love to its recipient.

Trends and technology change in a heartbeat but something made from the heart will be treasured forever. But while sewing gifts for Christmas will put you in a festive mood, you don't want to be madly sewing the last pieces together on Christmas Eve.

So here are a few ideas for How to Plan Sewing Christmas Gifts that will help with planning your projects so you can sew something special for everyone.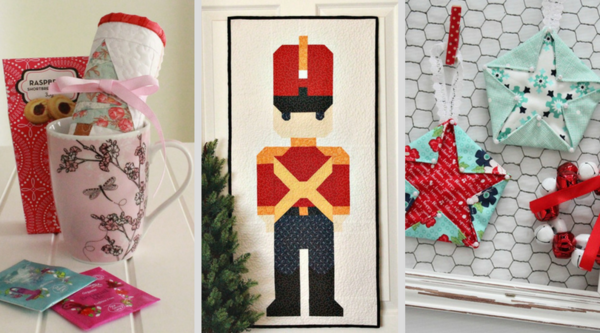 Christmas Sewing Gifts Planning: Start Early
It's never too early to start planning your Christmas sewing and some people like to sew gifts all year long.

Before you start, write a comprehensive list of gift recipients and plan the projects you would like to sew. Be realistic - you need plenty of time for larger projects so start sewing early and endeavor to work on them at regular intervals. You can achieve a lot if you consistently devote a small amount of time each day to sewing projects.

Make extensive lists of all the materials required for each project and tape them to the lids of individual project containers. As you shop or gather your supplies, add them to the appropriate container and mark them off your list. This will keep everything together and organized, avoiding that last minute dash to the shops for a misplaced zip or those matching buttons. Keep a project container near your sewing machine so you're organized and ready to sew when time allows.

Shop from your fabric stash first and then add newer pieces of fabric to keep costs down. Be sure to shop the sales and use any discount codes companies offer prior to Christmas. Leftover batting scraps are perfect for smaller projects and consider recycled materials such as denim, preloved clothing, and linen etc. which add that personal touch to all projects.
 
Large Sewing Projects: Consider Your Time Frame
You may not have the time to sew a large project for every family member so consider sewing a quilt that can be shared as an entire family. Photo quilts are a great way to incorporate everyone into a gift, and you can personalize it by embroidering their names on the images or in the quilt sashings.

A quilt made from family clothing is another way to include everyone. Items such as old t-shirts can be sewn together to make a big cozy quilt that the whole family will love. It's also a very special way to incorporate items from a loved one who has sadly passed.

If you have a family member who is in a nursing home or hospital, a fidget quilt is a wonderful way to keep their minds active. Sew together some large squares and incorporate old zips, buttons, textured fabrics, buckles, ribbons and studs etc. Anything that will help to keep their hands and minds busy.

When choosing a quilt pattern, look for designs that are quick and easy to sew. Precuts such as Jelly Rolls and Charm Packs will help reduce your cutting time, and chain piecing makes sewing quicker and more efficient. Large-scale block patterns are quick and easy to sew and they're a great way to showcase some pretty fussy cut fabric.

Quilting panels are another great idea for large quilts, especially children's quilts.  Border them with some simple, scrappy blocks or plain borders to achieve the right sized quilt.

If you're planning on sending your quilt tops to your long arm quilter, make sure you book in early and have them returned to you with ample time to sew on the bindings. If you're quilting your own quilt tops, consider simple designs such as straight line quilting or serpentine quilting to finish them quickly, and avoid undue stress on your body.
 
Smaller Sewing Projects: Something Small for Everyone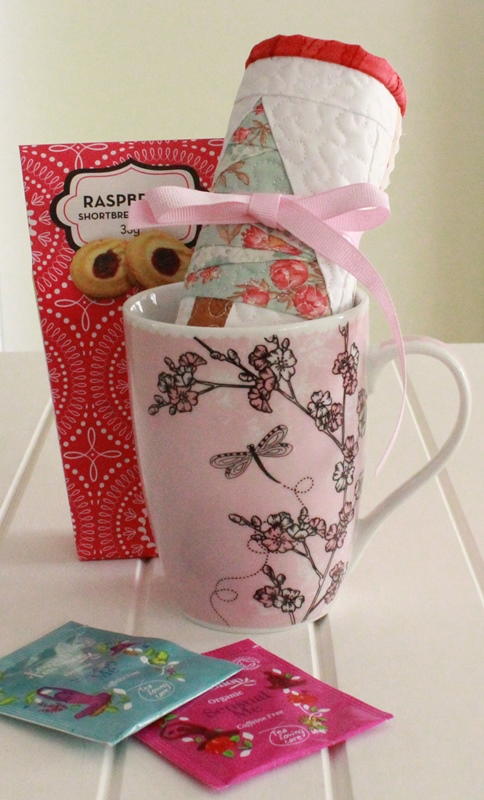 You can find my free Christmas Mug Rugs pattern (shown above) HERE.

A mug rug with a pretty coffee cup and home-baked cookies makes a lovely gift and shows someone you care and appreciate them. Gift bags or pouches can be filled with an assortment of personal items such as nail polish, notepads, pens, jewelry, sewing supplies, kitchen gadgets and gardening tools. Christmas themed placemats and coasters can be gifted with plain tablecloths, china, coffee mugs etc. to add a homemade touch to their dining table.

One of my favorite gifts for children is books. Sew a bright, cheery cushion top and include a pocket in the back to store their favorite book. A library bag will also encourage children to read and you can include a few of your favorite books to add to their library collection.

Gifts do not need to be elaborate. A few years ago I made a basket of simple pincushions and left them on the table at my mother in laws. Every time a nurse, cleaner or neighbor visited they chose their own pincushion to take home as our gift for helping us with her care.

I also like to include a small item in the Christmas cards I send to my family and friends, and last year I included some Fabric Star Hangers. Cards will be disposed of but these little ornaments can be used every year on their Christmas trees.

You can find my free Fabric Star Hangers pattern (shown below) HERE.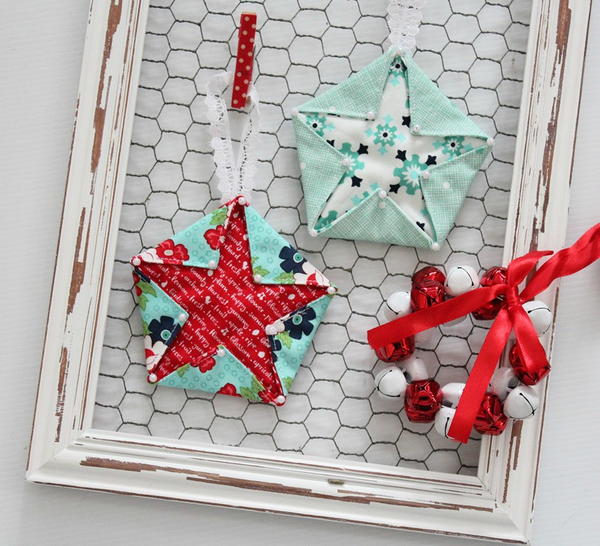 Planning Decorations: Deck the Halls
Christmas decorations also make beautiful gifts, and they will be displayed for many years to come. Advent calendars and tree skirts are very popular but also consider mini quilts, bunting, cushions, Santa sacks and table runners.
A Christmas apron or oven gloves would make a lovely gift for your Christmas lunch/dinner host, along with a nice bottle of wine and a promise to clean all the dishes.

You can find my Christmas Mini Quilt Patterns (shown below) HERE.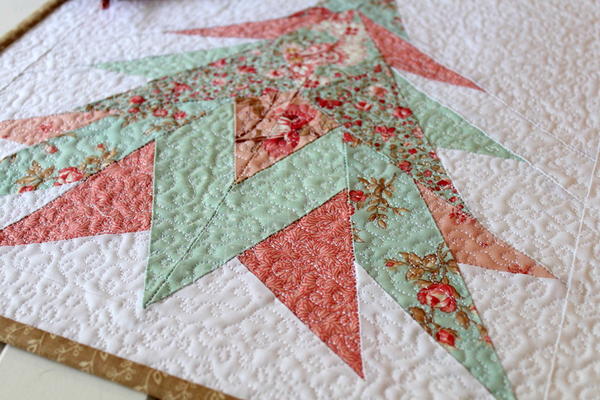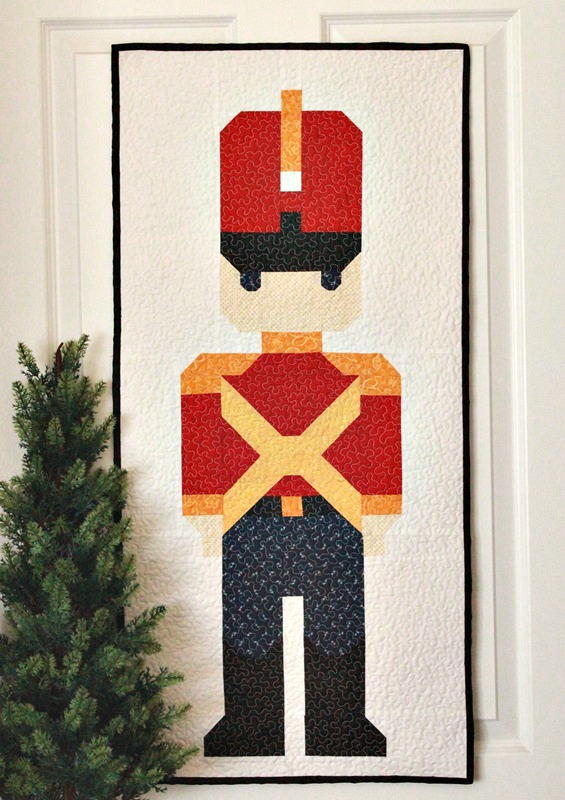 Sewing Group: Sewing Together with Friends
Sewing together as a team keeps us motivated and focused. Organize a sewing group with a few friends and meet as often as time allows. Inspire each other with new ideas and techniques and offer a hand to those struggling with their Christmas sewing deadlines; you can hand sew the binding of a quilt quickly if everyone grabs one side and starts sewing!

It's also a great way to share your sewing supplies. You can save money by buying items such as batting in rolls and sharing as a group or selecting fabrics from each other's stash.
 
Special Gifts: The Wishing Tree
Don't forget those who struggle every day to provide for their families. In Australia, we have Wishing Trees set up to collect gifts for children of all ages. A hand-sewn quilt, doll, cushion or jacket will bring much more comfort and security to a child than the latest gadget or toy.

Sew something bright and cheerful and pop it under the Wishing Tree. Be the reason someone you have never met smiles on Christmas Day.
 
Consider an Online Shop: Fill it with Handmade Items
Shopping from home is more popular than ever before, so Christmas is the perfect time to open an online store, such as an Etsy shop. Everyone loves the look and feel of handmade items but not everyone can sew or has the time. Make multiples of Christmas ornaments and stockings, hair accessories, library bags, cushions, advent calendars, tree skirts etc. and sell your items online.

Promoting your online business early will allow you to take custom orders and work with your customer's one on one to make their Christmas shopping stress free. Be aware of shipping times as the postal services will be inundated with Christmas deliveries during this busy time of the year.
 
Good Luck!
Sewing gifts for Christmas is rewarding and lots of fun. Make sure you have an achievable plan in place and allocate time to sew your projects. Put on your favorite Christmas music and show everyone just how much your care with a gift that you have sewn especially for them. You can't buy the joy these gifts will create!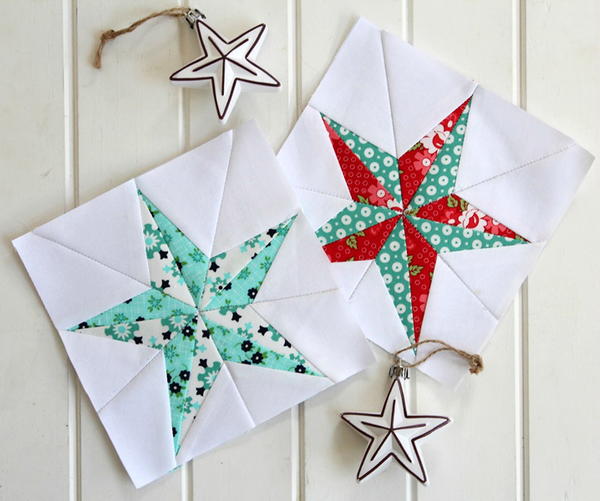 How far in advance do you start crafting for Christmas?
Let us know in the comments!
Your Recently Viewed Projects