How to Thrift Fabric: The Ultimate Refashioning Guide
You will love this guide to garage sales, thrift shopping tips, and DIY refashioning projects!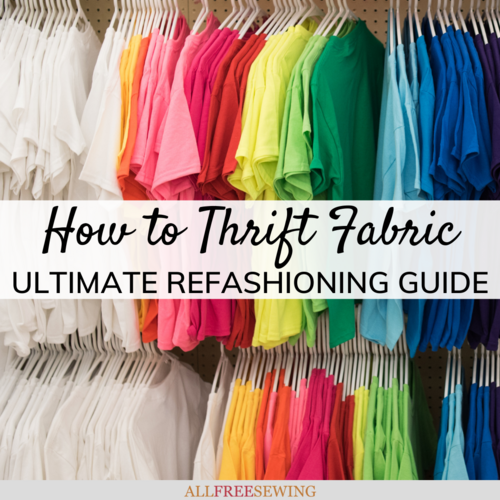 Are you unsure of how to find the best garage sales in your area? Do you need thrift store shopping tips for getting the best finds? Are you looking for DIY upcycling projects for that haul of clothes you just thrifted?

If you have any of these questions or more, then this How to Thrift Fabric: The Ultimate Refashioning Guide for thrifting, and these tips for going to garage sales are for you!

This article will discuss strategies and suggestions for planning your thrift-shopping and garage sale trips, tips on what to look for once you are at the sale or store, and ideas for refashioning sewing projects!

You'll be an expert on thrifting by the end of this how-to thrift shop guide, and all of your friends will be amazed at how you always seem to scout out the best deals!

Sign Up For More Free Patterns >>>
 
Planning a Garage Sale or Thrift Shopping Trip
Do you want to find the best garage sales and thrift shops in town, but are unsure how to start? Are you looking for negotiating tips for garage sales? Then you have come to the right place! Check out these basic tips to prepare you for thrifting:

Use websites and apps to help you find yard sales and thrift stores near you. Here are some apps that are tried and true:
For garage sales, you can use these websites to find yard sales near you: Garage Sales Tracker, Yard Sale Search, and Craigslist. In terms of phone apps for tracking down these sales, try Garage Sale Rover or  Yard Sale Treasure Map.

While Yard Sale Treasure Map pulls locations from Craigslist, you can also manually add garage sales you read about in your local newspapers or heard about through word of mouth to your route.
 
For thrift shopping, you can use the websites for Goodwill, Salvation Army, and the Thrift Store Directory to find thrift store locations near you. In terms of phone apps, try using ThriftBuddy!
Now that you've found where to go shopping, here are some tips for preparing for your trip: 
It's better to go shopping early in the morning, instead of in the late afternoon at garage sales or late in the week at thrift stores when all that's left are the items that have already been picked over!
 
Bring your own reusable bags.
 
Bring lots of small dollar bills, since many families and stores might not take credit cards! Plus having smaller bills is great for when you are negotiating prices or buying lower-priced items.
 
Follow your local thrift and vintage stores on social media so you can be one of the first to find out when the next big sale is happening or when your favorite store gets in new vintage pieces to sell!
Not sure what fabric you're looking for? Check out this video on
sewing with different kinds of fabric
!  
What to Look for in Thrifted Fabric Items
You are now ready to start shopping! You have all of the locations scouted out, know all the tips and tricks for planning your big day...but wait! What are you even looking for? Here are some tips to help you find clothing and items that will be useful for you in your refashioning and crafting endeavors:
Buying larger fabric items means having more materials for your refashioning projects. Look for finds like sheets, pillowcases, and large shirts! 
 
While it is simple to upcycle thrifted clothing, it is important to consider how big of a DIY project you want to have.

For instance, Stephanie Woodson from Swoodson Says suggests that "if you're looking to buy something and adapt it to your taste (a refashioned project), try to keep your comfort level with sewing in mind. A shirt that is three sizes too big will likely have to be completely deconstructed, whereas a shirt one size too big will require more minor adjustments."
 
Thrift stores and garage sales can sometimes have leftover fabric bundles, so be on the lookout for these great finds!
 
Don't be afraid to get creative! Turn an old pillowcase into this adorable Ten Minute Pillowcase Apron, or a bedsheet into this Vintage Sheet Shower Curtain that makes for a great DIY home decor project!
 
Look for fabrics that won't pill. This means avoiding fiber blends that often combine natural and synthetic fibers that rub against each other, synthetic fabrics like polyester and loosely woven knits.
 
Remember that it's okay to buy flawed fabrics since you will be refashioning these materials. However, it is important to keep in mind elements of used fabric that you can versus cannot change.

Stephanie Woodson from Swoodson Says points out that you can easily change fabric colors with bleach and dyes, small holes by designing and cutting around them, and clothing size. Elements of used clothing that you cannot easily change include strong odors and stains.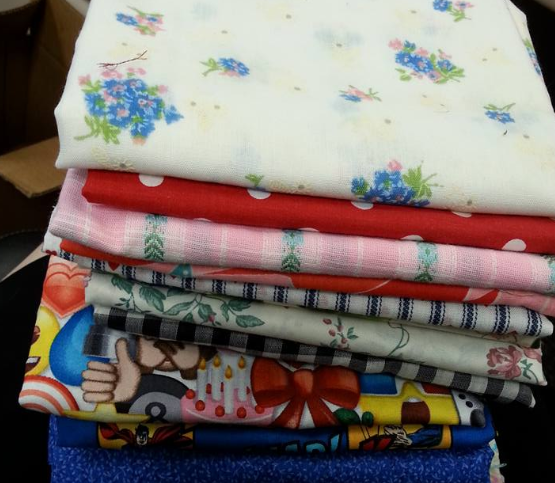 Vintage vs. Thrifted Clothing
What's the difference?
There is a difference between vintage and thrifted clothing items. Vintage clothing expert Doris Raymond in an interview with Style Caster notes that the difference between vintage and thrift items is that:

"you can find great vintage items in thrift stores, but you shouldn't find obvious thrift items in a vintage store. Vintage denotes something special—that an item has stood the test of time and has proven to remain relevant for any number of reasons—timelessness of style, [quality], historical or cultural significance or interesting provenance."

How do I know if an item is vintage?
To find vintage items, Raymond suggests that you look for a metal zipper, pinked seams/saw-toothed edges (these are zig zag seams that prevent fraying), a "made in the USA" label, check if the label is from this list, or see if the item has a union label.

Fitting vintage clothing
In terms of finding vintage items that fit, Raymond notes that "Often with vintage, it's not the size but the undergarments that truly make a piece fit correctly. 'Sizing standards have changed through the decades, but not as much as ladies undergarments have,' says Raymond.

'Every era of the 20th century has a distinct silhouette that required specific shape-shifting garments—from corsets to girdles to bullet bras and beyond.' This means a specific vintage garment might not look the same today without a specific undergarment, so its worth noting that before you buy."

Luckily, you can easily get vintage clothing altered, or use your vintage items in your next DIY project to bring these clothing pieces into the twenty-first century.

Storing vintage clothing and fabric
To preserve your vintage clothing, put your items on shelves that avoid direct sunlight. Make sure you avoid hanging your pieces on hangers since the fabrics can stretch out. Additionally, avoid storing your pieces in plastic bags, since these bags entrap moisture and will ruin your vintage fabrics.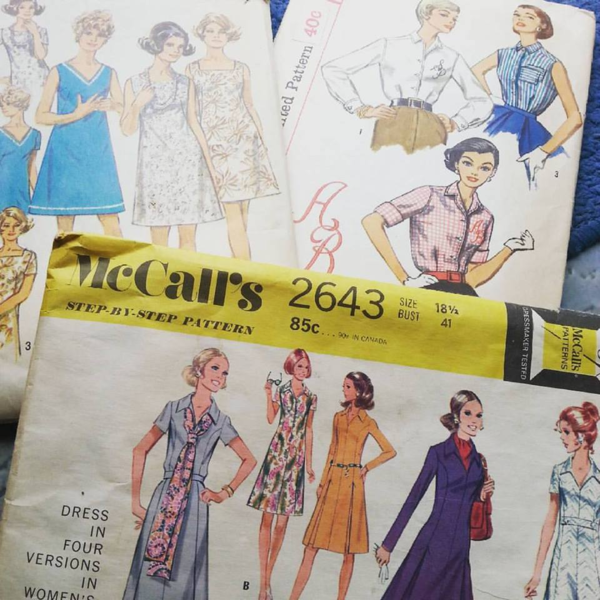 Money Saving Tips!
Finally, it's easy to find some interesting pieces in the clothing bins and figure that you'll find uses for them later, but never end up deciding what to do with them! Here are some tips for buying exactly what you want and need, and not spending any of your time and money on pieces that aren't really worth it!
Make a list of items you want, such as a cool graphic T-shirt for that refashioning project you have been wanting to do.
 
Avoid buying items you can't think of a use for.
 
Plan out a budget in advance and stick to it!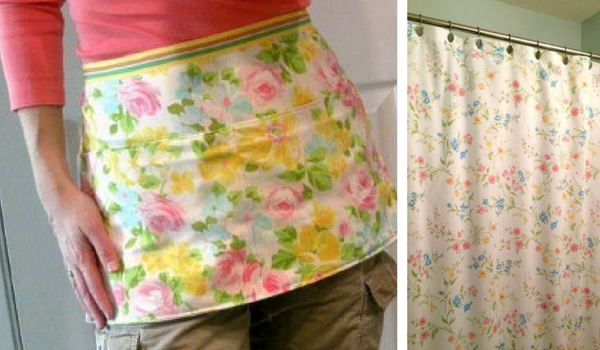 DIY Upcycled Clothing Projects
Now that you have your haul of amazing vintage and thrifted finds, you can now use these DIY refashioning project ideas to recycle old clothing into new wardrobe essentials! Here are some great upcycled clothing ideas: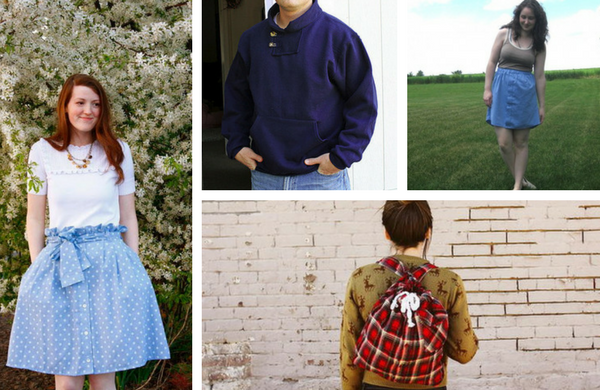 Do you have any thrift store or garage sale shopping tips? Let us know in the comments below!
Your Recently Viewed Projects