40+ Thanksgiving Sewing Projects for Family & Friends
Celebrate Thanksgiving in style with these fall sewing projects and fabric craft ideas!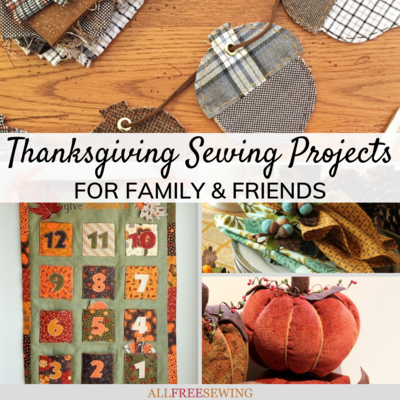 This page is full of creative ideas for everyone you know. With 40+ Thanksgiving Sewing Projects for Family & Friends, you'll see lots of ideas for crafting and gifting.

Thanksgiving is an important holiday to celebrate because it signifies appreciation. I don't know about you, but I greatly appreciate all the things that come along with the celebration including (but not limited to) the turkey, gravy, cranberries, apple pie, etc…

Aside from the traditional Thanksgiving meal, I love having extra time to spend with my family. And this season, I thought it would be great to actually spend some time crafting together.

We've rounded up these fun Thanksgiving sewing projects so you and your family can spend some quality time crafting together. Also lovely Thanksgiving gift ideas for family and friends.

When it comes to sewing for the holidays, Thanksgiving can sometimes be overlooked by Christmas. We think these Thanksgiving sewing projects won't only convince you that Thanksgiving crafts can be fun to make, you'll look forward to creating them each year. Our free Thanksgiving craft ideas are useful too.

Every home needs a lovely table set up for the dining room. On this page, you'll find Thanksgiving tablescape ideas along with DIY Thanksgiving decorations and all kinds of additional crafts.

Do you want sewing inspiration delivered straight to your inbox?
Subscribe to our daily e-newsletter!
Table of Contents
What do you love about Thanksgiving? Let us know in the comments!
Your Recently Viewed Projects