Hanging Kitchen Towels With Button
Learn how to make dish towels that hang with our full and exclusive tutorial!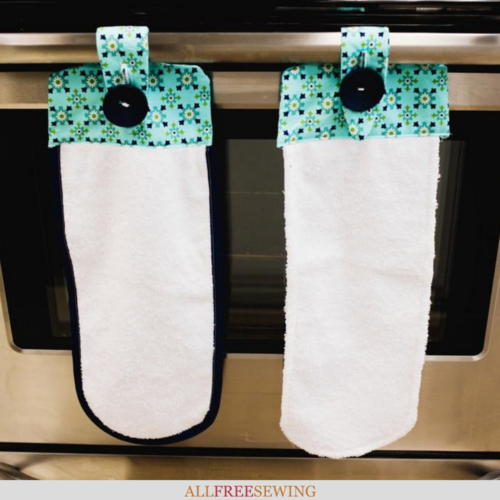 These Hanging Kitchen Towels With Button comes with a free pattern, video tutorial, and stepped-out written instructions. These DIY kitchen towels will make an adorable addition to any kitchen.

This easy sewing pattern will let you create your own colorful kitchen hand towels. Once you learn how to make hanging kitchen towels, you'll never have to be on the hunt to buy towels that match your kitchen again.

Plus, these make great housewarming or Christmas gifts. We all need towels in the kitchen and when they can hang from the stove or fridge, even better. You'll never be without one when you need it!

These hanging kitchen towels can loop around any drawers or handles in your kitchen, so they're always within easy access. The button helps the towel stay in place, which means you won't have to worry about your towels accidentally falling to the floor.

Add a pop of color to your space and keep your kitchen clean with these delightful kitchen towels. Since they are completely customizable, from the length to the fabric colors and button types and sizes, they can be made to match your space perfectly.

Sign Up For More Free Patterns >>>
 
DIY Hanging Kitchen Towel Materials Needed:
Fabric scraps at least 9 by 12 inches in size
1/3 yard terrycloth
Button
Dinner plate
Ruler (suggested: seam allowance ruler)
Cutting mat
A few scraps of interfacing
Bias tape (double or single fold)
Washable fabric marker
Other sewing essentials (sewing machine, thread, seam ripper, scissors, etc)
Lint roller (optional - for shedding terry cloth)
Skill Level:
Easy
Project Type:
Make a Project
Time to Complete:
One to two hours
Sewn By:
Machine  
Hanging Kitchen Towels With Button Video Tutorial:
Learn how to sew towels to hang up with a button by watching this video. Click the play button to watch our full video tutorial below. If you'd rather have step-by-step instructions, keep scrolling to find the written tutorial and step-out photos.
 
Hanging Kitchen Towels With Button Pattern Instructions:
Cut out towel bottom 7" wide by however long you desire (this tutorial shows a 7" x 18" piece.

Note: Be sure you already laundered your towel fabric - learn more with this video tutorial, How to Keep Fabric From Shrinking.
Using a plate, round off the bottom of the terry cloth.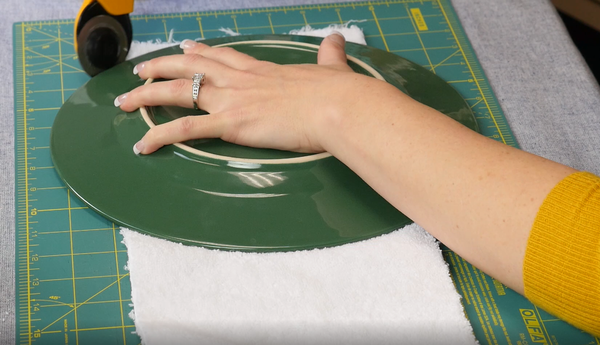 Finish off by sewing bias tape around the edge of the towel. No need to do the top edge as that will be covered by the towel loop piece.

Note: It can be double fold or single fold, whichever you prefer. Learn more about bias tape with our guide, What is Bias Tape?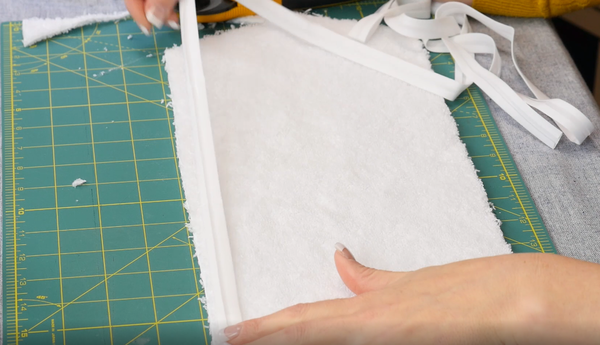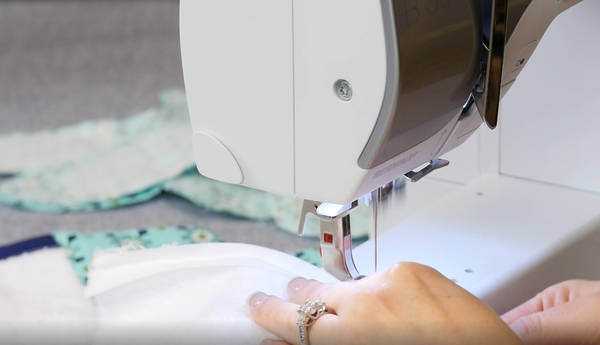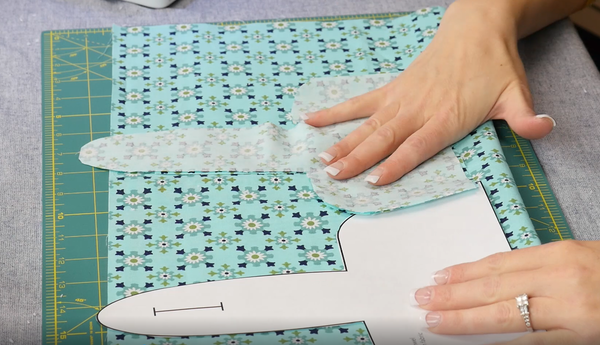 Iron on interfacing to the long section of the top where button hole will go (wrong side).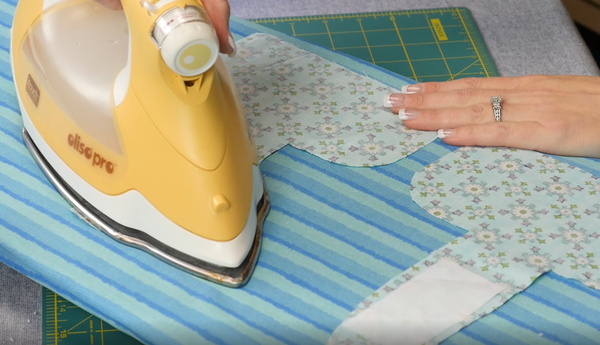 Iron bottom edge up 1/2". Use a seam allowance ruler to help if needed.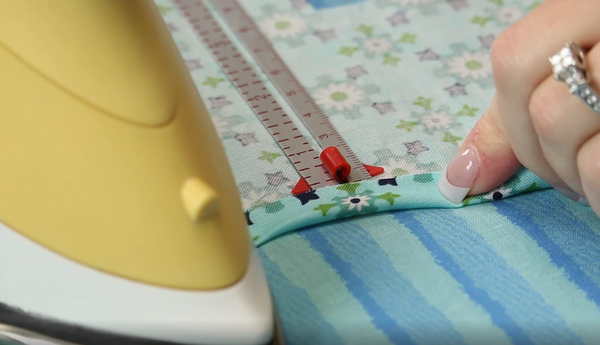 Using a washable fabric marker, place your button where it will be attached on one of the top pieces and mark the top, bottom, and, with a ruler, the middle.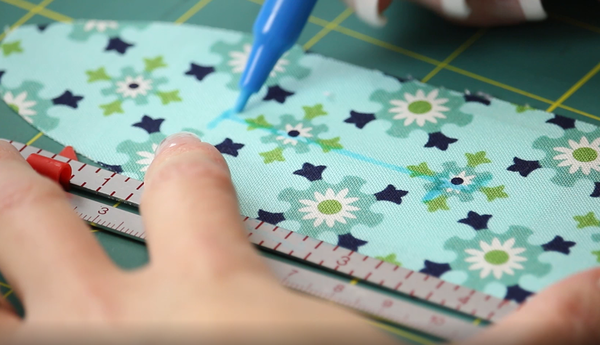 On the other top piece, pre-sew the button in the correct place (where you marked your button hole on the other side piece).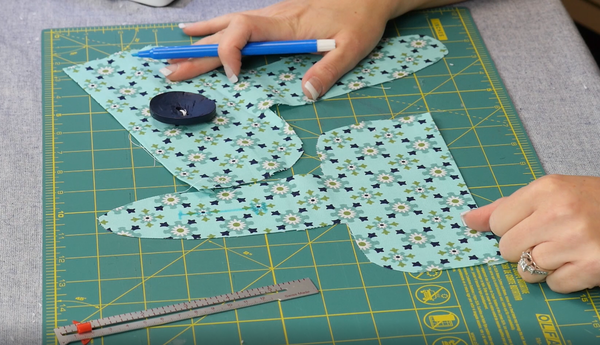 Clip the towel onto the side of the top that includes the button hole marking. Using a 1/2" seam allowance, sew together with a straight stitch, removing clips as you go. Use the crease you ironed earlier as your guide.

Note: The backside should be touching the right side so that you don't see the back of the bias tape (unless you used double-fold bias tape; then it won't matter).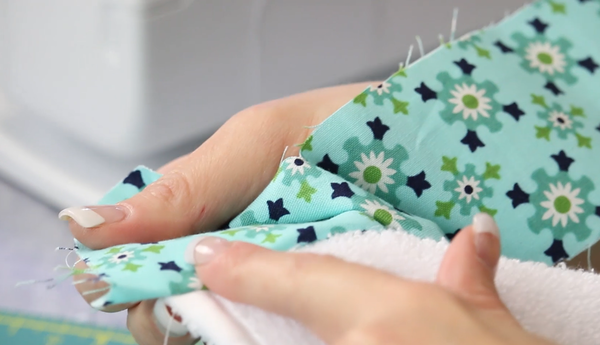 With right sides together, sew top together using a 1/4" seam allowance. Trim curves. Turn right side out. Press.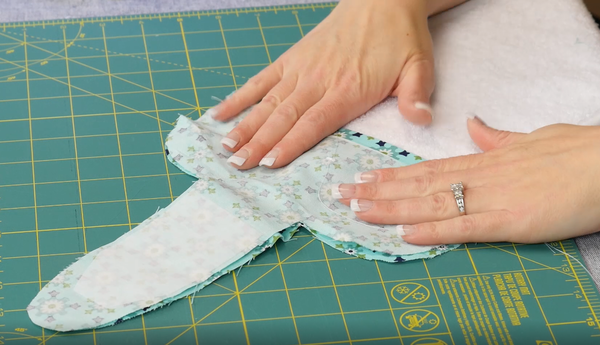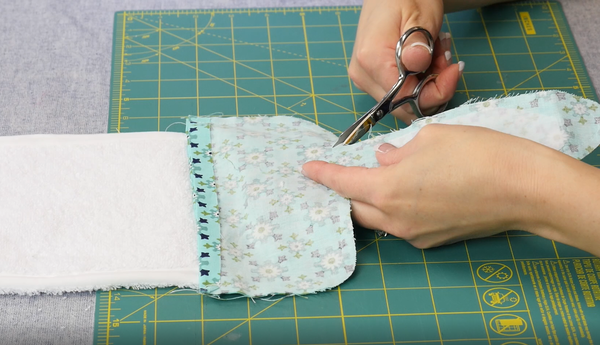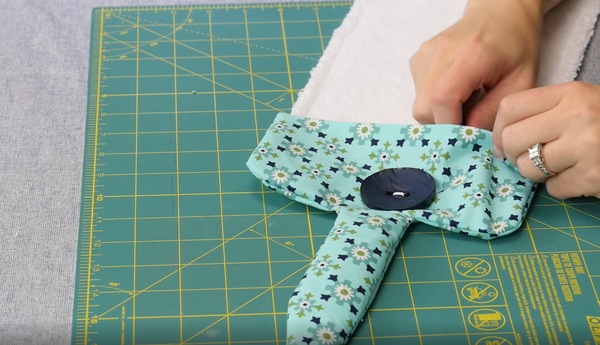 Review your button hole marking to assure it will work. If not, re-mark. If so, then topstitch your towel top closed.

Note: To learn about topstitching, read through our guide and watch the video here: What is Topstitching? + How to Topstitch.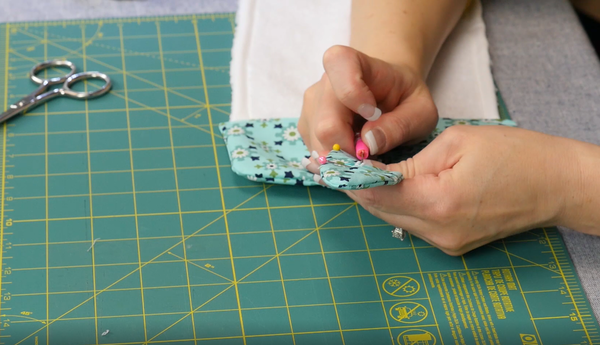 Trim threads and you're finished.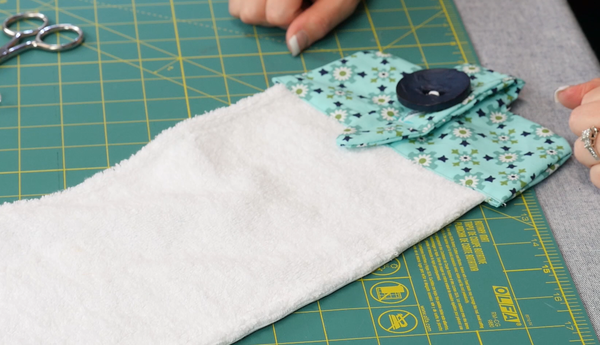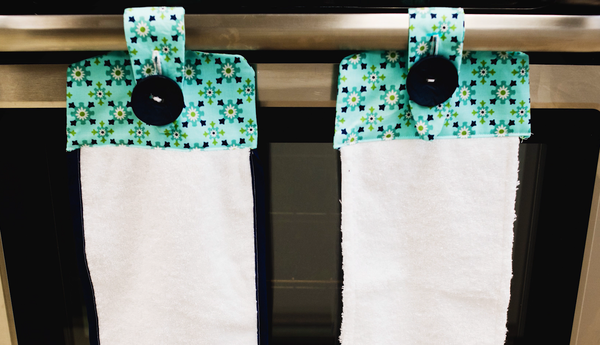 Your Recently Viewed Projects