How to Design a Quilt on Graph Paper
Use graph paper for a quilt design all your own. This tutorial walks you through how to create a DIY design from scratch.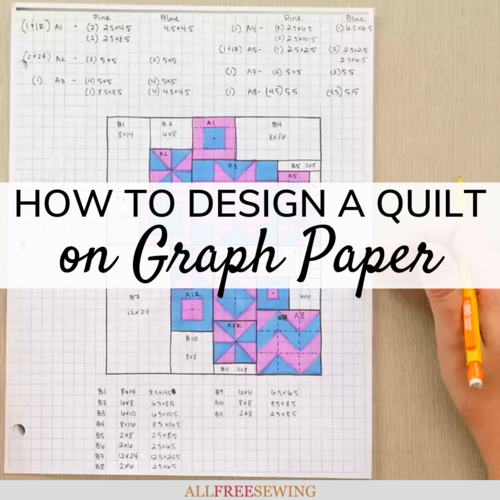 What better way to truly put a personal twist on your DIY quilt than creating your own pattern? This tutorial and guide, How to Design a Quilt on Graph Paper, has great tips and tricks to show you how to make your own handmade quilt pattern.

This video is super helpful in giving you useful tips and showing you how easy it is for you to really put your own spin on the quilt you are going to make and really put together your own quilt design.

You will love how this quilt video shows you how easy it is to get creative and let your inspiration guide you!

We have a video tutorial for visual learners as well as a set of step-by-step instructions and photos for those who like to go at their own pace. No matter your style, you are ready and set to design a quilt.

Sign Up For More Free Patterns >>>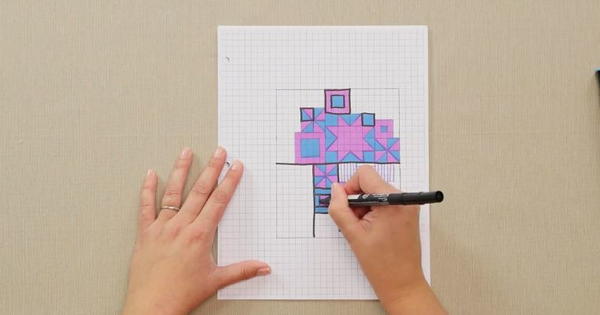 How to Design Your Own Quilt Video Tutorial:
Are you a visual learner? Then be sure to watch this video before scrolling to our written and picture tutorial next on the page. Click the play button to watch the video right below.
 
How to Design a Quilt on Graph Paper:
Project Type: Learn a Technique
Skill Level: Beginner
Time to Complete: In an evening
Sewn By: N/A

Materials List:
  - Grid paper
  - Pencil and pen or black marker
  - Coloring utensils
  - Inspiration
 
How to Use Graph Paper for Quilting Instructions:
Gather any materials you want to use. If you know the types you want, you can design/cut your basic quilt block shapes (i.e. squares, half-square triangles).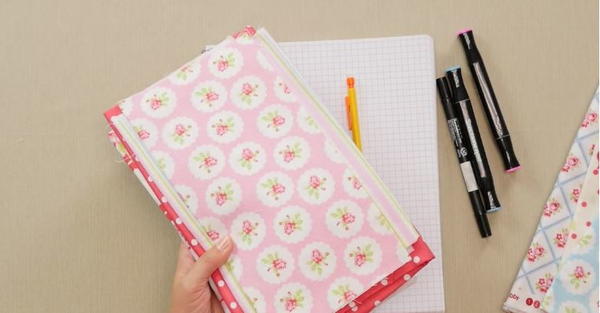 Begin to sketch out your quilt pattern. Use pencil so that you can erase if needed.

The grid paper helps you to keep the shapes even but you could also use unlined paper and a ruler.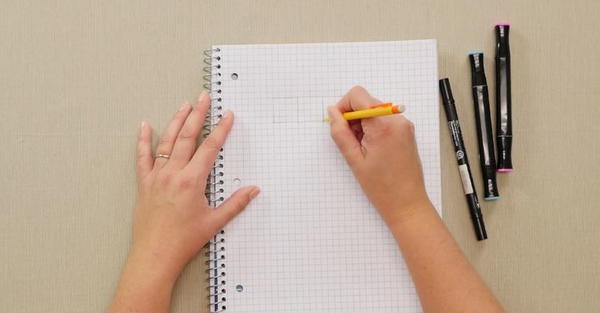 Color in your different areas to determine where the different fabrics are going to be.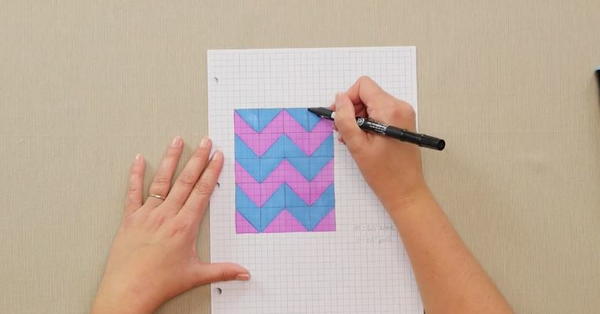 Determine your cutting size for the fabric of your quilt by measuring your sketches. The cutting size is determined by the finished size of each block you have drawn.

Use a black marker to make the cutting sizes so that you can see them easily.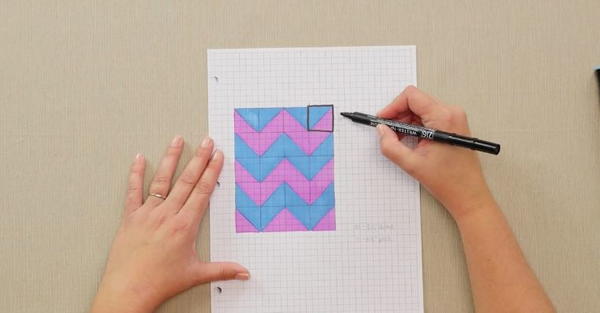 In the image shown below, the corner pieces are 1" so the real size will be 3". A 1/2" will be added to each of the four corner blocks because of the 1/4" seam allowance (images 1 and 2 below).

For the center square in the image below, it is 8" x 8" finished. An extra 1/4" would be cut on each side for the 1/4" seam allowance. So, the center piece would be an 8.5" x 8.5" square (image 3 below).

For half-square triangles in the image below, 1" would be added to the overall size. Since the triangles are 3", the cut size would be 4" x 4" blocks of each color. This makes two triangles of each color (image 4 below).

For the borders on the image below, the side borders would be put on first and then followed by the top and bottom borders. This is the best method for borders when making any quilt  (image 5 below).

Note: You can cut your borders now but it may be best to wait until the rest of the quilt is done as sometimes it doesn't work out exactly as planned. That way, you can adjust them later as needed without waste.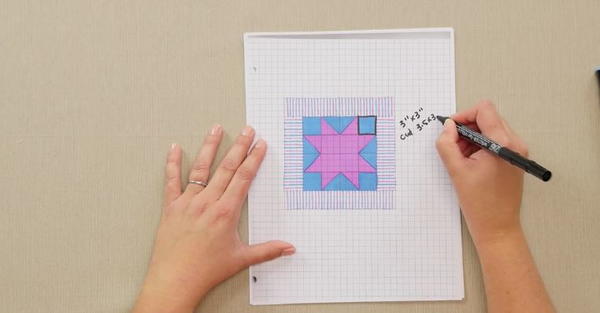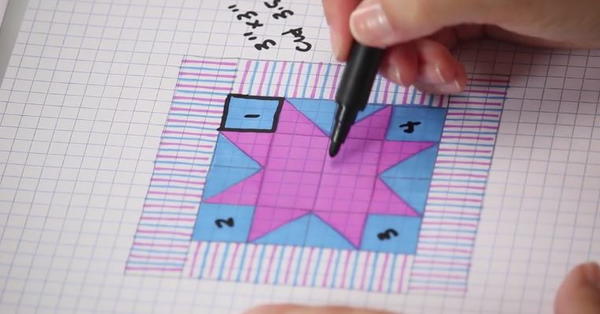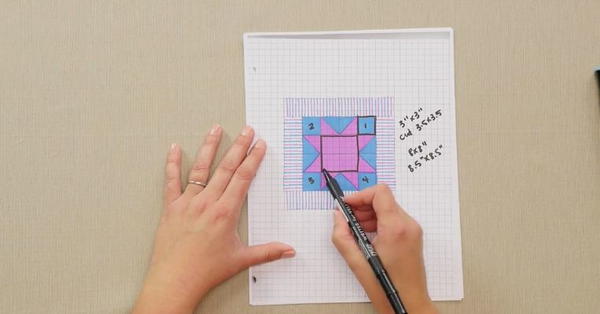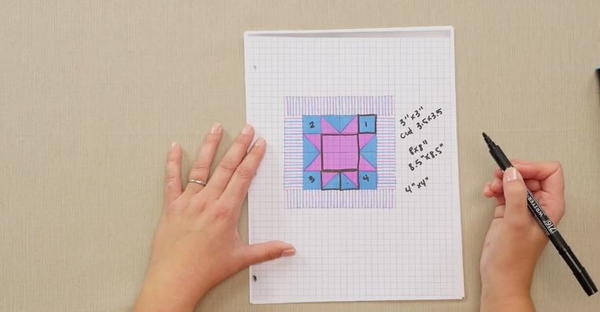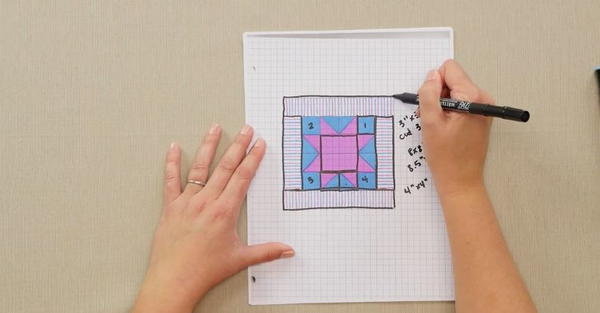 Most quilts will use the previously mentioned squares and half-square triangles but the designs can be fun to play with. Take the quilt design shown below. It uses standard shapes but still has a lot of character.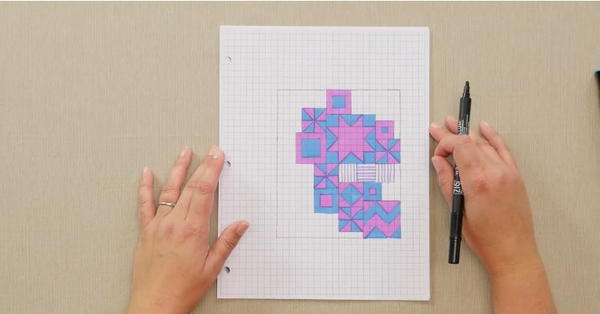 Determine where your seam lines are going to be in your design. Outline each square of your quilt so you know exactly what each piece will be.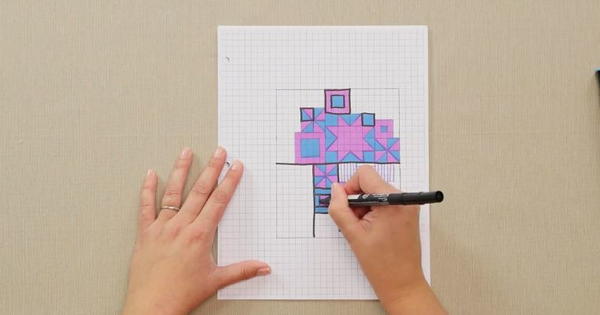 Label your entire sketch so you know all the different sizes you will need. 

This means adding labels on each section with measurements marked on or around your design. If it's carefully labeled, you will have no trouble following your own creation while quilting.

You can also mark your fabric pieces with a fabric marker or pin paper notes so that you have everything ready and labeled for your quilt.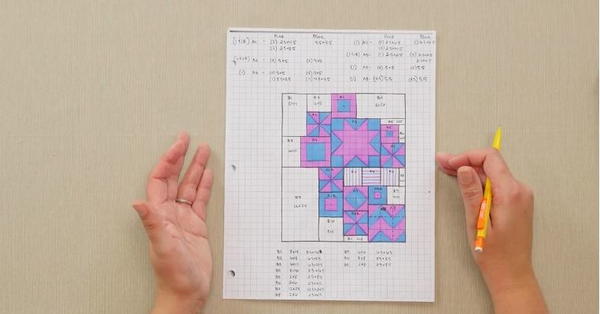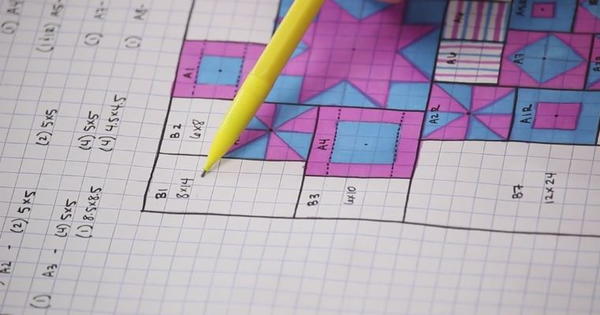 Your Recently Viewed Projects