22 DIY Window Treatments
Update your favorite room in no time with our list of curtain sewing patterns that are perfect for any home!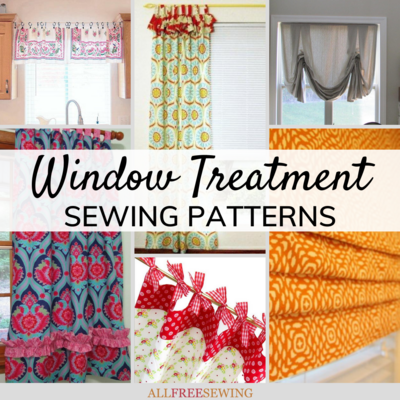 Curtains are a wonderful way to add a touch of beauty and personality to your home, but it can be difficult to find curtains in a store that are affordable and fit your taste.

Check out this fantastic collection, 22 DIY Window Treatments, to learn how to make curtains that are sophisticated, detailed, and customizable to your needs. These curtains would be a great addition to the DIY home decor in any room of your house, from the living room to your kids' bedrooms.

Make simple DIY curtains like these Super Stenciled DIY Curtains, or take it to the next level with more challenging projects like this Elegant Swag.

You can even make smaller curtains for a kitchen or bathroom, like these Key West Curtains. Try these DIY window treatments and give your home decor a fresh new look without spending a fortune.

Not sure how to hang curtains? Our friends from DIYIdeaCenter have you covered! Don't miss this article, How to Hang Curtains: Placement, Installation, and DIY Curtains.

Sign Up For More Free Patterns >>>
Table of Contents
Basic DIY Curtains
If you don't know how to make curtains, but want to learn, these easy DIY window treatment projects are for you.
How to Make Curtains with Upcycled Materials
Want to save even more money? Try making these amazing upcycled DIY window treatments that are so beautiful and clever, no one will know that you didn't spend a dime.
Half-Size DIY Curtains
If you have smaller windows or want to let in some light, these half-sized curtains are the perfect addition to your DIY home decor.
DIY Curtain Challenges
Step up your DIY window treatments by trying one of these challenging, fun projects that will add a level of sophistication to your home. 
What are your favorite home decor sewing projects? Leave a comment below!
Your Recently Viewed Projects