26 Front & Back Porch Decorating Ideas
Update your porches by sewing some of these amazing back and front porch decorating ideas.
DIY home decor is the best way to make your house look like a home. When you craft things for your home all on your own, you make the environment so deeply personal and special that it makes it easy to feel like you belong.

Find just about any idea you might need in 26 Front & Back Porch Decorating Ideas, a page full of free sewing patterns to highlight the comforts and elegance of your home.

Making your own curtains, furniture, DIY pillow patterns, and even linens can only go so far. If you have already filled the inside of your abode with DIY home decor, it is time to look to the outside.

All of these porch decorating ideas will help you keep the outside of your home looking insanely inviting. Guests will feel at home before they even step inside your home.

Whether you are looking for front porch decorating ideas or back porch ideas, the fabulous ideas will pretty up your porch in no time.

The best way to embellish your porch is by adding small accents and pretty little pieces that add a touch of sass but still keep things neat and tidy. Unlike decorating your living room or family room, you want to keep things to a minimum.

Outdoor decorating can be tricky because you need to find things that can stand the sun, rain, and whatever other elements might surround you.

Adding some sturdy DIY chair cushions or learning how to make a burlap wreath and other creative outdoor projects will easily add a pop of your personal style with just a little bit of effort.

Sign Up For More Free Patterns >>>
Front Porch Decorating Ideas: DIY Wreaths for Your Front Porch
The best of the best front porch decorating ideas are the kinds that keep it simple. Adorn your front door with one of these DIY wreaths and you will be welcoming your guests in with DIY home decor idea you love in no time.

Wreaths are the perfect way to greet your guests and inject your personality on the outside of your home. These simple and elegant fabric wreaths can be displayed all year and take barely any time at all to make.
Back and Front Porch Decorating Ideas for Furniture
Back porch decorating ideas need to be a bit homier that front porch decorating ideas. While most people have a fun front porch for show, the back porch is where all the action happens.

That's why we have collected these porch decorating ideas for furniture. From comfy cushions that will keep your guests comfortable to DIY upholstery ideas, these outdoor sewing projects are the best way to combine entertaining with simple sewing projects. 
DIY Outdoor Pillows for Your Porches and Patios
Keep the comfy look of DIY pillow patterns with these outdoor pillow ideas. Nothing says this is a space to relax like the right pillow and these pretty pillow porch decorating ideas are perfect.

These DIY pillows are a fantastic way to show off your personal decorating style, make an uncomfortable back porch cozier, or easily upgrade your back porch to a welcoming location for family cookouts. Make them today!
PLUS: Pin This Collection on Pinterest!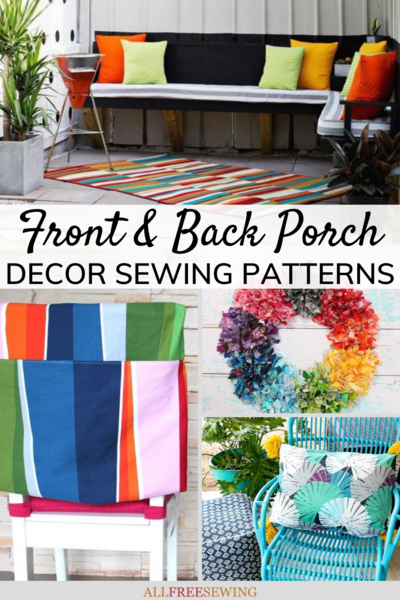 Your Recently Viewed Projects