Free Face Mask Template PDFs (3 Styles!)
On this page you will find the three best face mask pattern PDF pages to download. Each style has multiple sizes for children through adult.
Updated August 03, 2023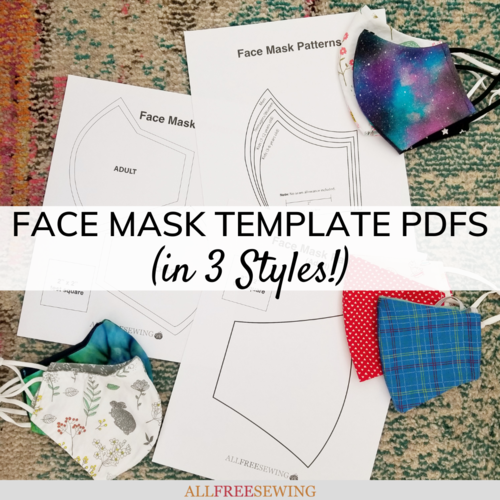 On this page, take your pick and download your favorite mouth face mask template. There are three unique styles to choose from and all three have sizes for children and adults.

I've made dozens and dozens of DIY face masks over the past year for myself, family, friends, and charity, and the styles we're sharing with you today are the best face mask patterns.

I'll go over each of these Free Face Mask Template PDFs that are available in three styles below. Simply click the button to download your template of choice. The CDC does recommend N95, KN95, and KF94 masks to protect against COVID-19, so it's best to use these materials or use a fabric mask as a cover-up to a protective mask.

The key to a good face mask is that it's big enough to cover the nose and the mouth, that it's fitted to your face, and that it's made with CDC-recommended materials. These styles are my three favorites based on experience.

I'm even sharing some tips and more along the way, so be sure to read through this page. Whichever you choose, you will certainly find a template to make a cloth mask that you're going to love.

Making DIY masks isn't only limited to the pandemic, though. Use these templates to make Halloween masks, protection from dust and debris while cleaning, and more.

Looking for more? Sign up for our awesome free newsletters!
Resources and Tips for DIY Face Masks
If you've never sewn a mask before, be sure to read through our different guides and resources to help you stay safe and make the best homemade face masks possible.
It's important to remember that putting together any sort of face covering is not enough. Your DIY face mask should:
Have at least two layers.
Be 100% tight-woven cotton or similar fabric.
Cover your nose and mouth completely.
Be well-fitted on your face (and, as mentioned in the previous point, provide full coverage without gaps or holes around the nose and mouth).
Optional: An additional filter in a filter pocket is also recommended for added protection.
Optional: Have adjustable earloops and nose wire for a better fit.
You can even extend the life of your N95, KN95, and KF94 masks by wearing a fabric mask over it.
Read about COVID-19 and the latest guidelines from the CDC here.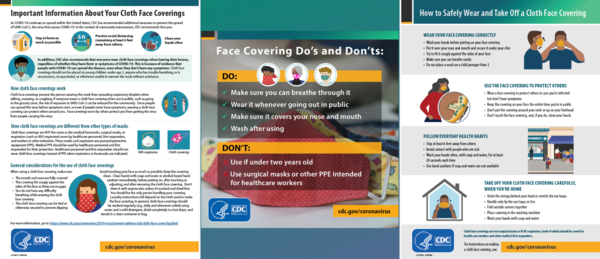 How to Print the PDFs
Printing is easy for these PDFs! If you're not familiar with printing PDFs, here's the step-by-step, along with a few tips.
Click any of the blue buttons in the next three sections that say: Click to Download This Face Mask Template.

Tip: Make sure you know the location of your download. If you have a location set up, it will be in the Download settings of your browser. If not, you will select the location when downloading the page. We'd recommend your "download" folder or "desktop" of your computer.
 
Find and open the PDF(s).
 
Make sure your printer is plugged in, on, and has paper and ink.
 
Click the "Print File" button, choose the printer, choose how many copies you want, make any additional adjustments needed for personal preference (see the additional tips below for scale and similar options), and click the "Print" button.

Tip: You don't need color for these templates, so you can choose either "black and white" or "grayscale" for color. 
 
Cut out the templates and get started!

Note: Seam allowance is not included in Template B and might need to be adjusted for the other templates depending on the size you are looking to make the masks.
Additional Printing Tips:
  -  If you want to print only one of the sheets (Template A), adjust your printer settings. Under "Pages to Print" you will want to select "Pages" and put the specific page number(s) you want to print. Page 1 is adult size and Page 2 is child size.
  -  Using a slightly thicker paper type will help the stability of these templates. Cardstock or resume paper are both great choices. Keep in mind the thickness that your printer can handle.
  -  The default printer settings do not need to be adjusted unless desired. It should print the same in "Fit" or "Actual Size". Use the test scale square/line to check size once printed.
However, you may find that you need larger or smaller mask templates after you've made a few. If that's the case, you can adjust the size slightly using the "Custom Scale" option.
  -  Again, no need to use color inks for this! Print in grayscale to save ink.  
Face Mask Template PDF - Style A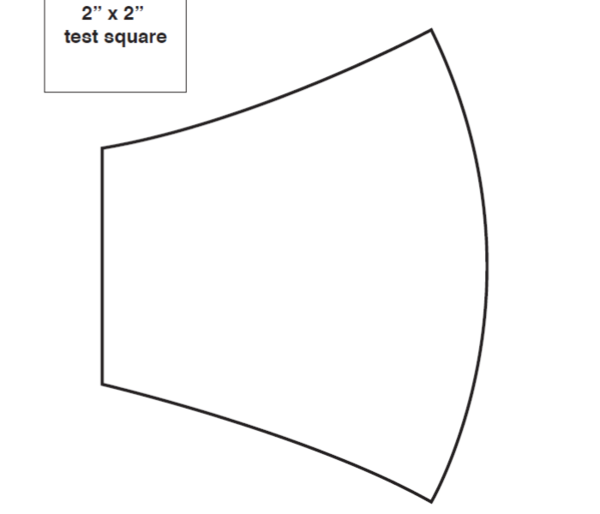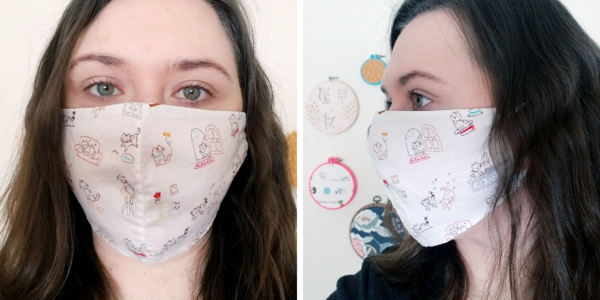 This is the main tried-and-true face mask style. The no-thrills shape works for every face type. There are two sizes available to print. The adult size is the first page and the child size is the second page.

Pros: It's easy to sew for beginners and is one of the fastest styles to make. The large coverage also allows it to fit nearly every shape face. It's easy to increase or decrease the size for larger or smaller faces.

Cons: It fully covers the nose and mouth but does not have as sleek or tight fit compared to the other two templates on this page. Adding a nose wire will help this problem. It sits higher on the cheek, so it's not the best for glasses.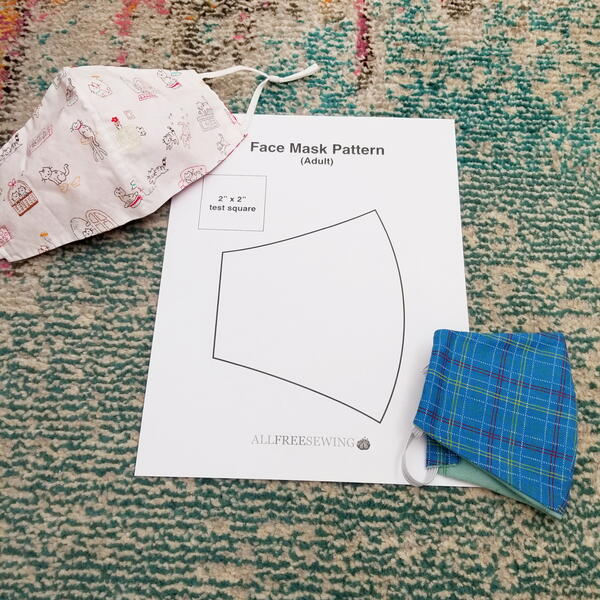 Face Mask Template PDF - Style B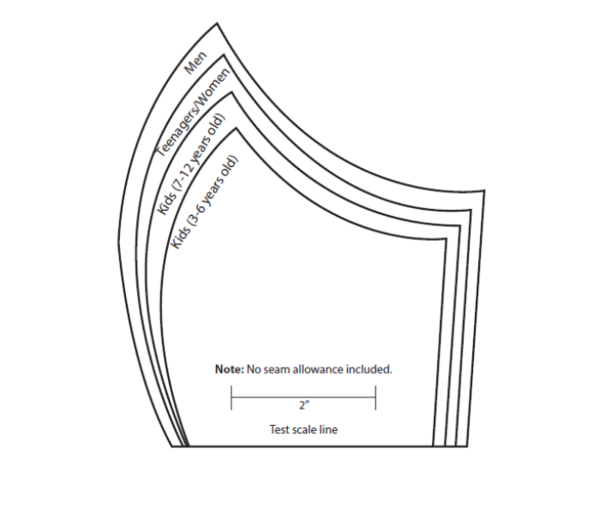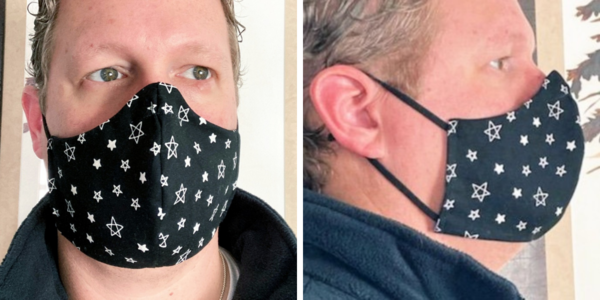 This mask only needs to be adjusted slightly to fit everyone in the family! With four templates in "one", you are all set with this template. It's a comfy mask because of the fit and it only sticks out slightly, which allows the wearer to breathe easily without creating too much space.

Note: In order to cut out all four sizes, you will need to print this four times and cut out the individual size needed.

Tip: I found this mask template to be on the smaller and shorter side, especially because there is no seam allowance included. Add a 1/4" or 3/8" seam allowance to each line in order to get the best fit possible.

You may need to make one mask first in order to truly determine the best fit for you or the person who will be wearing the mask.

Pros: This mask is ideal for glasses wearers because the shape is lower on the cheeks but higher on the nose. Adding a nose wire reduces fog even more. It's a highly comfortable tight-fitting mask that everyone will like wearing.

Cons: As mentioned above, this mask shape is smaller and so it's best to test out the size/shape for the wearer before making too many. Adjusting the size slightly for the face is the only negative that I've found. It's truly a fantastic mask.
 
Face Mask Template PDF - Style C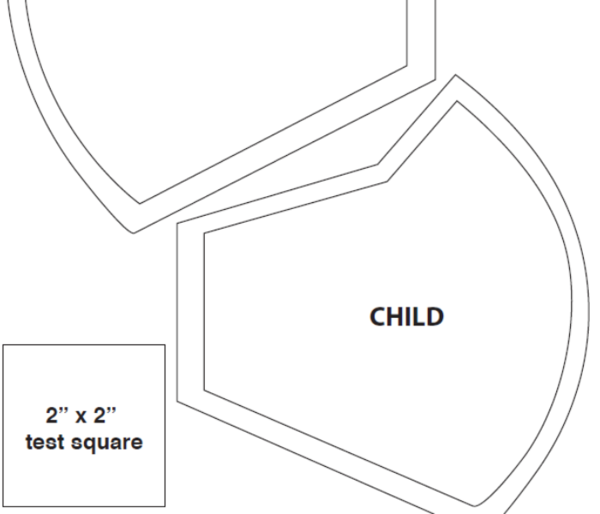 This is another favorite mask pattern of mine because it has a shape that fits the nose well. It also sticks out quite a bit, which I prefer for breathability.

Both the adult and child sizes are on one page, so there's no need to print more than one. The seam allowance is shown with the double line and so you can add more if needed depending on the size you are looking to make.

Pros: This is my go-to mask because the fit is tight and it has a lot of space which doesn't restrict breathing at all. I also like the sharp nose angles.

Cons: If you like less spacious masks, then you may not like how much this mask sticks out. It also has a higher fit on the cheeks, so it's not as good as Template B for glasses wearers but it's better than Template A for those who wear glasses (or sunglasses).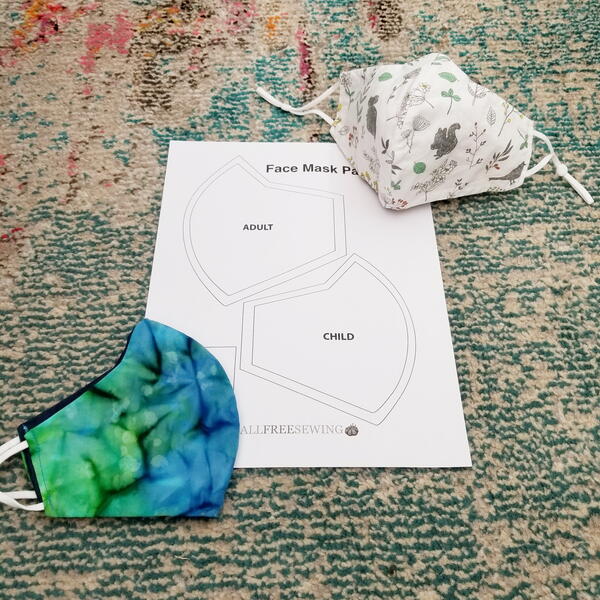 Free Face Mask Tutorials
If you're looking for tutorials on how to sew a face mask using any of these templates, then take a look at any of the following: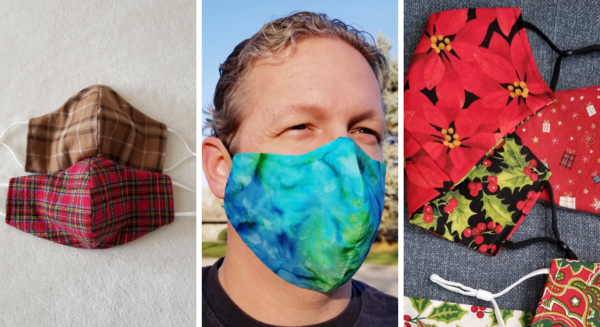 About the Author:

Krista Childers is the Senior Content Editor for AllFreeSewing. She has a passion for creative writing and trying every craft at least once. Find more of her work here: Krista Childers
Free projects, giveaways, exclusive partner offers, and more straight to your inbox!
Tags / Related Topics
Your Recently Viewed Projects
Images from other crafters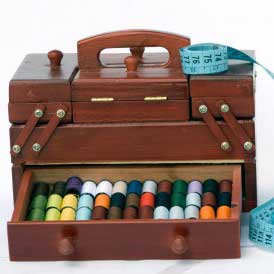 Something worth saving?
SAVE all your favorite patterns
ADD personal notes
QUICKLY reference your patterns