How to Sew on Sequins: Tips and Techniques for Adding Sparkle
Sewing sequins by hand can seem intimidating but this guide is full of helpful tips to make it easy.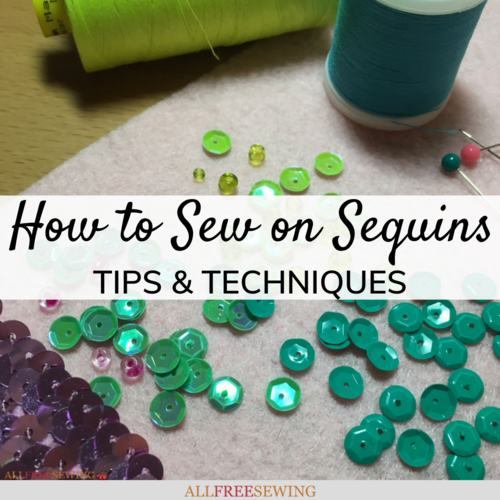 Sequins are such a fun and versatile craft supply that can add a beautiful sparkle to all kinds of items! Use them to brighten up everything from clothing to jewelry to home and holiday decor.

Sequins are relatively inexpensive and available in a wide variety of colors, levels of iridescence, shapes, and sizes. Best of all- you don't need any fancy equipment to attach them, just a needle and thread!

As September is National Sewing Month, let's look at some hints for sewing sequins onto your craft projects. Follow along to learn How to Sew on Sequins: Tips and Techniques for Adding Sparkle.

Below, you'll learn everything you've ever wanted to know about sequins. Starting with general information, then going through how to sew them in different ways, and finally, how to sew them on different types of fabric. Even if you've sewn sequins before, this will be a helpful guide to read through for anyone.

Sign Up For More Free Patterns                           
Table of Contents
General Sequin Sewing Tips
When sewing and crafting with sequins there are a few general tips to follow. Always use good lighting so you can see them well, and lay out all of your materials before you start working so you don't have to keep getting up. They typically have a curved side and a concave side, though some sequins are totally flat in shape.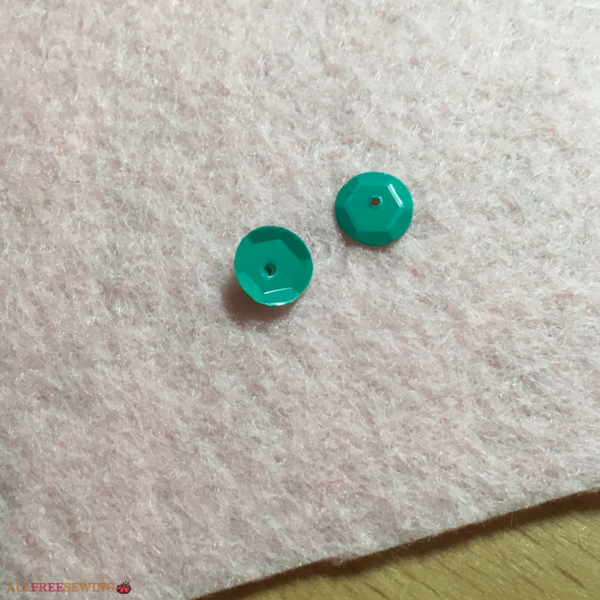 As sequins can sometimes stick together from the manufacturing process, be sure to separate them completely before sewing them on. This will save you money as you won't be doubling them up and using them faster, as well as creating a uniform look in your work.

They can also be a little tricky to pick up and you may wind up dropping some of them, so always have some extra available for your project. If your sequins are very tiny you may find that it's easier to pick them up with a sticky beading tool than using only your hands.

You may also want to place your fabric in an embroidery hoop if it's very soft and flexible, which will make it easier to hold when sewing on sequins.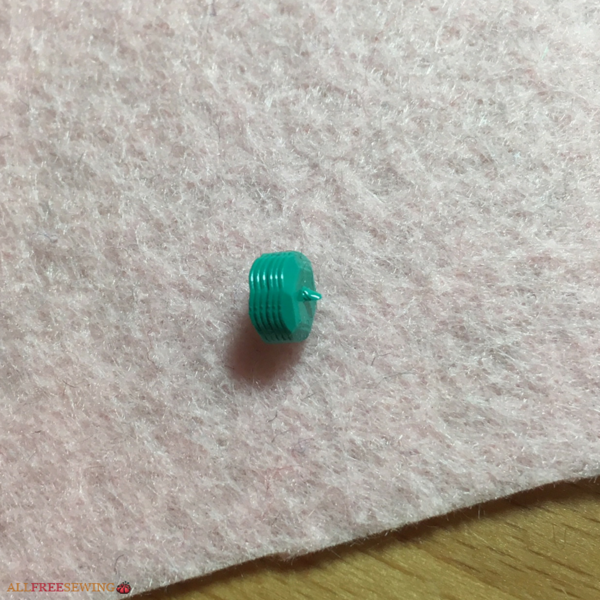 How to Hand Sew Sequins
Since sequins are so tiny in size they typically have to be sewn on by hand. In large-scale clothing manufacturing, they can be easily attached with a machine, but for most artists and crafters hand sewing is the main option when adding them one at a time.

While it can seem tedious, it's pretty amazing that you don't actually need any large or expensive equipment to attach them. Just a thin sewing needle and a quality thread are required- as well as a bit of patience and practice! I recommend using a matching thread when sewing them on, unless you want it to contrast on purpose. 

You may want to do a few test pieces to pick what stitch style and spacing you prefer when sewing on sequins. You can either attach your sequins so they are overlapping or make them more spread apart and flat on the fabric.

Flat sequins (both in shape and in application) are less likely to snag and come off of your items, so keep that in mind when deciding how you want to sew them on. On the other hand, overlapping sequins will provide more texture and can also be applied so that you don't really see the sewing thread.

Another technique that you might consider: using several kinds of sequins together to create more dimension and a couture look! 

For these photos, I used a double thread, but it's up to you and the particular sequins and fabric you are using. There are so many ways to use thread when attaching these sparkles, so go with whatever feels comfortable for you and your work while making sure they are securely attached.

Here are two basic ways to hand sew sequins onto fabric: 
The simplest method is to attach them with thread through the center, going back around several times so it's flat and secure. If your sequins are rounded you can place them with either side facing outwards. Hold each sequin against the fabric while using this method to keep them from flipping over onto the side you aren't using.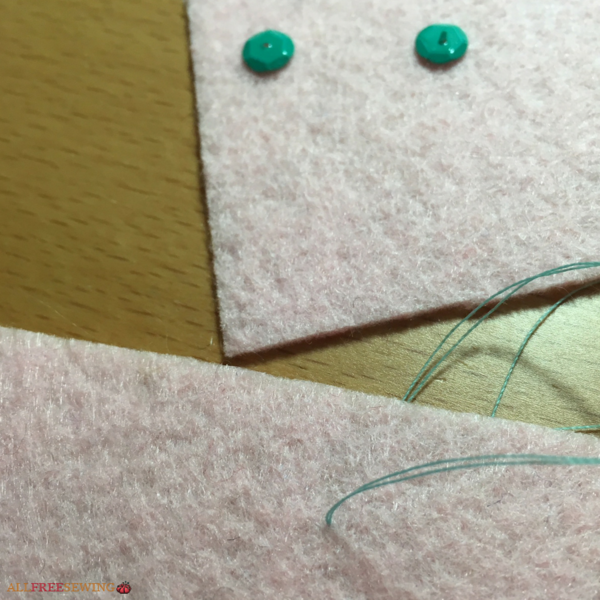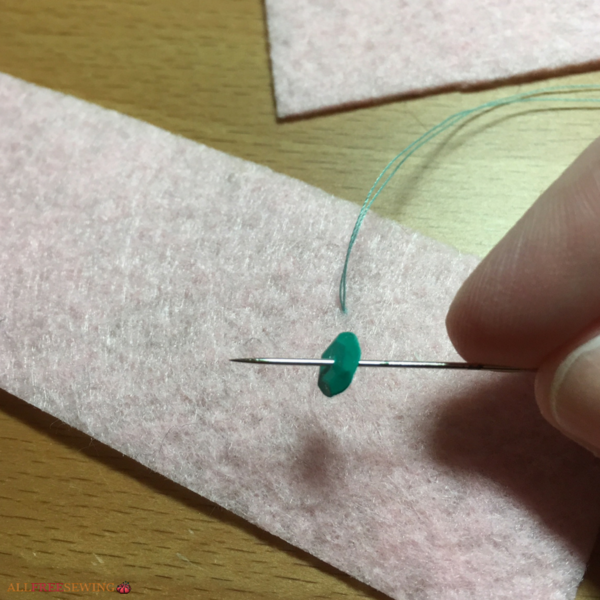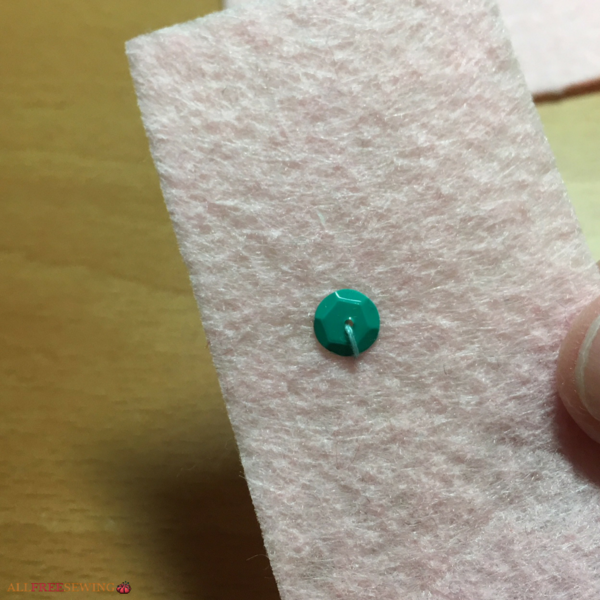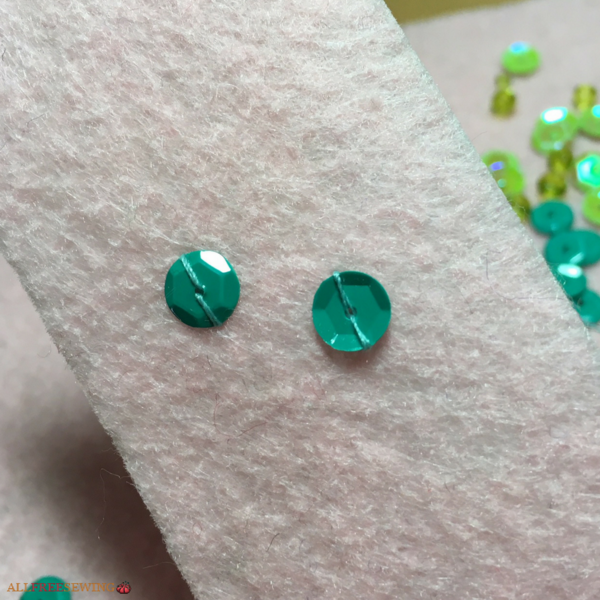 Sewing them in an overlapping straight line or even rows is another style, and it's actually fairly simple. This is a great technique for hiding the thread as mentioned earlier. Start by going up from below through the fabric, then add your sequin onto the thread and secure it two times in the same spot, and finally bring your thread back up a little bit away in the straight line.

Now attach the next sequin and continue this until you're done. If you're using this technique to make a particular design, you may want to lightly mark your fabric to help as a guide before sewing.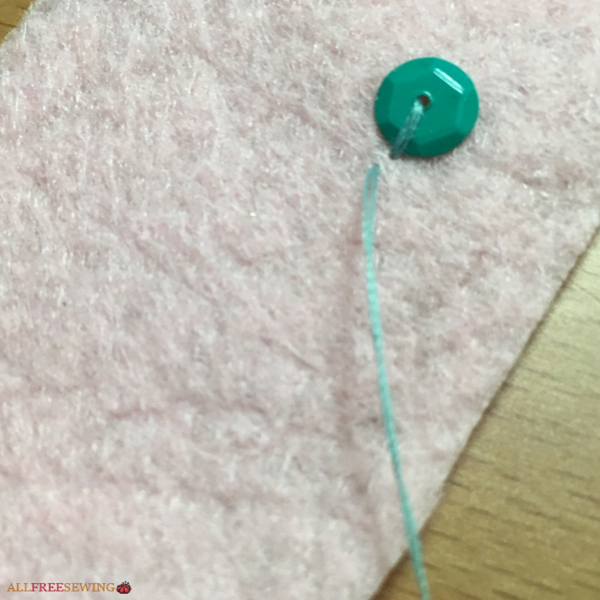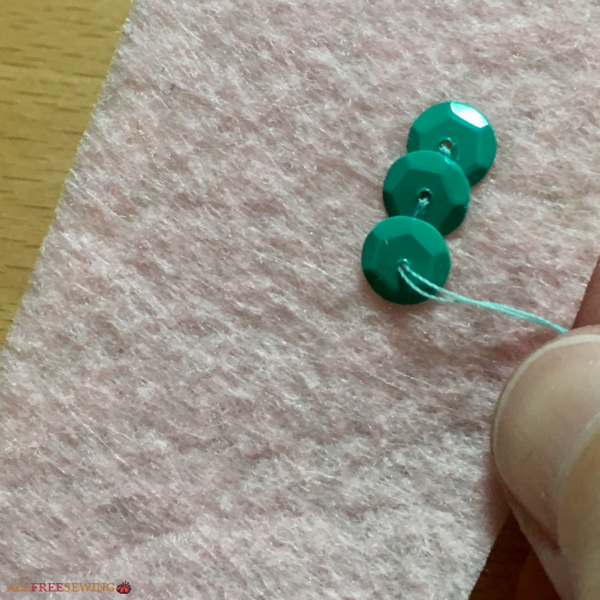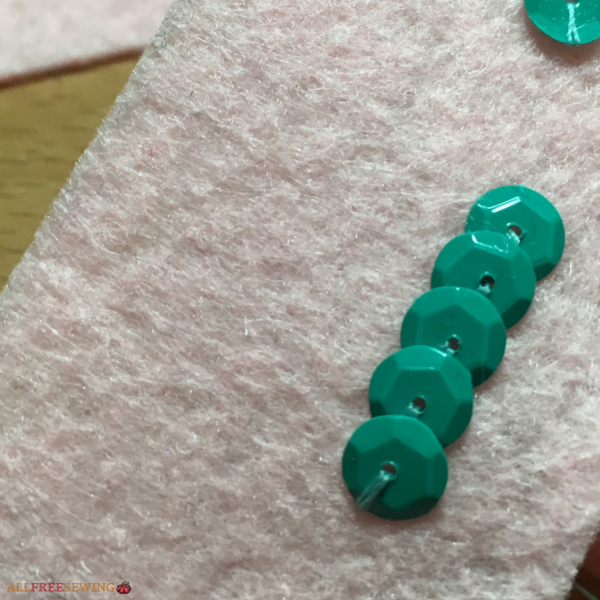 How to Sew Sequins with Seed Beads
You can also use tiny seed beads with your sequins to add even more texture and color! Pick a matching color for a more subtle look or a contrasting bead for extra emphasis. Simply start by sewing up through your sequin and then adding a seed bead before bringing the needle and thread back through the same center hole.

This is a slightly more polished look than using only thread (which is usually somewhat visible), and you typically only need to go through once or twice at most to secure it. You can place the bead in the concave side of the sequin, or on the rounded side to stand out even more.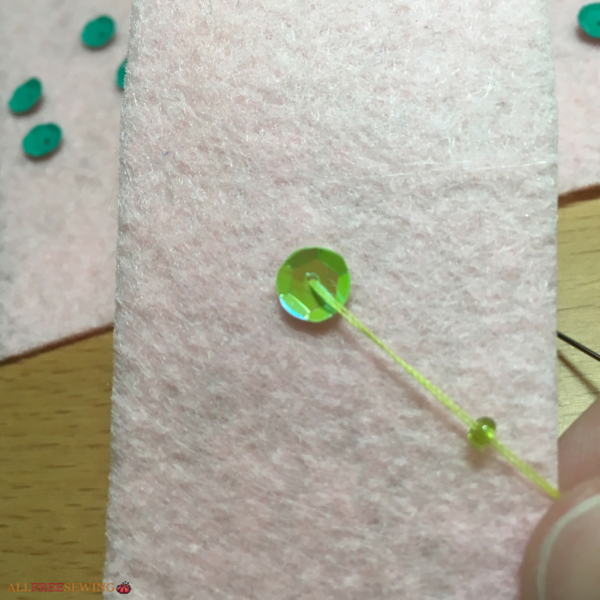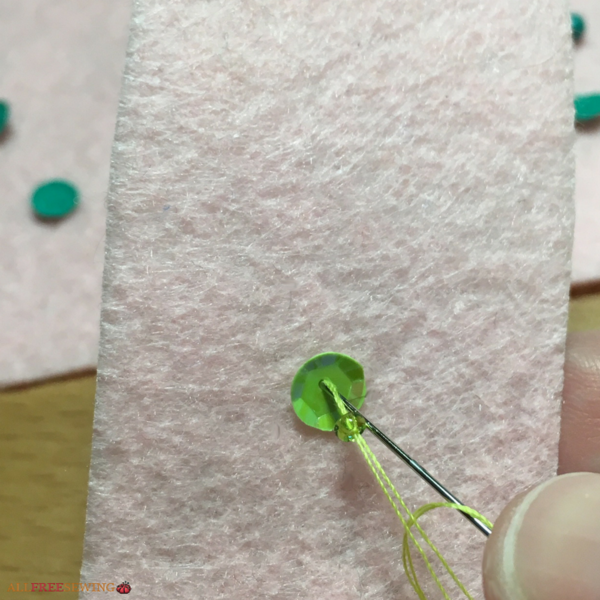 How to Sew Sequin Trim onto Fabric
A less labor-intensive and faster option is to use a pre-made sequin trim. This is very useful for projects with a large area of sequins, especially along a hem or edge. They come in a variety of colors, widths (single strands or as multiple rows across), textures, etc. Sequin trim is sold by the yard or in rolls at craft and sewing stores. 

You can sew sequin trim on by hand by looping your thread through the backing (or the thread between the sequins if it doesn't have a backing).

When cutting the ends of this kind of trim, take care not to cut the actual sequins as they will then look jagged and unfinished. Apply a little seam sealant if the trim frays at the cut ends, and sew the ends so that they fold under and aren't visible.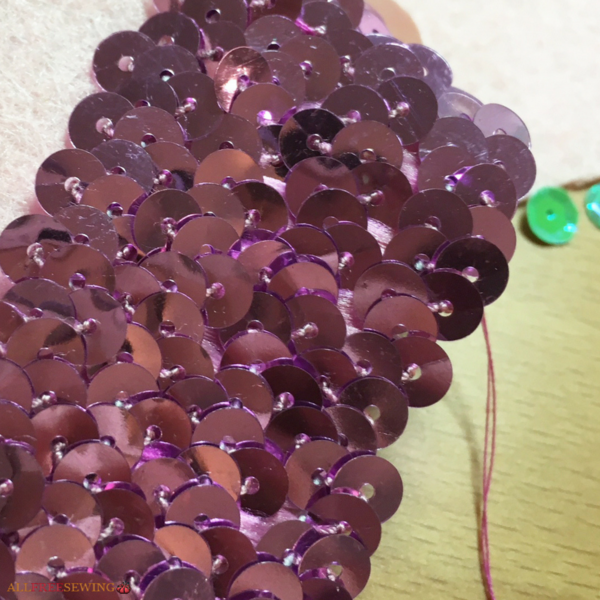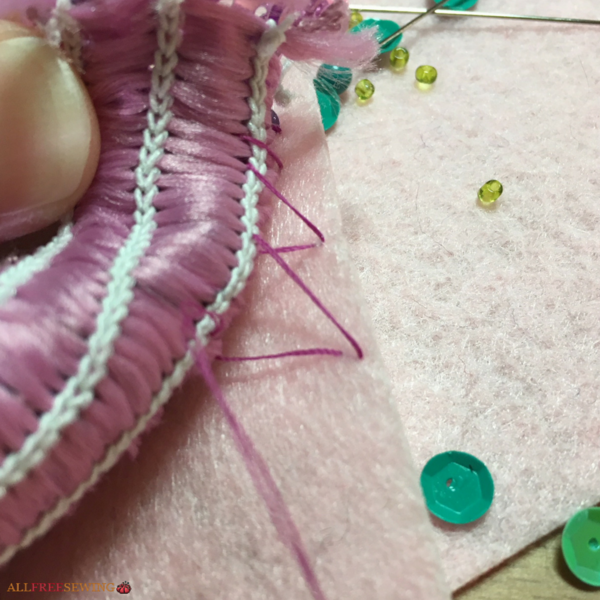 How to Sew Sequin Fabric
You can also purchase yards of fabric with sequins already attached! Much like trim, there are many styles, colors, and textures to choose from when selecting a sequin (or "sequined") fabric. It can be expensive, but it does save a lot of time compared to sewing them on by hand. This type of fabric is frequently used in fashion design, especially for evening dresses and gowns. 

When sewing sequin fabric, always take your time and work carefully. Just like working with sequin trim, avoid cutting into and damaging the sequins.

You should also make sure your seams don't go over the sequins (if possible) because they might poke out or even crack and become scratchy. To prevent this, make sure to gently trim off any sequins that will be along your sewing stitch line and pin very accurately before machine sewing. 
How to Sew Sequin Appliques and Patches
There's one more way to use sequins in your sewing. They are perfect for making or embellishing appliques and patches that are sure to stand out! Sequins can be added by hand to an existing patch, or you can make your own on a sturdy fabric base along with decorative thread and/or beads.

Appliques and patches have a variety of uses- they can be attached to accessories, sewn onto denim jackets, or even made into a pin! Check online or in sewing books and magazines for tutorials if you want more ideas for using sequins in patches and appliques. 
How do you like to incorporate sequins or sequined fabric into your designs and craft projects?
Answer below!
Your Recently Viewed Projects