How to Use an Embroidery Hoop
Learn the basics of embroidery hoops, such as how to put fabric in embroidery hoop, with this tutorial.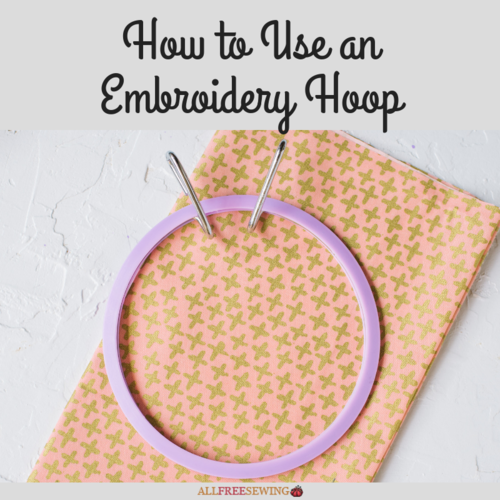 If you don't know how to use embroidery hoops, then this is the tutorial for you! Embroidery hoops are primarily used for hand sewing and embroidery but they can also be used as frames for fabric art. They are actually pretty versatile.

Since they usually don't come with instructions, we thought we would share the ins and outs of How to Use an Embroidery Hoop. It's a simple process but there are a few little details that you may miss if you are using your first hoop.

Plus, there is more than one type of embroidery hoop and each has their own rules of use. Because of this, we will start by doing a quick overview of each main type or style of embroidery hoop. Then we'll explain how to use them.

After the tutorial, we have a few embroidery hoop projects for you to try and test your new skills with. Check them out and see how easy embroidery hoops make hand sewing.
 
How to Use Embroidery Hoops:
Types of Embroidery Hoops
Read about the main types below. Click on any images to enlarge.
 
Screw Top Embroidery Hoops: This is the most conventional type of embroidery hoop. This type is available in both wood and plastic. It comes with an inner frame that's a full circle in the same material as the outer frame. The outer frame has a gap at the top and includes a screwing device at the top to tighten. Screw top hoops are usually only circles and ovals but you may see the occasional rounded corner square or rectangle. The sizes range from about 3 to 30 inches.

Spring Tension Embroidery Hoops: This embroidery hoop has an outer frame of plastic (full unbroken circle with an inner groove for the metal piece) and an inner frame made of metal with gripping handles at the top. This type of hoop is only available in a circle because of the metal spring inner frame. The sizes range from about 3.5 to 10 inches.

Rubber Embroidery Hoops: This embroidery hoop has a rubber outer frame and plastic inner frame with a groove that the rubber part fits into. Because this type is made of rubber, it is flexible enough to be pulled off and pushed back over the frame without any protruding parts. Rubber hoops usually have a ring hanger. They are also available in shapes other than circles, ovals, and squares, such as octagonal squares and rectangles. The sizes range from about 5 to 8 inches.
How to Put Fabric in an Embroidery Hoop
Click on any image to enlarge. Most steps are the same for all types of embroidery hoops and it is explained when not the same.

Here are the basic steps but see below for the more detailed explanation of how to use your embroidery hoop:
Prepare your fabric so that it is at least 3 inches larger than your hoop all the way around.
Set the inner frame on a flat surface and drape the fabric over it.
Loosen the screw top of the outer hoop and push it over the fabric and inner frame. Adjust fabric as needed.
Tighten screw top until secure.
Sew, cut, or finish the fabric hoop as desired.
To undo: loosen the screw top and remove the outer frame. Lift fabric from inner frame.
Full Instructions:
There are two ways to prepare your fabric:

Option 1: Cut a piece of fabric that is larger than the embroidery hoop by a couple or more inches all the way around. The fabric does not have to be the same shape as the embroidery hoop as it can be cut once it's in.

Option 2: Alternatively and arguably easier, you can use an uncut piece of fabric and cut it after it is secured in the embroidery hoop.

Set the inner frame on a flat surface and drape the fabric over it. If you are trying to center an image or pattern, you can touch to find the rim of the frame and adjust. You can also adjust slightly after the outer frame is on.

Note: If using a plastic screw top hoop, it may tell you which side of the inner frame should be facing in and out (there is a thin lip that works better on the outside and may say, "This Side Up").

This step is slightly different for each type, so we will explain them individually.

Spring Hoop: Hold the outer frame in your non-dominant hand and, with your dominant hand, push together the spring handle mechanism to make the loop smaller. Carefully push the fabric-covered inner spring hoop into the plastic frame groove, starting at the bottom and moving your hand to push it in around. You can slowly loosen your grip on the handle to make the spring wider to fit better. Release the handle once the spring is inside the groove completely. You can pull the excess fabric to adjust what is inside the hoop and make it taut as needed.

Rubber Hoop: Bend the rubber as needed to fit into the inner plastic frame's grooves. Once it is completely over the inner frame, you may be able to pull any excess fabric to tighten and adjust but it can be more difficult since the rubber isn't as smooth as with the other two hoop types.

Screw Top Hoop: First, undo the screw top so that it is loose and large enough to be placed over the piece. Slip it over the fabric and inner frame. Adjust the fabric inside the frame as needed, then start tightening the screw on top until tight. You can do this slowly and adjust the fabric as needed as you go.

Because the screw top is the most common type, the images below show how to assemble it for sewing.

You are ready to sew! Use your embroidery hoop to keep your fabric taut while sewing. You can remove the fabric and set it back in the embroidery hoop following the above steps if needed for larger pieces. Once finished, unscrew/loosen the spring frame/bend the rubber frame off the inner frame and finish your project as desired.

Keeping the fabric in the embroidery hoop to be used as a frame?

How to finish an embroidery hoop as a frame:
There are several ways to finish an embroidery hoop but our two favorites are using the glue method or the stitching method.

Gluing Method: Trim the excess fabric from the frame. Leave about 1/4 to 1/2 of fabric. Use a glue gun to glue along the back of the inner frame (not inside) and push the excess fabric over all the way around.

Stitching Method: We could explain this but there is a great video tutorial by Craft Habit Raleigh that does such a brilliant job, we think you'll appreciate it more:


Embroidery Hoop Art Projects:
Now that you know how to use an embroidery hoop of any kind, you can try using your new skill. Test out working with embroidery hoops by making any of these cool projects. It's fun to use the embroidery hoop as a frame but you can easily remove your art after sewing and do something else with it, such as making a quilt, pillow, or framing it in a picture frame.
 
Free projects, giveaways, exclusive partner offers, and more straight to your inbox!
Tags / Related Topics
Your Recently Viewed Projects
Images from other crafters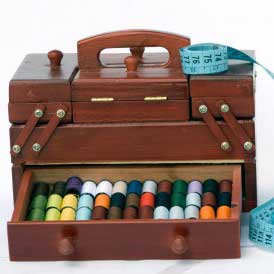 Something worth saving?
SAVE all your favorite patterns
ADD personal notes
QUICKLY reference your patterns