35 Sewing Tips for Beginners From Our Readers
By:
Ashley Jones, Editor, AllFreeSewing.com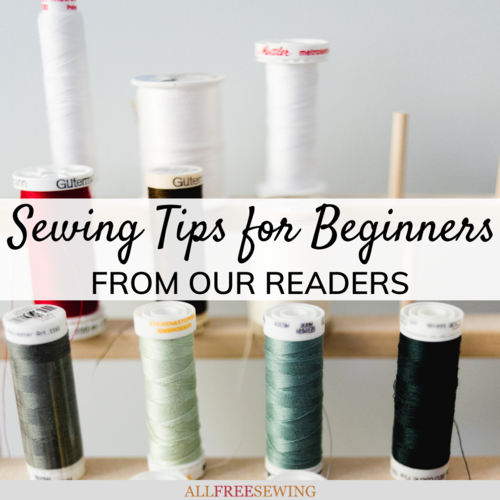 We asked and you responded! If you're a beginner sewist, or if you're just looking for some easy sewing tips, then don't miss our new collection of reader tips and tricks.

This page is perfect for those learning how to sew. This page, 35 Sewing Tips for Beginners From Our Readers, is filled with sewing tips for beginners, as well as ideas for first projects, handy sewing tools, and more.

If you've never sewn before, the art of sewing can seem intimidating. But thanks to readers like you, this list of sewing ideas for beginners is filled with great pieces of wisdom to get you started on your first project.

From figuring out your first sewing project to using a basting stitch, you don't want to miss this list of tips and tricks for beginner sewists!

Searching for free sewing patterns for beginners? Be sure to sign up for our free eNewsletter, Sewing It Up!
 
Beginner Sewing Tips for Newbies
• "Make sure you have enough material before you start your project." - Joan T.

• "One of my best sewing tips for beginners is take your time and read the directions thoroughly before starting to sew a project.  If you have any questions, it is best to get them answered before you start sewing instead of in a middle of a project." - Lesley Rackowski

• "My best sewing tip is ALWAYS have a comfortable seat. Adjust your chair with cushions, etc. and make sure everything you need is within reach. You WILL be there longer than you expected to be because you will be enjoying it so much." - Janet

• "Keep the iron and ironing board set up and have the iron ready to go. Good luck." - Kerry M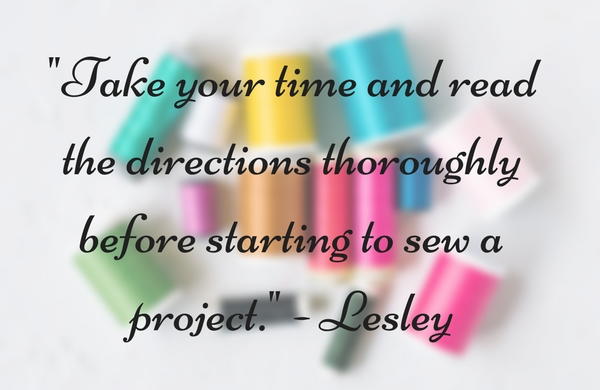 How to Use a Sewing Machine
• "Start with the needle in the fabric is my best tip for beginners! You have a great website. Thank you!" - Patricia

• "Take good care of your machine and learn to trouble-shoot. Saves tons of time and money." - Virginia Beghuis

• "I'd go with a metal sewing machine – built to last. And if you are lucky enough to have family/friends who sew, maybe you can try their machines, also ask them questions. And don't necessarily go with the lowest model of sewing machine, go one or two beyond, as if you really enjoy it, you'll be happy that you went this route as you'll be happy with your machine for several years." - Regina

• "Hold a small piece of white paper behind your sewing machine needle when threading and it will be so much easier. I wax the end of my thread with bees wax; it makes the end stiff and works great for all sewing needles. Just draw the end through by holding your thumb against the thread and the wax and draw it through." - Lydia Gray

• "My best sewing tip is get to know your sewing machine.  If your machine has decorated stitches, sew every decorated stitch out and make yourself a sampler.  Then be sure you know how to thread your machine, change your bobbin, change the needle, put the feed dogs down for free motion stitching.  Make a button hole..... Then and only then will you be comfortable sewing. " - Kathie Schmitz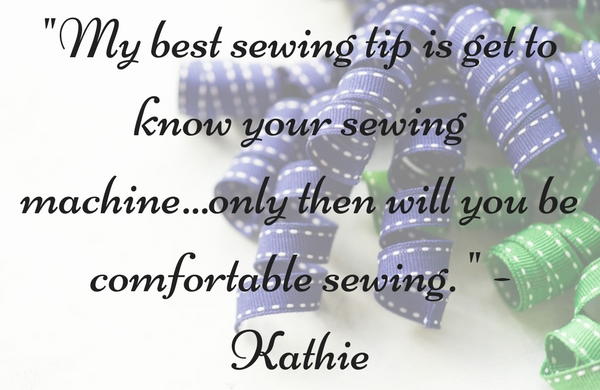 Don't miss any of our National Sewing Month posts! We're celebrating all September long with new tutorials and patterns. National Sewing Month 2017
Fabric and Sewing Pattern Tips
• "Be careful of the sizing. Some patterns run bigger than your size. Measure 2-3 times and cut once!" - Fancy Santana 

• "I buy material at thrift shops. When I find some suitable ones, I make simple tote bags with a matching arm pillow for women who are receiving in-line chemo. The bag is 18"x18". The handles are about 18" long before sewing onto the bag. Therefore the middle of a handle is about 8" from the top of the bag." - Alice Smeathers

• "I have several (wouldn't you know it!). 1. My suggestion begins: Don't panic when you open the pattern and see the instructions and pattern pieces. 2. Do wash the fabric before sewing so there will be no shrinkage to contend with. MOST important is to READ the DIRECTIONS before cutting the fabric out or sewing. 3. Choose a simple pattern to begin with.  There is no sense in starting out with difficult to read directions and be confused if you are not familiar with terms and more." - Peggy from California

• "I have always told beginners to choose a simple pattern and a cotton or cotton/poly fabric. This helps keep them from getting frustrated when trying to pin the pattern to the fabric and then cutting it. Over 61 years of sewing, I have learned frustration will stop beginners from continuing faster than anything" - Gail Shannon

• "My tip would be to use quality fabric if you are going to put your time into a garment or home item. You want it to hold up to wear over time and last." - Darlene Hawkey-Cruikshank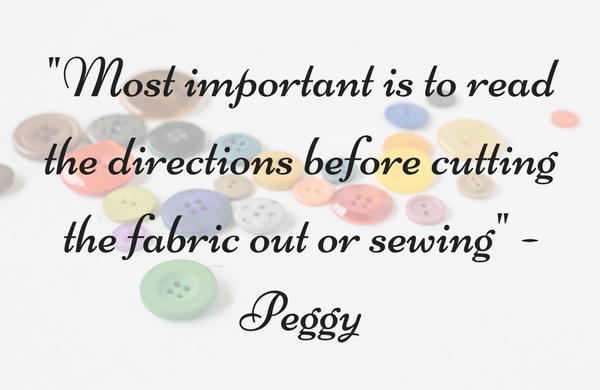 Choosing Your First Sewing Project
• "If you start with simple projects that use straight line stitching, you can create beautiful projects without too much difficulty. Being creative with projects like placemats, napkins, table runners, and pillows are great beginner projects that will turn out beautiful and make you want to keep sewing!" - Lynnette France

• "I would suggest starting out with an apron...something simple to get used to the sewing machine. I had a great home economics teacher that taught me how to sew!!" - Maryellen Murphy

• "My sewing tip for beginners is that if you can shop for it, you can make it with some practice! I started by sewing my Barbie clothes by hand to decide what I liked. I still sew by hand and because of this site, no one has what I have. My method of sewing is to put on some music for a rhythm, thread a crafting needle with button or upholstery thread, and begin sewing. If you stitch to your rhythm, you can put 20 stitches on the needle at once and pull them through. This makes your product so much faster to make!" - Kirk Krassman

• "I would suggest for beginners making the easy mini tissue holders, mug rugs or coasters.  There are so many easy patterns out there to pick from.  Also, I'm getting ready to make some mini hand warmers with rice in them for a friend who had a hand injury.  The winter weather makes his hands hurt.  This way, he can place them down in his soft glove he wears and the heat will help the pain go away." - D'Anna McGarraugh

• "I'd tell them to try a simple project, such as a tote bag, to get used to how your sewing machine operates. It's also a fairly basic cut and sew, although you can make them very involved if you add extra pockets, decorations like rick rack or ribbons, zippers etc. Whatever you do, if you get frustrated, stop until you can get help or instructions." - Deb Rosproy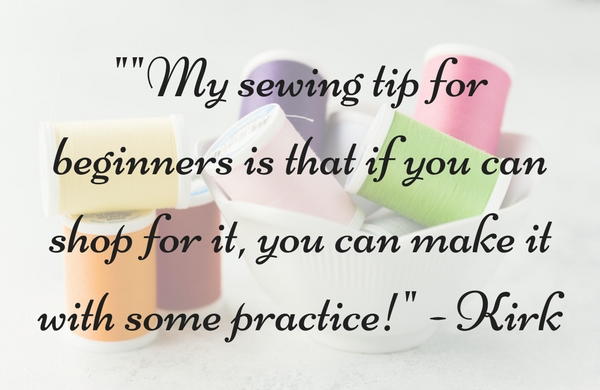 Tips for Stitching and Using Sewing Tools
• "Best sewing tip? Have a really good quality pair of scissors for FABRIC ONLY. Don't let anyone else use them - ever. Have another pair for cutting paper. Never lend your sewing equipment to anyone - especially your scissors." - allparkers

• "Invest in a good seam ripper.  Ripping out a seam is part of the learning process.  Learn by your mistakes.  Project was a total disaster, cut it apart and make a quilt - lap size or larger. I have found some patterns call for way too much fabric.  As you learn to work with patterns and have a favorite one, you will learn how much fabric you will really need to purchase without having a yard or so extra fabric to try and figure out what to do with it." - Arvin Hanson

• "Pin and baste until you are comfortable with just pinning.  However, do not pin across stitch line, needle can get caught on the pin.  Pin just the other side of stitch line.  Basting at times is very important and will help you with your sewing certain items." - Katie

• "The biggest thing that I had to learn when starting was go slow. It's easy to get a "lead foot" and let it get out of control. Take the time to go slowly and practice doing curved stitches as well as straight. If you get frustrated stop and walk away, whether for an hour or a day. Take breaks." - Melissa Wood

• "Press as you go!  Use a pressing cloth to prevent marks on fabric and press each seam as you complete it. It stops you getting cramped as you have to get up from the machine to press the seam and it also give a much better garment." - Maureen Blair

• "'It's All About the Baste' - Use a basting stitch if not absolutely certain of a 'how to' step in your directions. Have a quality seam ripper on hand as well in case you thought you were absolutely certain 'how to' but oops...It's much easier to pull out basting stitches than to rip that 20" seam with millions of tiny stitches! Let it be all about the 'baste'...and you'll have no 'treble'." - Anita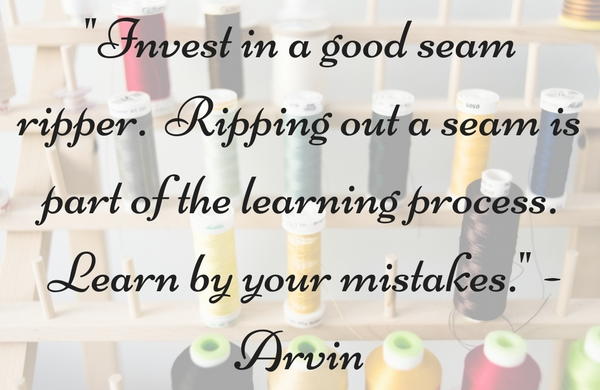 • "My best tip is to learn how to thread a needle. I didn't learn properly until I had been sewing for many years. The proper way is to hold the thread in the non-dominant hand thumb and first fingers, just close enough so that the end is barely showing. Then bring the eye of the needle TO the thread. Gently push the eye onto the thread and it will go in almost every time. Then catch the thread with the thumb and first finger of the non-dominant hand and pull through, while still holding onto the needle with the dominant hand. No more trying to poke the thread into the needle. Once you have practiced a few times, it will become so much easier." - Helen Boyer

• "I always leave a length of thread on a hand sewing needle - doesn't matter how long or what color. It helps me spot it in a pin cushion (as opposed to having it poke down into the pin cushion or getting lost among the pins) and it certainly helps me to spot it if it falls to the floor (or in the grass!) or blends in with the tabletop, chair, or wherever else I might be working. The thread acts like a flag that says, "Here I am!" - Joanie

• "If I could only pass on one tip to a beginner it would be when making a dart, as you finish at the point, turn the fabric slightly and sew 3 stitches beyond the pointed end into the fabric. This makes the end of your dart perfect. Then of course #2 would be press, press, press your seams and #3 Use the correct needle for the fabric weight. Always hard to only give one tip to a fellow sewer!' - Cathy Jacquot
The Best Sewing Tips for Beginners
• "My mum always told me when she was teaching me to sew 'Never rush into your first project.  Check everything twice, or even three times, especially if there is a pattern in the fabric before cutting out.  If you do make a mistake, never throw it away or give up.  Some of the fashions are created by cutting errors. If you do not like that idea, the fabric can be used for something else.  The finished article is your success.'  After 60 years of sewing, I still double check!!" - June from Australia

• "First…Relax...it's all an experiment (at least my projects are). Have fun, once you get the creative itch, just let your inner self go!" - Susan August

• "My mom taught me to sew and she always told me just about anyone can sew a straight line seam, it's taking the time to learn to do the details well that will make you a good seamstress.  I'm 63 and I remind myself of that frequently." - Teresa O.

• "Take all of the classes you can. Free webinars, those given by local fabric or sewing machine stores, whatever." - Joyce Stratton

• "If something isn't going well and you're frustrated, put you project down and walk away. The next day, when you are fresh and rested, you will have the ability to figure it out and complete your sewing project." -Josephine Lifrieri Shelton

• "Here's my best sewing tip for beginners, a tip I got from my grandmother years ago, "Never sew when you are tired." She was really, really right! I make the stupidest mistakes sewing when I'm tired." - Ellen Cannon

• "Rome wasn't built in a day. Slow and steady will win the race. And finished is better than perfect. Buy the best you can afford (of everything: machines, fabric, threads, and notions.) Make friends with someone who sews, so you can ask questions and so you can borrow thread after the stores close. Check out books from the library, you will learn so much from them." - Torry Hemert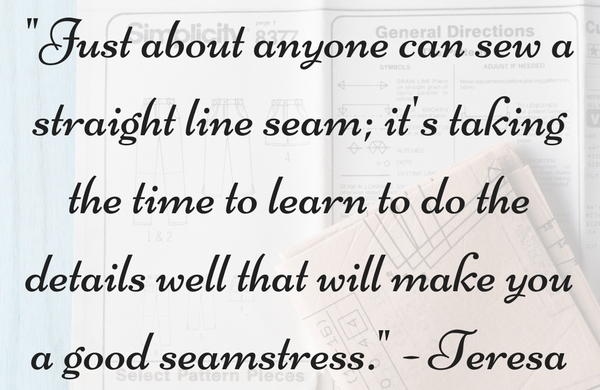 What's your top sewing tip for beginners? Let us know below in the comments!
Free projects, giveaways, exclusive partner offers, and more straight to your inbox!
Your Recently Viewed Projects
Images from other crafters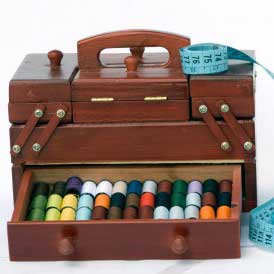 Something worth saving?
SAVE all your favorite patterns
ADD personal notes
QUICKLY reference your patterns