Rotary Cutter Blade Guide
Learn all about the best rotary cutter blades for your projects, different sizes of cutters, and much more!
Updated July 19, 2023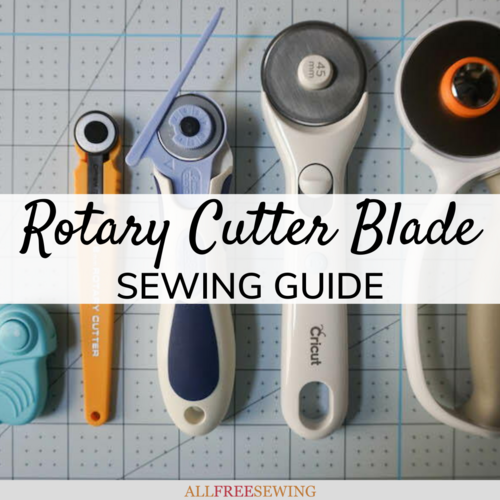 This Rotary Cutter Blade Guide is a fast and helpful page focusing on learning the types of blades available, how to change them, and how to use them as well. Our friend Marie Segares is here to walk you through your burning questions.

If you are wondering what the best rotary cutter blades are for specific projects or what works for everything, this guide will help you plan and be ready for your next sewing day.

Let's hand it over to Marie for her help:

I'm Marie from Underground Crafter and I'm here to answer your top three questions about rotary cutter blades! Rotary cutters can be used for more than fabric but that's the main use for sewists. With a sharp wheel, it makes for quick cutting.

If you already know how to use a rotary cutter and mat but want to learn more about rotary cutter blades, then this rotary cutter guide is for you. I'm going more in-depth about using them for sewing. If you sew, you might have familiarity with rotary cutters or you may have yet to try one. Either way, this page will guide you through it all.

This information is not only helpful for beginners. Even experienced sewists will find some of these answers useful for different types of sewing work.

Sign Up For More Free Patterns >>


Here are the answers to three frequently asked questions about rotary cutter blades:
What size rotary cutter blade do I need?
Rotary cutters and blades come in many sizes, starting as small as 18 mm and going up through 60 mm.

18 mm blades are ideal for intricate cutting of curved pieces, cutting small pieces or appliques, and trimming seams. 28 mm blades are best for smaller projects cutting through a few layers of fabric.

The 45mm is the "standard" size most sewists and quilters use for straight cuts through four to eight layers of fabric. Larger, 60 mm blades are ideal for cutting through as many as 12 layers of cotton fabric, as well as cutting thicker fabrics such as leather or suede, felt, fleece, and wool.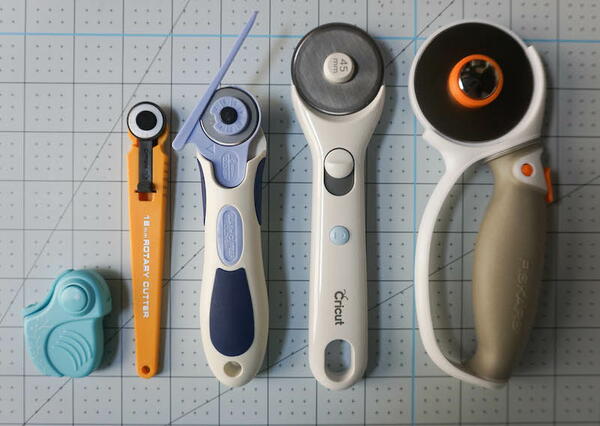 Rotary cutters only work with a single size of blade, so you will need to buy multiple sizes of rotary cutters to use with different blade sizes.
What can I use specialty blades for?
Most of us are familiar with the smooth round blades that come standard in most rotary cutters, but there are many other types of rotary cutter blades. Here are a few popular blades and the types of projects they can be used for:
Pinking blades are just like pinking shears. These blades have crinkled edges that create a zig zag cut that helps keep cotton fabrics from fraying. Try a pinking blade in this fabric wreath tutorial.
 
Chenille or slash cutter blades are used to mimic the soft feel of chenille yarn in fabric. These blades will also include a guide for sliding the blade between seams. Try a chenille or slash cutter with this chenille teething blanket tutorial.
 
Skip-cut blades are designed to create small holes in fabric so you can crochet edgings. These blades come in different sizes so the crochet stitches can space out differently and for use on different fabric types.
 
Scallop and wave blades can be used for paper crafting, quilting, and no-sew polar fleece projects to create a decorative edge.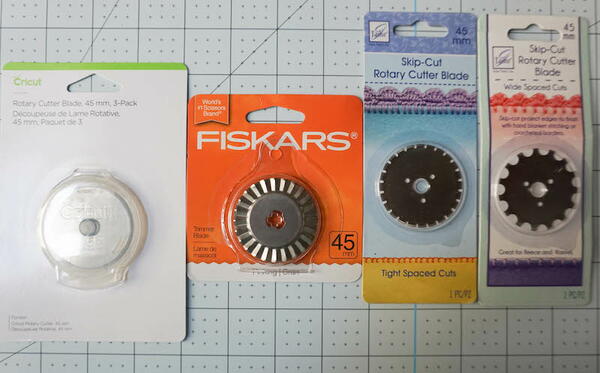 When choosing a specialty blade, be sure to check the size to make sure it will fit your rotary cutter.
How do I know when it's time to change the rotary cutter blade?
Learning how to change a rotary cutter blade is one of the most important parts of having this tool in your arsenal. While some people recommend changing blades at the end of every large project, most sewists wait for their blades to show signs of wear before changing the rotary cutter blade. The first sign of dullness will be skipping.

After making a pass with your rotary cutter, you will notice some parts are not cut through completely. That is a sign that your blade is too dull and you should change it.

Dull blades can not only lead to snags on your fabric, but also to injury as you press down harder to make the same cut and put extra strain on your wrist or back.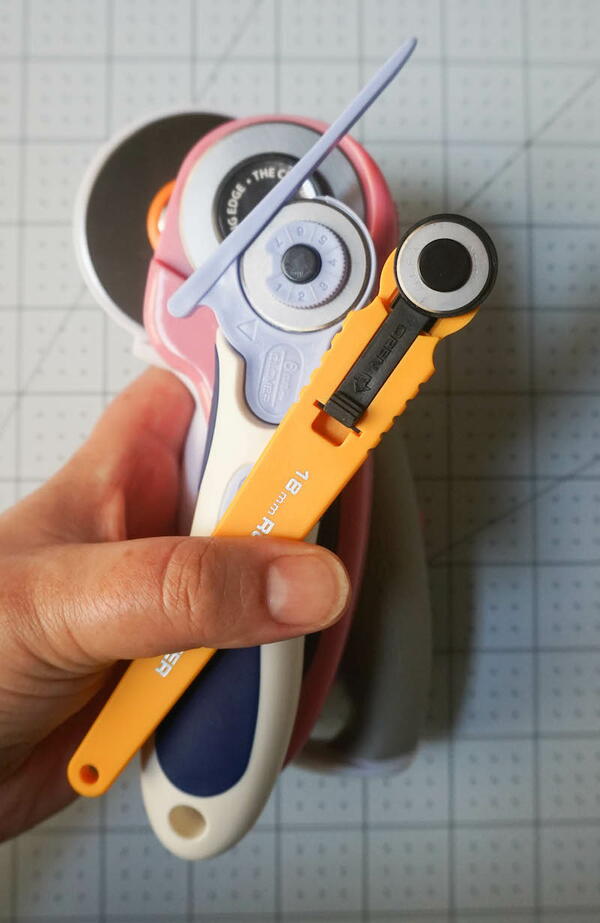 Marie Segares is the Proprietress of Underground Crafter. Marie shares sewing patterns and tutorials, crochet and knitting patterns, recipes, and more creative inspiration on her blog. She also hosts virtual make-a-longs throughout the year.

Marie's favorite projects to sew are gifts for her family and friends and quilted projects. You may be wondering about the Underground Crafter name. Marie isn't part of a secret society of crafters (though that would be pretty cool), but she has been known to crochet and knit underground while commuting on New York City's subway system.
Find this article and everything else shared during National Sewing Month this year by checking out our main page.

>> National Sewing Month 2020
Free projects, giveaways, exclusive partner offers, and more straight to your inbox!
Your Recently Viewed Projects
Images from other crafters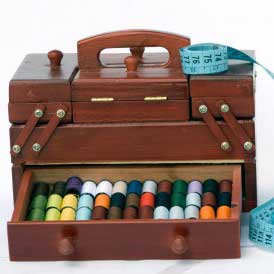 Something worth saving?
SAVE all your favorite patterns
ADD personal notes
QUICKLY reference your patterns