How to Use a Rotary Cutter and Mat
Learn how to use a rotary cutter to get a straight, clean cut on your fabric every time!

If you're like most sewists, you want every cut you make to be pristine. No ragged edges, no frayed seams, and no misshapen lines. However, scissors may not always do the trick. They slip in your hands, double-cut fabric, and oftentimes veer off the straight path no matter how boldly you mark it. In short, cutting fabric can be a nightmare.

It doesn't have to be, though.

Get a perfect edge every time you cut by learning How to Use a Rotary Cutter and Mat! A piece of cake to use and a terrific time-saver, a rotary cutter will change your life once added to your collection of sewing tools. Don't be daunted by the rotary cutter's sharp edge. Despite its severe appearance, a rotary cutter is a breeze to use and is a safe tool when wielded correctly.

This simple tutorial will teach you all you need to know about how to use a rotary cutter and cutting mat. After reading this how-to guide, you'll be able to cut foot-long edges with divine precision and never have to stop to shake out your aching hand. Though you won't throw out your scissors forever, you'll sure be tempted after learning this new technique!

Once you've watched the How to Rotary Cut Fabric video tutorial from Carolina Moore, you'll have a bettering understanding of this sewing and quilting tool. We have lots of information on this page as well, so be sure to scroll down!
If you're in the market for more user-friendly how-to sewing guides, look no further than this list of 23+ Beginner Sewing Videos and Tutorials! You don't have to be a professional sewist to learn a new skill. All you need is some enthusiasm and thread, and you'll be a sewing expert in no time! 33+ Beginner Sewing Videos and Tutorials
What is a Rotary Cutter?
A rotary cutter is a tool used to cut straight lines of fabric with a circular blade attached to a single handle. A rotary cutter looks similar to a pizza cutter, but it has a sharper blade so that it can cut through thick fabrics. This tool comes in many different shapes, sizes, and styles. Some may be curved, have a different blade exposing mechanism, or a larger blade diameter. Choose whatever model works best for you, and you'll still get a clean cut!
Why Use a Rotary Cutter?
Unlike scissors, rotary cutters allow you to cut fabric in a perfectly straight line every time. This cutting technique keeps seams from becoming ragged. Using a rotary cutter also takes less physical effort than cutting with scissors because you don't have to move your fingers around to manipulate the rotary cutter or hold your fabric up as you cut.
What Is a Cutting Mat?
A cutting mat is a surface on which you cut fabric with a rotary cutter. It is used to both protect a surface from the blade of the rotary cutter and keep the blade of the rotary cutter from becoming dull. Most often, cutting mats will have a measured grid printed on their surface to help make straight, measured cuts on fabric. Cutting mats can either be hard-surface, which are less flexible and do not retain any marks from the rotary cutter's blade, or self-healing. Self-healing mats are generally thinner and more flexible than hard-surface cutting mats, and they are often coated with a thin layer of vinyl. When you use self-healing mats, they receive tiny marks from the rotary cutter's blade, which they then reclose.
Why Use a Cutting Mat?
A cutting mat protects your work surface so that it does not receive any marks from the rotary cutter's blade. It also prolongs the life of the blade by keeping it from becoming dull.
Instructions: How to Use a Rotary Cutter and Mat
Note: Always exercise caution when working with a rotary cutter. The blade is sharp and can cause harm if used incorrectly.
Make sure the blade of your rotary cutter is sharp. Replace if dull.

Lay your fabric down on the cutting mat, and smooth out any wrinkles. Line up the edge or fold your fabric so that it is in line with the grid on the mat. Every part of the fabric that you want to cut should be on the mat. There should be at least one inch of the mat exposed beneath your fabric's edge.

Tip: Iron your fabric before cutting it so that it lays extra flat on the cutting mat.

Position the ruler over your fabric so that the ruler's edge lines up with where you want to make the cut. Make sure you hold the ruler firmly in place. For a straight, measured edge, line the ruler up with the grid markings on your mat.

Expose blade on your rotary cutter with your other hand, and position it against the ruler's edge, just below the bottom hem of the fabric. To cut through the fabric, maintain consistent, downwards pressure on the rotary cutter and push it forwards across the fabric, moving away from your body. Roll the fabric cutter until you pass the opposite end of the fabric.

Close your blade and remove excess fabric. If you find that any part of the fabric was not thoroughly cut, make another pass with your rotary cutter.

To make another cut, turn the mat and/or fabric, and repeat Steps 2-5.
Free projects, giveaways, exclusive partner offers, and more straight to your inbox!
Tags / Related Topics
Your Recently Viewed Projects
Images from other crafters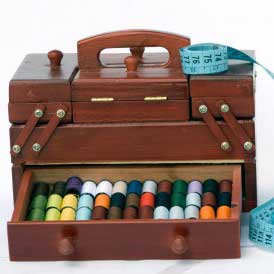 Something worth saving?
SAVE all your favorite patterns
ADD personal notes
QUICKLY reference your patterns