How to Do Alterations
If you're just getting started sewing clothing or want to learn, then check out these sewing alterations for beginners!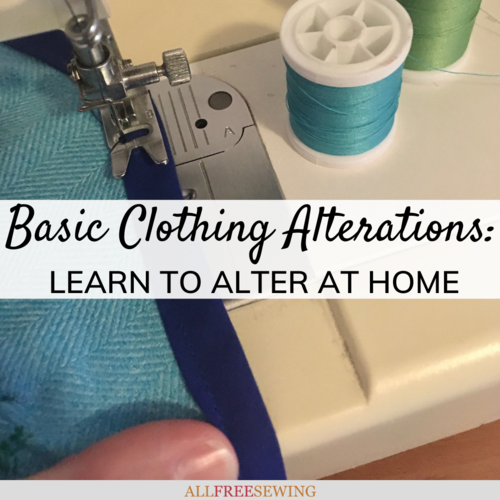 You can learn how to hem pants or how to take in a top with this article, How to Do Alterations.

Our in-house expert Chris Hammond, along with Mary Beth Temple, sewist extraordinaire, helped put together these step-by-step instructions. These sewing tutorials will teach you how to sew for your everyday life.

Buying clothing can be frustrating because your figure is probably not the same size as what retailers sell on the racks. Custom clothing is expensive, but you can customize clothes from the store with hemming, shortening sleeves, and taking in tops.

Another day-to-day clothing alteration is changing the buttons on a shirt to make it look new. These are all easy sewing projects for beginners that don't require advanced knowledge of sewing techniques. 

For an extensive list of alteration tutorials, frequently asked questions, and more, be sure to take a look at this comprehensive resource: 130+ Sewing Questions Answered: Ultimate FAQs Guide.

  Sign Up For More Free Patterns              
How to Sew: Basic Clothing Alterations
How to Hem Pants or a Skirt + Tips
It's often difficult to find a skirt or pair of pants that are exactly the right length. Chances are you'll need to adjust the hem to make the garment fit perfectly.

The quickest and easiest way to learn how to to do alterations for pants is with iron-on hemming tape. While this is a perfect solution for when you don't know how to sew, the results aren't permanent and you run the risk of the new hem coming undone. For a detailed tutorial for each type, read How to Hem a Skirt or How to Let Out Pants in 10 Steps.
To hem your new pants or skirt, you'll need to gather a few supplies: a sewing machine, needle, thread that matches the fabric, scissors, pins, and an iron.
 
To begin, put your pants on inside out. You will need a friend to pin the hem up where you'd like it. Carefully take the piece off and make sure the hem lengths match and are even all around. Using your iron, press the new hem firmly.

Once the main hem is pressed, carefully turn under about 1/2" along the top edge so you'll have a professional finish. Press this turned under piece as well.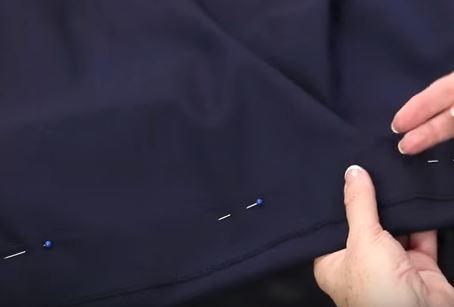 Using the sewing machine, sew with the smallest stitch possible. Some machines will have a "blind stitch" – if that is the case, this is the best stitch choice. Carefully go all the way around and you've just sewn a new hem!

Learn more by reading Types of Hems + 10 Hemming Tutorials.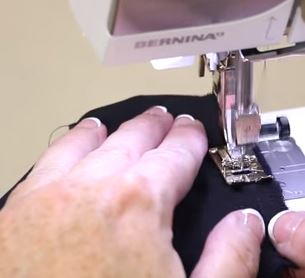 How to Take in a Top + Tips
Sometimes we find the cutest tops, but they really just don't fit properly, and end up putting the item back on the shelf. Pick it back up, though! You can buy the top, and learn how to do alterations to create the silhouette or fit that you want.

Many times the problem with the top is that the shape is "too boxy" or "square" for the feminine figure. You can easily remedy this by learning how to sew two simple straight seams for this clothing alteration.

And if you are searching for tips and a tutorial on altering jackets, read our guide, How to Alter a Suit Jacket.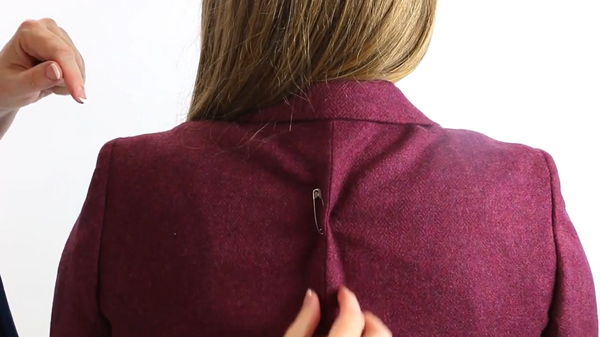 In order to alter the top, you're going to need a few basic supplies. A sewing machine, a friend, the appropriate undergarments, a seam guide, tape measure, pins, and scissors.
 
Wearing the undergarments that you're likely to wear under the top, put the top on inside out. Have your friend carefully place pins in the fabric where you'd like to take the top in.

To make this easier, try to make all alterations at the side seams of the top. Make your new seam go from the armpit to the bottom seam in a gentle line, narrow at the top and going wider to the bottom.
 
Take the top off and carefully lay it flat. Using your tape measure, make sure that you have taken the top in the same amount on both sides. Adjust the pins as needed to tweak the shape. Once you have the top pinned, sew along the pinned line. Once you have sewn everything, flip your shirt right side out and try it on.
 
Adjust the seam as necessary. Once you are happy with the fit, press the new seam flat and enjoy your new fitted top. Now you'll know how to sew straight seams in the next "too boxy" top you find.
How to Alter or Add Buttons + Tips
Another basic clothing alteration is to change out the buttons on a shirt. This is an especially helpful task if you've purchased the shirt at the thrift shop and there are buttons missing or damaged.

Head to the local fabric store and search for buttons that show off your style or match the style of the shirt. Be sure that they fit comfortably through the hole but aren't so small that the shirt won't stay closed.

We also have several more specific button sewing resources. Read How to Sew a Button, How to Sew a Button on Pants, How to Sew a Buttonhole By Hand, and How to Make a Buttonhole on a Sewing Machine.
Learning how to sew new buttons on a top is very easy. All you need are buttons of your choice, a sewing needle, and a thread to match. When choosing your thread, try to find a sturdy spool.

​​​​​​​There are threads specifically for buttons, so if you can find them, they'd be the best choice. Otherwise, be sure to thread your needle with a doubled length of your thread to insure strength and stability.
Carefully place your button in the spot opposite the buttonhole. If the fabric is damaged from tearing a button off, you'll need to repair the area first with a small patch. Begin by sewing up from the back and into a hole in the button.

Go across to another hole (if you have 4 holes, make an X pattern). When going back down, be sure to go down to the back as close as possible to where you came up. Repeat the process until you have followed your pattern 3 times.

For your final pass, come up through the fabric but not into the button. Pull your thread to the side and make a loop so you can slip the needle through to create a knot. Pull tight and then wrap around underneath the button three times and pass the needle back to the underside of the fabric. Tie and knot and trim.
 
If you have trouble keeping buttons on, a small dab of clear nail polish on both the back of the fabric and the top of the button will keep your newly sewn buttons in place for a very long time.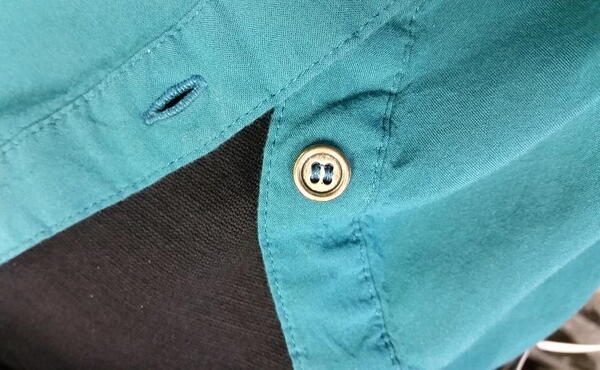 Prices for Common Clothing Alterations
If you're thinking that you don't want to put in work in learning how to make alterations at home, you can send it out for someone else to do.

However, doing this can be expensive and it can be more worth the time to learn how to sew these alterations yourself. The average prices for some clothing alterations are listed below. Keep in mind that every tailor is different, the specifics of your needs can change the cost, as can inflation and location amongst other things.
Shortening sleeves on a dress shirt costs about $19.
 
Taking in a dress shirt costs about $20.
 
Hemming a pair of jeans or pants costs about $10.
 
Hemming a skirt or dress costs about $15.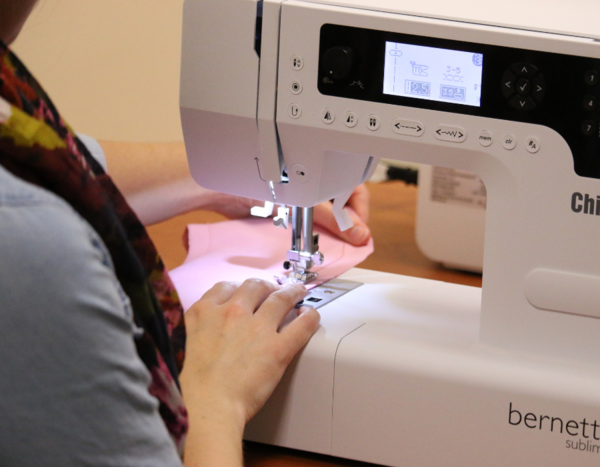 What other alterations do you want to learn?
Let us know in the comments!
Your Recently Viewed Projects