Michael Miller Fabrics Indian Summer Review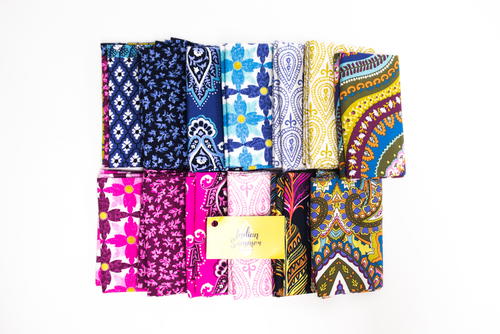 Michael Miller Fabrics Indian Summer Review
www.michaelmillerfabrics.com
Reviewed by , Editor, AllFreeSewing.com
Indian Summer by Michel Miller Fabrics samples the most gorgeous elements the boho trend has to offer, with feathers, paisley and more.

Perfect for fall quilts, this collection of prints features designs inspired by gypsy caravans. Free-spirits will love these tonal and multicolored prints, which are available in medium and large scales. Feathers, lotus feathers and other boho motifs make this a modern, inspiring collection.

The color palette of this collection brings to mind late summer and early autumn, when deeper, richer tones like maroon, mustard and paisley blue start to make an appearance. There are also plenty of pinks and purples for a fun, feminine project.

Launched in September 2016, these fabrics would make for a trendy quilt with a global vibe. Two of our favorite patterns are "gypsy heart," which features a gorgeous jewel-toned paisley design, and "gypsy stripe," which has a psychedelic vibe the characters of That 70s Show would probably dig.

This collection definitely has a 1970s feel to it that hippies young and old would enjoy. Look no further than "catching dreams," a design featuring feathers in autumn's rich oranges, pinks and blues.

These fabrics would add character to any quilt, paired with plainer fabrics or combined for a dazzling effect. Completely machine washable and 100 percent cotton, a quilt made with the "Indian Summer" fabrics would hold up for years to come.

The colors and patterns of this collection make it a great candidate for a gift quilt! New college grads, teens or anyone with their finger on the pulse of modern trends would love to have a quilt made from these fabrics. It would fit in well with the gold, feather and jewel tones in most modern home décor.

What fabric design inspires you?
 
Your Recently Viewed Projects