30 Cute Sewing Projects for Mom, Grandma, & More Women
This year, treat Mom to a unique present with this list of easy sewing projects and DIY Mother's Day gift ideas!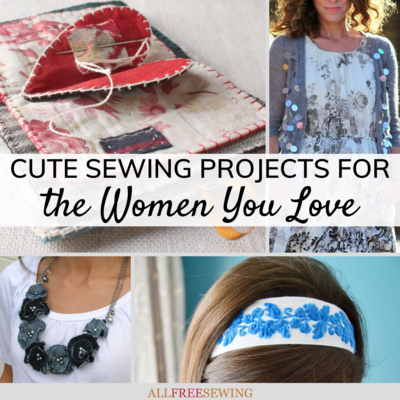 This Mother's Day, opt for something special for Mom. If you're a mom, check out these Mother's Day gift ideas and treat yourself!

Homemade gifts are always more meaningful and memorable than anything store-bought. With even just basic sewing skills, you can create something beautiful and useful for yourself or a mother you know.

Check out this wonderful collection, 30 Cute Sewing Projects for Mom, Grandma, & More Women for all the best ideas, projects, and patterns.

Motherhood is such a wonderful experience but being a woman, whether or not you have children, should be celebrated!

Women from all walks of life deserve to be pampered and appreciated, especially on Mother's Day. For the sewing enthusiasts in us all, we've rounded up several Mother's Day gift ideas and free sewing patterns for women.

If you know a mom who loves gadgets, we've included DIY gadget cases you can embellish and personalize. For the stylish mom, check out our free skirt patterns. And for the mom who loves to dress up everyday outfits with special handmade jewelry, we've included free jewelry ideas too.

So, when Mother's Day is coming up or it's Mom's birthday, then it's the time to start working on your homemade gifts. Let this collection inspire you to sit down with your sewing machine and whip up something wonderful.

She'll cherish it forever! And if you're a crafty mom yourself, we know you've earned some quality time with your fabric stash; sew away!

Sign Up For More Free Patterns >>>


PLUS! Don't miss our video on how to make an adorable half apron. It's the perfect DIY gift for Mom or any lady in your life.
Table of Contents
Your Recently Viewed Projects