37 Quilting Tips and Tricks from Our Readers
By:
Ashley Jones, Editor, AllFreeSewing.com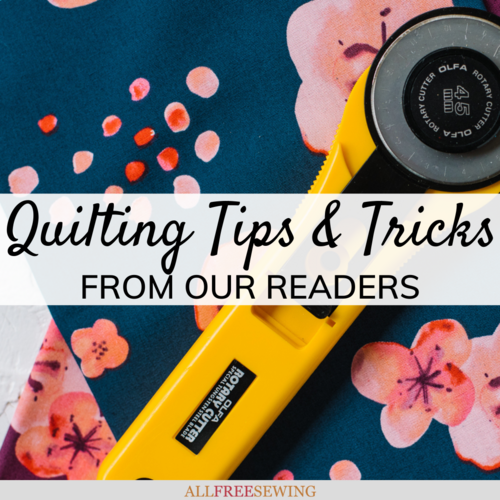 Learning How to Quilt: Choosing Your First Project
• "Start with small projects before taking on a quilt. There are wonderful patterns for pot holders, table runners, place mats, and casserole carriers." – Annmarie Mooney

• "Best quilting tip after 40+ years of quilting is the easiest and most basic.......check your measurements and measure twice before cutting!" - Myra Gordon

• "My best tip for the new quilter is to start with an easy pattern and BREATHE! Be kind to yourself! I've quilted over 30 years and still make mistakes. Some I leave in for luck and some I take apart. I use 20 stitches to the inch. VERY tedious to seam rip." – Lisa Hendrix

• "Start with a pattern with large pieces.  If you see some fabric you really like, buy a yard. Before you collect too much fabric, make a few quilts." – Pamela Daily

• "If you are used to clothing construction know this...the way you can play around with the exactness of a 5/8" seam is a world of difference from the way you cannot play around with a 1/4" seam." – Rivkah Cohen

• "Forget almost everything your sewing teacher taught you. A lot of the techniques do not work when quilting.  A big example is stay stitching the pieces together around the edges. I was trying to teach a friend to quilt as you go and couldn't figure out why everything was puckered when she finished.  She was stay stitching the pieces together before quilting."  – Leona Pryor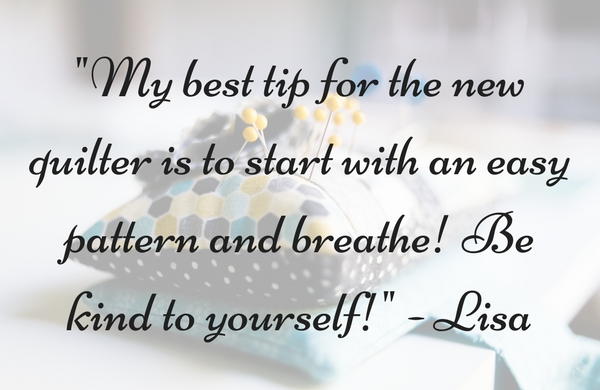 Celebrate National Sewing Month with us! Don't miss any of our National Sewing Month posts all throughout September. National Sewing Month 2017
Quick Tips for Quilters
• "My favorite tip is for removing a line of stitching easily. Using one side, clip every 5th or so stitch all along the full stitched area, then turn it over, pick up one end of stitching and it will pull out the whole length. Time saver!" - jntraulston

• "I was always having trouble with tangled threads at the start of sewing until a friend told me to use starters and enders. It not only stops the tangles but I have sewn pieces together to put a new quilt together very quickly." - Lainey

• "Wash your fabric first. Be sure to iron as you sew, makes it lay much nicer." – Betty Bonin

• "My favorite quilting tip: Use your walking foot when sewing the binding to your quilt so that all layers are evenly together when you get to the end of the seam." – Peggy

• "I keep my slivers of soap and use them to mark my quilt lines." – Jacquelyn Grove

• "Best tip I was given... machine sew your bias binding on one side and then hand hem the other side.  Although a little time consuming, I have found this gives the best finish." – Aisling Murray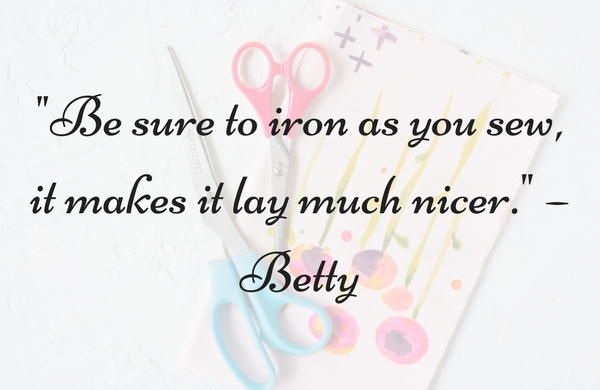 Tips for Using Quilting Tools and Choosing Fabric
• "Invest in a quarter inch foot to get started in quilting. Accurate seams are important." -  Linda B.

• "Clean and oil your machine, if needed.  Thread the machine with the thread you will be using and do a tension test.  Check the quarter inch foot.  If you do not have one, use another foot and find an accurate 1/4 inch,  you can move the needle to adjust too, write down the changes and put them in the manual or notebook.  You can use painter's tape on your machine bed to mark fabric placement when stitching." - Vale Martens

• "I have sewn for many many years and have to say that my best tip is to use Microtex needles as habit. These sharp needles don't actually cost more over time when you consider replacing others that have broken." – Cindy E

• "Don't give up and have your seam ripper handy."  – Jeanenne Dodge

• "The best tip I could give anyone is to have the correct tools. From cutting mat and rotary cutter to presser feet, thread and needles."  – Dane Larrabee

• "Use the dye catchers that are now available so if the dye runs you won't have to worry about them ruining your fabric. They really work.  I once had a quilt that I hadn't prewashed the fabrics in and when I washed the quilt, the dyes ran but I used a color catcher on it and rewashed it (quite a long time after) and it got rid of the excess dye and the quilt was fine." – Diane Paul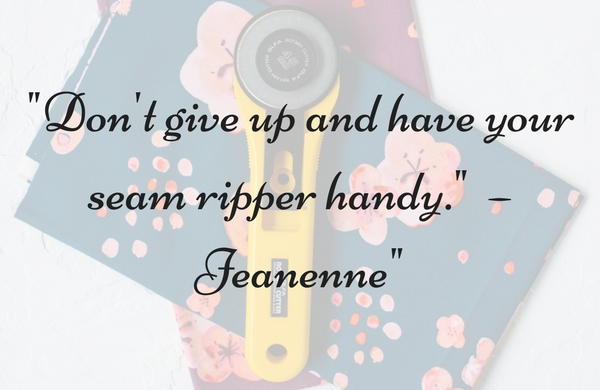 Tricks and Tips for Cutting and Piecing Your Quilt
• "Always iron the fabric before cutting and sewing. If you are sewing on the bias (ie diagonally to the grain of the fabric), be careful NOT to stretch it or the finished piece will not lay flat. I learned that the hard way!" – Andy Griffiths

• "Take your time and get your measurements right. Size does matter! Be consistent with your stitches or it will throw off everything. Nothing is worse in quilting than to have your pattern not line up when putting your squares together." – Vickie Townsend

• "When making a more complex design, use scrap fabric to cut and piece together at least one block.  You'll get a "feel" for the design and you'll know if and where you need to do a better job of matching up your pieces before stitching." – Suzanne Gabel

• "I was so happy to discover 'self threading needles'.  They save so much time and frustration when sewing your threads into your quilts." – Jeanette Evans

• "Always square up your quilt blocks before sewing them together. Everything will come together without big problems."  – Cindy Fellabaum

• "When working with strips, small squares, or triangles, starch your fabric." – Debbie Clardy

• "Make sure they know the difference between a cut measurement and a finished measurement of a block size.  I learned the hard way." – Linda Dennis
Tips for Choosing Color Value
• "Use precuts until you can figure out your favorite color combinations. Use plenty of white or cream for contrast too!" - Cheryl Brown

• "Work in a room with a neutral color on the wall.  I chose a soft gray because that color did not "compete" with the wide range of fabrics I've used over the years." – Judy Gollaway

• "My advice would be to select material in your favorite colors. And also pick a simple pattern so as not to be frustrated trying something too complicated."  – Jeanne Fitzgerald

• "I love how good variations of lights and darks look overall on a quilt. You definitely lose the design without good contrast of light and dark." – Diane Carlson

• "As for colors – make sure the colors have some contrast no matter what color scheme you are using.  I love to be creative with fabric and have done pastels, jewel tones, and just about everything in between." – Katie Hochhalter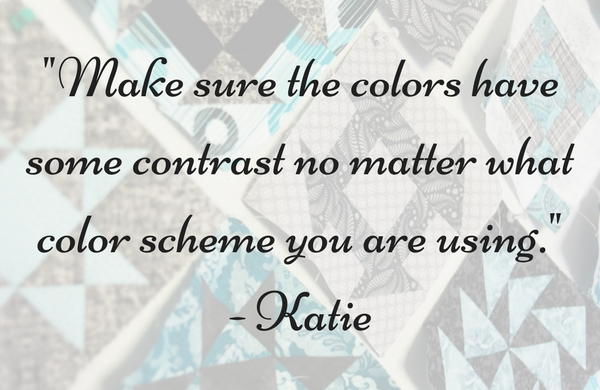 The Best Quilting Tips for Beginners
• "My best quilting tip is: don't worry about not being perfect. It's ok not to have every block matching. It's perfectly fine if your quilting stitches aren't even or if your 'stitch in the ditch' wanders out of the ditch like a drunken sailor. It's ok if your fabric choices don't exactly look like you thought they would. I got better and you will too! Quilting is an art form. That's the wonderful part! All quilts are beautiful and when your first one is finished, you will love it!" - Trish Smith

• "My advice for a beginner is "don't be a stickler for accuracy". That will come in time. Quilt for the fun of it. If your points don't come out perfect, it's not the end of the world. Whoever gets the quilt will never know and the warmth and love they will get out of it is way more important than perfection."  – CJ

• "I always tell new would-be quilters to take a class.  They will learn about modern tools and techniques, and if they get stuck, they have someone to help them.  They will also make new friends." – Al and Chris Murphy

• "My best advice is to contact a group of quilters and buy the best you can afford. Keep looking on Youtube, books, and blogs". – Kamilla Ralov

• "It's okay to alter a pattern to fit your needs and wants.  The "quilt police" will never know." – Kathy Biggi

• "Remember quilting is not a race. Slow down and enjoy the process. When I finally got this message, my quilts got better and I enjoyed making them." – Judy

• "The first is to watch as many of the wonderful free tutorials that are available on the internet as possible to gain valuable information regarding technique. The second is to enjoy the results of your labour and don't expect to be perfect first time. Just enjoy the process!" – Lynn Sweeney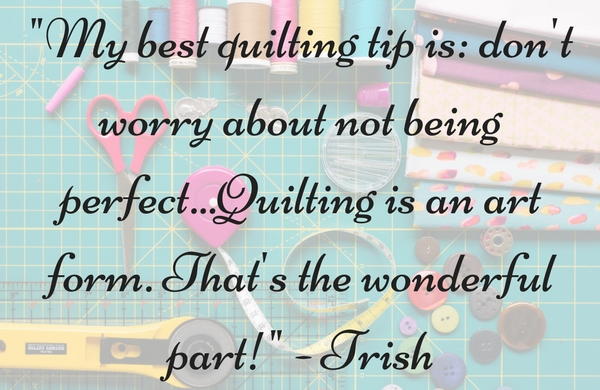 Beginner Quilt Patterns from FaveQuilts
If you're new to quilting, then be sure to check out these simple quilt patterns for beginners! They're the perfect way to jump into the world of quilting.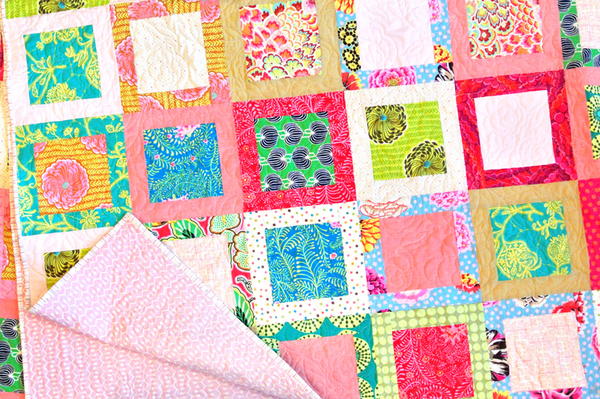 Free projects, giveaways, exclusive partner offers, and more straight to your inbox!
Tags / Related Topics
Your Recently Viewed Projects
Images from other crafters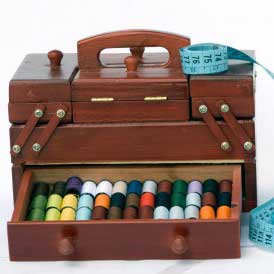 Something worth saving?
SAVE all your favorite patterns
ADD personal notes
QUICKLY reference your patterns