How to Sew with a Sewing Machine
Learn sewing machine basics with this helpful page.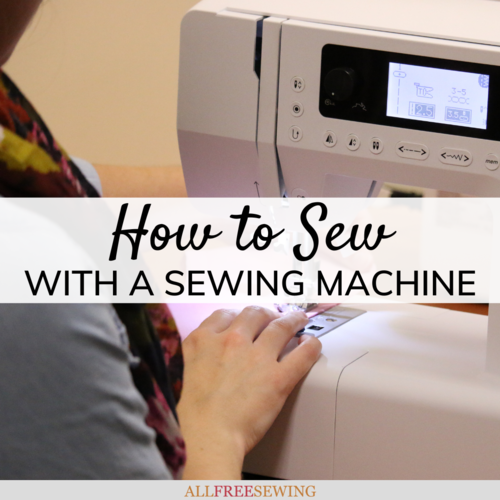 While hand sewing is all well and good for small details and embroidery, when it comes to the art of sewing these days, you absolutely and positively need to know How to Sew with a Sewing Machine.

In this fast-paced world, sewing by hand is just not always a logical option and we're not that upset about it here at AllFreeSewing. We love sewing machines! These wonderful devices make our lives so much easier. The problem is that when you are learning to sew, using a sewing machine can be intimidating. Well, not after you read this!

Your sewing machine might make you nervous because it has a motor, a million other parts (okay, maybe dozens), and a sharp needle! If you do not know how to use a sewing machine, the whole process can be overwhelming.

Just getting started is confusing and all those moving pieces and that whirring sound of the motor you will come to love can almost seem monstrous. We get that! That is why we have decided to compile this informational, helpful, and printable guide to how to use a sewing machine. Here are all of the sewing machine basics you need to know.

Once you learn the sewing machine basics, watch our video tutorials, read our tips and techniques, and everything else this page has to offer, you will be in much better shape.

This page is going to tell you absolutely everything you need to know about that first machine and that first sewing sit down! You do not need to take sewing classes because the editors of AllFreeSewing.com are right here with you!

Want more sewing information and inspiration? Sign up for our free newsletter!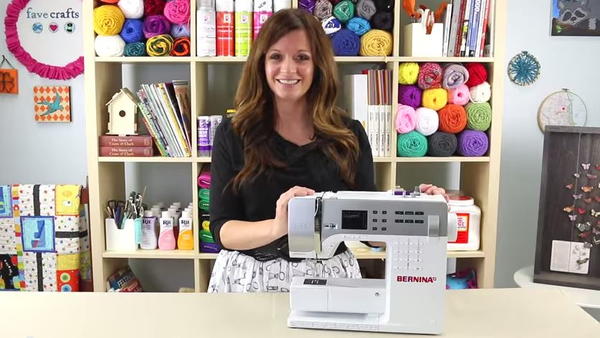 Best Sewing Machine for Beginners
Choosing a sewing machine can be one of the most confusing aspects for beginners.  Since we are the go-to spot for sewing patterns and sewing tutorials, we receive a ton of emails about what product is the best sewing machine for beginners.

Newbies always want to know the magical product name or serial number for what machine is the absolute best for someone that is just learning. The truth is there is not a perfect answer to this question! We could list a handful of simple sewing machines that would do the job, but this is an investment and you want to invest in the best sewing machine for beginners that is also the best sewing machine for YOU!

Before you even learn how to use a sewing machine, you are going to need a sewing machine. If you are checking out this post sans a sewing machine, that is entirely okay. We have a few tips on how to choose the sewing machine that is right for you.

There's a ton of options out there and we want to make sure you choose the best sewing machine for beginners that will do everything you want it to do. Just like buying a brand new car, what sewing machine you decide to buy is really dependent on what you want to make and how you are going to use it.

If you are going to do a lot of sewing, something sturdy is important. If you are just testing out the craft, something cheaper will do (for now).

You should look for the following in your first sewing machine:
Weight: A good sewing machine is going to be sturdy. A machine with a good weight is going to ensure that it is going to stay put on the table.
 
The Straight Stitch: The straight stitch is the stitch you are going to use while learning how to use a sewing machine. If you do not like how this particular stitch feels, you are not going to like the rest of the stitches.
 
Strength: If you are going to do something that takes a bit more power, like sewing onto denim or making quilts, you are going to want a strong machine.
 
Speed: You will want a machine that goes at a speed you enjoy. If you are a quick creator, a sewing machine that putts along will drive you crazy. Conversely, if that's your style, something that is extra speedy might stress you out. Do keep in mind, however, that most high-quality machines allow you to adjust for speed.
 
Bells and Whistles: Does the machine do everything you want it to do? Know what you need out of the machine before you buy it. If you are going to want to embroider, quilt, or more, something pricier with more options is the type of machine you are looking for. The best sewing machine for beginners will have a great straight stitch, a zig-zag stitch, and a buttonhole.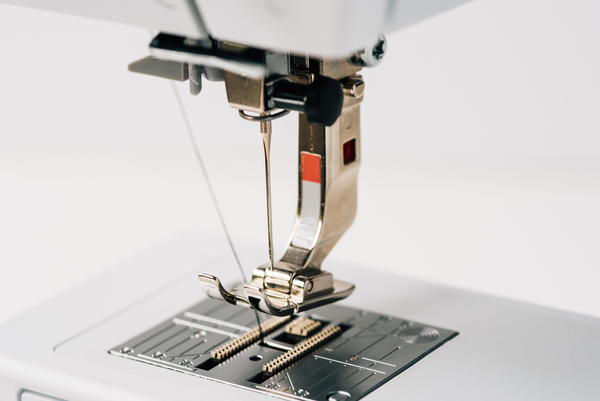 Parts of a Sewing Machine
So, you found the sewing machine that is perfect for you, unboxed it, plugged it in, reveled in how shiny it is, and now you are wondering what's next. Before you begin to learn how to sew with a sewing machine, you need to familiarize yourself with the machine in front of you.

You cannot learn how to use a sewing machine if you do not know all about the sewing machine. Knowing the parts of a sewing machine is an important part of learning how a sewing machine works. The below video explains each and every integral part of a sewing machine perfectly.

Once you have learned the parts that appear on just about every sewing machine known to man, you should also familiarize yourself with your own sewing machine. You picked that beauty out for a reason and now it is time to learn all about it.

Reading the manual for your sewing machine should be your next step. This useful little document will tell you exactly everything your machine does and how to use YOUR sewing machine. Most machines are very similar, but those little differences and quirks to your machine can be hard to tackle if you do not know they exist.
 

How to Set Up a Sewing Machine
After all of that purchasing and researching, you are finally ready to learn how to use a sewing machine and well on your way knowing the ins and outs of sewing on a sewing machine. Before you begin sewing on your machine, you will need to know how to thread your sewing machine. If a machine is not threaded, you can't sew.

Check out the following tutorial on how to thread a sewing machine to prepare your machine for its first project! You are well on your way to being an expert on how to use a sewing machine!

This tutorial on threading your machine, Sewing Machine Maintenance: How to Thread a Sewing Machine from our friend Remona Gopaul from The Stitching Scientist has everything you need to know about the process.

Note: Always be sure to read your sewing machine's manual before trying this out. Not all machines are created equal.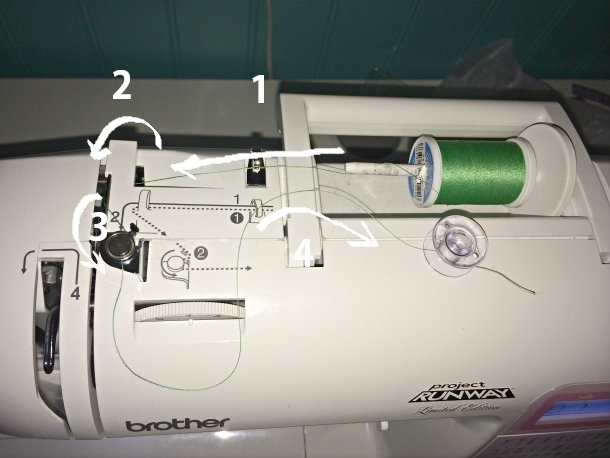 How to Use a Sewing Machine
Learning how to use a sewing machine is not exactly something you want to read. A step-by-step guide just will not make any sense. This is why we have asked Angel Peterson to show us how to sew with a sewing machine.

This short and super helpful sewing video will tell you everything you need to know about learning how to sew on a sewing machine.
 

Want to know even more about sewing on a sewing machine? This helpful guide to sewing machine has even more information on using your sewing machine. From picking needle sizes to rewinding your bobbin, and answers to all of your other questions, check out Parts of a Sewing Machine Video Tutorial
How to Sew with a Sewing Machine
Finally! You're ready to actually start learning to sew a stitch on your machine. Learning how to sew with a sewing machine is surprisingly easy but it does take practice. The process of getting started can be hard, but once you get going you are not going to want to stop (fair warning).

"Be patient with yourself and your machine. You are just learning and you will make a lot of mistakes. Think of how many times a child falls down before learning to walk, you need to fall lots of times because you figure it out!" Heather Paulsen, Heather Handmade

Before you dive deep into all of the projects you have been dreaming up, learn how to sew on a sewing machine by checking out the straight stitch. The Sewing Machine Straight Stitch is the setting you will be using the most on your machine, so it is imperative that you master it!

Practice sewing on your machine on some scrap fabric before you really get going. This free sewing video starring Angel Peterson on the Sewing Machine Straight Stitch is an excellent resource.

Still having trouble mastering that straight line? Check out this sewing hack post on How to Sew a Straight Line with Your Machine from yours truly. You will never guess how easy peasy it is to learn!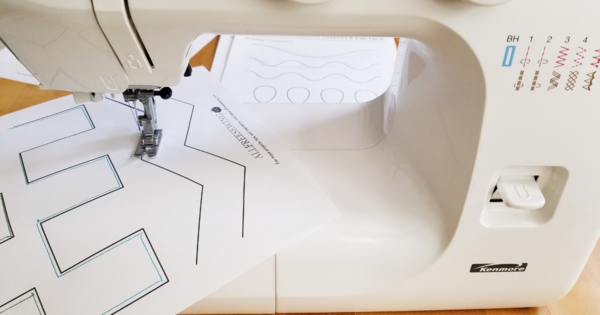 More Tips for Beginners
We asked Maris from Sew Maris if she had any tips for beginners. This is what she said:
Don't be afraid of a machine.
 
Learn to use your manual. It is your friend.
 
DON'T read your manual cover to cover, but DO skim it so you see where information is located that might be helpful.
 
Do not buy a super cheap machine. It will become a doorstop. Sewing machines are complex, and you simply must pay for good quality engineering. Buy the best machine you can afford, and never buy Singer.
 
JUMP IN. It is pretty easy to break a needle, but pretty hard to break anything serious on a sewing machine. I see people who have owned a machine for some time (in some cases years) and have never used it because they are afraid of the machine. Seriously? See point #1.
 
You will only get better with practice. Experiment with different feet.  Experiment with different stitches. Change your stitch length and width. 
 
Learn what each foot does, and buy specialty feet.  Many of the snap-on style feet are very reasonable, and why wouldn't you buy a foot that makes a sewing job easier? A few examples of this are invisible zipper foot, edgestitch foot, walking foot.
 
Take classes, watch videos, join FB groups, and join sewing associations (like American Sewing Guild (ASG)) that promote learning more about sewing. The field is very broad AND very deep – there is always more to learn!
Learn more by visiting her page,
What is the Right Sewing Machine for You?
What was the first thing you ever made using your machine?
Free projects, giveaways, exclusive partner offers, and more straight to your inbox!
Tags / Related Topics
Your Recently Viewed Projects
Images from other crafters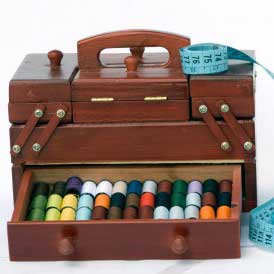 Something worth saving?
SAVE all your favorite patterns
ADD personal notes
QUICKLY reference your patterns