Thread for Sewing Machine: What's Best?
With this guide, you'll learn the best thread for sewing machines and your sewing projects.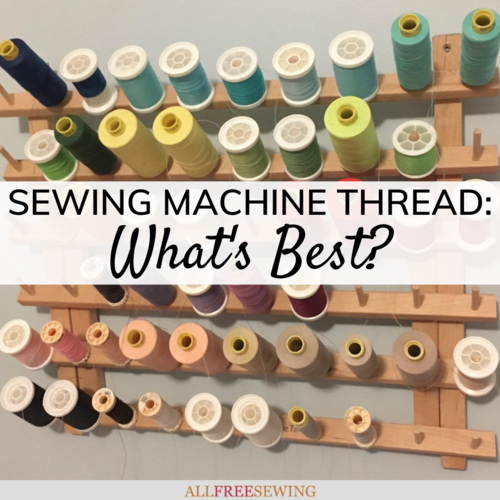 Learn how to pick the right thread for your sewing project!
Choosing right thread for a sewing project or your sewing machine is so important, but it can often be overwhelming. So, what kind of thread is best for sewing machines?

This guide, Thread for Sewing Machine: What's Best?, goes over everything you need to know about selecting the right thread for both machines and for projects you want to make.

There is a wide variety of spool sizes, material types, thicknesses, and colors available. Some work better than others for particular machines and crafts, especially when it comes to overlocking and embroidery.

Use this handy guide to help you navigate the thread aisle with ease! Learn how to pick the correct thread for sewing machines and projects without worry.

Whether you're a beginner, have never used a sewing machine, or simply don't know how to go about choosing the best thread for sewing, you're in the right place!

As a bonus, there's even a video on how to use a sewing machine along with a few tips on choosing thread for various types of hand sewing. Scroll down to learn everything about sewing thread!

Sign Up For More Free Patterns
If you are a brand new sewist and you are just getting to know your machine, there is one thing you absolutely need to know how to do and that is how to thread a sewing machine! Learn here: How to Thread a Sewing Machine for Beginners
A Note About Thread Weight:
The larger the thread weight number, the thinner the thread. Keep this in mind when selecting threads for your sewing and other projects. Learn more with this related guide, What Thread to Use for Quilting from our friends at FaveQuilts.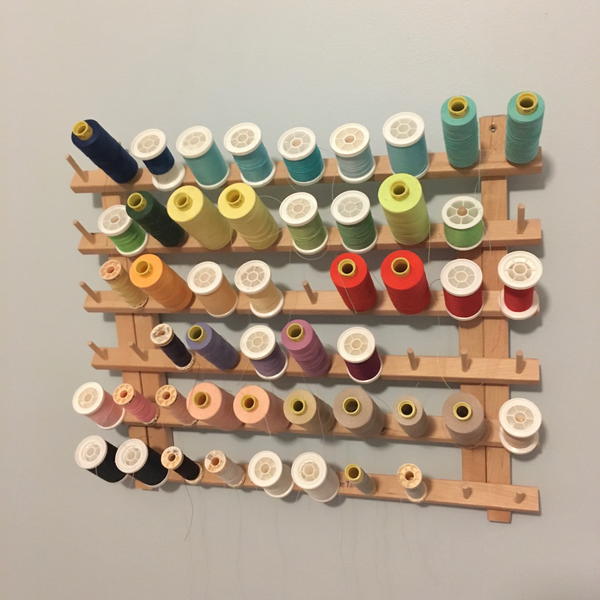 Choosing Thread for Regular Machine Sewing:
Generally, it's best to use cotton thread for sewing lightweight natural fabrics (like cotton and linen), while synthetic thread (like polyester) is better when working with synthetic fabrics and blends.

Cotton thread is also commonly used for machine quilting because it is very strong, thin, and durable. 50 wt (weight) cotton is the most popular quilting thread because it doesn't create thick seams.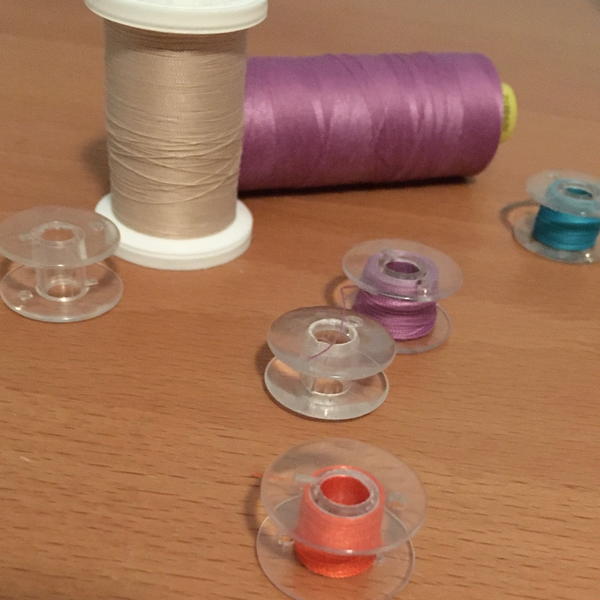 "All-purpose" threads are typically made from 100% polyester fibers (or poly blends) and are 50 wt and 3-ply. They can be used to sew a wide variety of fabrics, especially thicker materials.


All-purpose thread is ideal for sewing machines. This is the most commonly used thread for sewing and is available in every color imaginable. Whichever kind of thread you choose for your regular machine sewing, just be sure to use the same kind for both your top thread (spool) and bobbin for the best stitches possible.
Choosing the Best Thread for Overlocking / Serging:
A serger (also known as an overlocking machine) creates a unique finished edge on a variety of fabrics. It uses four large cone-shaped spools of thread that are specific to this kind of machine.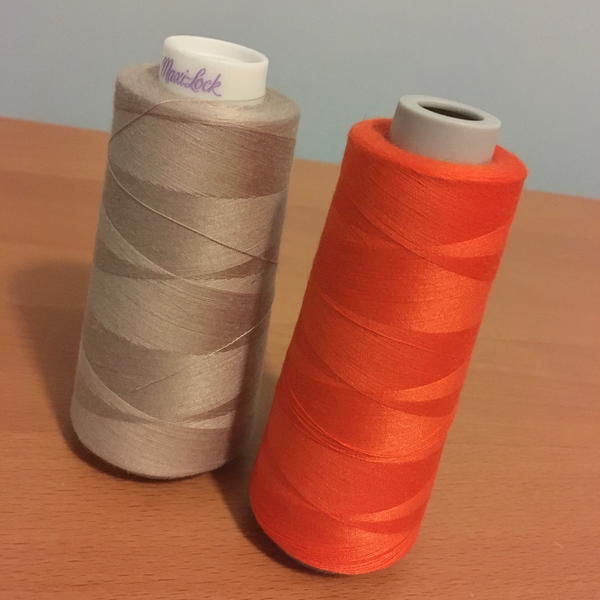 Serger thread is typically polyester, 40 wt, and 2-ply (unlike regular sewing thread spools). It can be used for machine sewing in a pinch, though the large spools won't usually fit on the top of most machines.

The cones come in lengths of 3,000-6,000 yards, which are much larger than regular sewing thread spools. There is a special coating that is applied to this kind of thread to help it withstand the speed of the serger machine.

Extra tip: When choosing a serger thread color, pick the closest color to the fabric you are overlocking (unless you want it to contrast).
PLUS! How to Use a Sewing Machine Video Tutorial
In this video, learn from Angel at Fleece Fun as she goes over all of the basic sewing machine need-to-knows.

From changing your needle to learning how to thread your sewing machine, this video is the ultimate beginner's guide on how to sew with a sewing machine. So watch the video right below (click the arrow in the center of the rectangle) and get sewing faster than ever.
Best Thread for Machine Embroidery:
When using a specialty embroidery machine (or a sewing machine that has this feature), polyester or rayon "embroidery thread" is preferred. Slightly thinner than embroidery floss, this kind of 2-ply thread is designed for use in machines that create embroidery from a digital pattern.

Most machine embroidery thread is 40 wt, but occasionally it can be found in 30 wt. It's also usually not as strong as most sewing thread, so don't use it for regular seam sewing. It is slightly glossy in order to give your embroidery a beautiful sheen.

Some machine embroidery utilizes a delicate thread known as "bobbin thread" to keep the underside of the embroidery streamlined. Read your machine's user guide to see what kind of thread the manufacturer recommends.
 
BONUS! Best Hand Sewing Thread
Picking Thread for Regular Hand Sewing:
Most kinds of regular sewing thread can be used for hand sewing. Cotton, poly, or blended thread all should work, and you can even use up leftover bobbins of sewing thread for your project if you've run out of the spool. I recommend hand sewing a test piece to know if the thread you want to use works well with the fabric.
Picking Thread for Decorative Hand Stitching:
There are also specialty decorative threads for hand stitching, composed of everything from silk to metallic fibers. These kinds of threads are designed to add to the overall look of your project, and not for use in a sewing machine or to join together fabric in hand sewing. Regular sewing thread also can be used for decorative stitching, as well as for attaching beads and sequins. 
Picking Thread for Hand Embroidery:
The kind of thread used for embroidery depends on whether you are doing it by hand or using a machine. What's known as "embroidery floss" is great for hand needlework projects (like embroidery and cross-stitch), as well as a variety of crafts.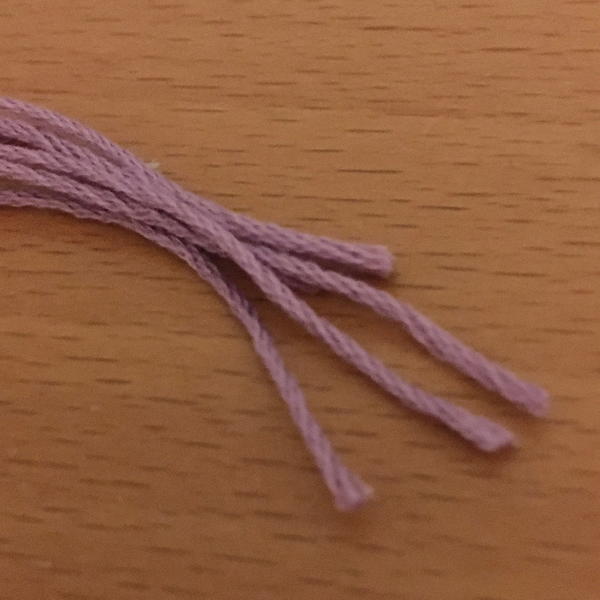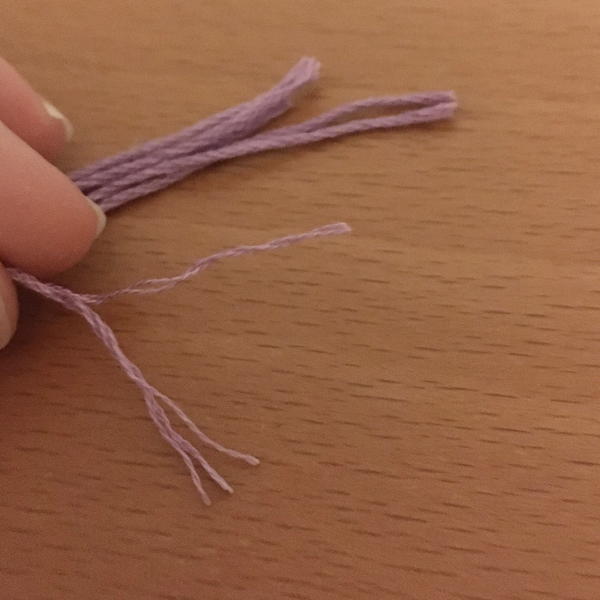 It consists of 6 thread strands loosely twisted together and is relatively thick, glossy, and bright in color. Usually made from cotton, the long, thin skeins are typically 8.75 yards long, with two paper wrappers that help prevent it from getting tangled.

Extra tip: Most hand embroidery uses only two or three of the strands from the six strands of the floss. If you are using five (or even six) strands to make a very thick line, be sure to sew longer stitches so the fabric doesn't pucker. Almost all patterns will specify how many strands to use.
Free projects, giveaways, exclusive partner offers, and more straight to your inbox!
Tags / Related Topics
Your Recently Viewed Projects
Images from other crafters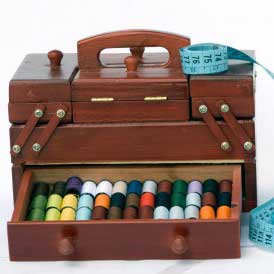 Something worth saving?
SAVE all your favorite patterns
ADD personal notes
QUICKLY reference your patterns