How to Use a Thimble
Find out which finger you should wear a thimble on and learn how to use a thimble.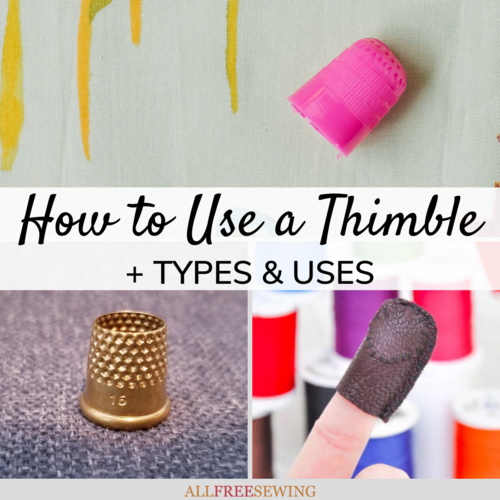 What is a thimble? It may seem like a somewhat common sense question, but many beginner sewists and those who have never used one do have to ask that as well as, what finger does a thimble go on? A thimble is a finger covering that covers the dominant finger of your dominant hand.

However, what hand and what finger that is will be different for each person. After we answer that question, there's so much more about thimbles we'll go over.

Another popular question for sewing novices is, what is a thimble used for? With this page, you will learn the types of thimbles and How to Use a Thimble.

If you are wondering, "what's a thimble?" along with other related questions, then you are in the right place to learn! A thimble is a small cap made to fit a finger.

It can be made of plastic, metal, leather, or a combination of materials. It can be used for any hand workmanship but is mostly a popular sewing and quilting notion.

Sign Up For More Free Patterns                                    
Table of Contents
What Finger Does a Thimble Go On?
Most people sew with their dominant hand, so let's start with that. If you are right-handed, you will wear the thimble on your right hand. If you are left-handed, the thimble goes on your left hand.

The thimble is most commonly worn on the middle finger. However, some people prefer to wear a thimble on their pointer finger and sometimes the thumb.

How do you know?

Which finger do you use to push the sewing needle through the fabric? That is the finger you will want to wear the thimble on. Do you alternate? You can wear two thimbles or even wear gloves instead of thimbles. The reason thimbles are better than gloves is that they do not restrict your movement.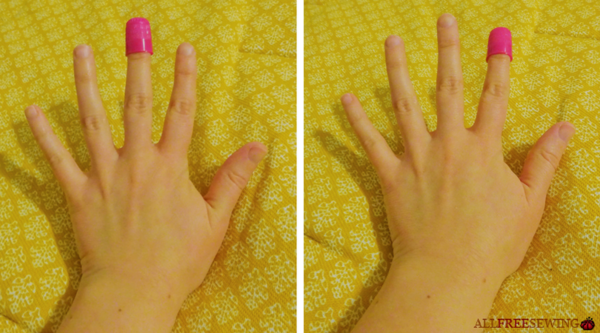 What is a Thimble Used For?
As we have touched upon already, a thimble is used to protect your fingers from damage when hand sewing. Although you aren't pushing the point of the sewing needle, the eye of the needle can be almost as sharp.

Also, thicker fabrics or duller needles force you to push harder on the needle when stitching. You do not want to do this with your bare finger!

Think of thimbles like guitar picks. You can strum a guitar without a pick but your fingers may get calloused or be left in pain. Thimbles are not necessary for sewing but once you start using one, you will see the benefits almost immediately.

Also, if you have ever accidentally pushed a needle through a fingertip, you know the importance of wearing a thimble.

Image courtesy of A Girl in Paradise. Check out Basic Quilting By Hand.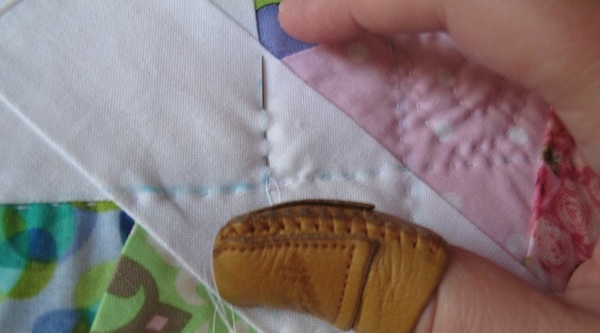 Types of Thimbles
An open top thimble often looks like the image shown below, with the entire top missing. That means you can slip it over your finger and move it down until snug (see the second image below). It is also beneficial for those of us with long nails because the top of the finger is exposed. They come in different sizes, just like rings.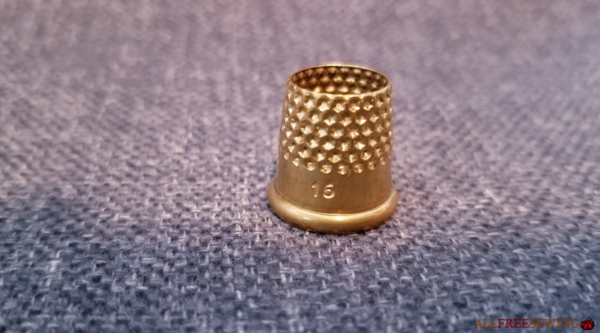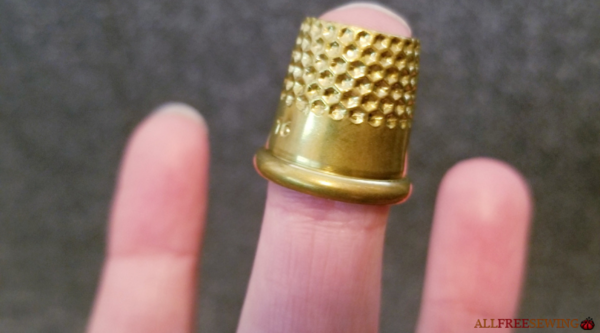 On the left of the image above is a plastic version and on the right is a thimble made of leather. Make your own with this Dandy DIY Thimble tutorial.

As the finger of choice differs, so do finger sizes. Because not everyone has the same size finger, you may need to try on many thimbles before finding that perfect fit.

When shopping for a thimble, ask to try them on or read reviews about fit. Because it's so difficult to find a perfect fit, many people like the thimbles that are made from fabric because it is flexible, unlike metal and plastic.

If you prefer wearing a thimble on your thumb, you will want to search and shop for "thumb thimbles" which are made specifically for the thumb.
 
How to Use a Thimble
Now, want to learn how to use a thimble for sewing or quilting? Let's go over how you wear it. If you are not used to wearing a thimble, it can be an odd and uncomfortable feeling.

But protecting your fingers is well worth it. Once you start sewing and getting used to the feeling, it will no longer be a burden, only a helpful addition to the process!
Test out what finger the thimble should go on by watching your hands as you sew and determining which finger pushes the needle.
 
Put the thimble on the appropriate finger.
 
As you sew, use the finger with the thimble to push the needle through the fabric. You can either use the top of your finger or the side, whichever feels more comfortable.
About the Author:

Krista Childers is the Senior Content Editor for AllFreeSewing. She has a passion for creative writing and trying every craft at least once. Find more of her work here: Krista Childers
Free projects, giveaways, exclusive partner offers, and more straight to your inbox!
Tags / Related Topics
Your Recently Viewed Projects
Images from other crafters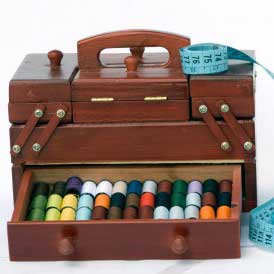 Something worth saving?
SAVE all your favorite patterns
ADD personal notes
QUICKLY reference your patterns