My First Sewing Machine: Beginner Tips From Our Readers
If you're looking for a good first sewing machine, take a look at some of these suggestions and pieces of advice from sewists.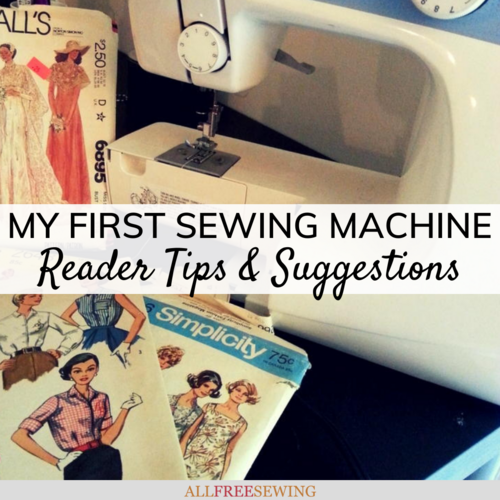 You can remember it like it was yesterday: the day you got your first sewing machine. Whether it was a Christmas present when you were a child, a celebration of motherhood, or a new hobby to kick off retirement, your first sewing machine holds a special place in your heart.

If you're a beginner sewist and getting ready to embark on a new journey, buying a sewing machine is one of the first steps to take. You might feel a little overwhelmed, unsure of how to choose a sewing machine from the seemingly endless brands and models.

Which one is good for beginners? Which one will last the longest? Which one is the easiest to use?

The wonderful readers of AllFreeSewing have told us all about their first sewing machines and why they loved them. From old-fashioned treadle machines to sleeker modern models, our readers have tried them all, and they can't wait to share all of their insight.

Regardless of sewing experience, you will be amazed by all of the wonderful machines with which our readers began sewing—and are still using today.

Sign Up For More Free Patterns >>>
 
Choosing a Sewing Machine
Before we get to our readers' suggestions, our friend and sewing expert, Angel Peterson, also shared with us her tips for choosing the best sewing machine. Check out her video for some tips!
 
My First Sewing Machine Was...
Traci W.: "My first machine was a New Home. Mine still works awesome, I use it almost every day and it can beat any machine I have ever owned."

Val A.: "The first one I owned was a Singer Featherweight that I bought with saved up babysitting money. It cost me $20.00. I bought it from a family friend, and at 35 cents an hour for babysitting, it took me a LONG time to buy it. I was heartbroken when my dad gave it away when I was at school one day. He didn't think it would matter since my mom had a modern machine in a cabinet that I could use. It took me 45 years to replace that Featherweight at the cost of $500.00. I'm just happy to have another. I have several modern machines now, and I even have a 1917 Singer RedEye treadle that works perfectly, but, my favorite is still the Featherweight!"

Cathy U.: "I first sewed on my mother's Phaff in the beginning and then received a Borletti (an Italian machine) as a graduation gift from my parents. It still is a beautiful machine. I have kept it - it has gone to college, and on into marriage, motherhood, and now rests in retirement in my sewing room. Now I am a grandmother and it's Viking and a Bernina and for classes, the Featherweight travels with me."

Krystal H.: "A Singer my dad purchased for me 30 some years ago. I still have it and yes..it still sews beautifully. Although, I do love my Viking machines now."

Di T.: "Mama's Necchi bought used in 1948-49. I just passed it on to a niece who is learning to sew. That machine sews through anything! It recovered couches and chairs with what the auto industry called 'naugahide'. Mom also did 9 prom dresses and two full weddings on that machine!"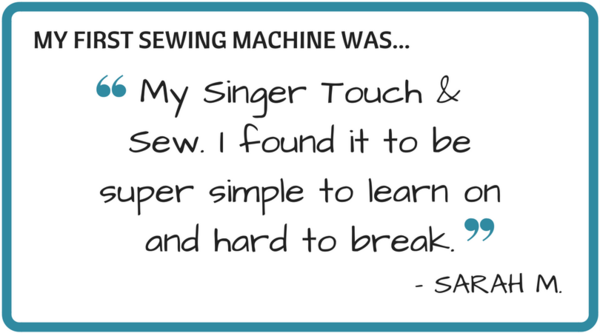 Annette B.: "I "helped" my grandma use her old treadle Singer when I was little. Then as a teen, she bought me my first Singer machine that I used for o [My First Sewing Machine Was...] over thirty years! I bought myself a Husqvarna Viking Designer about five years ago and FINALLY got myself a serger this past year. But my love for sewing started on that ol' treadle machine which I inherited when she passed."

Jo Ann C.: "A Singer treadle machine. It was my mother's. I taught myself how to sew and started making my own clothes when I was 10 years old. That was in 1945. It started me on a wonderful journey."

Sally P: "A treadle bought from a junk shop. Made all the children's clothes, plus summer shirts and dresses for all of us for holiday time, toys and Wendy houses, quilts from market stall off-cuts, curtains, etc."

Velda W.: "My first machine was an inexpensive Singer; my second machine was a Singer Futura and I loved that machine so much. Put a lot of "miles" on that one; loved her to death."

Ann G.: "Pfaff 260. It belonged to my mother, but she turned me lose with it when I was 7. I sewed my finger more than once! That machine would sew concrete if I could get it under the presser foot. I still have an old 260 in the closet."

Keri K.: "I learned how to sew on an old Kenmore machine. Last year, I received a Singer Athena for my birthday. I love it!"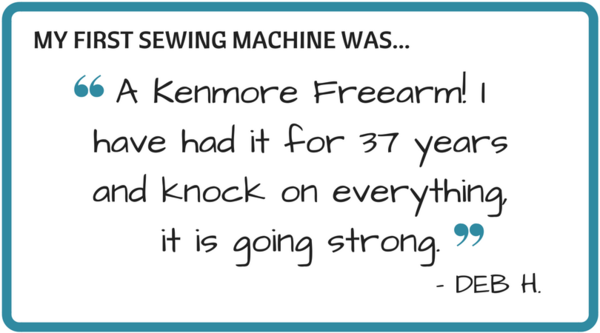 Aida R.: "It was my grandmother's old Singer machine with old treadle, dated back to maybe 1930. My father converted it to electric and I used it until they were able to get me a pink Singer. Later on when my daughter was born, I got a zig-zag Singer. That was 30 years ago."

Jacqueline C.: "Elna Stella air electronic. It's still my main machine, it's older than I am, and I love it because it gave me the freedom to do (and wear) what I wanted in high school."

Candace B: "I picked up an old Singer treadle machine from a thrift shop out in British Columbia when I was 19. It was on wheels and I pushed the heavy thing down the street and all the way home. I loved that it would sew leather with no problems! When I moved back to Ontario, I had to leave her behind and it broke my heart. Today, 40 years later, I have another one proudly displayed in my home. Even though I have a new Singer and a serger... I still like to play with the old treadle and wonder about the many feet that worked it in days gone by. Hope to pass it on to my granddaughters. Oh, if she could only talk!"

Nell K.: "The first one I owned that I loved was my original Elna 62C. I now own three of them as backups in case one breaks. Never found a better one."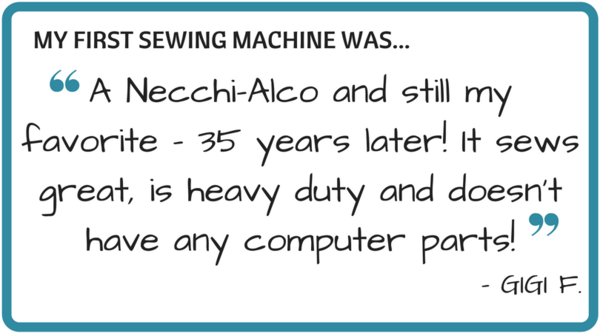 Donna M.: "My parents got me a portable Brother sewing machine to take to college (I made most of my own clothes back then). It sewed forward and backward. That's it, and it still does a great job. Not quite as cranky as my new electronic one."

Peggy M.: "Started out with Mom's old Montgomery Ward straight stitch machine in the 50's. It taught me patience, but it worked - most of the time. For a wedding gift from my new hubby gave me a new machine with zigzag capabilities, and about 10 decorator stitches. Elna Super followed, and recently have switched to Bernina. My sewing machines are my most treasured household items."

Becky C.: "I needed a sewing machine to fix holes and put new zippers in my husbands' blue jeans. We went to a large flea market and bought a White Rotary machine in its original suitcase for $10.00. Once my husband fixed the tension problem, it's run great ever since. I still have it 42 years later!"

Lori T.: "My first sewing machine was a Singer Slant 0 Matic. Best machine I ever had!"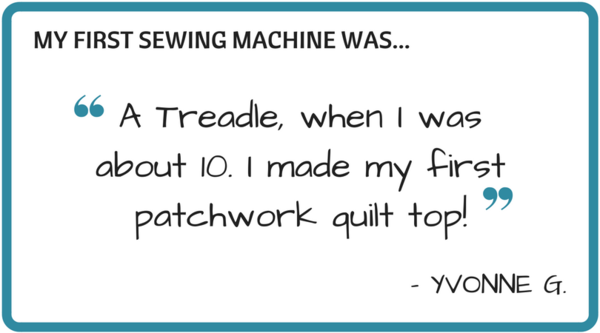 PLUS! Plastic vs. Metal Sewing Machines
Another important factor to consider when purchasing your first sewing machine is whether you want metal or plastic. Our page on Choosing a Sewing Machine: Plastic vs Metal Sewing Machines, will help you with specific details, pros, cons, and more about both types to help you make the decision that's right for you.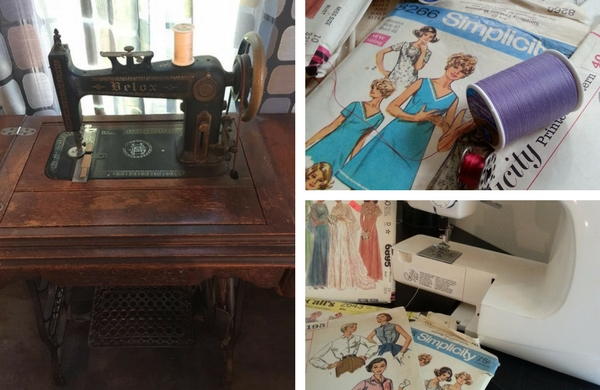 Your Recently Viewed Projects