How to Choose a Sewing Machine
Learn all about the differences between plastic and metal sewing machines with our sewing machine guide for beginners.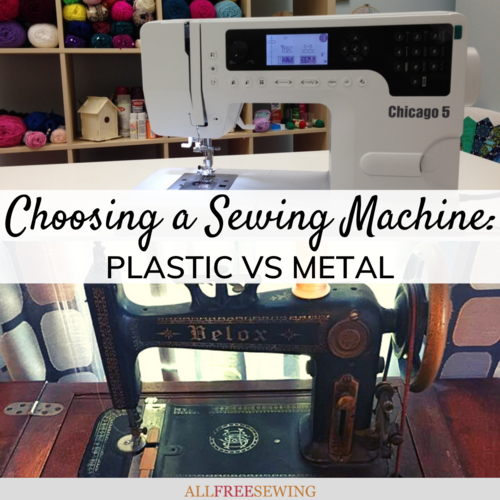 Purchasing a sewing machine, especially if it's your first time buying one, can be tough, especially with so many models and makes available.

Whether you're searching for a new sewing machine online or at your local fabric store, or are on the hunt for an older, more budget-friendly purchase, you'll inevitably come across the question, "Which is better: a plastic sewing machine or a metal sewing machine?"

Modern sewing machines tend to have a plastic body and are lighter weight, although plenty of experienced sewists swear by sewing machines with metal bodies that they've been using for years. If you're struggling with how to choose a sewing machine, don't stress. AllFreeSewing is here to save the day!

We've compiled the benefits of plastic and metal sewing machines, as well as provided some general tips for sewing machine maintenance. And if you're a complete sewing beginner, we've also created a list of some of our absolute favorite tutorials for new sewists that you've got to read. Learn all about the differences between older and newer sewing machines and get to stitching with our handy sewing machine guide.

Sign Up For More Free Patterns >>>
 
The Difference Between Metal and Plastic Sewing Machines
If you've been stressing out about choosing a sewing machine that's best for you, fear not. AllFreeSewing has broken down the benefits and disadvantages of older, vintage machines, and new, plastic sewing machines. Keep reading below to find which type of sewing machine best fits your sewing style!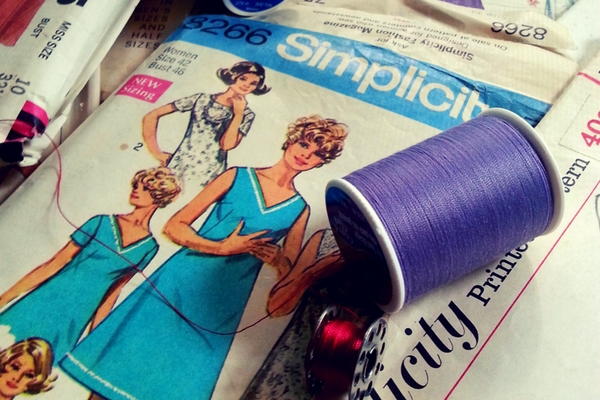 Advantages of Using a Metal Sewing Machine
When we often hear about the advantages of using metal sewing machines over newer, plastic machines, sewists mainly focus on the durability metal sewing machines offer. The heavier, metal parts break less easily than plastic, and were built to last a lifetime. Because these sewing machines were often built for families who made their own clothing, they were generally very expensive, and were built for daily use. 

Another bonus to using a metal sewing machine is that maintenance and use are fairly straight-forward. Most sewing machines built in the 1950s and earlier typically only sew a straight stitch, or offer the ability to sew only a few types of stitches, making them simple to use. Some metal sewing machines made in the 1960s and 70s do offer a wider array of stitches. Similarly, threading these machines is also an easy process. 

One more benefit of using metal sewing machines? They're built to sew most fabrics. Since these machines were household necessities, they were used to create everything used for daily life, from quilts to dresses to tablecloths. You can't beat their durability!

So, to sum up the advantages of vintage sewing machines:

* They were built to last.
* Their parts break less easily.
* They're built to sew an array of fabrics.
* They're straight-forward and easy to use.
* You can't beat their straight stitches.
* They're more eco-friendly. Since they're built to last longer, it means less plastic being thrown away.
* They're just plain pretty to look at!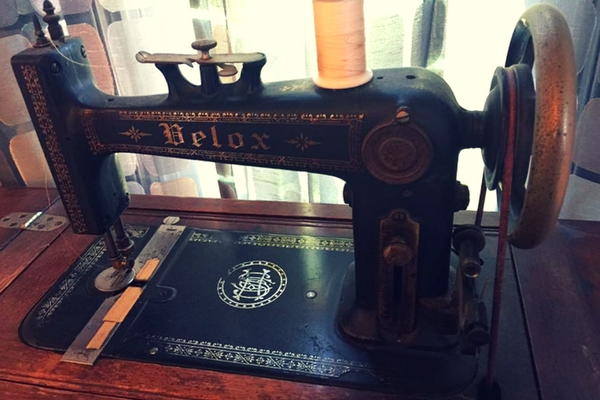 However, while metal sewing machines have several benefits, they also have some disadvantages to modern sewists. One major disadvantage is that, because they're older machines and are no longer being produced, having to replace any broken parts can be expensive and can involve a lot of time searching for parts online. While you can find some older sewing machine parts on sites like eBay, replacing them is not always easy. The older the sewing machine, the harder it is to replace bobbins or needles.

Vintage sewing machines were built to last, which also means that their heavy metal parts are, well, heavy to carry when compared to lighter weight modern machines. If you're using a sewing machine with a built-in wooden table, transporting them to a repair shop isn't always a walk in the park.

If you love experimenting with details or decorative stitches, you may want to consider a modern machine, as metal sewing machines often offer only straight stitching. If you're also up for it, all metal machines require frequent oiling. According to the article "Using & Purchasing an Older Sewing Machine" from the Sew Mama Sew blog, "Once you have your classic machine cleaned and serviced, the only servicing recommended is daily oiling. Since these machines are all metal, the parts need to be oiled just about everyday. The more vigilant you are, the better for your machine."

To recap, some disadvantages of older sewing machines include:

* Difficulty locating and replacing older parts
* Difficulty in transportation
* Often expensive to replace
* Lack of options for different types of stitching
* Requires daily oiling and other maintenance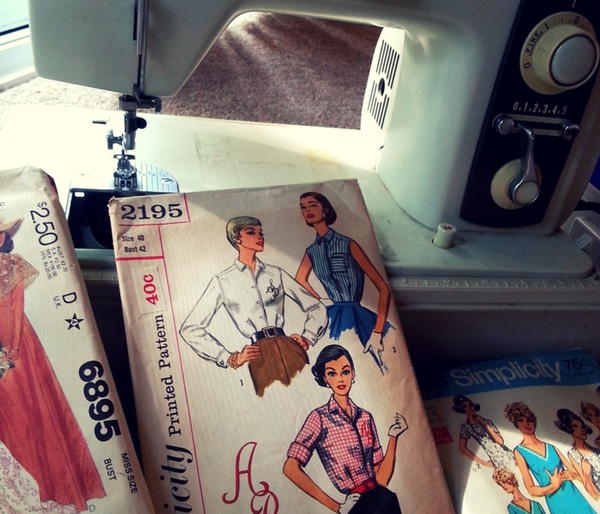 Benefits of Using a Plastic Sewing Machine
Just as metal sewing machines have advantages and disadvantages, so do their plastic counterparts. Metal machines are often advocated for because of their durability, but plastic itself is durable as well, and because plastic machines are cheaper to produce, they're also often less expensive than a vintage machine. They also come in a wider range of sizes and are lighter to transport as well, making them more travel friendly than older machines. 

Probably the biggest advantage of modern sewing machines are that they come equipped to simply do much more than their predecessors. Earlier sewing machines typically could only produce one type (or a handful) of stitches, whereas the possibilities are endless with the current machines available on the market. Almost all modern sewing machines are computerized, and some offer benefits like over 100 different types of stitches, the option for automatic buttonholes, and even learner machines for children. 

So, to recap some of the benefits of plastic sewing machines include:

* Generally more cost-friendly.
* Wide array of plastic machines to choose from. 
* Lighter weight and easier to transport.
* Come in a wide array of sizes, including learner machines for kids.
* Often computerized and can complete a huge selection of options.
* Specialty machines exist for quilters and other specific types of sewing.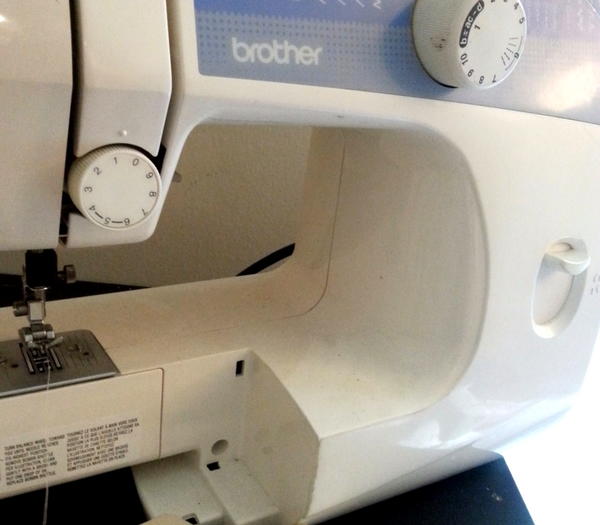 Plastic sewing machines aren't perfect though, and also come with their own problems. Even though plastic is built to last, it still cracks easily compared to metal, so while these machines are durable, they also have to be handled with care. Also, because these machines are more cheaply produced, since they're made to try to supply a larger market, that also means their turnover rate of use is a lot faster than older machines, which means more plastic in landfills. 

While plastic machines have so many more options for stitching and other parts of the sewing process, they also aren't always the most intuitive when it comes to user experience. Because vintage sewing machines are simple and straight-forward, newer, computerized machines take some getting used to. And we'll be honest, older machines, especially machines from the 1950s and earlier, just have a prettiness factor that can't be beat!

To sum up, the disadvantages of plastic sewing machines include: 

* The plastic can crack when dropped and is slightly more delicate than metal machines.
* Their lifeline is shorter.
* A shorter lifetime for plastic machines means more plastic in landfills.
* Not always user intuitive.
* Older machines always win the beauty contest!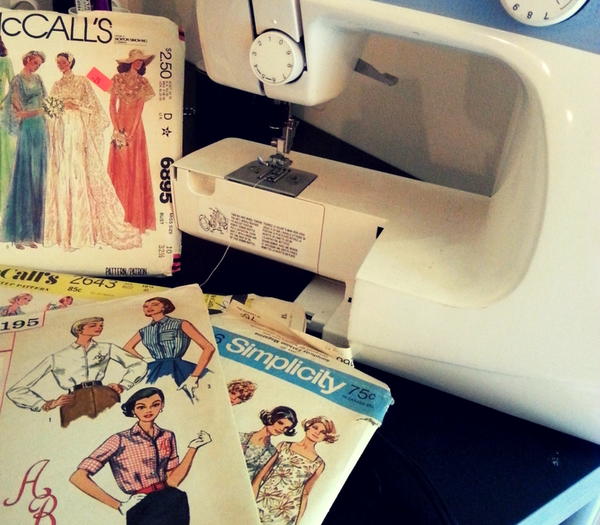 Tips for Sewing Machine Maintenance
No matter if you have an older sewing machine or a shiny new one, the most important part of owning a sewing machine is keeping it in working order. Below we've listed some of the most important parts of sewing machine maintenance, as well as some tips and tricks for taking care of your machine. 

* When you clean your sewing machine, make sure you're working in a well lit area, and that you lay down newspaper or scrap fabric to protect your table or work space.
* Begin by taking your machine apart to clean the inside. Always use your sewing machine manual to take your machine apart. If you're working with an old or vintage machine, you can sometimes find manuals online for free from the manufacturer. 
* The place on your machine that needs cleaned the most is typically underneath your needle plate. Make sure to keep track of your screws, bolts, and other machine parts. 
* Do NOT use canned air to clean your sewing machine. This can often push dust further into your machine's parts. Instead, wipe down your machine with a dry cloth and use a brush for smaller areas, such as a makeup brush or even pipe cleaners or cottons swabs.
* Make sure to regularly oil your machine as well. 
* Reassemble your machine using your manual. Be sure to wipe down the outside of the machine and the surrounding area as well.
 
Other Tips for Maintaining Your Sewing Machine:

* According to blogger Rebecca George, "In between professional cleanings, your machine may still get filled up with fabric and thread lint. Unthread (and unplug) your machine and using the little brush that came with it and a pair of tweezers, very gently brush and pull out the clumps of lint. You can turn the hand wheel that controls the needle to move the bobbin case along and reach other areas that might be full of debris." (You can find more tips from Rebecca in her guest blog post, "An Easy Guide to Fixing Common Sewing Machine Problems".
* If you're unsure where your sewing machine manual is, you can check out our blog post here that links to the support pages for companies like BERNINA and Singer.
* After oiling your machine, be sure to sew on a piece of scrap fabric to make sure you've taken care of any excess oil.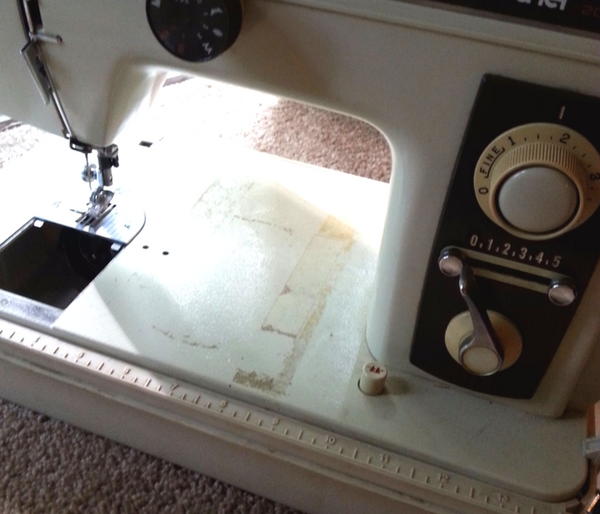 Recommended Sewing Machine Tutorials for Beginner Sewists
Do you use a metal or plastic sewing machine? Let us know below in the comments!
Your Recently Viewed Projects