How to Reuse Sewing Patterns
Don't miss our quick sewing guide on how to make permanent sewing patterns!
By:
Anna Deen, Editor, AllFreeSewing.com
Updated June 09, 2023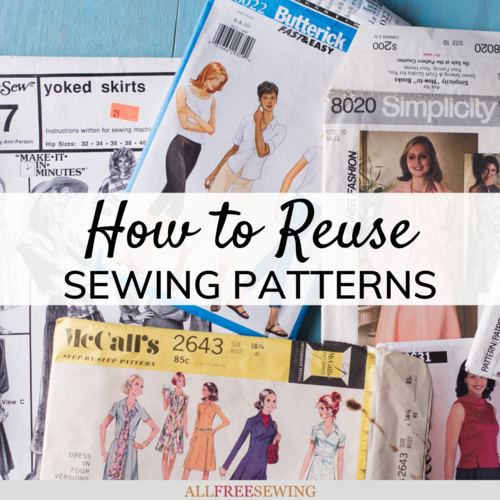 Perhaps you are new to sewing and have some questions about sewing basics, or perhaps you are a seasoned pro looking to build your repertoire of sewing tips and tricks.

Either way, if you have questions about how to reuse sewing patterns, then we have answers for you! Most importantly, Can you reuse sewing patterns?

This article on How to Reuse Sewing Patterns discusses several methods for making sewing patterns last longer, and for creating patterns that can be used multiple times.

Using one method of recycling sewing patterns, we show you how to trace a sewing pattern onto paper for a temporary pattern that preserves the original.

Using another method of saving sewing patterns, we show you how to make a permanent version of a pattern that you can reuse repeatedly. Finally, this article will show you how to transfer your pattern to the fabric without even cutting into or damaging the original pattern at all!
 
We hope you find these tips and tricks helpful for the next time you're interested in reusing a sewing pattern!
How to Trace Clothing Patterns to Paper
Okay, so you just bought a sewing pattern that you absolutely love. Maybe it's an adorable dress for your child or grandchild that comes in several sizes. But wait, how do you save this pattern so you can make this dress again in the future?

The issue is that your grandchild will be older, so you will need a different sized pattern when you are sewing for kids in a few years, but if you use this pattern now you'll trim the paper down to the smallest size! What should you do? Don't sweat; we'll teach you how to reuse patterns for different sizes!

The solution is to transfer the sewing pattern to paper so that the original design remains intact! Here are some steps to preserve sewing patterns by tracing copies onto tracing paper:
To begin, you will need tracing paper (this can be sewing pattern paper or try dotted tracing paper, Swedish tracing paper, freezer paper, etc) and your pattern.
 
If you are tracing a clothing pattern, remember to choose the size you want your traced pattern to be. Trace the original pattern onto your tracing paper.
 
Cut out your copy and add in all of the details like grainline and darts.
 
You now have a copy of your sewing pattern without having damaged the original!
Bonus Tips:
Use weights to keep your pattern in place while tracing and cutting.
 
Use a cutting mat to avoid scratching the surface you're working on.
 
Try ironing your pattern first, so you can more accurately transfer the design!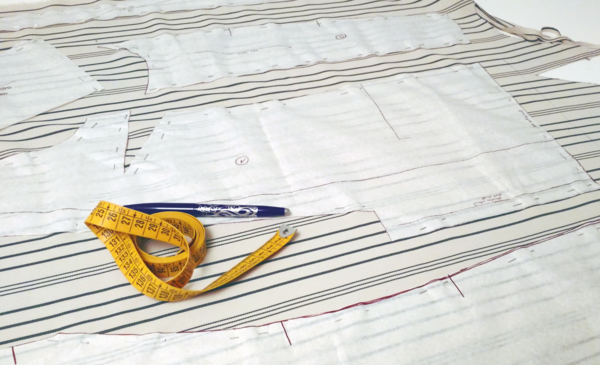 How to Make Permanent Sewing Patterns
So now you have a new sewing question! Perhaps you have a new favorite pattern for sewing DIY gift bags that you love giving out as gifts to all your friends and family for birthdays and holidays. But wait, your original pattern is starting to get old and tear! What should you do?

The solution is to reinforce your sewing pattern and create a permanent one! A permanent sewing pattern is an indestructible copy of your sewing pattern that involves tracing the original design onto a very sturdy material that you can reuse over and over again.

While the original design will remain intact in this technique as well, you will now have a reusable sewing pattern that is a permanent copy of the original!

Here are some steps to make a permanent sewing pattern:
To begin, you will need tracing paper and sturdy material, such as poster board, cardstock, muslin, interfacing, etc.
 
Trace your pattern onto your tracing paper.
 
Either cut out and stencil the tracing paper design onto the sturdy material OR use a heavy marker to outline the tracing paper design onto the sturdy material so that the design bleeds through.
 
Cut out your pattern on the sturdy material and fill in all of the pattern details like grainlines, darts, etc.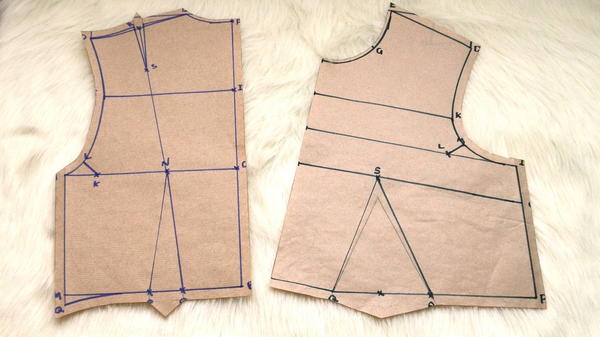 How to Use a Sewing Pattern Without Cutting It
Okay, so maybe you want to keep reusing your original sewing pattern, but without the hassle of having to duplicate it with tracing paper or posterboard. So how do you trace a sewing pattern onto your fabric without damaging the original pattern?
 
Below, learn how to make sewing patterns last longer! The solution involves carbon paper and a tracing wheel! Using this method, you will be able to transfer the pattern onto your materials without even cutting your pattern.

Here are the steps how to trace a sewing pattern without cutting the design:
To begin, you will need a blunt tracing wheel and some form of carbon tracing paper. Tilly Walnes from Tilly and the Buttons suggests using dressmaker's carbon paper. 
 
You can either use this technique to print the pattern directly onto the fabric, or you can make a copy of your original pattern by printing onto paper. Either way, stack from bottom to top the fabric/paper + face-down carbon paper + pattern.
 
Trace over the pattern with your tracing wheel.
 
Voila! You now have your pattern drawn directly on your fabric or paper without having ruined your original design!
 
Bonus Tips:
Liesl Gibson from Oliver + S suggests transferring the pattern to a separate piece of paper instead of directly to delicate fabrics. 
 
For cutting on a fold, Gibson suggests folding the fabric over along the grain before lining the fabric fold up along the edges of the carbon paper and pattern.
 
Even for not cutting on a fold, Gibson suggests you remember to keep the fabric grain in mind when tracing your pattern directly onto fabric!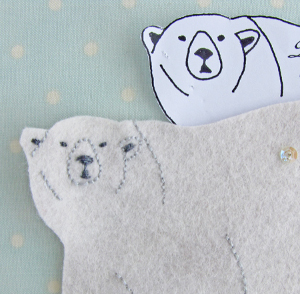 Free Printable Sewing Patterns
Now that you know how to copy a sewing pattern without ruining the original, you'll want to put this new technique to good use! Here are some great sewing patterns that you will want to copy the pattern for, so you can sew these designs again!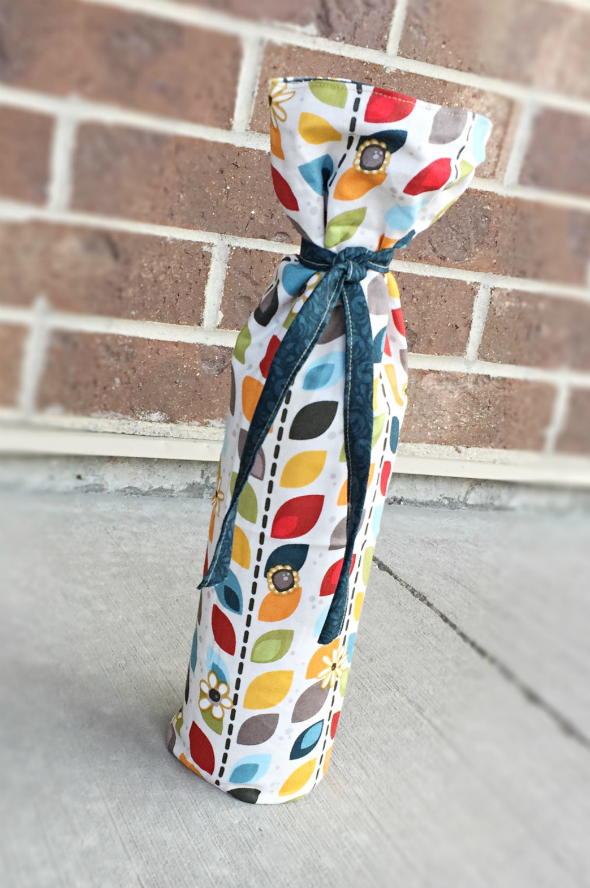 Free projects, giveaways, exclusive partner offers, and more straight to your inbox!
Tags / Related Topics
Your Recently Viewed Projects
Images from other crafters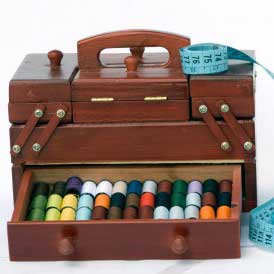 Something worth saving?
SAVE all your favorite patterns
ADD personal notes
QUICKLY reference your patterns