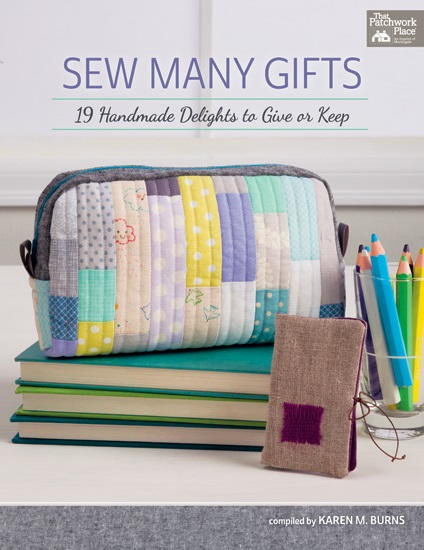 Sew Many Gifts Review
www.shopmartingale.com
Reviewed by Dana Byerwalter, Editor, AllFreeSewing.com

A handmade gift is a darling way to show loved ones you care. Often handmade gifts are more meaningful than something store bought. Learn to sew a variety of lovely gifts for any occasion with Sew Many Gifts: 19 Handmade Delights to Give or Keep. From darling pencil cases to pin cushions to wearables and more, the projects in this Martingale book will be so adored by all the recipients.

Sew Many Gifts features projects from 11 different designers, giving readers a variety of techniques and styles to choose from when selecting a gift to make. The types of gifts are divided into the following categories: Gifts to Wear, Gifts for the Home, Gifts for Sewing Pals, and Gifts for Those on the Go. I thought the Gifts for Sewing Pals section was so charming. There is nothing like sewing with friends, and these gifts are a heartfelt way to show your common love for this pastime. The Woolly Pincushions (p. 54) are my favorites in this section. The muted colors and button embellishments used give a very vintage flair to this project. One can never have too many pincushions! The Needle Keepers (p. 49) also have a delightfully soft and vintage look.

When it comes to wearables, you can never make or receive too many gifts. I repeat: a person can never have too many scarves. The Tassel Scarf (p. 6) has a wonderfully boho feel with an appealing drape. The tassel embellishments really are a sweet accessory. The Haute Headbands (p. 10) are another stunning boho project. Headbands are great gifts because they are so small and you can get many projects out of a fabric swatch.

In the Gifts for the Home section, you'll find a wide variety of ideas. Stuffed kitties, potholders, banners, and more fill this section. I love the Taggie Blanket for Baby (p. 34). An eclectic mix of fabric prints and textures comprise the pockets, loops, and patches found in this adorable blanket.

Make a variety of gorgeous gifts for loved ones! With Sew Many Gifts, you can make a lovely project for any occasion.

What is your go-to gift to give?
Your Recently Viewed Projects