Stylish Party Dresses: 26 Easy and Inexpensive Sew-It-Yourself Dresses for that Special Occasion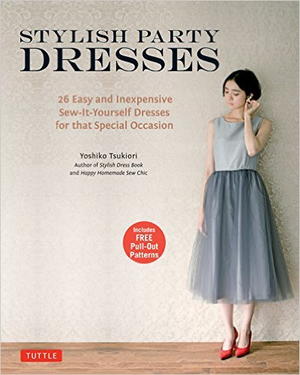 Stylish Party Dresses: 26 Easy and Inexpensive Sew-It-Yourself Dresses for that Special Occasion
Gifted by: Tuttle Publishing
www.tuttlepublishing.com
Reviewed by Madison Bowes, Editor, AllFreeSewing.com
Occasion dresses are everywhere, but the "right" occasion dresses are few and far between. I cannot tell you how many times I've searched through my closet and come up devastated because I can't find that perfect dress for the wedding, birthday, baby shower, or casual get together I've been invited to. With Yoshiko Tsukiori's gorgeous and simple designs, Stylish Party Dresses has kept me in style all year round.
My favorite design in the book is on page 34, the Dress with Tulle Overskirt. Tulle may seem like it is built for ballerinas and debutante dresses, but it has come back in a big way. Tsukiori helps you wear it in a non-costume way, keeping the skirt flat and the color neutral for an updated and adult version of a ballerina's beautiful dress.
Ready-made dresses cost hundreds of dollars, and you can save those dollars when you choose to pick a project from this book. Because you choose your fabrics, you can pick to spend as much or as little as you want and have a beautiful new dress either way. Shopping for clothes can be tedious and frustrating, so instead try your hand at one of these gorgeous dress patterns. You will not be disappointed.
Your Recently Viewed Projects