15+ Bowl Cozy Patterns & DIY Bowl Covers
Search no more for the perfect free pattern for a microwave bowl cozy or elastic bowl cover. This collection has so many brilliant options!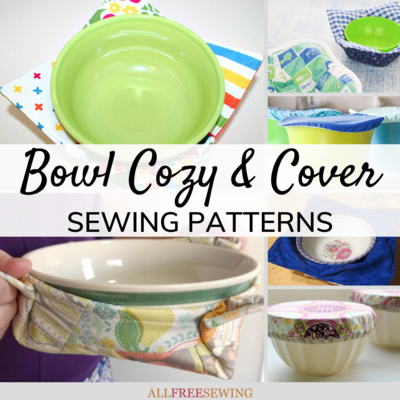 If you've ever used a microwave, you know how hot the dishes get while the food is barely warm enough to eat. That's why many people look for a microwave bowl cozy pattern to keep their hands from getting burnt.

Or how about going green with fabric bowl covers? We have several of those, too, inside of this collection: 15+ Bowl Cozy Patterns & DIY Bowl Covers.

Use your sewing skills to make a thrifty and helpful holder for all kinds of bowls. Plus, if you don't finish the food, you can cover it back up for storing with one of these elastic bowl covers you made yourself.

A DIY bowl cozy isn't just for the microwave, though. It's also helpful when the bowl is cold. So, pile in that ice cream, add the cozy, and you can easily eat it on your lap without feeling the freeze.

The homemade bowl covers aren't just a thrifty sewing project. These can also be used in various ways. From covering your mixing bowls to storing leftover food to bringing a dish for a potluck, you'll definitely want to make a handful of these for your kitchen. Use them in the rest of your home as well. We've got you, well, covered.

Safety Note: Please remember that any finished sewing project that goes in the microwave needs to be cotton. Polyesters and other synthetic fibers melt and burn in the microwave.

Use 100% cotton batting and cotton fabric for cozies and holders. You can also wait to use the cozy until after microwaving. Bowl covers are not recommended for microwave use.

Join Our Newsletter For Even More Free Patterns!
Table of Contents
Free Bowl Cozy Patterns
Below is your one-stop shop for your ideal bowl cozy sewing pattern. Small and large, round or square, and even a plate holder can be found in this section. Choose the free bowl cozy pattern or patterns you like and get sewing. In just an afternoon, you can have a DIY cozy for every dish in your cabinet.
Free DIY Bowl Covers
Look no further for a free pattern for microwave bowl holders. This section has every type of bowl cover you can DIY at home. Mixing bowls, soup bowls, casserole dishes, and more. Making your own covers is a zero-waste sewing idea that reduces waste and means you don't have to fight with the sticky plastic wrap anymore! What's better than that?
Your Recently Viewed Projects