How to Fix a Hole in Pants Without Sewing
Need a quick fix for a hole in your pants but not sure about sewing? Learn how to repair pants without it!
By:
Mary Campbell, Editor, AllFreeSewing.com
Updated August 03, 2023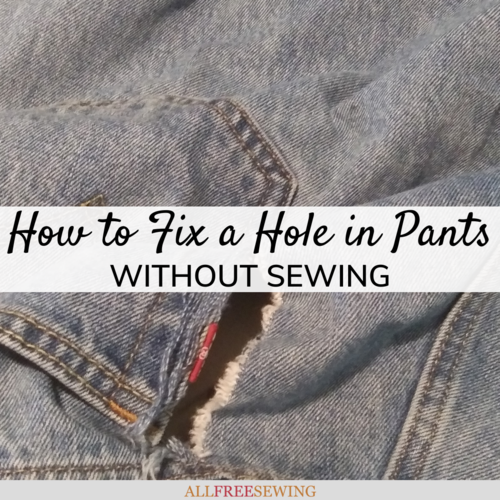 Have a hole in your favorite pair of pants but don't know how to sew? In this article, I'll show you how to fix a hole in pants without sewing by using common no-sew tools!

Even if you do sew, these solutions are good to keep in mind for future reference. Not only are these solutions easy, but most of the time you'll have a repair for your pants more quickly than you would have with sewing.

In general, you'll need to know that you need fabric glue, iron-on tape, or an iron-on patch to fix holes without sewing.

Now, I know what you're thinking: will these fixes even last? Can I wash my pants if I repair them? The answer to both of those questions is yes! Any of these solutions are washable and will last you for a while.

After the three main solutions, I'll provide some other alternatives for sewing when you've got a hole in your pants. These include staples, safety pins, and a tutorial for a fusible web solution.

Ready to take the plunge with a needle and thread? Learn how to sew pants that have a hole by reading any of the following tutorials that can help you out: 50+ DIY Pants Alterations (How to Fix Holes in Jeans & Pants section), How to Sew a Ripped Seam, Visible Mending guide, or Types of Clothing Repair.

If you'd like to continue crafting without sewing, I suggest you check out these Alternatives to Sewing: 15 Tools for the No-Sew Crafter. This guide will help you in future no-sew endeavors!

Love this? Sign up for more ideas!
Use Fabric Glue
One of the easiest ways to fix a pair of pants without sewing is with fabric glue. However, beware: not all fabric glues are made the same, so if you want more of a permanent fix for the hole in your pants, you'll need to find a glue that is advertised as being permanent. This method works best for smaller slashes in your pants rather than gaping holes.

Materials:
 - Ripped pants
 - Fabric glue
 - Optional: binder clips or safety pins

Instructions:
Place a line of glue alongside one edge of the torn piece of the pants. You don't want a heaping amount of glue in this case, as you are meeting the edges of the fabric together to repair it.
 
Meet the other edge of the slash to the glue. To keep the sides of the cut together, you can use a safety pin or a binder clip.
 
Allow it to sit and dry. Depending on the variety of the glue and its thickness in application, you may need to wait up to 24 hours to make sure it's dry.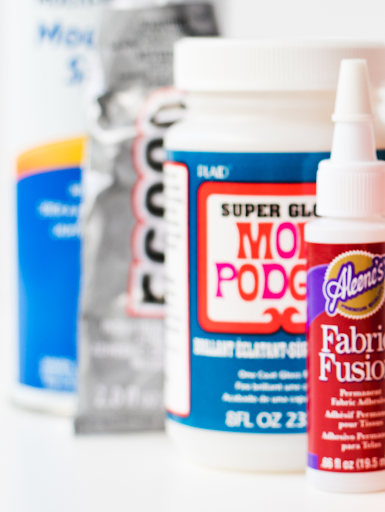 If you'd like to learn how to use a more permanent style of fabric glue, check out this guide on How to Use Liquid Stitch
Use Iron-on Tape/Adhesive
Another semi-permanent option for repairing a hole in your pants would be with fusible tape! This kind of tape is typically used for hemming, but it can also be used for holes in fabric.

It's like double-sided tape you'd find in a store, but you use an iron to activate the stickiness. You can find this in your local craft store, and it comes in a variety of styles and widths, so you'll be able to find one that'll work for the width of the hole.

Materials:
 - Ripped pants
 - Iron
 - Fusible tape
 - Towel or cloth to iron over

Instructions:
Lay the pair of pants flat.
 
Place the shiny side, not the papery part, of the tape onto the fabric.
 
Iron over the tape on the medium heat setting.
 
Unpeel the paper of the tape that you just ironed over.
 
Bring the opposite side of the hole's fabric to this new side of the tape.
 
Iron over the fabric, and you've got yourself a fixed pair of pants!
Use a Fabric Patch
This is a perfect solution to fix a hole that can be modified to be a fun, customizable addition. You can find iron-on fabric patches that match denim if the pants are jeans, or there are a variety of these patches with fun designs.

Materials:
 - Ripped pants
 - Iron-on patch
 - Iron
 - Scissors
 - Towel or cloth to iron over

Instructions:
Find iron-on patches that work well with the pair of pants you want to fix. You can find these patches at your local craft store. Make sure to get ones that specify that they are indeed "iron-on."
 
Wash the pair of pants to make sure there is no issue with ironing on it.
 
Trim any frayed edges around the hole, but don't trim all of them! You want to make sure there are rough edges for the patch to stick to once it has been heated.
 
Cut the patch so it is a little larger than the hole in your pants.
 
Place the towel or cloth over the patch so you don't damage it with the heat from the iron.
 
Iron over the patch with the iron on the hottest heat setting.
 
Turn the pair of pants inside out and iron on the other side.
 
Enjoy your newly patched pants!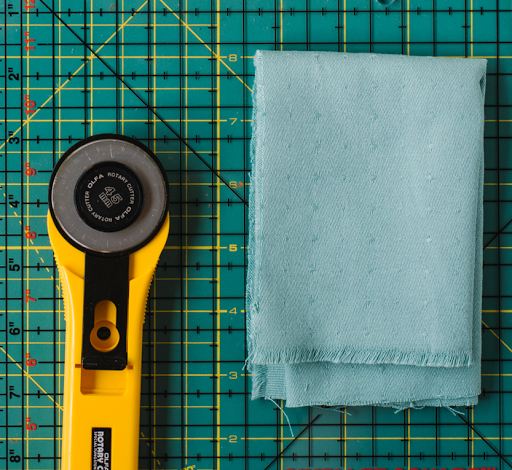 If you've found a patch that you'd really love to use but it requires sewing, check out this easy-to-follow tutorial How to Sew a Patch
Alternatives for Fixing a Hole in Pants Without Sewing
There are some alternatives that will help you fix a hole in pants without sewing:
For smaller holes, you can follow instructions for using fusible web in a similar way to fusible tape with homemaking.com's fix here.
 
A less durable fix would be with safety pins. However, they would give your pants a fun, edgy look!
 
Staples, like safety pins, are a temporary fix but work in a pinch!
About the Author:

Mary Campbell was an editorial intern at AllFreeSewing. Learn more about her work and career aspirations by visiting her profile here: Mary Campbell
Free projects, giveaways, exclusive partner offers, and more straight to your inbox!
Your Recently Viewed Projects
Images from other crafters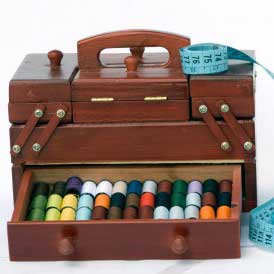 Something worth saving?
SAVE all your favorite patterns
ADD personal notes
QUICKLY reference your patterns