5+ Tips for Working with Upcycled Denim
Upcycle old jeans and denim by utilizing them for sewing projects. Before you start upcycling, check out this guide full of denim tips and tricks!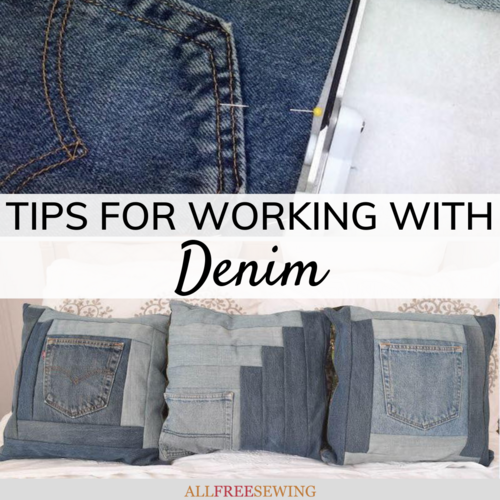 If you've been searching for a way to recycle your old jeans, then you'll love these 5+ Tips for Working with Upcycled Denim!

Guest blogger Marie Segares is here to show you the best ways to sew with recycled denim, and has even created a step-by-step tutorial for a chic denim throw pillow.

Made using the classic log cabin quilt block, this DIY tutorial is a great introduction to quilting and is sure to be the perfect addition to your home decor. Learn all about the best ways to work with denim with Marie's detailed tutorial.

If you love denim fabric, you'll want to learn how to sew with denim. Sewing denim doesn't seem that difficult, but there are tricky aspects to working with it. Denim is a sturdy material, which makes it ideal for making pants, bags, and anything else that requires some wear and tear.

Another great thing about sewing with denim is that it doesn't cost much to buy for sewing projects. Denim is also a great fabric to upcycle, especially from jeans that don't fit you anymore. 

You can find more of Marie's projects, including crochet and knitting tutorials, on her blog Underground Crafter!

"I'm Marie from Underground Crafter and I'm sharing my tips and tricks for working with upcycled denim, along with a tutorial for a DIY Denim Traditional Log Cabin Block Pocket Pillow."

Sign Up For More Free Patterns >>>
 
5 Tips for Working with Upcycled Denim
Marie's provided her best tips for working with upcycled denim below, including how to prep your denim for sewing, as well as how to work with this versatile fabric. She's even created a full tutorial so that you can make a stylish and budget-friendly throw pillow that combines denim and quilting!

Whether you are working with recycled or upcycled denim, or freshly made denim fabric, there are some specifics about this style of fabric that you need to know before starting to sew.
 
1. Prep Your Denim Properly
• Before cutting your upcycled denim for sewing or quilting, machine wash in hot water and dry on a high heat setting. 

• Remove the denim promptly from the dryer and fold, but do not iron it. 

• Set aside the denim until you plan to cut it.
2. Plan Your Cuts
• Upcycled denim frays much more than other fabrics, so cut it close to when you plan to use it for best results. 

• A rotary cutter will make it easier to cut through heavy seams while reducing hand strain and fabric "crumbs." 

• Cut the hem at the bottom of the leg first, then remove the seams at the side of the legs.
 
• If you plan to use the back pockets (as I did for these pillows), trim around the pocket seams, leaving as much room as possible. If you aren't using the back pockets, trim close to the seams so you have more useable fabric on the legs. Discard the front pockets.

• Once the seams and pockets are removed, you should be left with four leg pieces.

• Remove any damaged pieces (frayed, holes, etc.) from the leg pieces before cutting into squares or strips for your project.

3. Don't Overwork the Fabric
• Upcycled denim has more stretch than new fabrics and excessive handling can lead it to stretch out and become misshapen. 

• Avoid ironing your fabric. Instead, finger press pieces into position as you sew.
4. Go Slow
• Denim is thicker and more durable than many other fabrics. Sewing over seams can put stress on your sewing machine. 

• While you may be tempted to sew quickly in straight lines, slow down at seams and when working near pocket seams to avoid damage to your needle and/or machine.
5. Be Flexible and Have Fun!
• Upcycled denim is unpredictable. Factors such as size, wear, style, and brand can influence how much useable fabric you can get from a pair of old jeans.

• Don't expect perfection. Upcycled denim has character, but it isn't as uniform as new fabric. On the other hand, it's affordable, durable, and can bring back some great memories!
These DIY upcycled denim coasters are a fun project for beginner sewists and feature a trendy fringe edge and inner cotton batting to absorb moisture >>> Upcycled Denim Jean Fringed Coasters
DIY Denim Traditional Log Cabin Block Pocket Pillow
This is one of three matching DIY Denim Log Cabin Pocket Pillows. They are fun and easy to make, especially now that you've gone over the tips shared above. Keep scrolling for the instructions, then keep an eye out for a set of bonus tips for sewing with denim!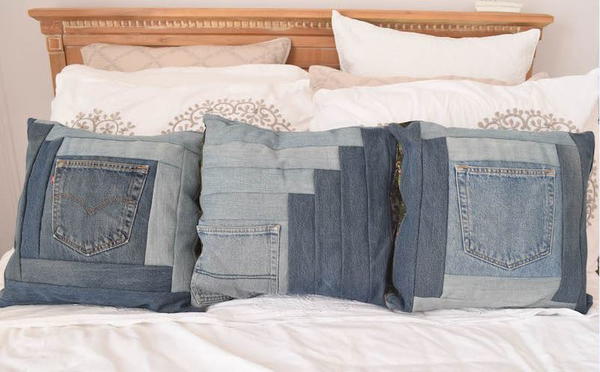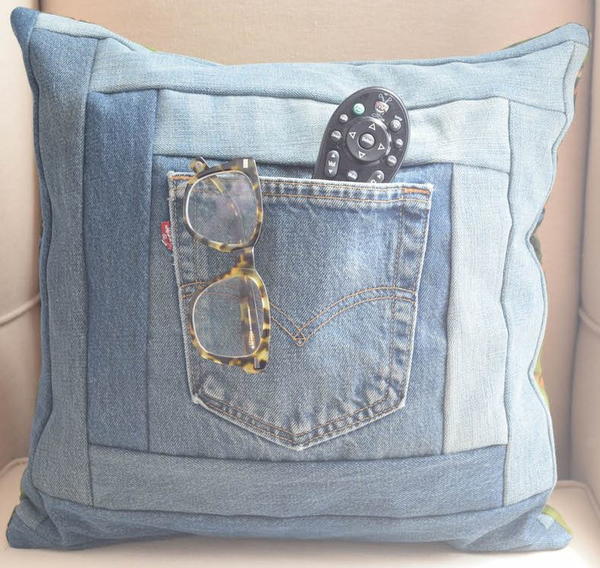 The pocket takes the position of the center square. To minimize cutting and handling, the front of these pillows are put together in strips using the quilt-as-you-go method. The back of the pillow uses an envelope style that allows you to easily remove the pillowcase for washing.
Materials:
• Two pairs of jeans destined for the scrap pile. Designate one pair as "light" and one as "dark." (Optional: The back pocket from a third pair of jeans in a slightly different color of denim.)
• Rotary cutter, cutting mat, and acrylic ruler. 
• Cotton fabric for pillow back – ½ yard.
• Cotton fabric for pillow interior backing – ½ yard or fat quarter.  This fabric will not be seen once your pillow is assembled, so you can use muslin, orphaned quilt blocks, or pieced scraps instead.
• Fairfield Decorator's Choice Luxury Pillow Form 16" x 16".
• Fairfield Poly-Fil Low-Loft Quilt Batting.
• An iron and an ironing board or other heat-safe surface.
• Sewing machine with cotton thread.
• Basic sewing supplies (i.e., fabric scissors, seam ripper, pins, fabric pencil/marker, etc.).
• Optional: Denim needle for your sewing machine.
Log Cabin Block Pocket Pillow Instructions
Cut fabric and batting

• Cut one back pocket from your jeans, leaving as large a border of denim as possible. Square the pocket piece.
• Cut the legs of your jeans into 2.5" (6.5 cm) strips. Depending on the size of your pocket piece, you will need up to 70" (178 cm) in strips in both "light" and "dark." 
• Cut the batting and pillow interior backing to 16.75" (42.5 cm) square.
• Cut the pillow back fabric into two 16.5" (42 cm) x 11" (28 cm) pieces.
Assemble "quilt sandwich" for front of pillow case

• Place pillow interior backing fabric face down (wrong side up).
• Place batting over pillow interior backing.
• Position denim pocket at the center of your batting facing up. If you pin in place, be sure to pin through all three layers.
• Position a strip of your "light" denim on the left side of your pocket so that the right sides of the denim pieces are facing.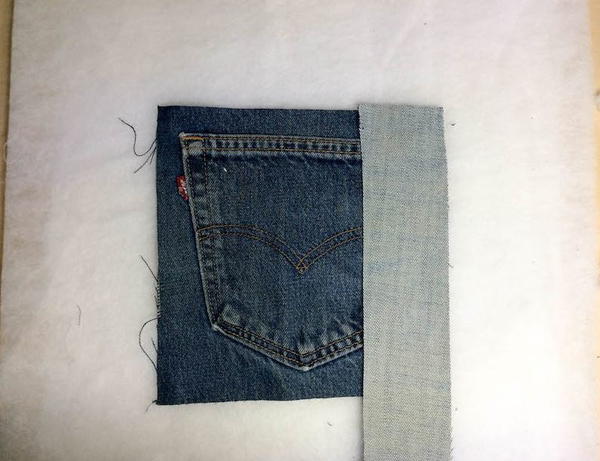 Quilt the front of pillow case

• Using a ¼" seam allowance, sew the strip to the pocket, working through all four layers.
• Trim the strip.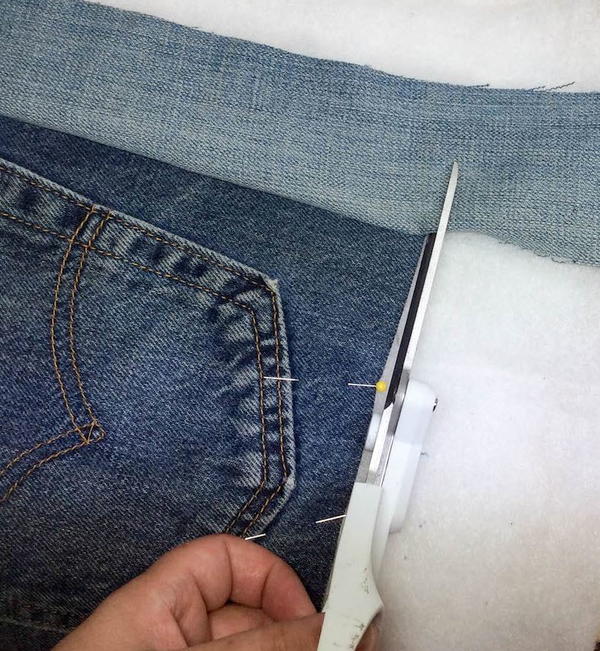 • Finger press the sewn strip so it is right side up. Attach the next "light" strip above the pocket.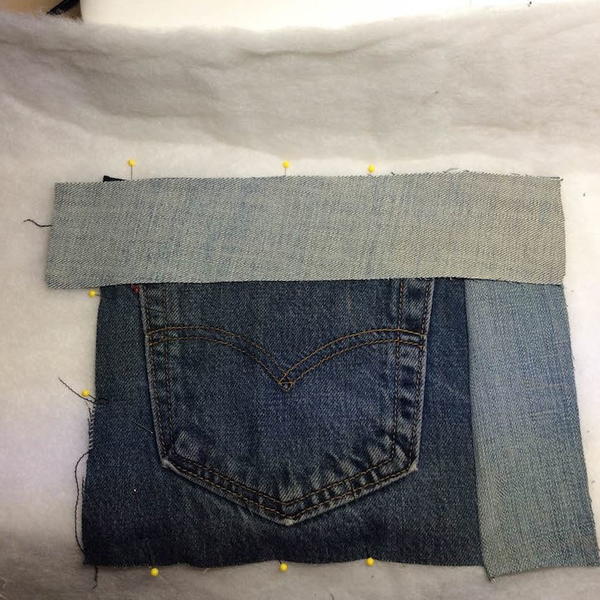 • Sew the strip to the pocket, working through all four layers. Trim the strip.
• Finger press the sewn strip so it is right side up. Attach a "dark strip" to the left of the pocket. Sew the strip to the pocket, working through all four layers. Trim the strip.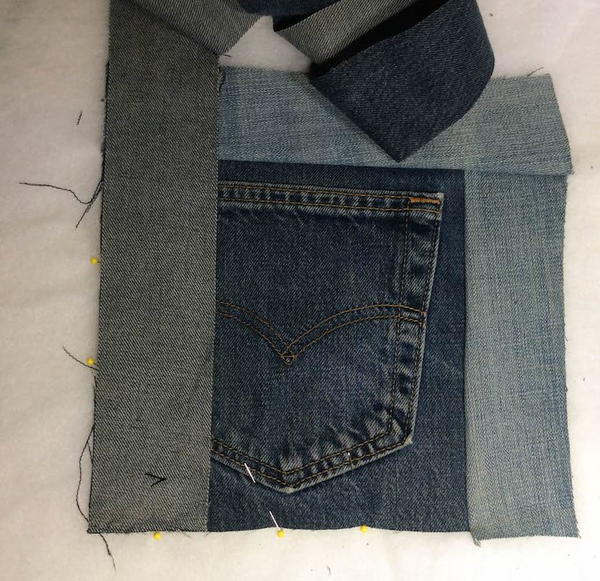 • Finger press the sewn strip so it is right side up. Attach the next "dark" strip below the pocket. Sew the strip to the pocket, working through all four layers. Trim the strip.
• Continue attaching pieces in this manner, following the assembly diagram, until the front of your pillow measures at least 16.5" (42 cm) square.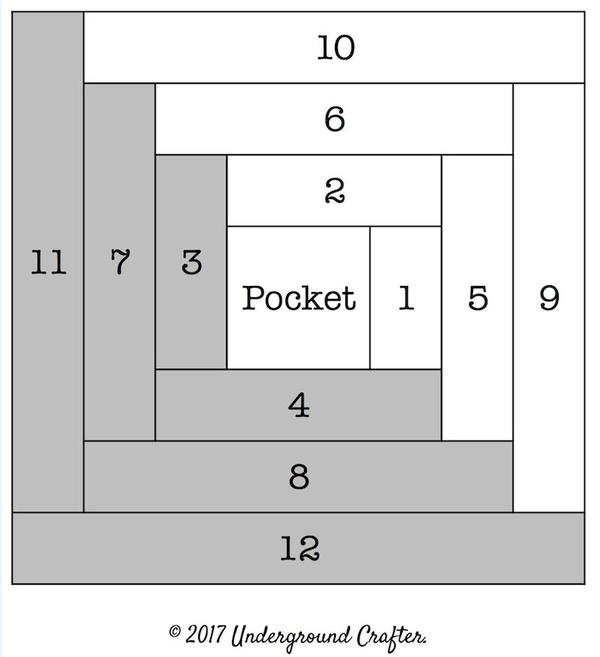 • Square up your pillow front to 16.5" (42 cm square), trimming away any excess fabric or batting.
Assemble the back of the pillow case

• With the first piece of the pillow back fabric facing wrong side up, fold about ½" (1.5 cm) over at the long edge towards the wrong side.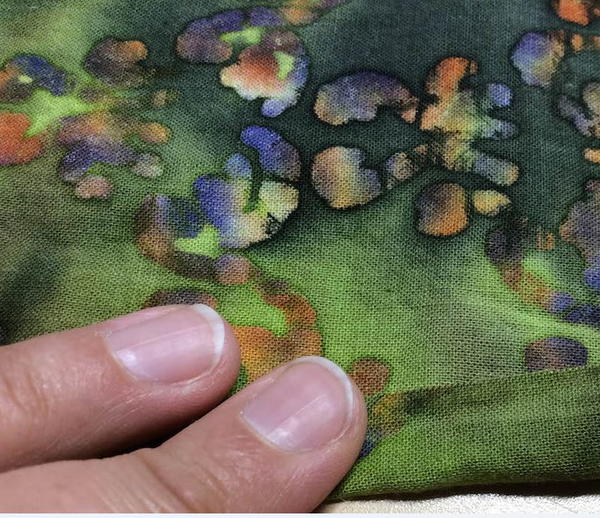 • Fold over in half towards the wrong side. Pin in place.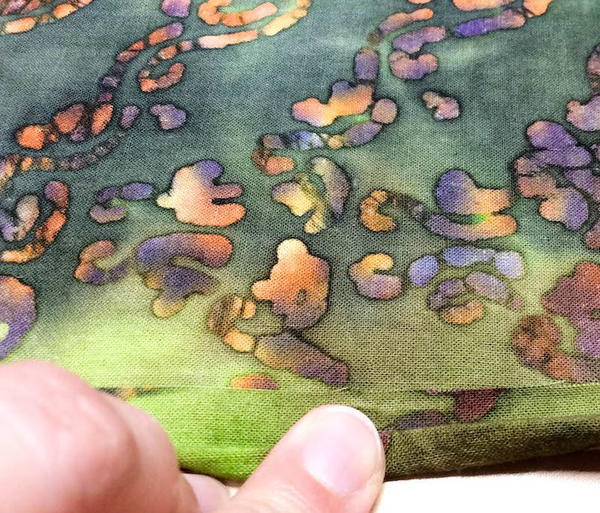 • Topstitch the hem in place.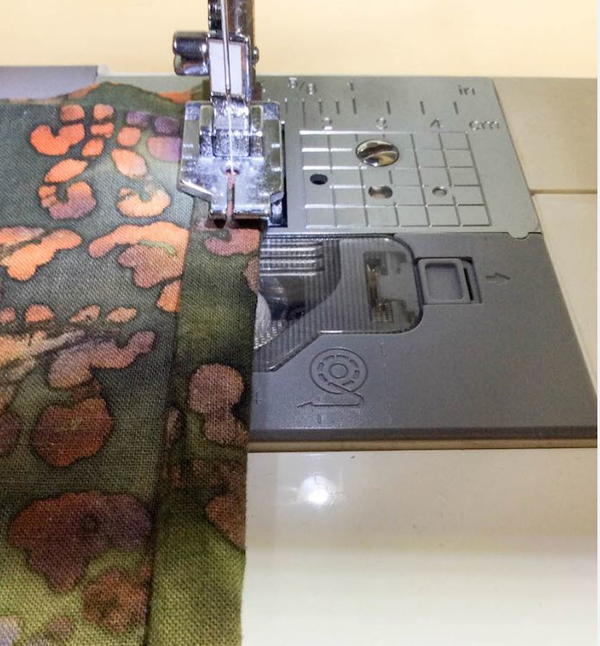 • Repeat for the other piece of pillow back fabric.
Assemble the pillow case.

• Place squared up pillow front with the jeans side up.
• Place pillow back fabric right side down over pillow front with pieces overlapping.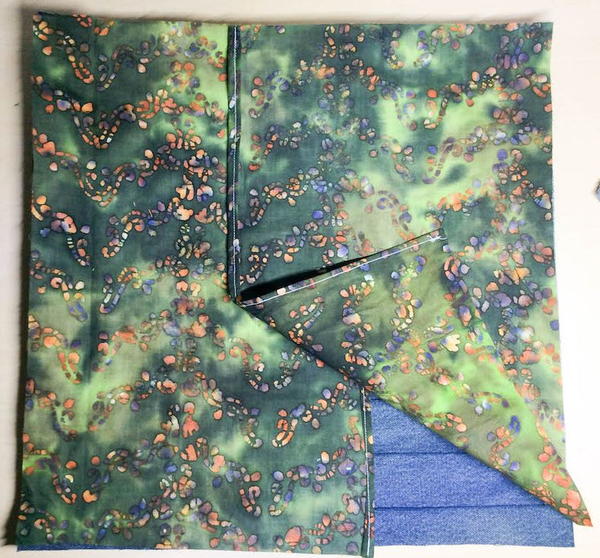 • Pin together.
• Sew around the outer edges on all sides with a ¼" seam allowance. 
• Turn the pillowcase inside out.
• Insert the pillow and enjoy.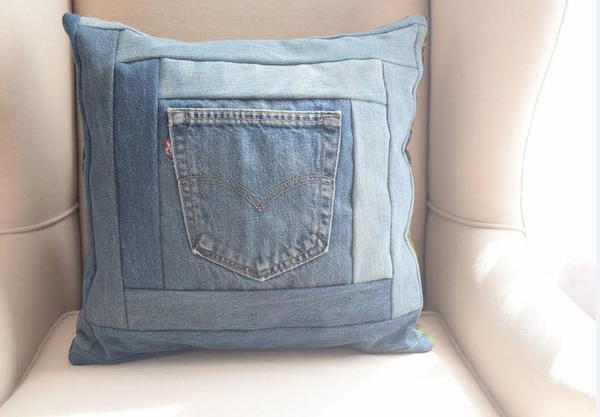 BONUS! More Tips and Tricks for Sewing with Denim
You may be working on a completely-denim piece or only using denim elements, but either way, you will want to know how to sew denim and work it before you get too far and find there have been some mistakes.

After you have read these tips and tricks, keep scrolling down to our last section for some denim sewing patterns to try! Denim crafts are always in fashion and many of them involve sewing.
 
FIRST! History of Denim
Before we share a few more of our tips, here is some background information you may not have known about denim:

The name for denim comes from the place it originated, which was Nimes, France. It was "from Nimes" or "de Nimes," which became "denim." Denim is a rugged cotton twill fabric, which makes it a strong textile to use for many different purposes. Because of its ruggedness, denim was first used by workers to wear for heavy labor as it survived the wear and tear of their work.
Denim Sewing Tips and Tricks for Beginners
Now, here are the tips and tricks for sewing with denim if you're just learning how to sew with it:
•  Always pre-wash your denim fabric because it can shrink and some of the color will fade out because it's a dyed cotton fabric.

•  In order to get the color just right, you can put some vinegar in the water when you rinse it or let it soak in warm water with vinegar overnight. Washing will also soften it, which will make it easier to work with.

•  If you really want to be safe, wash your denim twice!

•  Use sharp scissors or a new blade in your rotary cutter when cutting denim.

•  If your denim starts fraying, serge the raw edges after cutting out your pattern pieces.

•  There are specific needles for denim! They will be sharper and will last longer than regular needles.

•  Your denim may stretch while you're sewing it, so make sure you're holding it tight in the front and back of your needle without pulling the fabric. To combat this even more, try lowering the foot pressure if your sewing machine has that option. As usual, slow but steady is better!

•  Using heavy-duty pins will work best.

•  When pressing after completing your sewing project, press the seams well and use a lot of steam. 
Even if you know how to sew with denim, hopefully, you learned something new about the history of denim or some new sewing hacks for the next time you sew with denim. 
 
What's your all-time favorite fabric to sew with? Let us know below in the comments!
Free projects, giveaways, exclusive partner offers, and more straight to your inbox!
Tags / Related Topics
Your Recently Viewed Projects
Images from other crafters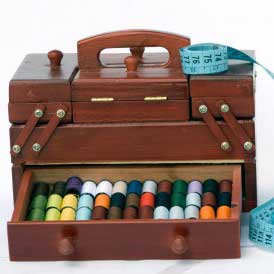 Something worth saving?
SAVE all your favorite patterns
ADD personal notes
QUICKLY reference your patterns