Hand Sewing Needle Sizes & Types
Learn everything you need to know about hand sewing needles: from sizes to what they are used for.
Updated April 25, 2023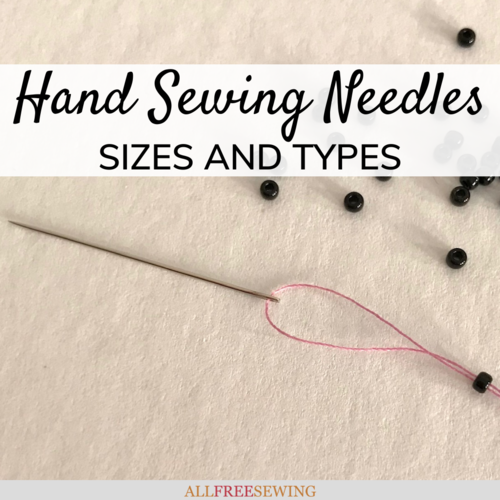 There are many sizes to choose from when selecting hand sewing needles. When it comes to hand sewing needle sizes and types, choosing wrong could cause problems.

These essential sewing supplies range from tiny to fairly large, with the most commonly-used being somewhere in between.

While the "regular" general-purpose kind can help with a variety of sewing and craft projects, specific sizes and shapes are needed for others.

Applying very small intricate embellishments will require a much thinner and smaller needle, while darning and tapestry needles are a lot larger.

Use this guide to needle sizes to pick the correct tool for your hand sewing needs! Plus, scroll down to see the needle sizing chart. If you're looking for information about machine sewing needles, check out our article, Sewing Machine Needle Sizes Explained.


Looking for more?
Sign up for one (or more) of our awesome free newsletters!                  
Extra-Small Hand Sewing Needles
Most hand-sewing needles come in a variety pack that includes the teeny-tiny, very thin kind (as well as standard needles).

They're typically about 1.25" (inches) long or so, with very small "eyes" (the hole that the thread goes through at the top). These aren't always ideal for everyday repairs and sewing on large finishes like buttons, but they do serve a purpose.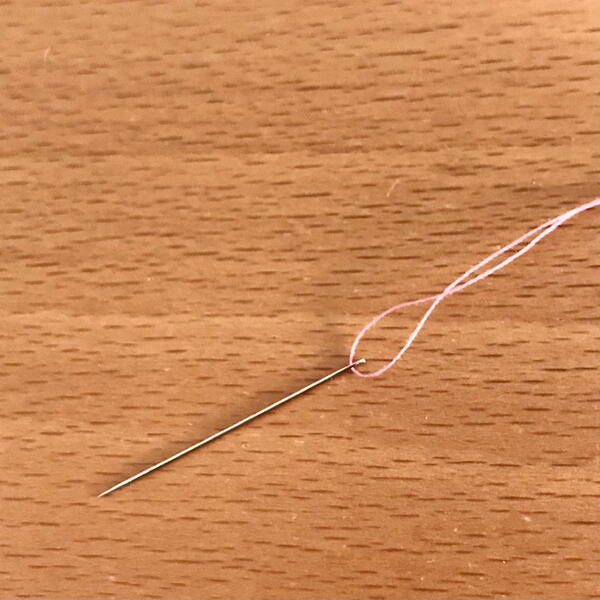 If you're working with extremely delicate or fine fabric, consider these tiny sharps to attach delicate adornments and for fixing very small areas. With their very slim size, they will allow seed beads to pass over the eye without getting stuck.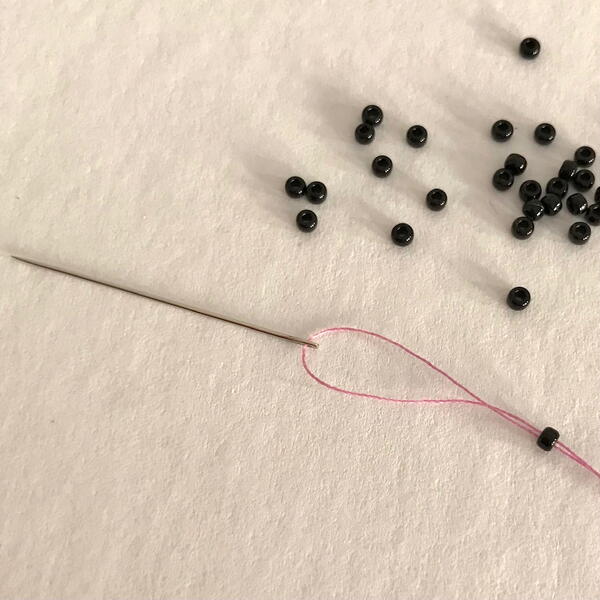 They also can be used to create delicate hand-rolled hem edging, especially on sheer or slippery fabrics (like you'll see on silk scarves, etc.).

Choose a thinner thread when using such slender needles so it will go through the eye easily. These needles also bend easily (like in the image below), so take care when using them so the shape doesn't change.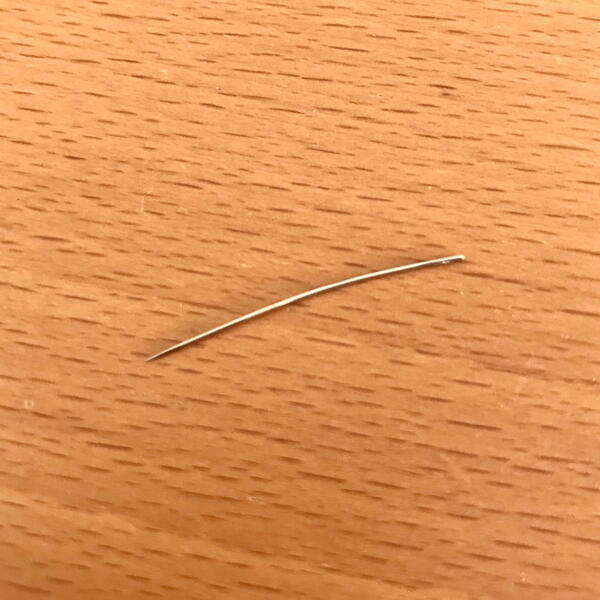 For most hand-needles, the higher the number, the smaller the size of the needle (particularly in thickness).

General-use hand-sewing needles range from size 1-12, with 1 being the largest. Variety packs usually include a range of sizes in the middle and on the larger end.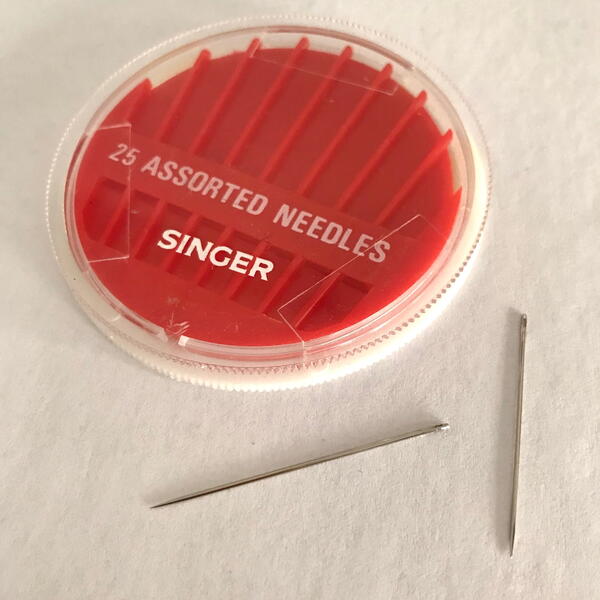 Regular Hand sewing Needles
Standard sewing needles are the most common type found in sewing kits and packs. They tend to be between 1.25-1.75" in length, sharp at the end, and slightly bulkier than the tiniest ones we just discussed.

All-purpose needles can be used for sewing repairs, attaching certain embellishments, creating stitches, and much more.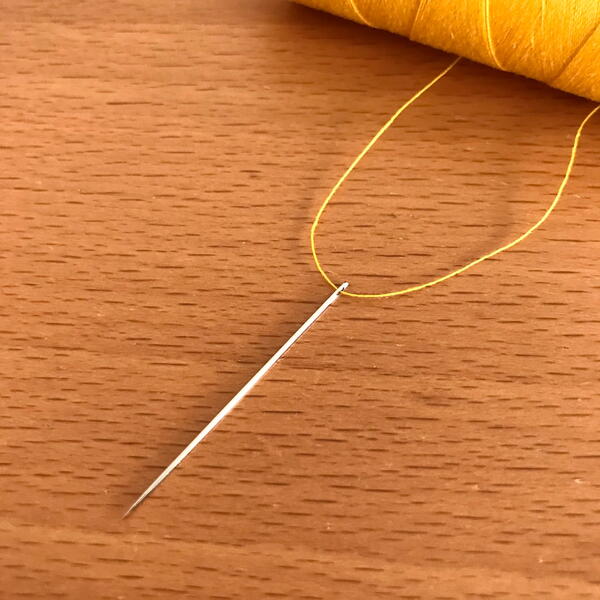 Decorative adornments and functional notions like buttons, hook-and-eye closures, and large sequin paillettes can all be attached with regular-sized sewing needles. Having a few of these on hand is always a good idea!
Large Hand Sewing Needles
There are several kinds of large needles. One type is often used for embroidery. Also known as "crewel" needles, embroidery needles have head and eye shapes that are relatively large in size compared to those used in other crafts. Sometimes they are even curved at the end to make them easier to use.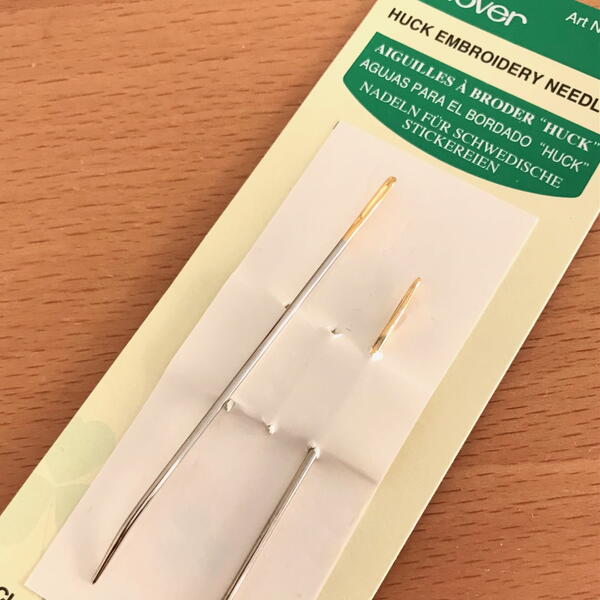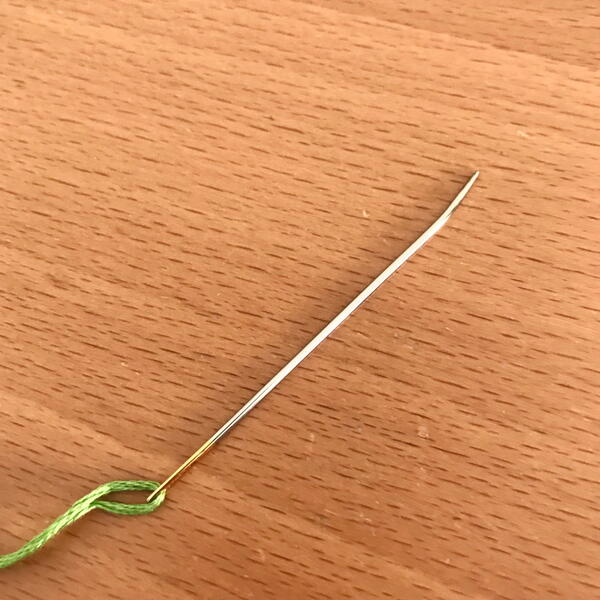 Most have sharp ends that are perfect for piercing fabric, though some are more blunt or even ball-tipped. Their long eyes can comfortably hold thick threads. Embroidery floss is most often used in conjunction with these needles.

When selecting an embroidery needle, pick the thinnest size that will go through the fabric comfortably. This will prevent holes and damage to the cloth.

Just like the standard types, embroidery needles come in a number range from 1-12 in size, and the higher the number, the slimmer the needle. They are typically between 2.75-3.25" in length.
Darning needles are another type of large hand sewing tool. They usually aren't very pointy and sharp. In fact, many have a dull tip designed to glide through crochet and knit items to join panels without harming the yarn fibers.

Darning needless also have larger eyes, making them ideal for craft projects using yarn and other dense kinds of string or thread. Most are about 2.25-3" long, and relatively sturdy.

Occasionally they can be extra-large and made out of plastic or wood for use with very thick yarn. Available in sizes 13-26, the most common tend to be on the larger side so they are easy to hold and use.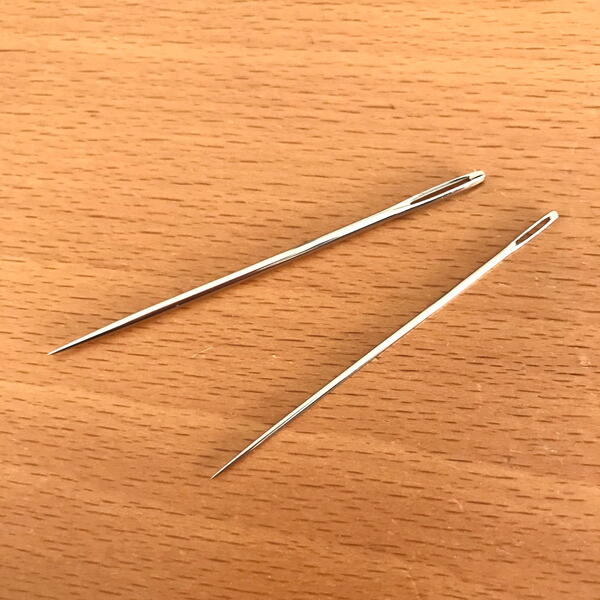 Tapestry needles are very similar to darning needles, though they can sometimes be a little shorter. Just like darning needles, they tend to be thick and have a more rounded tip.

Tapestry needles glide smoothly through open-wave fabrics. Such large-sized needles are perfect for projects like cross-stitch because they can easily accommodate embroidery floss. They are available in a range of sizes, from 13-28.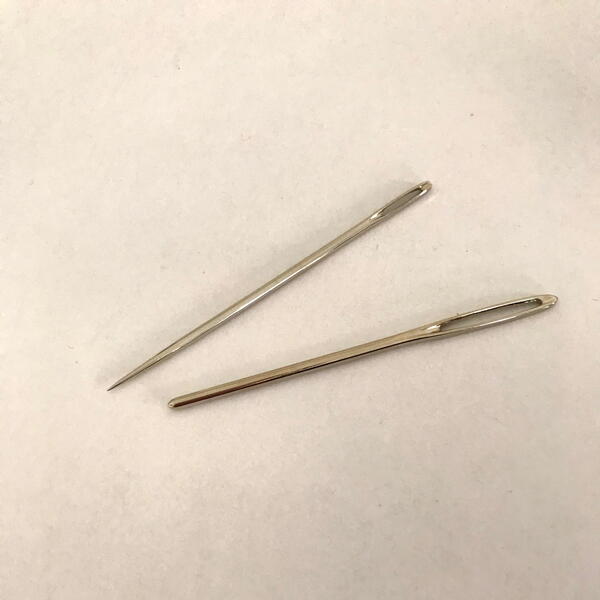 Hand Sewing Needle Sizing & Types Chart
Looking for a hand sewing needle sizing chart for a simple visual of sizes? Below you will find one. In the left column is the type of needle, the middle column has the size and/or shape, and the third column explains some of the common uses.
Hand Sewing Needle Types
Type
Size / Shape
Common Uses
Ballpoint
5-10
Sewing stretchy fabric (knits)
Beading
10-15
Threading beads/sequins
Betweens
1-12
Quilting between stitches
Bodkin
N/A / thick flat needle
Threading elastic
Chenille
13-26 / thick large point  
Threading thick yarn
Darning
1-9, 5/0-9, 14-18
Mending cotton, yarn, & wool
Embroidery  
1-16
Embroidery, needlepoint, decorative  
Leather
3/0-10
Sewing leather/faux leather
Milners
5/0-10 / sharp and long
Making hats & crafting
Sailmakers
Varies
Sewing canvas
Sharps
2-12
All fabric types (based on size)
Tapestry
13-28
Tapestry/canvas
Upholstery
3-18" / can be curved
Upholstery

As you can see, there are many options when choosing hand sewing needle sizes and types. Just like with choosing thread! Hopefully, you now have a better understanding of which needles should be used for which project. When in doubt, use a test piece of fabric to see how it looks before going straight into your project. This is particularly important if you have a limited amount of fabric.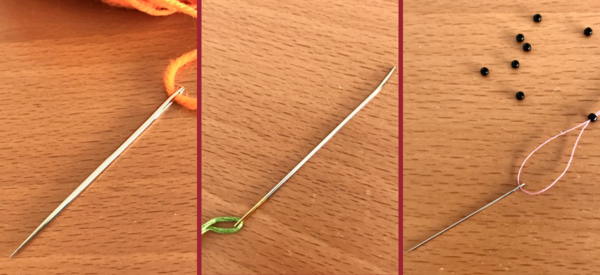 Free projects, giveaways, exclusive partner offers, and more straight to your inbox!
Tags / Related Topics
Your Recently Viewed Projects
Images from other crafters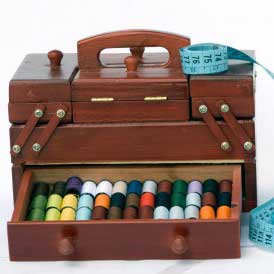 Something worth saving?
SAVE all your favorite patterns
ADD personal notes
QUICKLY reference your patterns