Sewing Machine Needle Sizes Explained
With this sewing machine needle sizes guide, you'll learn everything you need to know before choosing the wrong needle.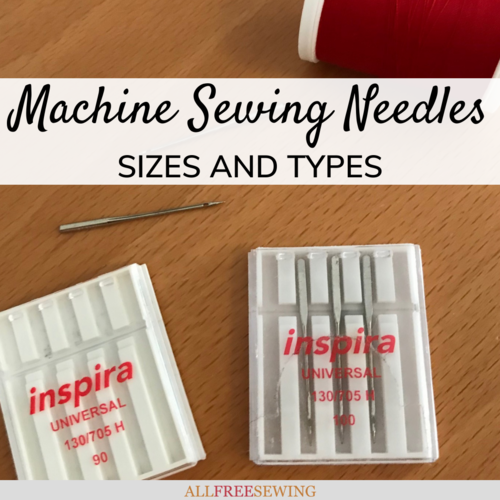 Finally, sewing machine needles explained! The correct needle size is crucial for success when using a sewing machine.

They are available in a wide range of sizes, so how can you select the right needle for your next project?

Fabric content, the kind of sewing stitch being done, machine type, and other aspects all factor into the needle choice.

In another post, Hand Sewing Needle Sizes and Types, we looked at the various needle sizes available for several kinds of hand-sewing projects.

For this one, it's all about machine needle types. This is especially important because a small error can cause serious problems with sewing machines.

So, let's talk about the different sizes of needles for machine sewing, and the uses for each kind!


Sign Up For More Free Patterns >>>
 
Standard Machine Needles
Most sewing machine needles tend to all be about the same length (about 1.5" (inches) long), but will vary in thickness and the shape of the shaft.  While hand sewing needles tend to be larger and thicker the lower the size number, regular "universal" sewing machine needles are the opposite.

Generally, a high size number indicates a weightier and thicker needle. Machine needles are labeled with both a European and an American size number, usually separated by a slash mark. The European (first) number is higher and reflects the shaft's diameter in the metric system.

They typically range in size from 60/8 (the smallest in thickness and weight) to 110/18 (the largest). The most commonly used for regular sewing is size 90/14. As a rule of thumb, for thinner fabrics use a needle with a smaller size number, and for thicker, heavier weight fabrics use a higher size number.

Standard machine needles are typically either very straight "sharps," or the gently curved "universal point" shape. Occasionally you might need to use a rounded-tip "ballpoint" machine needle to sew knits. Keep in mind that various sewing machines may recommend different needle sizes.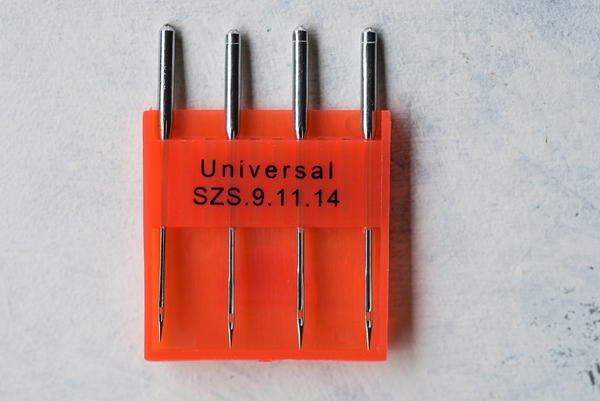 All sewing machines will come with a basic set of needles for the most common functions. Always consult your machine's manual for detailed information. Industrial sewing machines will also use slightly different needles than regular commercial (or "home") sewing machines, so it's best to check with your machine's guide.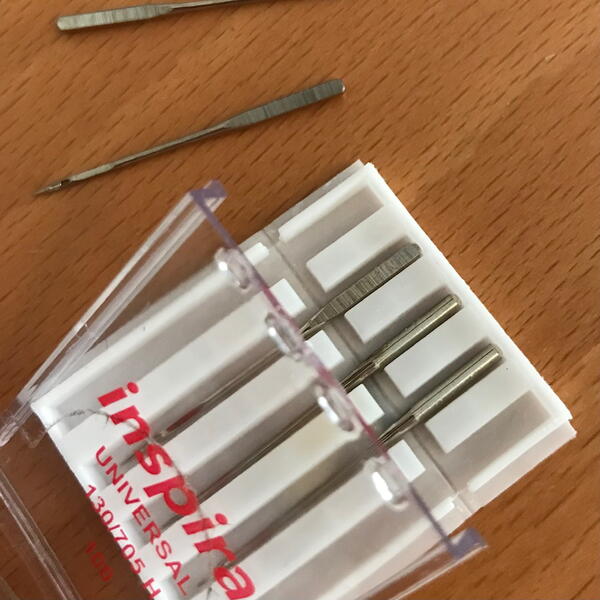 Machine Embroidery Needles
In comparison to regular machine needles, those used for machine embroidery tend to be very streamlined with a longer eye opening. This allows the needle to accommodate delicate embroidery threads without them breaking.

The "scarf" (the area just above the eye opening) is also specially shaped to maximize success when embroidering on a sewing machine. There is a range of sizes available, but the most common for this kind of embroidery is 90/14 and 75/11.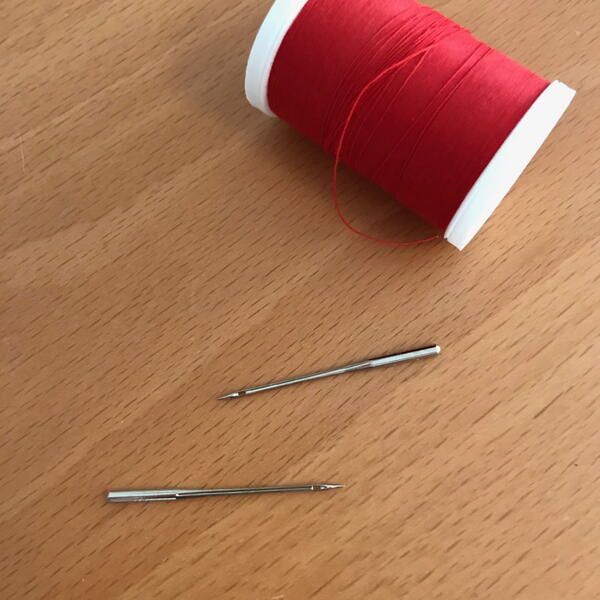 Topstitching Needles
Decorative stitches are also easy to create on a sewing machine! Known as "topstitching," there are specialty needles available for this kind of design. They have a quite large eye opening and a grooved shaft to allow the topstitching thread to pass through easily.

As the stitches are visible from the front side of the garment, it is very important to use a quality needle so that the lines are even and not broken. The 90/14 size is most often used for topstitching on a sewing machine.
Denim Needles
Another kind of machine sewing needle is used for denim fabrics. Denim needles tend to be very strong and thick with a very sharp point to go through the tough layers of denim (or even materials like cotton canvas).

They are usually slightly thicker in diameter than standard sewing machine needles. For thinner denim fabrics use a needle size 90/14, and for thicker denim use size number 100/16.
Double and Triple Needles
Some specialty needles are made with double or even triple rows of sharps. They are occasionally used for sewing very thick denim, hemming, and unique finishing topstitches. On these needles, two or three shafts with eye holes descend from a small crossbar and attached top piece.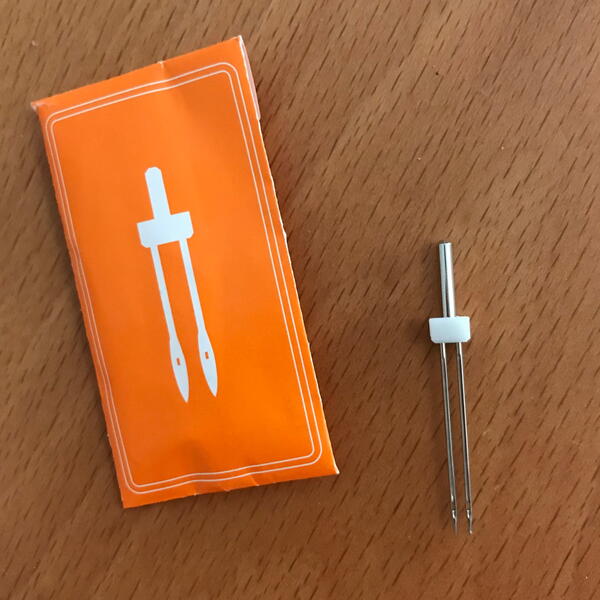 Twin and triple needles aren't used very often, but you might encounter them in your sewing journey. The sizing labeling system for double and triple needles is slightly different than single machine needles, and the American number isn't typically included.

Instead, the European size is the second number, following the first digit which reflects the distance between the needles (measured in millimeters).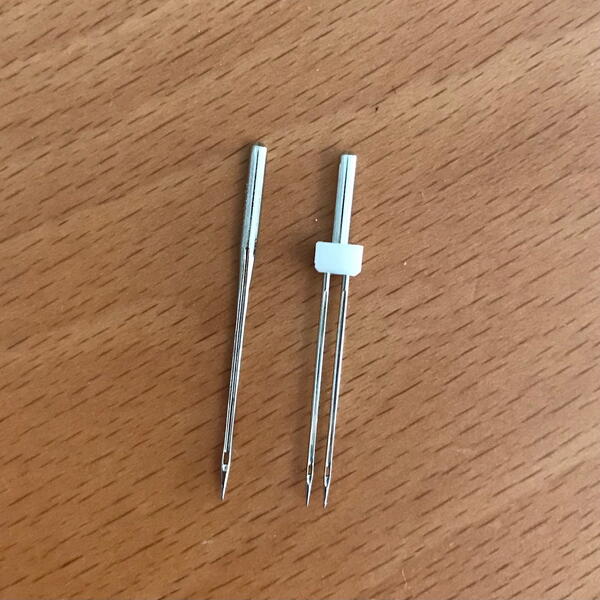 Machine Sewing Needle Sizing & Types Chart
Looking for a simple visual of sizes to choose machine sewing needles? We've got you covered with this chart right below. Keep in mind that this is not a definitive list. There can be sizes that aren't listed but these are the basics you'll find when searching.

In the left column is the type of needle, the middle column has the size(s), and the third column explains some of the common uses or types of fabric you would use the needle for sewing.
Machine Sewing Needle Types
Type
Size (US)
Common Uses
Universal
60/8, 65/9, 70/10, 75/11, 80/12, 90/14, 100/16, 110/18, 120/19
Most woven fabrics, knits, faux leather/suede
Ball Point (Jersey)
70/10, 80/12, 90/14
Stable knits and jersey
Stretch
70/11, 75/11, 90/14
Slick knits, spandex, elastic, silk jersey
Jeans/Denim
100/16, 110/18
Denim, canvas, twill
Quilting
75/11, 80/12, 90/14
Cotton quilt fabrics, piecing, batting
Leather
90/14, 100/16, 110/18
Natural leather/suede
Sharp
60/8, 65/9, 70/10, 80/12, 90/14
Fine/delicate fabrics, taffeta, faux leather/suede
Topstitch
80/12, 90/14, 100/16
Heavier threads/fabrics for decorative stitching
Twin
75/11, 80/12
Woven/knit fabrics for decorative zig zags, hems
Free projects, giveaways, exclusive partner offers, and more straight to your inbox!
Tags / Related Topics
Your Recently Viewed Projects
Images from other crafters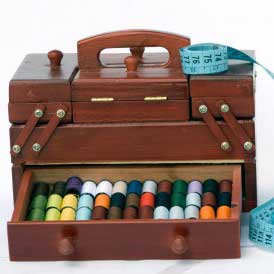 Something worth saving?
SAVE all your favorite patterns
ADD personal notes
QUICKLY reference your patterns