What Does a Bobbin Do? Sewing Guide
Learn all about bobbin sewing with our resource on this essential sewing notion.
Updated June 12, 2023
What is a bobbin and what does it do? Find out here!
In sewing, a bobbin is a small metal, wood, or plastic wheel or reel design that holds thread. The thread is wrapped around a small cylinder that is attached to thin wheels on either end.

Without a sewing machine, a bobbin has the same role as any spool of thread. However, a bobbin is an incredibly important piece of a sewing machine.

According to Vocabulary.com, "A bobbin is the part of a sewing machine on which the lower thread is wound. The machine makes a stitch by catching the bottom thread, from the bobbin, with the top thread, from the needle."

The thread in a bobbin is only one of two thread sources needed when using a sewing machine. Together, the two threads create the stitching.

Although you can learn how to wind a bobbin by hand, many sewing machines also have a bobbin winder mechanism. Learn how to wind a bobbin with your machine in the last section of this article. The purpose of a bobbin is to hold thread for a sewing machine. The bobbin feeds the thread through the machine to help secure a stitch.

You will read and see in the examples below what a bobbin is used for, how a bobbin works, and the role of a bobbin in a sewing machine (along with the related parts). We also have a few resources throughout to help you use a bobbin correctly with your machine.

Sign Up For More Free Patterns >>
             
Table of Contents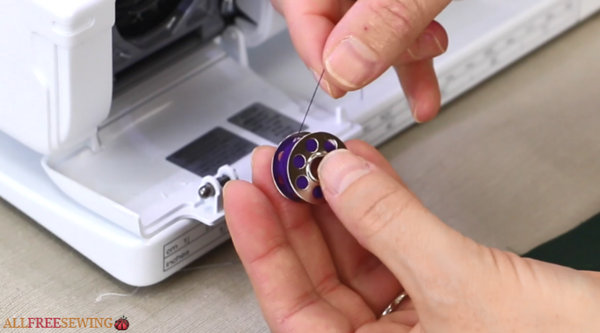 What is a Bobbin Used For?
What is the point of using a bobbin? Well, a bobbin is used for sewing thread. Outside of sewing, bobbins can be similar to cylinders or cones and will hold yarn, wire, or other similar weaving materials. Basically, any thin material that can be coiled can then be held with a bobbin.

Inside a sewing machine, a bobbin is used alongside another piece of thread to correctly sew anything pushed through the machine. A spool holds a thread somewhere on the top or side of a machine. That thread is fed through a series of loops and into the eye of the needle.

As mentioned in the introduction, the purpose of the bobbin is to hold the thread that is held below the needle. The thread from the bobbin goes up through the plate and connects with the top thread to create a sturdy stitch when the machine is in use.

In sewing, bobbins are small notions that are available to buy alone, with thread, and will most likely come with a machine if it's one of the parts utilized. In a sewing machine, the bobbin is placed under the needle in a special compartment.

Bobbins can be inserted either as is or must be inserted into a bobbin case. Bobbins are often metal, like this one, though they can also be made of plastic (usually clear).

The image below shows an example of what a bobbin and a bobbin case look like on a standard machine. The bobbin has purple thread already wrapped around the inside cylinder.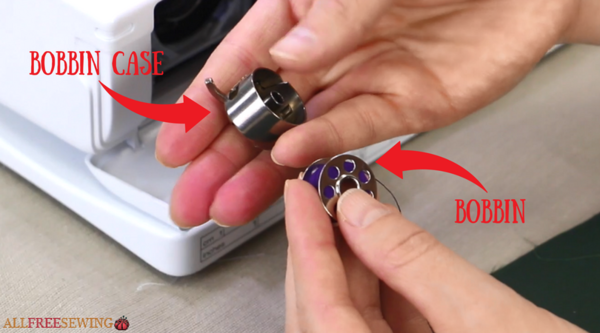 In this image shown below, you can see the bobbin with thread being inserted into the bobbin case. Note: when doing this, be sure to follow your machine manual's instructions for which way the thread should be facing.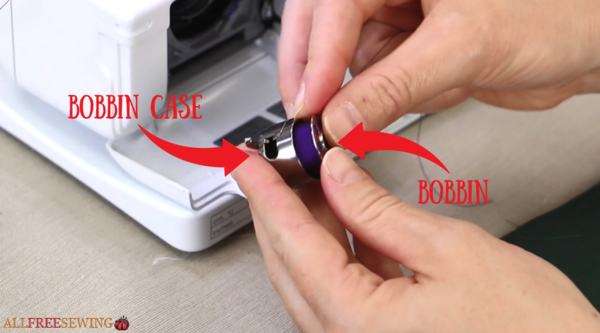 In the image below, you can see where the bobbin case (with bobbin inside) is placed into the machine. As you can see, it is below the needle and footplate. To install it fully, read your machine manual instructions.

In general, you will carefully hand crank the needle while holding the top thread, which will pull the thread from the bobbin and up through the plate. Before adding the bobbin, you will want to have your needle threaded from the top spool.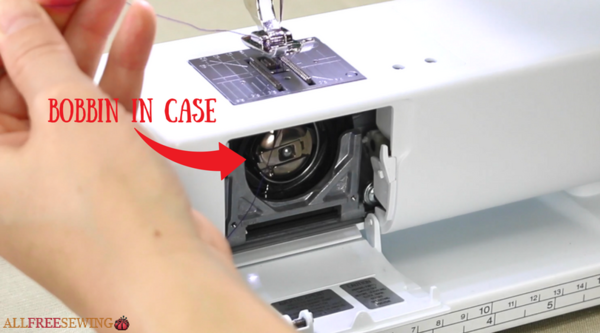 How a Bobbin Works in a Machine
Now that you have read about bobbins, the related parts, and other details, let's see it in action. Luckily our friend and sewing expert, Angel Peterson, walks you through installing a bobbin and bobbin case into a machine, which will help you do the same.

Check out her video and more on the page, How to Use a Sewing Machine.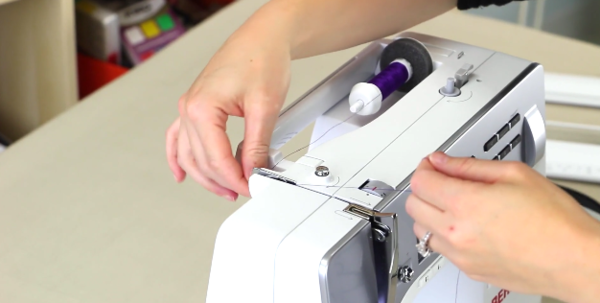 Resources: Installing and Using Bobbins for Sewing Machines
How to Wind a Bobbin
This Winding and Threading Your Bobbin article from Ruffles and Stuff details with lots of pictures and instructions for how to use the winder mechanism on your machine to get thread onto the bobbin. Although all machines differ, most of the actions are the same. This is incredibly helpful if you use bobbins or are planning to start.

There is also a helpful video for How to Wind a Bobbin by Howcast. This is great if you're a visual learner. They walk you through the process and you can see the movements in real-time.



How to Insert a Bobbin
Here is another video from Singer, this time it's all about learning how to insert a bobbin into your machine.


About the Author:

Krista Childers is the Senior Content Editor for AllFreeSewing. She has a passion for creative writing and trying every craft at least once. Find more of her work here: Krista Childers
Free projects, giveaways, exclusive partner offers, and more straight to your inbox!
Tags / Related Topics
Your Recently Viewed Projects
Images from other crafters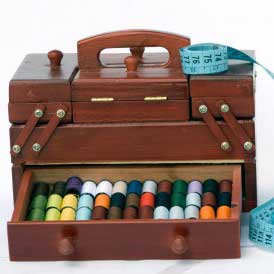 Something worth saving?
SAVE all your favorite patterns
ADD personal notes
QUICKLY reference your patterns