What is a Mug Rug? Guide
Learn all about mug rugs, from what they are used for, to sizes, to how to make one, and more!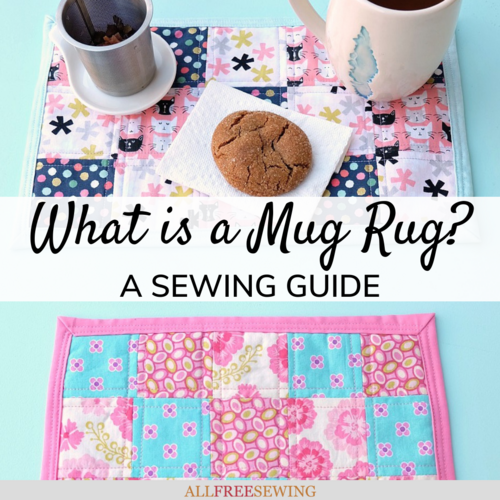 Mug rugs have become a popular crafting project in the past few years and with that growing popularity, many questions have arisen.

Most importantly, what is a mug rug? Traditionally a quilted mat, a mug rug is a combination of a coaster and a placemat that is large enough to hold a cup and a snack. It can also be called a mug mat or snack mat.

Although mug rugs are most often quilted, other fabric ideas have been used. Knitters and crocheters make mug rugs from yarn, too!

Because they are perfect for afternoon tea, they have been popular in the U.K. for quite some time. However, since everyone loves a good break, they've become a must-make worldwide. Also, mug rugs make thoughtful gifts for housewarmings, holidays, and just because.

Sign Up For More Free Patterns >>>

Below, we will be answering every question you've ever had about mug rugs: more about what they are, what they are used for, along with mug rug size and measurement options.

Plus, learn about the poem and how to make a mug rug of your own (with videos). Then scroll down to the end for a few of our favorite mug rug patterns!
What is a Mug Rug?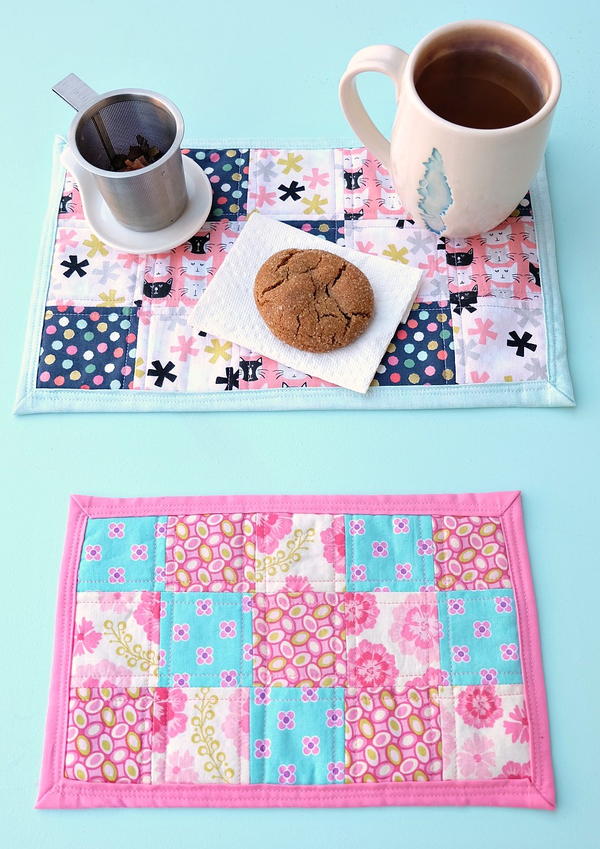 There should always be multiple layers of fabric and many designers suggest adding an absorption layer in the middle to collect any liquid. That way, your table is protected better, like with a good coaster or placemat.

Some mug rugs even have pockets, fringe, or other fun embellishments and elements. They can be as creative as you want them to be! Using seasonal or holiday themes is also popular.

As you can see, this one uses scraps and patchwork to create a pleasing design. Mug rugs make fantastic scrapbusters because small pieces are ideal. Any sort of precut fabric pack works wonderfully for making these little mats! Below is a visual guide to precuts from our friends at FaveQuilts.
 

We also mentioned above that mug rugs don't have to be made of fabric. Obviously, you are on a sewing site and so you are probably looking to sew your next mug rug. However, for crafters who like to explore different materials, it's worth noting.

Our friends at AllFreeCrochet have this fabulous Tunisian Pyramid Lace Stitch Mug Rug Pattern. Looking at it, you certainly get the "rug" part of the name, right? It's so fun to see a miniature version of a pretty rug for your table!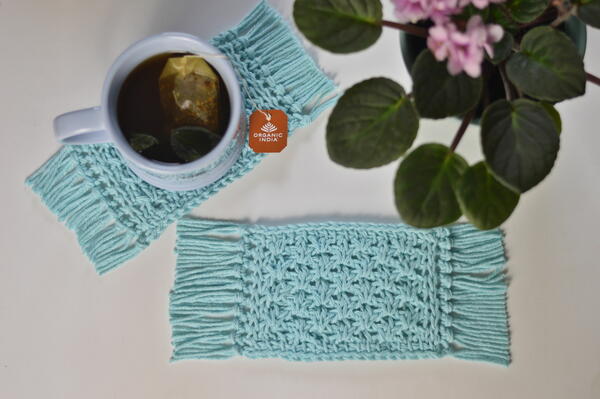 Another noticeable difference between the first mug rug we showed you and the crochet version is the size. Which brings us to the next popular question: what is a good size for a mug rug? Let's discuss it in the next section!
How Big Are Mug Rugs?
When it comes to mug rug size, it varies, but the standard is 7" x 4". Since a conventional coaster is around a 4" or 5" square, this rectangle works for both the mug and something else.

However, you may be pleased to know that there is no real set size for mug rugs. They can be made as large as 12" x 8" to accommodate larger items, such as plates or more than one mug.

They also don't need to be rectangles, as you'll see with the free patterns we're sharing below. Squares, circles, or unique designs are popular, too. One of our favorites is this Cozy Little Cottage Mug Rug pattern by Christina at The Sometimes Crafter, which is in the shape of a house!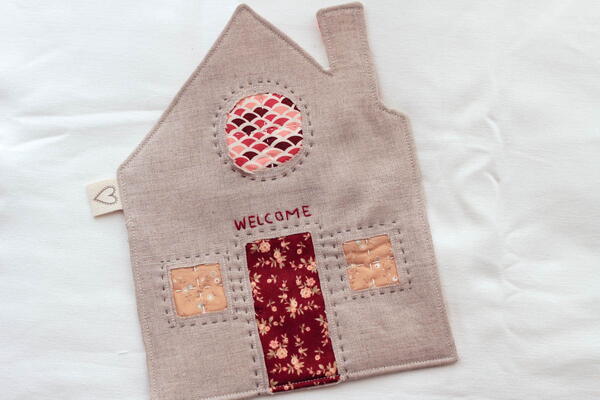 How do you decide what size to make yours? Well, one suggestion is to think about the design you want. Do you want to show an image of a certain size on your mug rug, like the Upcycled Yuletide Mug Rugs that are shown below?

You could also set up a mug and a couple of cookies or a small side plate and measure around to see what size would fit the items best. Again, there isn't truly a right or wrong answer, only suggestions. But, the bigger it becomes, the less it is a mug rug and the more it becomes a placemat. Keep it smaller than that!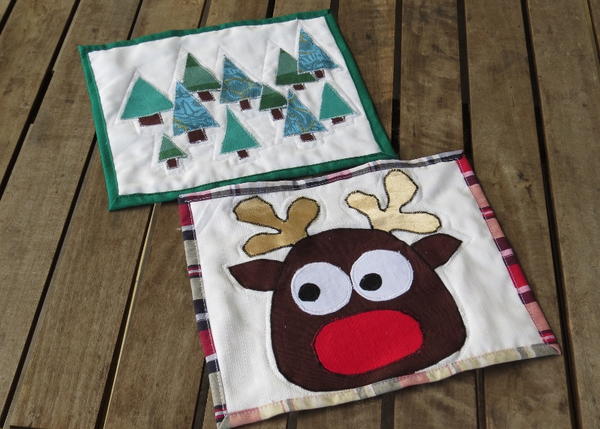 What is a Mug Rug Used For?
If you've been reading the above information, then there's a good chance that you already know the answer to this question. When it comes to uses for mug rugs, they are primarily used to keep mugs and food off tables.

With a mug rug, you can set up a nice afternoon tea and snack without getting multiple materials out. Plus, they are pretty and fun to use!

As we've mentioned above, mug rugs make the best gifts. Pair your handsewn mug rug with a matching mug or homemade box of treats. Anyone would appreciate getting any combination of these items.

There is even a poem that can be written or printed out and attached to the gift. We're discussing that in the next section.
Mug Rug Poem
One of the cutest things we've seen is that there are even a few poems floating around to explain mug rugs and make these gifts even more friendly. Julie at The Crafty Quilter even has a free printable poem that you can download on this page.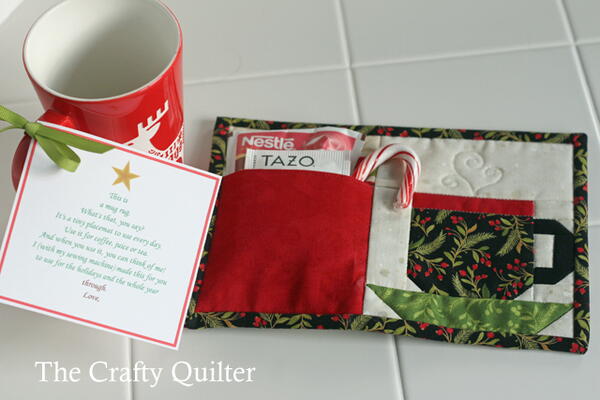 How to Make a Mug Rug
On to the actionable question: how do you make a mug rug? Well, our friend Mary Beth Temple at Hooked for Life Publishing filmed a couple of video tutorials for us to show exactly how it's done. She's also sharing her suggestions and tips for success along the way!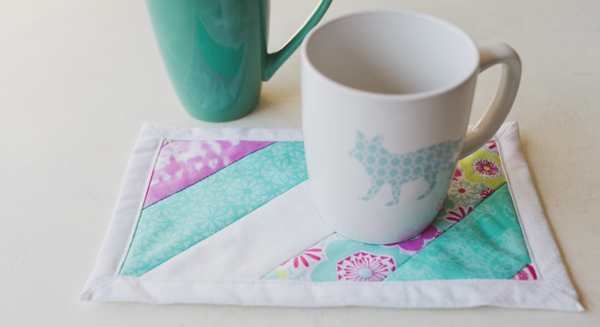 The second video shows you how to finish off your project. In this How to Seam Bind a Mug Rug Tutorial video, you will be walked through the steps for binding, which is the most common way to finish.

Mary Beth will discuss how this is an optional finishing technique (as opposed to using bias tape or other binding techniques). Click the play button to watch the video right below.
 
10 Free Mug Rug Patterns
In addition to the patterns we've shared throughout the page, we couldn't leave you inspired without offering a few more fantastic mug rug patterns for you to try. These are 10 of the most popular featured on AllFreeSewing. Take a look and find which one works for what you're looking for: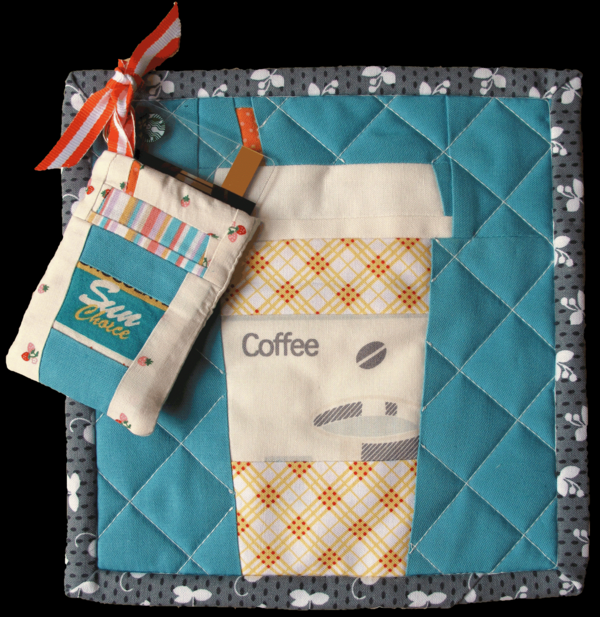 About the Author:

Krista Childers is the Senior Content Editor for AllFreeSewing. She has a passion for creative writing and trying every craft at least once. Find more of her work here: Krista Childers
Free projects, giveaways, exclusive partner offers, and more straight to your inbox!
Tags / Related Topics
Your Recently Viewed Projects
Images from other crafters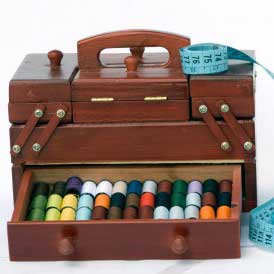 Something worth saving?
SAVE all your favorite patterns
ADD personal notes
QUICKLY reference your patterns