How to Make Your Own Halloween Costumes: 9 DIY Halloween Costumes
Bonus: Get our newsletter & special offers for free. We will not share or sell your email address. View our Privacy Policy

50+ Halloween Costume Sewing Patterns
If you've been searching for homemade Halloween costume ideas, look no further than this collection of DIY costume tutorials!
By:
Katherine Filippo, Editor, AllFreeSewing.com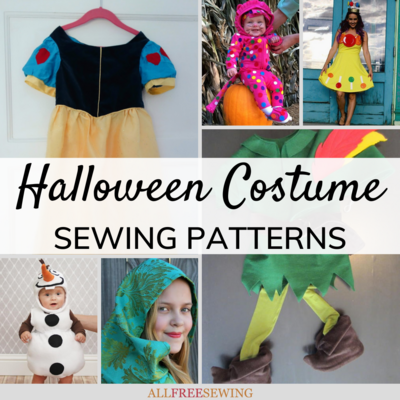 Halloween is the time for carving pumpkins, trick-or-treating, and of course, dressing up in costumes! Finding creative Halloween costumes can be hard especially when everyone buys them from the same store.

Stand out from the trick-or-treating crowds this year with these great homemade Halloween costumes. You'll love all the Halloween costume ideas in 50+ Halloween Costume Sewing Patterns for the Family.

Don't spend money buying overpriced costumes from the store when you can easily make your own homemade Halloween costumes with these sewing patterns.

Learn how to sew your own Halloween costumes with these easy-to-follow tutorials. If you're wondering what you should be for Halloween, then you've come to the right place!

We have fun homemade Halloween costumes for girls, boys, and adults. There are lots of animal costumes, movie character costumes, and unique costumes that you'll love. All you need is a weekend or less to make these costumes.

Let your creative juices flow and customize your costumes with fun details and sewn embellishments. Best of all, you can make them any size you want so they fit perfectly.

Once Halloween is over, these costumes will make great additions to the dress-up box. Make this Halloween the best yet with these great homemade costumes!

Sign Up For More Free Patterns >>>
 
Table of Contents
Homemade Girls' Halloween Costumes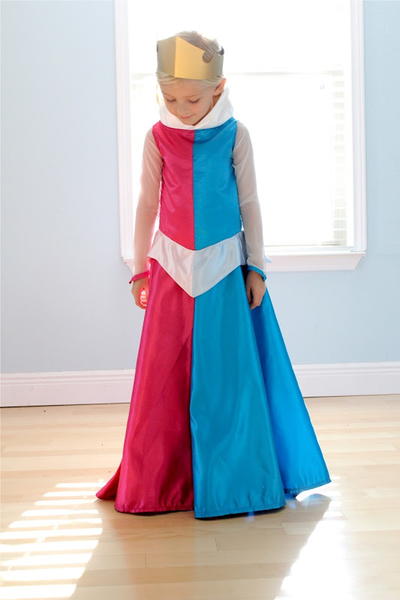 No matter what her style, your little girl is sure to love all of these homemade Halloween costumes. She'll look so "sweet" in costumes like the Candy Corn Costume or the Pumpkin Tutu Costume. All these DIY Halloween costumes for girls are easy sewing projects that are perfect for trick-or-treating or dress-up.

You can also make her dreams come true with some gorgeous homemade Halloween costumes inspired by the Disney princesses! If her favorite princess is Sleeping Beauty, she'll especially adore the costume you see here. She'll love twirling around in these pretty costumes and won't want to take them off. Make her feel like royalty by creating a one-of-a-kind DIY Halloween costumes that bring out her inner princess. Plus, you'll save so much money by sewing your own princess costumes instead of hitting up your local Halloween pop-up store.
Homemade Halloween Costumes for Boys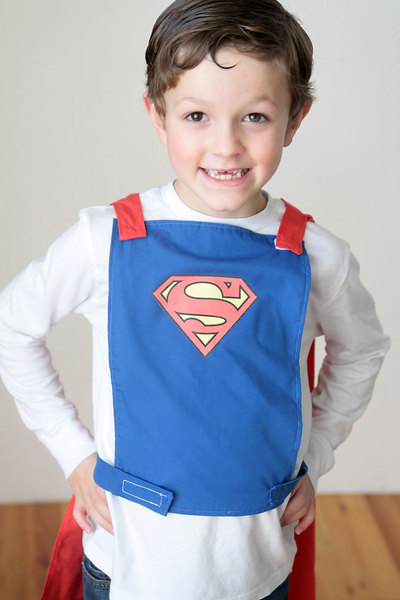 Your little guy can dress as a mummy or a his favorite superhero with these homemade Halloween costumes. He'll love these creative costumes, and you'll love how easy they are to make. All these creative Halloween costumes are easy to put together, so if you waited until the last minute this year, you're not completely out of luck!

Whether he's a fan of Disney, Star Wars, or Minions, or if he just wants to dress up as his favorite animal, you're sure to find something he'll love in this collection of homemade Halloween costumes for boys. DIY Halloween costumes are absolutely the way to go. You'll save money, and your little man has the option of customizing his homemade costume any way he wants!
Homemade Halloween Costumes for Adults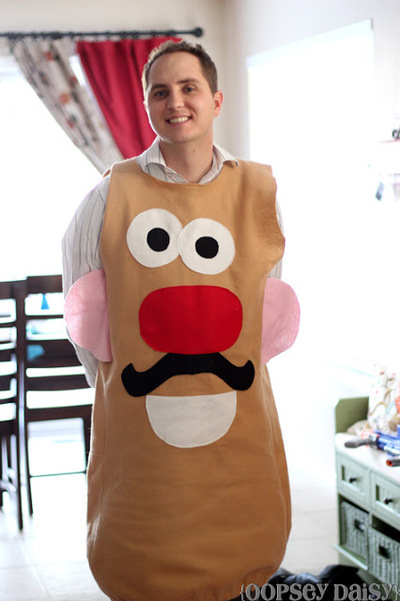 If you're making costumes for your kids, make sure you don't forget about your own costumes! Don't miss out on these fun and creative homemade Halloween costumes for adults. Whether you want to go all out for Halloween this year or if you just want to throw on a cape and call it a day, this section has lots of adults DIY Halloween costumes for any preference. The Mr. Potato Head Costume would be great for a group costume for the whole family!

The most important thing is, you don't want to spend 50 bucks at the costume store for something you're going to wear once. Sew your own great Halloween costumes for yourself and your spouse to make this the best, the most wallet-friendly, and the most fun Halloween ever.
DIY Halloween Costumes for Babies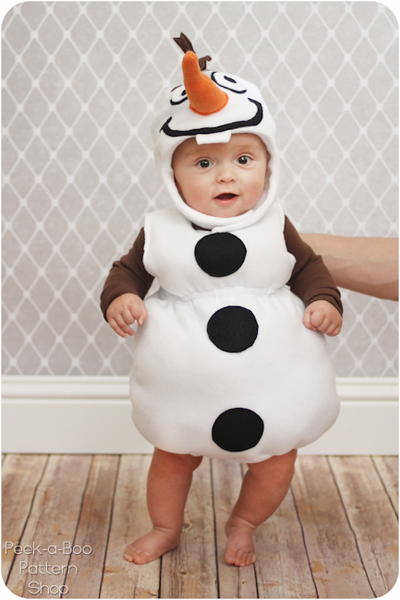 Look no further for baby Halloween costumes patterns, because we've got everything you need right here! Make your baby's first Halloween special with these DIY Halloween costumes that are easy, budget-friendly, and, most importantly, adorable. In these homemade costume ideas, your little one with be the sweetest treat of the night. I mean, how cute is this Olaf Baby Halloween Costume?

These infant Halloween costume patterns and homemade costumes for toddlers will ensure that you have the cutest baby on the block. You're gonna be the parent with the most candy at the end of the night, because these baby Halloween costume ideas are just the cutest things anyone will ever see!
No-Sew Homemade Halloween Costume Ideas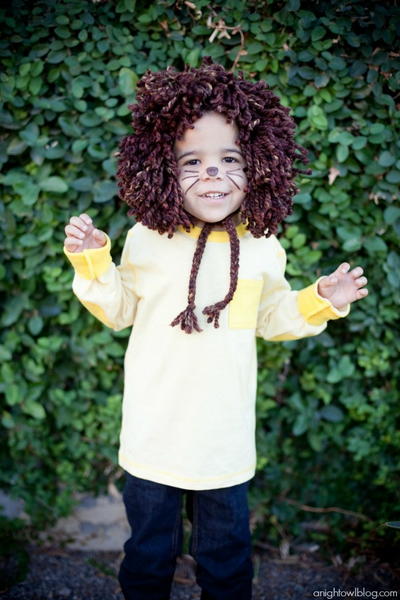 If you're looking for a last-minute DIY Halloween costume and don't have time to break out your sewing machine, you're in luck! These projects are the perfect ways to make Halloween costumes with little to no sewing involved. Filled with tons of fun ideas, this list of no-sew Halloween costumes is the ultimate costume solution for procrastinators. This Little Lion Man Halloween Costume is a perfect example of a Halloween costumes idea that can be created in minutes and still looks so cute—no sewing necessary!
BONUS! Halloween Costume Ideas From Our Readers
For that time of year when witches, goblins, and ghosts are the norm, you probably want to dress yourself and your little ones in something trendy. To keep up with appearances this fall, we've collected these 29 Halloween Costume Ideas to sew – or not!

If you find inspiration from these homemade Halloween costumes, thank our lovely Facebook and FaveCrafts Blog friends for thinking up and trying out these truly easy costumes to make.
My mother once picked up two brown kitchen rugs, sewed them so she had armholes and a place to put her head through...messed up her hair and went as a cavewoman! Truth!
Ghost = Sheet with a couple of holes, LOL.
Adam & Eve!!
My mom did a hillbilly woman. Nightgown, mismatched socks, and her hair in rags.
Princess, use a nightgown and add a cape and crown.
Clown. Using a sweatsuit and homemade ruffles!
My mom once painted each side of a box a different color, then painted a grid on each side, cut a hole for my head and one on each side for my arms, leaving the bottom open, then I wore a black turtle neck, pants, socks, gloves, and shoes. She pulled my hair back in a ponytail. I was a Rubik's Cube, I think the whole thing cost about $1.50.
I used to go as a bum, very easy, I just used my dad's old clothes and used some burnt charcoal; to make me look like I had a beard. A stick and a bag hung over my shoulder and I looked like a hobo... Nice memories.
Toilet paper mummy suits. ROFL!
I remember going as a baby and making a diaper out of a sheet, wearing a white t-shirt, and having a bottle.
Black cat: Black sweat pants & shirt, black headband, glue or sew on ears, black eyeliner on face for whiskers, then make a tail and pin it on.
Used a black sweatsuit and cut out bat wings out of black fabric. Used a pink sweatshirt and stitched a Care Bear motif on the front. Sweatsuits are a great base for lots of costumes.
Toilet...long skinny box for the tank...smaller square for the bowl glued on the front...cut a round hole in bowl box for the candy.
A playing card. Use a king-size pillowcase and cut felt hearts, diamond out and go as an Ace of hearts, etc.
My son rolled himself in a white blanket & added a sign tied around his neck that said, "Please don't squeeze the Charmin."
A baby bumblebee - yellow jogging suit and electrical tape for stripes.
A snowman, made from my sister's old long johns stuffed with old clothes and towels.
My mom gave herself a faux milk mustache and hung a sign on her shirt that said "Got Milk," back when those commercials were popular, it was cute :)
Superman/girl, blue cape, blue long-sleeve t-shirt with letter S emblem.
My brother and I were Martians every year. We used lots of tin foil.
Gangrene – it's a group costume. Participants wear green hefty bags and green socks. Muwahahaha!
I'm working on a Cleopatra costume now. White dress, gold collar, and belt with some bling.
I once wore tights and a leotard, with a dry-cleaning bag over them, filled with balloons. I was a bag of jellybeans!
My niece went as a smarty pants once. She pinned smarty candies all over her pants!
Ballerina!! Tights, skinny tee shirt, a little bit of netting for a skirt, ribbon to tie around the waist, and ponytail. Easy-peasy.
I attached purple balloons to a black catsuit, played the saxophone, and went as "I Heard It Through the Grapevine!
I remember my grandmother making a costume for me out of a pair of pajamas. She made a hood and bunny ears and a fluffy yarn pom-pom for a tail. She sewed it all together, and away I went on Halloween as a bright yellow bunny with a basket instead of a bag to collect my treats in.
I was a table once. My mother cut a hole in a box and put it over my head. She put a paper plate around my neck and a table cloth over the whole thing. Best costume ever. I was beheaded.
The first one I remember wearing to school was a headless horseman costume that I talked my mom into making . . . She took my dad's white button-up shirt and starched the collar really good and tied a cape around the neck area and then placed it on top of my head, making sure my head wouldn't slide through. I rigged a peephole through an open spot at the button and carried a plastic jack o' lantern.
What are you going to be for Halloween this year? Let us know below in the comments!
Free projects, giveaways, exclusive partner offers, and more straight to your inbox!
Tags / Related Topics
Your Recently Viewed Projects
Images from other crafters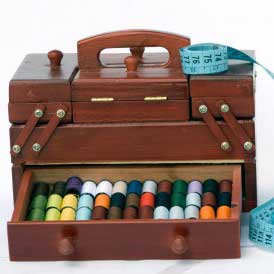 Something worth saving?
SAVE all your favorite patterns
ADD personal notes
QUICKLY reference your patterns