What is Draping? In Sewing and Fashion
Learn the basics of draping and an overview on how to use it in sewing and pattern making.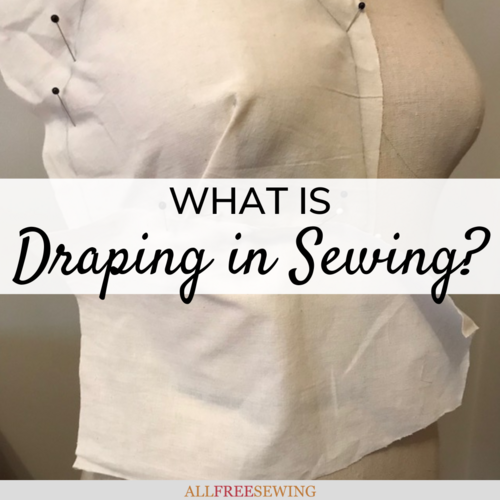 Since classical times, garments have been created by draping. So, what is draping in sewing? The term refers to the technique of designing by placing the material on a 3D dress form or body (instead of a flat, drafted pattern).

This method is perfect for so many fashional looks. Creating patterns by draping leaves you with soft and flowy garments, asymmetrical styles, and custom sculptural bodices. Draping is used to create dresses, tops, and skirts, as well as in details on accessories and home decor.

When done correctly, it's an attractive look that enhances and hides specific features, resulting in a comfortable and fashion-forward look that will turn heads.

When it comes to designers that drape, there are a few popular and well-known names that might help you visualize this look. Fashion designers who use draping include Christian Dior, Madeline Vionnet, Madame Grès, Cristobal Balenciaga, Christian Siriano, and Halston (to name a few).

This is a must-know technique if you sew clothing or focus on pattern-making. However, first, you need to learn the ins and outs of draping and what you need to do in your own sewing room.

Obviously, the importance of draping in sewn items cannot be disregarded. If you've been wondering what exactly draping is in sewing, here are all of the basics to get started!

Sign Up For More Free Patterns
What is Draping in Sewing? Overview
Below, you'll learn the basics of draping in sewing and fashion design, along with more specifics on how to drape in your own sewing creations.

Learn recommended supplies for draping, the best fabrics for draping, how to use draping tape, how to drape material when making clothing, creating patterns for draped garments, and sewing draped garments.

Plus, looking for a fashion draping pattern to try? Here are a few of our favorite DIY draped shirts and dresses that you can make as soon as you're ready!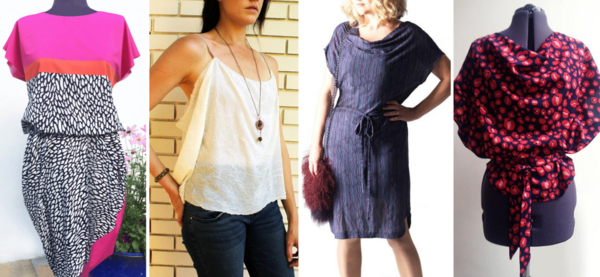 Recommended Supplies for Draping:
• dress form or pinnable mannequin 
• muslin or similar inexpensive cotton fabric
• fabric (lightweight to medium-weight)
• pins
• pincushion
• draping tape (thin bias tape can be used in a pinch)
• pattern paper
• pencil
• washable/removable fabric pen or chalk
• tape measure
• rectangular ruler
• curved dressmaking ruler
• fabric scissors
• paper scissors
• thread
• hand-sewing needle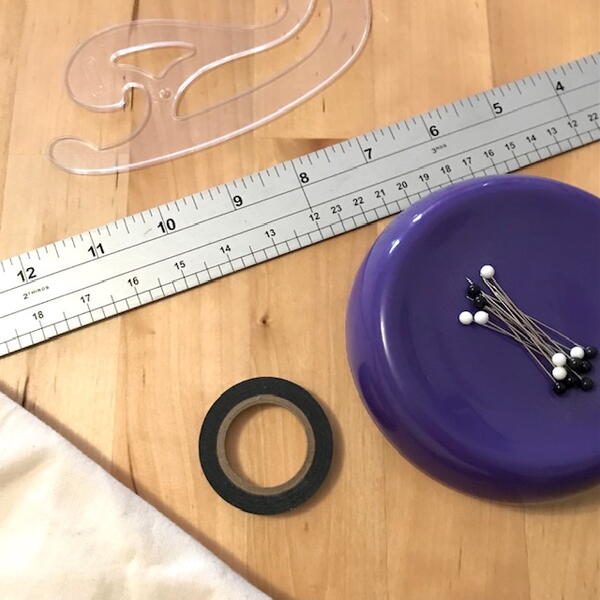 Best Fabrics for Draping:
Fabric choice is crucial when draping. Stiff, bulky, or thick fabrics don't usually drape well, though there are always exceptions. Instead, choose a material that is lightweight, flowy, and flexible. When learning to drape (and creating pattern prototypes) it is recommended to use cotton muslin fabric.

It's inexpensive, slightly transparent, and can be marked on with a pen or pencil. Keep in mind the grainline of the muslin (or other draping fabric) should be placed in the same orientation as the final fabric will be placed.
Using Draping Tape:
Draping should be done on a dress form or pinnable mannequin for dressmaking. This will also require lots of pins, as well as a (washable) marking tool and draping tape.

If creating a flowy garment that is not structured in any way draping tape might not be necessary, but it is helpful for designing fitted custom bodices and much more.

Use draping tape to mark the neckline and bust shape you want, well as the waistline and center, side, and back seams on the mannequin. If the tape comes unstuck it can be pinned down.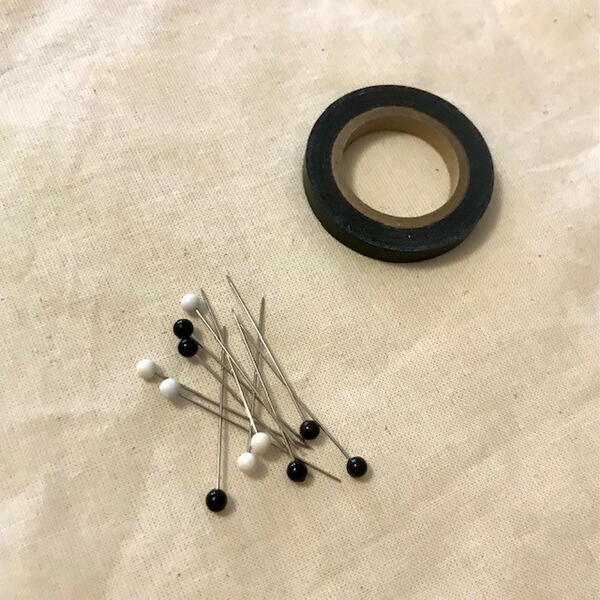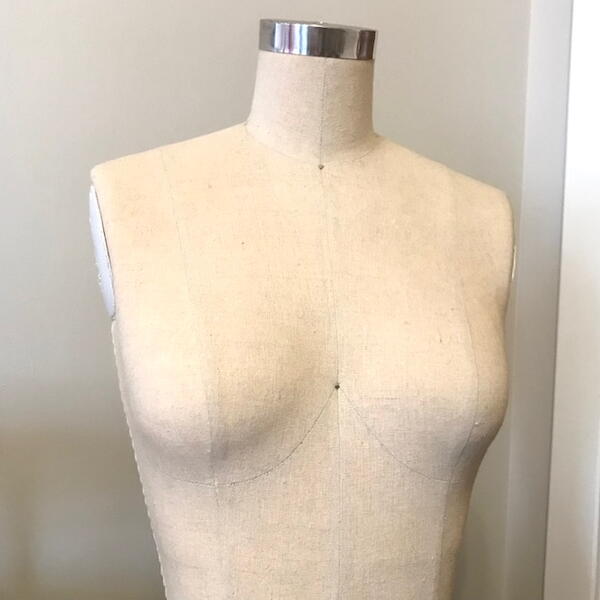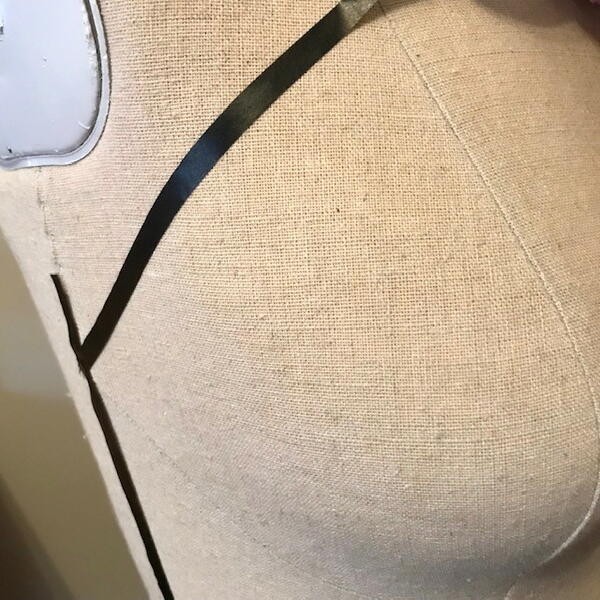 Draping the Material:
After the tape (or similar) is applied, it's time to pin the fabric! Place a piece of muslin directly against the mannequin and smooth it to the desired shape, then add pins.

Fold the material over to create darts or pleats for a more fitted look. This draping can be done on only one side of the dress form if the clothing will be symmetrical.

Marking your pieces is very important when draping. Carefully trace and mark the fabric along the taped lines, darts, and pleats, as well as denoting the center, side, back, and bottom of each panel. Cut off any large excess fabric pieces that are getting in the way.

Repeat this process for each panel of the garment that is being draped. This method does require some trial and error, so adjust the design if it's not to your liking or aesthetic.

Extra Tip: If you don't have a dress form available or are draping on a body that isn't represented by a mannequin it can also be (very carefully!) done directly on the person. Just don't use pins!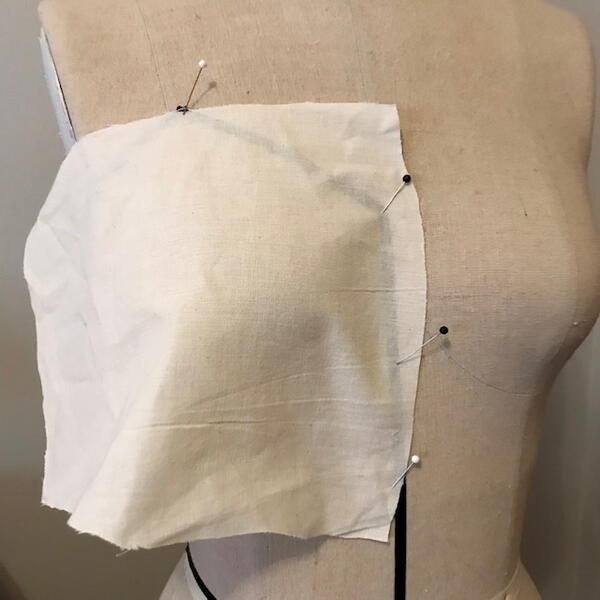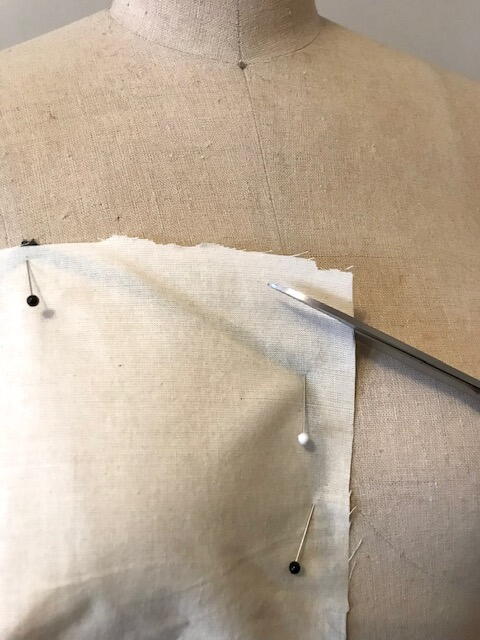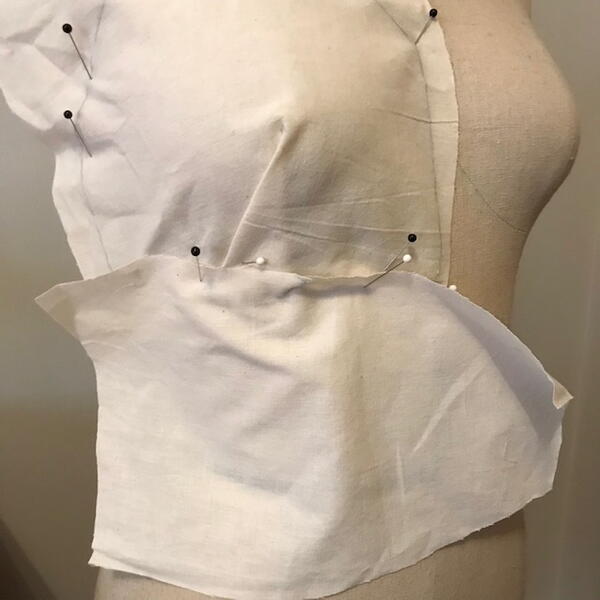 Creating Patterns for Draped Garments:
Draping is great for making one-of-a-kind garments. The fabric can be removed from the mannequin and directly sewn up to create unique styles. However, if you want to have a reusable pattern on paper, it is relatively easy!

When you're happy with the exact fit and markings of your muslin fabric on the dress form, carefully remove the pieces. Lay them flat on a piece of pattern paper on your work surface.

Slowly trace around with a pencil (adding all of the dart, pleat, and seam markings), and then slightly smooth out the lines or curves with your rulers.

Also include the fabric grain arrows and any notches if needed. Next, add the standard seam allowances around each piece and you have a pattern!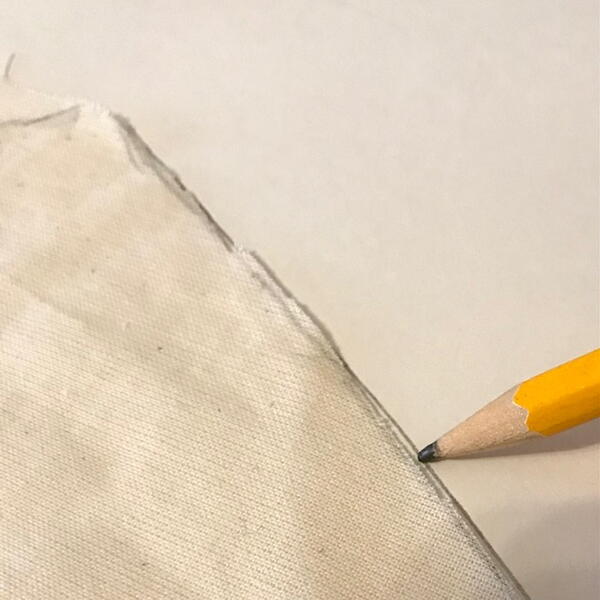 Sewing Draped Garments:
Once you have a paper pattern the final fabric can be pinned, cut out, and sewn. The sewing can be done by hand or by machine, just like a garment made from a drafted pattern. Technically a draped garment can be constructed by using ribbons, cording, or pins, but most will be sewn with thread to hold it together.

Hopefully you will give draping in sewing a try!
Your Recently Viewed Projects