What Size Am I? & Other Sizing Woes Solved
Learn how to take your measurements and other helpful techniques with the printable guide every woman should have.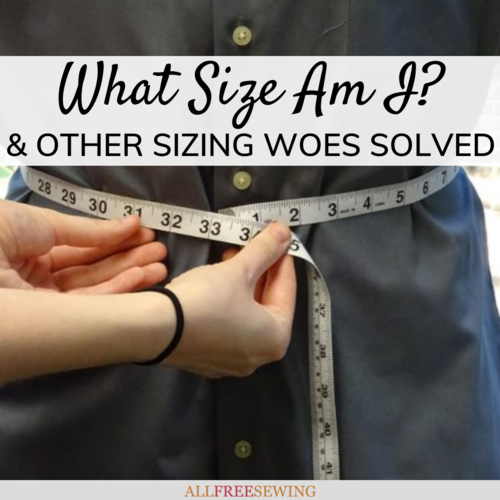 What Size Am I and Other Sizing Woes Solved
Stepping into a store and trying on clothes can be confusing and mind-boggling. Sizing is a science that no one can truly master, especially since stores and pattern makers all have very different ideas about what each size looks like.

In some stores, you might wear size 12 while in other stores you might slip into a 10 or struggle to pull on a 14. It can leave you wondering time and time again "What size am I?"

The answer is probably one you won't love.

You are several different sizes. While standards exist in the US for sizes, they are extremely loose. This is true for sewing patterns, as well. While I cannot personally answer the question, "what size am I?" for myself and certainly do not know what size you are, I can offer some tips and tricks, helpful charts, and tutorials to help you find a way to make your clothes fit just right.

With handy information on how to take your measurements and things to look out for during the clothes-buying process, this printable guide is a must-have for every woman, sewist or not. What Size Am I? & Other Sizing Woes Solved is here to help you wade through the jungle of getting your clothes to fit perfectly!

Sign Up For More Free Patterns >>>
 
Looking to save a fortune by cutting out department stores? You'll love the clever, couture, and cute clothing ideas you'll find in this free collection.
Table of Contents
5 Quick Tips and Tricks
What Size Am I?: How to Find Out
International Sizing
More Clothing Sewing Tutorials
 
5 Quick Tips and Tricks
Before you dive into the know-how of learning how to measure yourself, it's important to keep a few things in mind. These five quick tips will give you indispensable insight into sewing clothes, sizing types, selecting sizes in stores, and online clothes shopping. With these handy tricks in mind, you'll be selecting perfectly sized pieces in no time!
Remember that sizing changes from store to store. Many stores use sizing as a ploy to get you to buy clothing. They will label larger sizes as smaller, trying to trick you into a confidence-boosting shopping spree. This is called vanity sizing and it has been going on since the 1930s.

When you are ordering online, many clothing stores have sizing charts. Be sure to use them to measure yourself before purchasing anything.

Everyone has found that Cinderella pair of pants, dress, shirt, or skirt that fits them just perfectly. If you like to sew for yourself, use this piece as a guide. You can easily trace shirts and even jeans to create your very own pattern.

Take into account that sizes come in many different varieties. They are differentiated between Juniors, Misses, Womens, Tall, Petite, etc. All of these factors play into what "size" a manufacturer deems a piece.

In a lot of stores, you can easily ask the staff "What size am I?" and they can help you figure it out. They know the clothing very well. It is their job, and their expertise can be life-changing for your style.
What Size Am I?: How to Find Out
Use these helpful charts to help determine exactly what size you are in accordance to standards around the world. Keep in mind that vanity sizing, or size inflation, means that these charts may not be entirely accurate for every store.
How to Take Your Own Measurements

Remember: When you are taking your measurements, let the tape measure hang loosely against your body. You do not want all your clothes fitting skintight. Plus, don't suck in your stomach and try to relax. You want the measurements to be as relaxed and natural as possible. Use the handy chart below to learn how to take your own measurements.

CLICK IMAGE TO ENLARGE.
Download the measurement infographic below by right-clicking on the image or right here.

What Size Am I? Look Below!

Use the measurements you acquired above and the clothing size charts below to determine your proper clothing size.

CLICK IMAGE TO ENLARGE.
Download the U.S. measurements infographic below by right-clicking on the image or right here.
International Sizing
If you are going on vacation anytime soon or just love ordering from international shops, you absolutely need to know how to convert your size before even considering buying a piece. Knowing these measurements can save you so much time and alleviate a lot of shopping stress. Use the international sizing chart below to determine your what size you are all over the world!

Remember: If you need help figuring out your size, many stores offer sizing charts specific to their wearables on their websites. You can always ask shop attendants, as well.

CLICK IMAGE TO ENLARGE.
Download the international measurements infographic below by right-clicking on the image or right here.
More Clothing Sewing Tutorials
Now that you've learned how to size yourself in stores and for sewing patterns, it's time to extend your sewing skill by learning even more about how to sew clothes! Whether you're looking to make your own pattern, read someone else's, or care for your own closet, there's a tutorial here for you. Here are the clothing sewing tips every sewist should know.
Free projects, giveaways, exclusive partner offers, and more straight to your inbox!
Tags / Related Topics
Your Recently Viewed Projects
Images from other crafters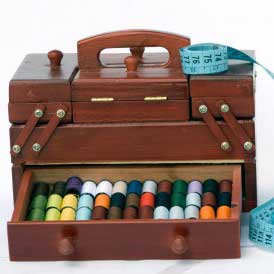 Something worth saving?
SAVE all your favorite patterns
ADD personal notes
QUICKLY reference your patterns