Cute and Easy Potholders to Sew
These DIY potholders are not only useful but super adorable and fun! With this full written and video tutorial, easy to make, too!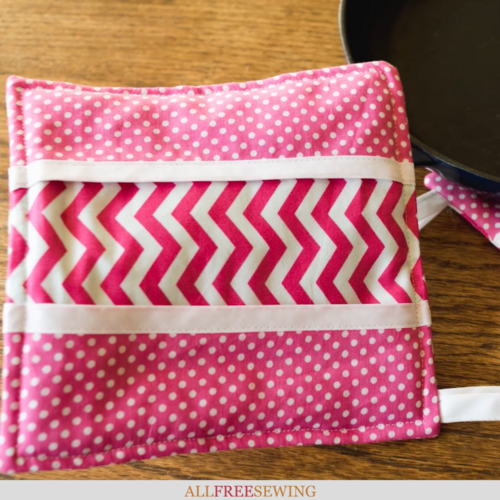 These Cute and Easy Potholders to Sew are just that! Even if you're a beginner, you can master these DIY potholders.

Plus, they'll make the perfect addition to your kitchen! This DIY potholder is super easy to make and has a dual-ended grabbing side meaning it's easier to pick up hot pots and pans. Not to mention, it's sew cute!

This sewing video tutorial shows you all about how you can make sure your potholder stays durable and in place no matter how many times you have to wash it.

Not a visual learner? Don't worry, we have a full written and picture tutorial as well. Learn how you can make your own handmade potholder when you watch this super helpful video tutorial!

Sign Up For More Free Patterns >>>
            
Skill Level: Easy
Project Type: Make a Project
Time to Complete: Under an hour
Sewn By: Machine

Materials List
  - 8" square Therma-Flec heat resistant quilted batting, or cotton batting, or cotton batting and separate sheet heat resistant material
  - Two 9" squares fashion fabric (watch the video for a note about an optional liner/barrier square of fabric to hide the batting underneath)
  - Two pieces contrasting/coordinating fashion fabric 3" x 9"
  - Extra-wide double fold bias tape in coordinating color – two 9" pieces and one 5" piece for hanger loop
  - Thread
  - Pins
  - Optional: 1 9" square of neutral light-colored fabric to prevent see-through

Notes:
RS = Right side
WS = Wrong side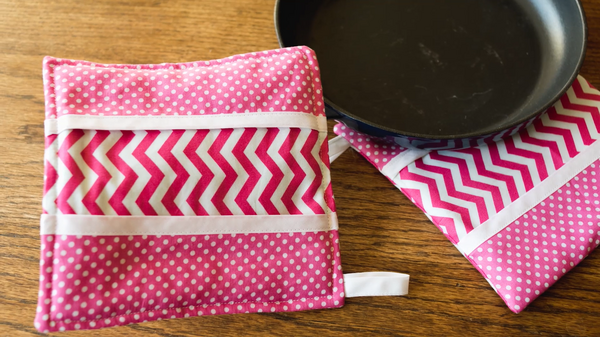 Cute and Easy Potholders Video Tutorial
Watch Mary Beth as she walks you through exactly how to sew these awesome potholders. She also offers tips on the batting and fabric to use. Spoiler alert: you can use fat quarters and fabric scraps for this project!

These lovely DIY potholders also make fantastic gifts for family and friends who love being in the kitchen.

After the video, scroll down for the written tutorial with pictures.
 
DIY Potholder Instructions
Topstitch the 5" strip of bias tape closed along the open edge.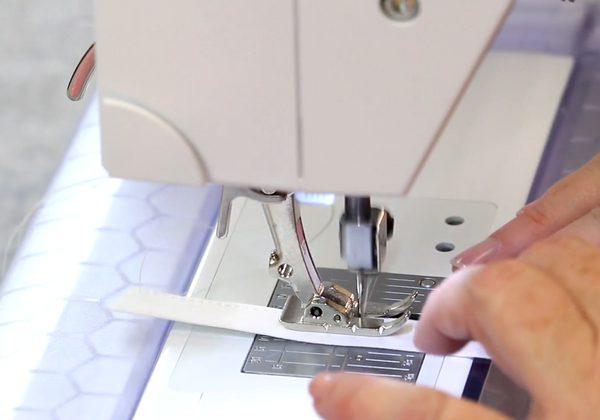 With RS of contrast fabric pieces facing up, topstitch bias tape into place on each inside edge (because the pieces face each other, one piece will have bias tape on the left, and the other will be on the right).

Note: When sewing bias tape, make sure the slightly longer side is on the bottom.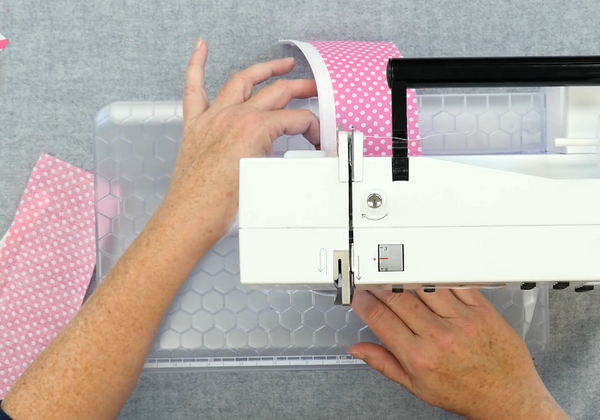 Stack fabrics as shown in video – (optional) liner fabric RS up, one 9" square RS up, two bias taped contrast pieces RS up with raw edges aligned with raw edges of 9" square, hanger loop folded in half near top right (or left) corner (optional), raw edges aligned with raw edges of 9" square, second 9" square, WS up. Pin/clip together.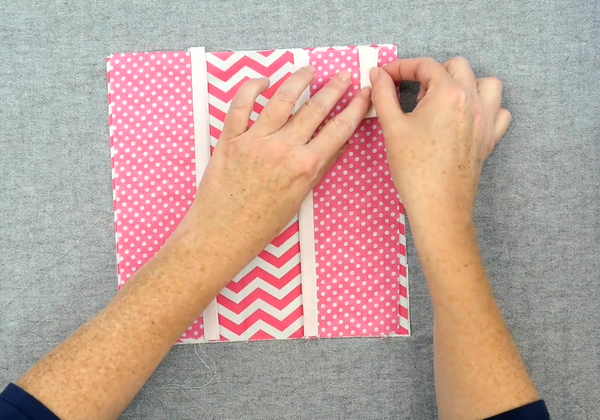 Sew all layers together, sewing around all four corners but leaving the center of one side open to turn it RS out. Lock stitches at beginning and end.

Note: The measurements provided allow for a 1/2" seam allowance.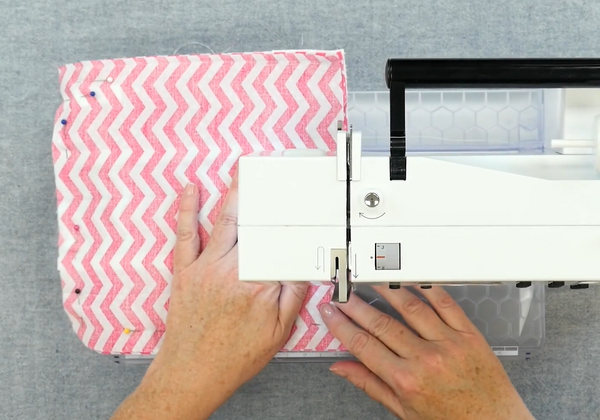 Clip corners and trim seam allowances.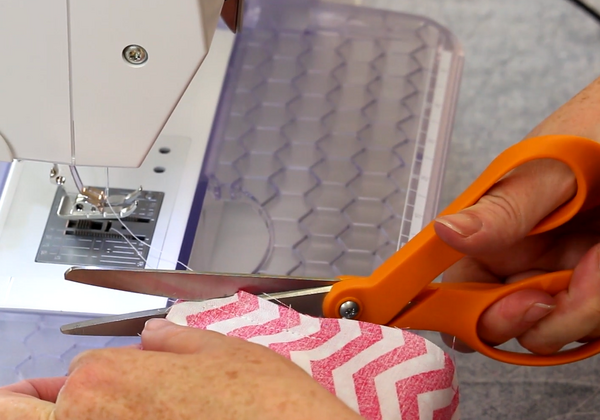 Turn RS out.

Pro Tip: When turning a corner, the easiest way to get it out neatly is to turn one side toward the back and one side toward the front when turning it inside-out.
Insert Therma-Flec into the opening – silver side towards the back of the potholder/towards where the hot pan will be. Take your time to get it placed correctly!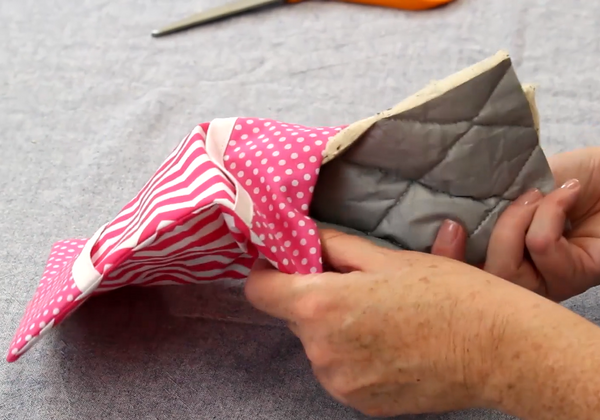 Topstitch all the way around, catching the batting, about 1/4" to 3/8" from the edges.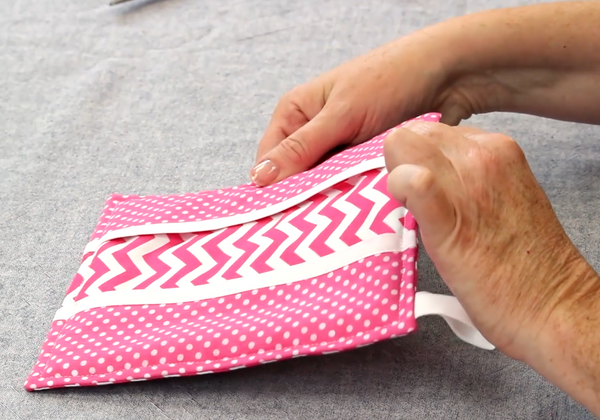 For even more durability, push bound flapped sides back and topstitch a straight line through all the layers for about 4" or 5" inches under each flap to keep batting in place.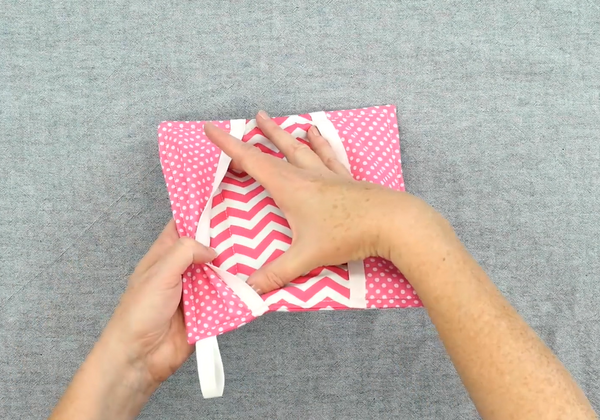 That's it. You're all set!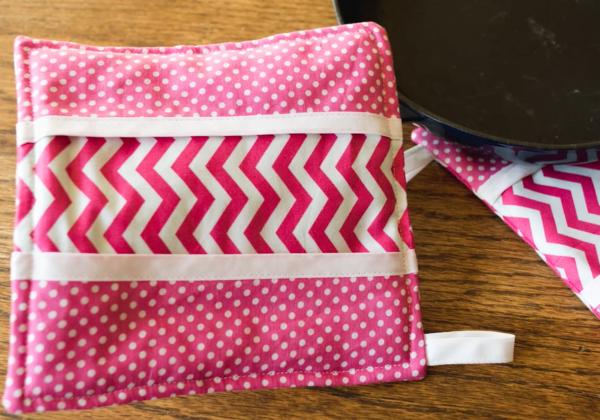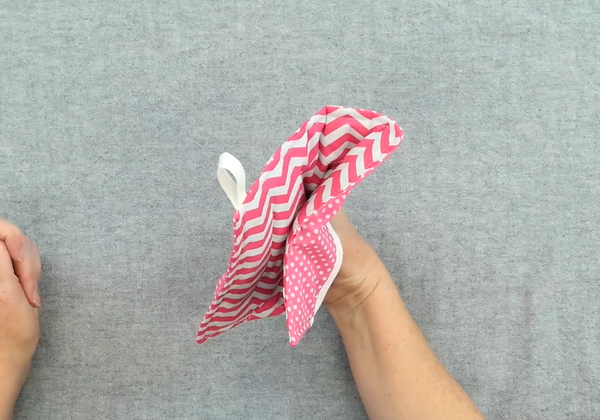 Your Recently Viewed Projects