How to Sew Canvas
These tips for sewing canvas will help you avoid pitfalls while sewing!
Updated April 18, 2023
If you've ever wanted to work with canvas but feel overwhelmed, this article on how to sew canvas is for you!

Canvas used to be reserved for painters' cloth, sails, and other utility purposes but now canvas comes in so many different prints and colors you can use it in a variety of ways for home decor and fashion accessories.

With just a few little tips and tweaks, you'll be making canvas bags, home decor, and more with this durable, versatile fabric!

Since the fabric can be so thick, sewists are often intimidated to even start on a canvas project. Can a basic sewing machine even handle it? What kind of needle and thread do you need to use?

Does it change if you're making a canvas pillow or a market tote? In this article, I'll cover everything you need to know and more to make your next canvas project a piece of cake!

Plus, if you want to know how to sew thick fabric, many of these tips will help you there, too!

Sign Up For More Free Patterns >>>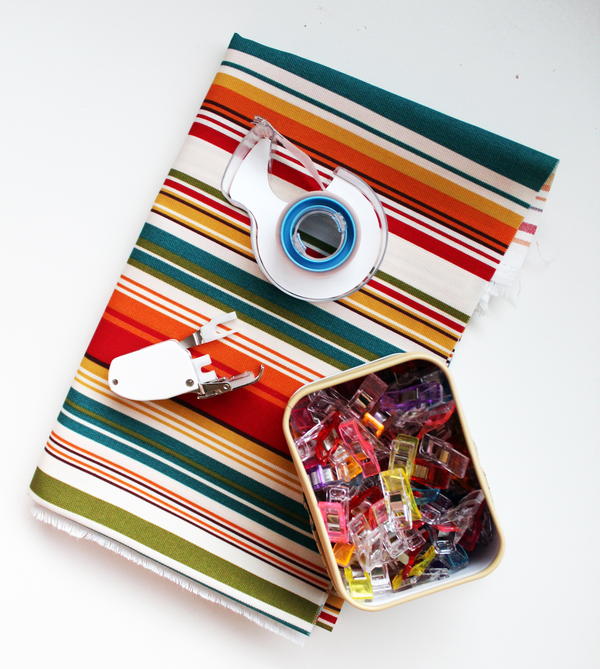 How To Sew Canvas With A Basic Sewing Machine
Similar to leather and vinyl, you will want to use clips and double stick tape instead of standard sewing pins when holding your pattern pieces together. When it comes to thick fabrics like canvas, it can often be difficult to push sewing pins into multiple layers and still keep your pieces lined up. Using quilting Clips or even binder clips will make this process a lot easier.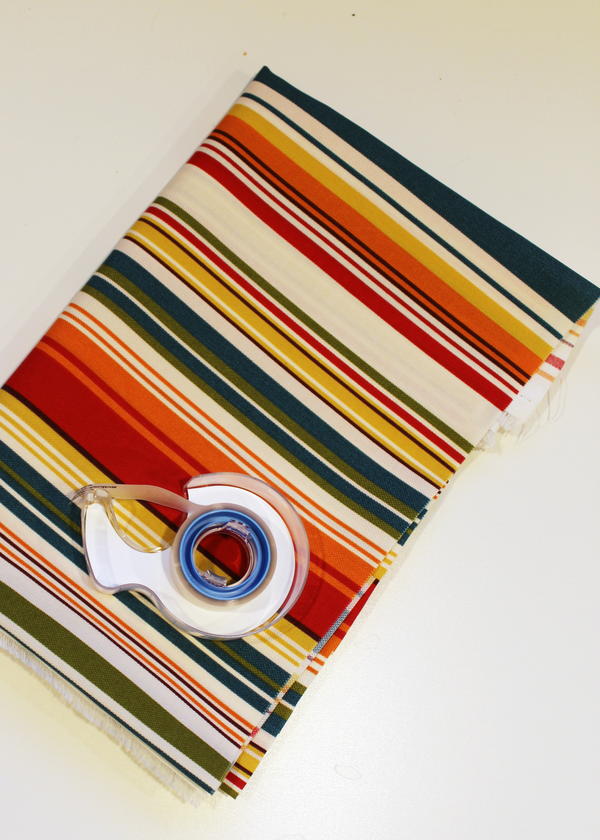 Canvas is such a tightly woven, cotton fabric you will need a needle that can is equally durable. I recommend a 90 to 100 Universal woven needle or a jeans needle to avoid breakage. If you are adding decorative stitching or topstitching to your projects, grab a top stitch in Needle and pair with topstitching thread for a professional finish.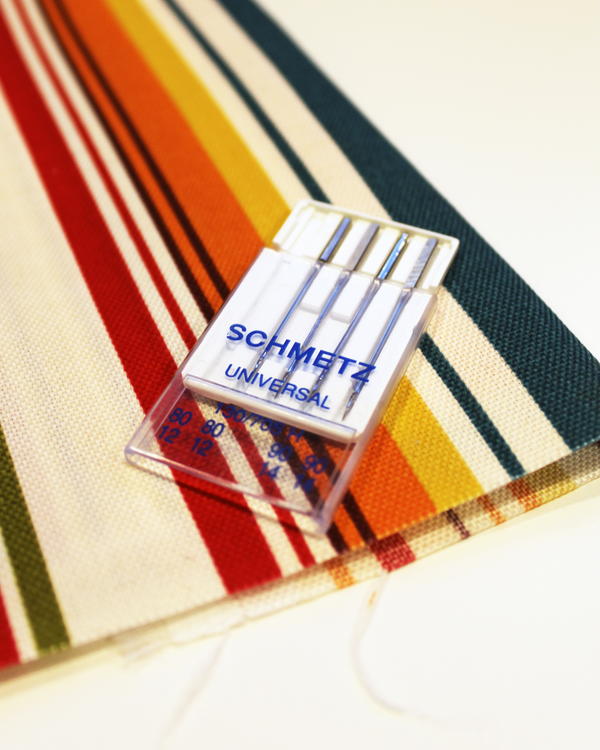 Since canvas is such a thick fabric, extending your Stitch length to 3.0 to 3.5 well help your standard sewing machine move the fabric (and multiple layers) along. It will also create a more professional finish and less frustration as you complete your project.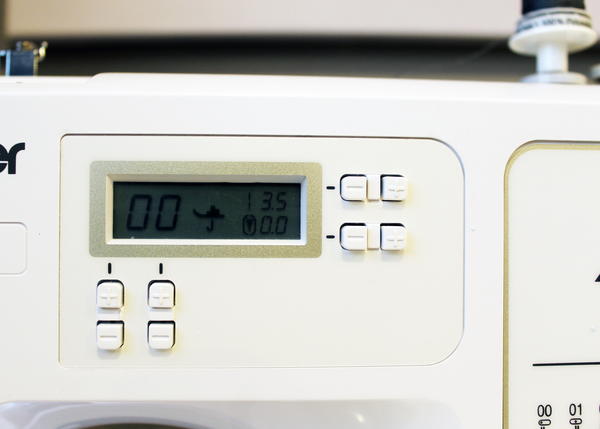 Working on a canvas project, be sure to use heavy-duty thread (size 40) to hold it all together. I recommend a polyester or cotton-wrapped polyester, or cotton thread. You could also use an upholstery thread since it's also going to be more durable and heavy and general.

If you happen to be creating a home decor item that will be kept outside, consider using Marine thread that is made to withstand sun, rain, and other outside elements. You may need to adjust the upper tension on your sewing machine to accommodate heavy-duty thread.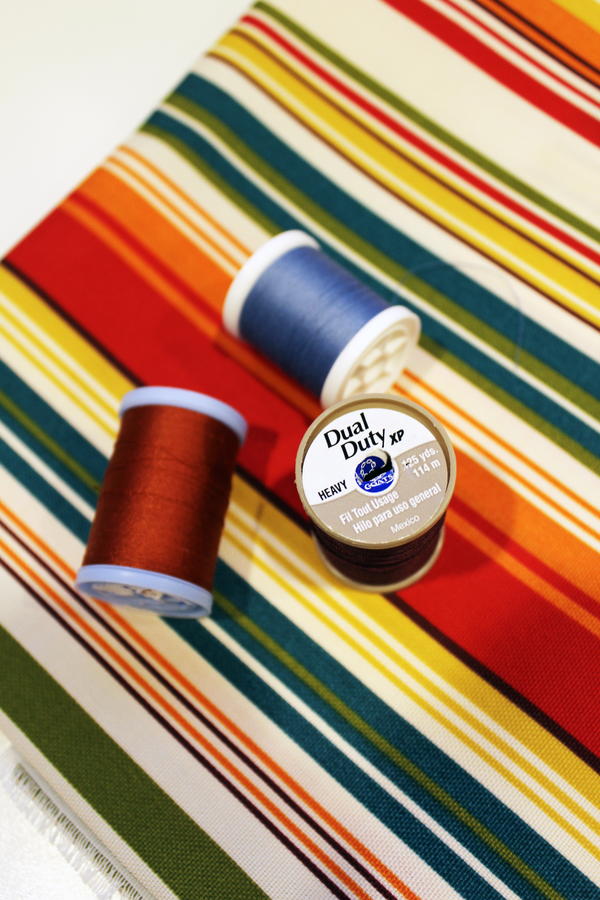 If after doing a test run and adjusting your sewing machine settings, your machine is still struggling to handle multiple layers of canvas, try switching out your presser foot for a walking foot. A walking foot contains an extra set of feed dogs that will help guide thicker fabrics through your machine.

Just like any sewing projects, be sure to test your sewing machine settings and thread on a scrap piece of fabric before beginning your project. Often, heavy-duty thread creates complications in your bobbin. If you cannot adjust bobbin tension settings on your sewing machine, try using regular thread in the bobbin or getting a special bobbin case.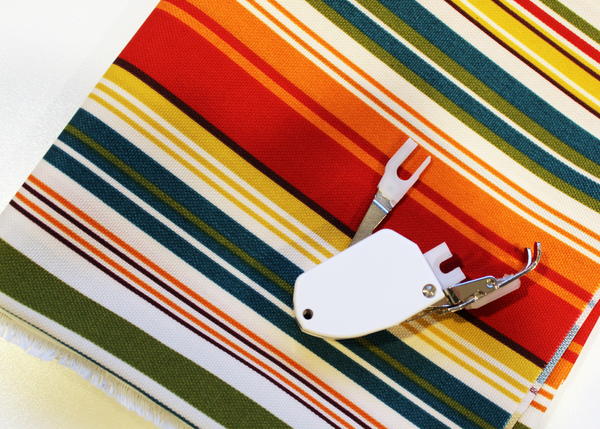 When it's time to iron your canvas, lightly spray your fabric with water or use a damp pressing cloth. Set your iron on the highest setting (usually cotton/linen) and firmly press your iron to the fabric. Removing wrinkles and fold lines from canvas can be difficult so press firmly.
 
Sewing Canvas By Hand
Since canvas can often be too thick to sew by hand, there are a few tips (and even inventions!) that make the process easier. If you've ever tried to sew thick canvas by hand, you know how hard it can be on basic hand sewing needles… and your fingers.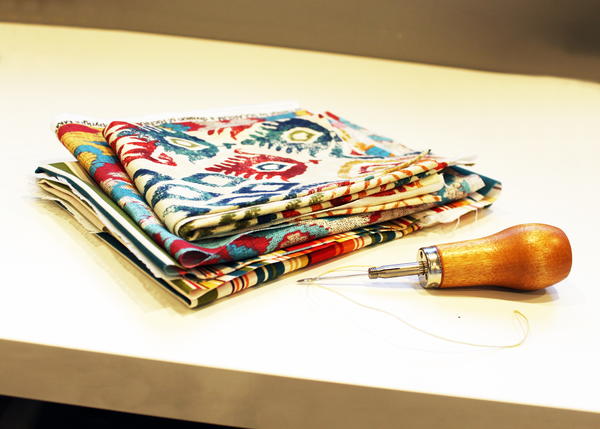 By using sewing awls like the Speedy Stitcher with upholstery thread, you can glide through canvas that is even an inch thick easily. It comes in handy repairing utility projects like tents, sails, and belts.

The bobbin in a Speedy Stitcher is held in the base of the handheld awl, making the thread less likely to tangle throughout the course of your project. Plus, sewing awls like the Speedy Stitcher include a few needles to manage different projects in their packaging.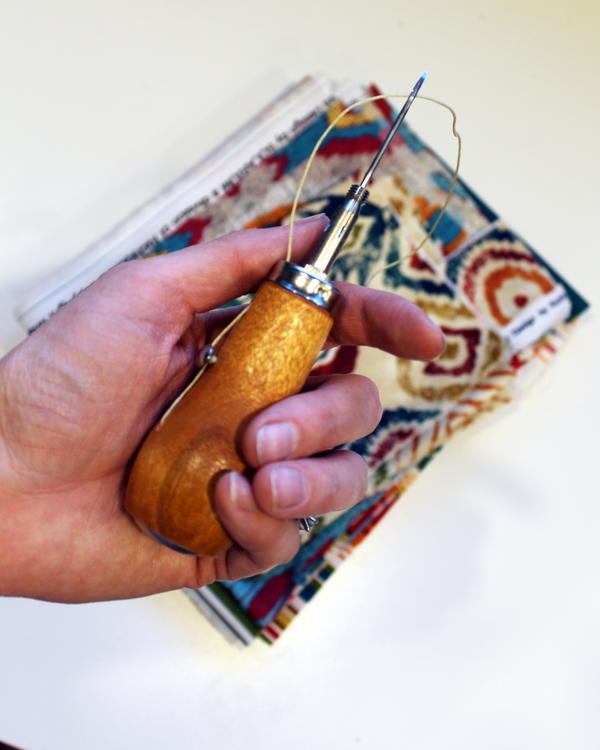 If you don't have a handheld sewing awl on hand, try using an upholstery hand sewing needle with heavy-duty thread. Just be sure to be wearing a metal thimble to press the needle through. Depending on the thickness of your canvas, you may even want to pull the needle through your fabric with jewelry pliers.
 
How To Store Canvas Fabric
Since canvas fabric is so heavy, store it rolled up rather than folded. This prevents pesky fold lines that can be difficult to iron out in the future.

Since canvas comes in so many varieties and weights, be sure to test your method of sewing before starting your next project. With just a few tips and tweaks, your next sewing project will come together easier than ever.

I hope this little guide helped answer any questions you had about working with canvas fabrics! We covered everything from hand sewing to adjusting your at-home sewing machine to tackle heavy-duty fabrics and thread options to needle varieties.
 
About the Author:

This guide was written by Lisa Mecham from Creative Fashion Blog. Her site is full of helpful tutorials and patterns for sewing, along with much more for everyday life. Find her projects on AllFreeSewing by visiting her designer profile here: Lisa Mecham from Creative Fashion Blog
Free projects, giveaways, exclusive partner offers, and more straight to your inbox!
Tags / Related Topics
Your Recently Viewed Projects
Images from other crafters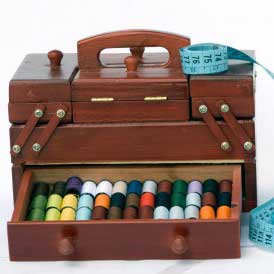 Something worth saving?
SAVE all your favorite patterns
ADD personal notes
QUICKLY reference your patterns