Pioneer Sewing: 21 Sewing Patterns Inspired by Laura Ingalls
Journey back to the 1800s with these vintage sewing patterns inspired by Little House on the Prairie!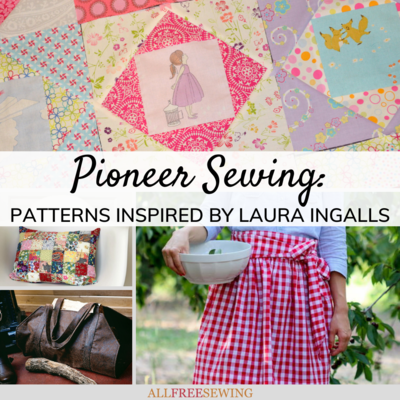 If there's one thing we love at AllFreeSewing, it's any kind of vintage sewing pattern, from bohemian and disco patterns of the 1970s to delicate and rich fabrics and patterns from the Victorian era.

Nothing embodies all things vintage more than those classic homespun country patterns inspired by America's Western expansion in the mid-1800s. That's why we love this collection of Pioneer Sewing: 21 Sewing Patterns Inspired by Laura Ingalls.

This time period brings to mind gorgeous handmade quilts, sprigged muslins and cotton fabrics, and sunbonnets. Simple and classic, pioneer clothing and home decor were made to survive life on the trail and lacked much of the glamour found in high society.

Inspired by famous pioneer girl Laura Ingalls, AllFreeSewing is bringing you our best pioneer sewing patterns that are perfect for sewing enthusiasts and history buffs alike! You're going to love these refreshing prairie sewing patterns.

From DIY home decor perfect for decking out your Conestoga wagon, to vintage quilt patterns to keep you warm on the trail, we've compiled our favorite sewing patterns inspired by all things Little House.

This list of 1800s-inspired sewing projects includes historical sewing patterns to embrace your inner Ingalls and charming DIY projects to decorate your dream log cabin.

If you've always wanted to travel back to simpler times, grab a needle and thread and find your favorite project in this list of vintage sewing patterns.

Sign Up For More Free Patterns >>
Table of Contents
Pioneer Approved Patterns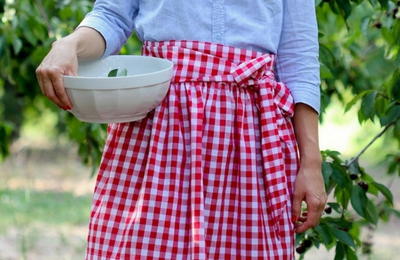 From historical patterns perfect for embracing your inner Ingalls to modern clothing with a prairie twist, these free sewing patterns and tutorials are great for fans of all things 1800s.

This collection of pioneer-style is designed for both men and women, and it even includes functional garments like the Laura Ingalls Free Apron Pattern (shown). We guarantee even Nellie Oleson would be jealous of these sewing patterns!
Log Cabin DIY Home Decor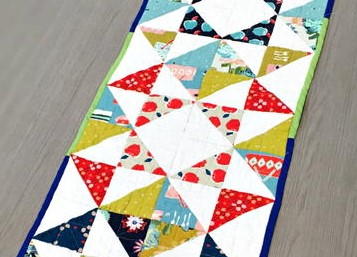 If you've always dreamed of living in a rustic log cabin, then you'll love these DIY home decor patterns and projects! From kitchen sewing projects like potholders to firewood carriers, we've got you and your home on the prairie completely covered.

Even table decor, like the Contemporary Quilted Table Runner (shown), will make sure that your homegrown dinner spread looks delectable to the whole family.
Prairie Quilt Patterns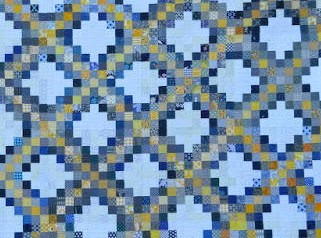 A staple of life on the prairie was classic and colorful homemade quilts, perfect for keeping warm during long winters across the Great Plains.

Whether they're classic-yet-colorful, like the Irish Chain Quilting Design (shown), or economically made out of fabric scraps, these free quilt patterns will cozy up your homestead all year long. Find your new favorite quilt in this list of easy quilt patterns that are pioneer-approved!
Your Recently Viewed Projects