17 Free Victorian Sewing Patterns
These Victorian-inspired sewing projects are the perfect combination of modern and vintage sewing.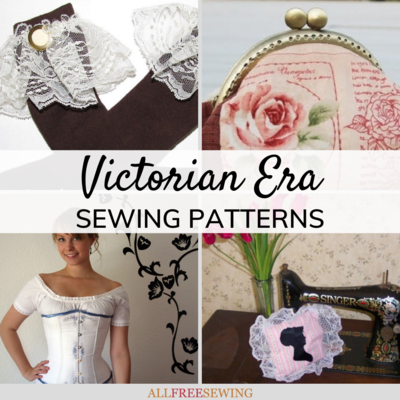 Named after the reign of Queen Victoria (Jun 20, 1837 – Jan 22, 1901), the Victorian era brought styles like corsets, cage crinolines, and bustles into mainstream fashion, while rich and luxurious fabrics like velvet and silk were used in upper-class homes.

In the spirit of everything Victorian, we've created a collection, 17 Free Victorian Sewing Patterns. With these amazing sewing projects inspired by old-world royalty, you can time travel back to the late 1800s without leaving your sewing room!

Nothing embodies the word 'vintage' more than the styles and decor of the Victorian era, with its lush fabrics, delicate ribbon and lace accents, and feminine silhouettes.

While most 1800s fashions would feel very uncomfortable for modern women, we here at AllFreeSewing love vintage-inspired fashion and anything that combines vintage style with a modern edge.

These easy sewing patterns and projects are the best way to combine your love of history and sewing and mix details from this era with modern styles. We've included some royal fashion essentials like corsets and shawls, as well as some modern pieces with those accents.

If you love antique home decor, then you'll love these quick and easy Victorian-inspired DIY projects, like expensive-looking curtains and beginner embroidery ideas.

If you've always had a love of history and fashion, then these sewing projects inspired by the Victorian era are perfect for you!

Sign Up For More Free Patterns >>>
Table of Contents
Vintage to Modern Victorian Clothing Patterns
From projects with delicate and dainty lace to thick and luxurious faux fur, these Victorian-inspired sewing tutorials are the perfect way to embrace all things vintage.

Our list of sewing projects inspired by the this popular era includes ladylike clothing patterns and easy DIY home decor, as well as modern projects with a Victorian touch in the next section. Here's wishing you happy sewing! 
Gorgeous Victorian Inspired Home Decor
Give your home that royal touch by adding a few Victorian-era pieces. These simple Victorian motifs will inspire you to add even more old-world details to your entire life. Find wall hangings, chair coverings, and classic embroidery projects in the list below.

You'll be the queen of your castle without spending boutique or antique store prices. No one will even guess that these weren't passed down to you for eras because of that traditional look you give your work. With these casual Victorian sewing projects, you'll want for nothing more.
BONUS! Victorian Era Facts
Did You Know?
The Victorian era is named after Queen Victoria and roughly spans the 1830s-1900s.
 
Black and other dark colors were popular in this time period for two main reasons: Queen Victoria's mourning of her late husband Albert (she wore black after his death for the rest of her life) and the high level of soot and pollution in London.
 
Blazers for men originated in the 1890s and were worn for casual activities like sports and sailing. 
 
During the beginning of Queen Victoria's reign, the ideal female body had a long torso that was emphasized with wide hips. 
 
In the 1850s, very wide skirts were popular, and cage crinolines were created to support the width of these skirts.
 
Though current popular culture often depicts Victorian women as showing hardly any skin, Victorian evening gowns often showed off a woman's shoulders and had low-cut necklines.

P.S. To perfect couture sewing for your modern pieces, don't miss our guide, Couture Sewing Techniques: How to Add a "Couture" Touch.
Your Recently Viewed Projects