34 Downton Abbey Sewing Patterns
Be vintage vogue with these Downton Abbey clothes patterns, accessories, and more.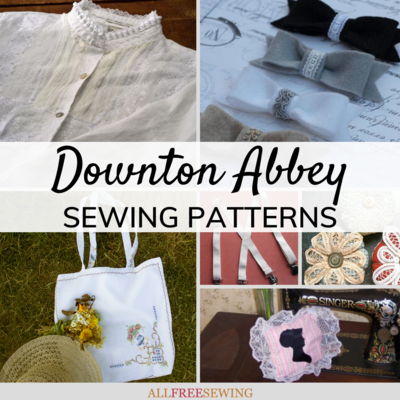 If you're an avid follower of Downton Abbey, you'll love these vintage-inspired designs.

Selected with characters from both upstairs and downstairs in mind, this collection of 34 Downton Abbey Sewing Patterns will inspire you to reconnect with key players of the show.

For Downton Abbey clothes patterns, there are several different designs to choose from, including dresses, undergarments, veils, and scarves. There are even a few men's vintage sewing patterns in the list.

Bridgerton fans can also find many patterns that are reminiscent of that show. Scan through this list and see if you can reason why AllFreeSewing would pair easy sewing projects like aprons, clutches, and dresses with these favorite characters.

Whether that be something Branson would sport while walking around the estate or what Isobel would be wearing for afternoon tea, you will find it below.

The only difference is that these vintage patterns all have a modern touch so you can wear them anywhere and any day.

For more sewing inspiration and free patterns, sign up for our Sewing it Up newsletter!

PLUS! One of the first things you notice about characters in this popular 1920s-themed show is how beautifully they are dressed and how impeccably-tailored all of their clothing is!

Learn how to alter your ill-fitting suit with our How to Alter a Suit Jacket (Sewing Video Lessons). Watch the first lesson's video below. Find the rest here.
Table of Contents
Downton Abbey Patterns (for the Upstairs)
Whether they make you cry out of heartbreak or rage, these characters certainly know how to stop the show; and that's exactly what these vogue sewing patterns accomplish as well. Much like the oftentimes overwhelmingly dramatic characters, these sewing patterns mean to make an impression.

You'll find easy vintage sewing patterns for Violet Crawley, Downton Abbey projects fit for Mary, Edith's kind of sewing projects, Downton-inspired sewing patterns for Sybil, and even a few simple ideas for Rose. With this Downton abbey inspired clothing, you'll be the belle of any ball.

Browse through these free sewing projects for the upper-crust of Downton Abbey and decide if you prefer the aristocratic lifestyle. If you are going to sew up something inspired by those who reside at Downton, why not go for a vogue sewing pattern that is going to make you look like a million bucks or, at least, like an aristocrat?
Downton Abbey Patterns (for the Downstairs)
Never to be underestimated, the characters below are some of the key movers in this hit sensation, though they are "downstairs". Find out whether or not your bent runs towards these subtler, thriftier, but still darling designs by seeing which advanced and easy sewing projects are assigned to the servant's quarters.

In this section, search through easy vintage sewing patterns for Mrs. Hughes, Downton Abbey sewing patterns perfect for Mrs. Patmore, Edna's favorite projects, Anna's kind of Edwardian sewing patterns, and easy sewing ideas for Daisy.

Just because these Downton Abbey-inspired ideas are from downstairs does not mean they aren't vogue sewing patterns. In fact, rustic ideas are totally in right now, which is where these Downton Abbey patterns come in handy.
Your Recently Viewed Projects