25+ Anna & Elsa Costume DIYs + Frozen Costume Patterns
If your child won't stop singing "Let it Go" then you're probably looking for costume sewing patterns free featuring their fave Frozen characters. They're all here!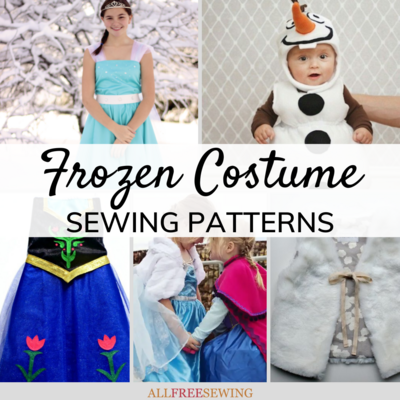 Little kids just love Disney's masterpieces, particularly the Frozen series, and it is hard to blame them. Even adults love the musical! It's a favorite here in our office as well.

With this in mind, we have decided to collect all our Frozen costume ideas in one place to make it easy for you! This collection of 25+ Anna & Elsa Costume DIYs + Frozen Costume Patterns is not a huge collection, but it is a start.

It features homemade Elsa costumes along with her sister Anna. But it's not just the sister costumes we're sharing. Find other Frozen-inspired costumes, accessories, and ideas.

Scroll down to find some easy Halloween costume ideas and homemade costumes for your little "Let it Go" fan. If it is too late to make a Halloween costume, consider making one of an Elsa costume pattern or another Frozen-inspired idea for your child's birthday party.

No matter your thoughts on it, Frozen has become one of the most trendy pop culture trends that has stuck around for years.

Whether you are looking for a homemade Halloween costume idea or need a DIY Frozen costume for a child's birthday party, we have the collection you need. Start scrolling because your frozen princess costume awaits!

Sign Up For More Free Patterns
Table of Contents
Elsa Costume DIYs & Outfits
Elsa is the clear favorite when it comes to the characters of the winter wonderland epic and it is easy to see why! That snow princess knows how to dress! You will find the DIY Elsa Costume you've been looking for in this list.
DIY Anna from Frozen Costume Patterns & Outfits
Coming in at a close second in terms of popularity are our Princess Anna-inspired ideas. These sewn girls' dresses are too cute to pass up. Even the most elaborate Princess Anna dress pattern in the list could be worn for any dress-up your child wants.
Simple Frozen Costume Ideas, Accessories, & Patterns
Anna & Elsa Costume DIYs aren't the only costumes on our site, so we wanted to make sure you saw everything Frozen-related. In this section, you'll find lots of costume accessories for your Elsa or Anna costumes including capes, crowns, and embellishments. Plus, who doesn't love Olaf? Find the cutest DIY Olaf costume for a toddler plus a cool towel project.
Your Recently Viewed Projects