31 Easy Sew Bookmarks
Don't buy when you can DIY sewn bookmarks at home. This list of fabric bookmark ideas includes every type and all are easy!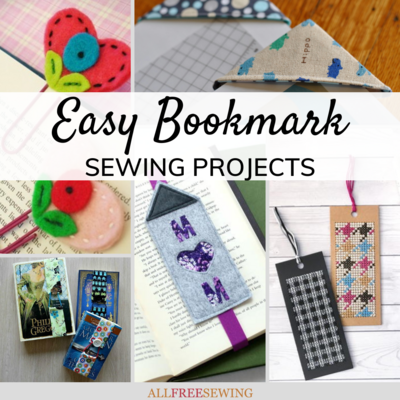 If you love reading and sewing, then you won't want to miss these homemade bookmarks ideas. This collection of 31 Easy Sew Bookmarks features all popular types of DIY bookmarks.

Below, you'll find traditional bookmark patterns to sew, embroidered, embellished, and quilted bookmarks, DIY corner bookmarks, paperclip bookmarks, and DIY elastic strap bookmarks (often affectionately referred to as book huggers).

All of the patterns, projects, tutorials, and ideas on this page are at a beginner or easy skill level, so most sewists can make their own effortlessly.

Some people have moved onto e-readers instead of hardcover and paperback books but there are still many people who appreciate the weight and readability of the real thing. If you're one of those, then we know that sewing bookmarks will be beneficial.

Save your money for the books and stop buying bookmarks. With the exception of the paper clip versions, these fabric bookmarks are soft, flat, and will not damage your books, either. Sewn bookmarks are fast, easy, and will fill your reading time with even more joy!

Sign Up For More Free Patterns
Table of Contents
Traditional & Easy Fabric Bookmarks
There is nothing wrong with the classics! That's true of most books and of these DIY fabric bookmarks. In this section, you can look through the simplest bookmarks to sew, all with a unique spin.
Embroidered, Embellished, & Quilted Bookmarks
Making fabric bookmarks isn't boring, especially when you get creative. The designs in this section have a little more oomph and may take a little longer due to the embellishments but all are still easy and fun to make.
DIY Corner Bookmarks & DIY Paperclip Bookmarks
Sewn bookmarks can be exciting and helpful, especially when you customize them for your needs. Learn how to make a corner bookmark with these super simple projects. This section also includes a few paperclip bookmarks and they are seriously cute. With any of these designs, you'll never lose your spot.
DIY Elastic Strap Bookmarks & Huggers
Looking for an elastic bookmark DIY? This section has you covered. Most are made with elastic but you can use ribbon if preferred. A DIY elastic bookmark is ideal for most readers. This is a fun first sewing project for kids, too. They'll love making their own flora or fauna embellishments that sit outside of the book.
PLUS! Pin this Easy Sew Bookmarks Collection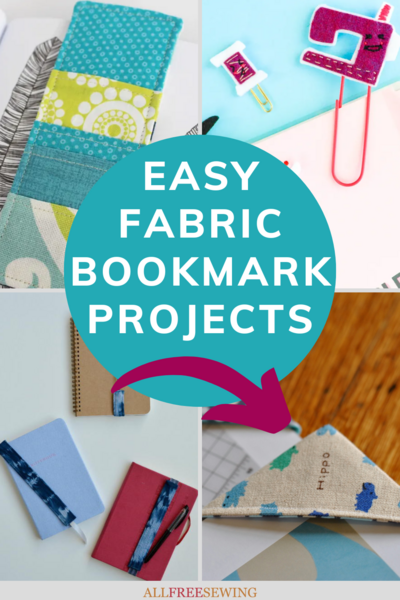 Your Recently Viewed Projects