36 Free Scrap Quilt Ideas to Bust Your Stash
Brush up on your quilting skills with these fun scrap sewing projects! Find free scrap quilt patterns for small projects like bags and quilt blocks or scrappy large quilts to bust your stash!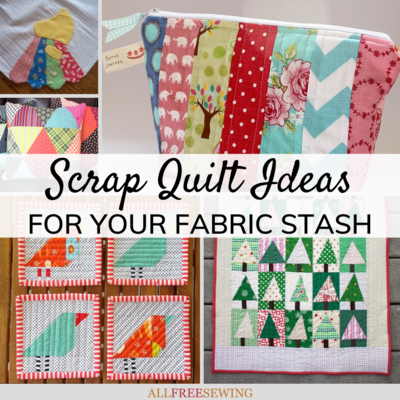 If your fabric stash is overflowing with bright scraps that you just can't get rid of, then AllFreeSewing and FaveQuilts are here to save the day!

This list of 36 Free Scrap Quilt Ideas to Bust Your Stash is filled with beginner-friendly quilt projects. Much more than just ideas, these scrapbusters have been designed to use your most colorful fabric scraps.

These simple sewing projects are easy on your budget and are the perfect way to become comfortable with quilting. Or someone who wants to zone out and enjoy a relaxing sewing experience.

From beginner projects like coasters and mug rugs to full scrap quilt patterns from our friends at FaveQuilts, these scrappy quilted bags, mug rugs, blocks, and larger quilts are the ultimate solution to cleaning out an overflowing fabric cabinet.

Create your next quick quilting project with our newest page full of fun scrap sewing ideas, tutorials, and patterns!

Sign Up For More Free Patterns
Table of Contents
Small Scrap Quilting Projects
If you're new to quilting or don't have a lot of time to create, then small projects are your best friend! These DIY coasters, mug rugs, and other small projects are some great quilting ideas to get acquainted with the art of scrap quilting.
Scrappy Quilt Blocks and DIY Mini Quilts
Take your beginner quilting skills to the next level with these scrappy quilt blocks and tutorials for how to make a mini quilt. These quilting projects are a great way to improve your quilting skills, and help you learn the building blocks of quilting. Plus, these pretty mini quilts also make unique home decor projects!
Scrap Quilt Patterns for Beginners
If you're ready to take on a full quilt, then you'll love these free patterns and tutorials from our sister site FaveQuilts! FaveQuilts is bringing you its best scrap quilt patterns that are budget-friendly and beautiful.
Your Recently Viewed Projects