How to Thread a Needle for Hand Sewing
Want to start hand sewing? Learn how to thread a needle for sewing with this simple to follow tutorial. It's a must-read for beginners!
By:
Editors at AllFreeSewing.com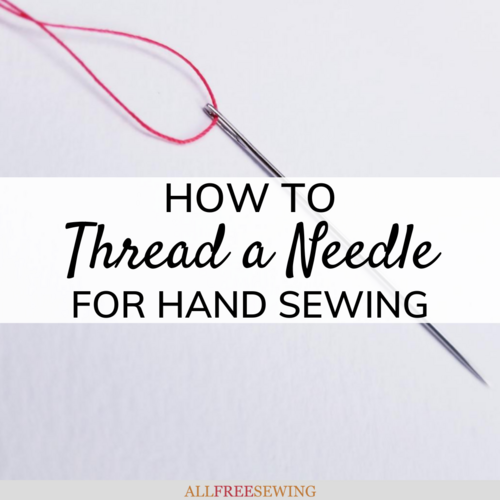 Sewing, particularly hand sewing, is one of the most important skills a person can learn. Perhaps you want to sew on a patch or need to repair a small hole in your clothing. What if a button falls off your shirt?

If you can't sew, you either need to throw out the damaged item or take it to a tailor or friend to fix. What a hassle for such a small thing! No need when you can sew.

"Maybe I should start sewing," you think. And that's where this How to Thread a Needle for Hand Sewing tutorial comes in.

As fun as it sounds, purchasing a sewing machine is a heavy investment to make on a whim. To ensure you want to pursue the best craft that has ever been conceived, why not first try sewing by hand?

Come on, you know at the very least you have a hand sewing kit. You either got it from a hotel back in the '90s, your mom gave it to you before you went off to college, or you made your own sewing kit (if not, you can now!). Let's break it out and thread a needle together.

It's a beginner skill that every wannabe sewist needs to figure out before anything else. Luckily, not only can we help you learn the basics of how to thread a needle, but there are resources below to assist anyone just getting started on their sewing journey.

Sign Up For More Free Patterns >>
                 
First: Beginner Sewing Resources
If you're a beginner, then be sure to read these helpful pages. These resources will help you grasp basic techniques, speed up your processes, and get you on the right track to becoming a can-do-all sewist.
More Sewing Resources and Tips
How to Thread a Needle By Hand
It might be simple but it can be rather frustrating. That's why a tutorial is helpful when wanting to know how to thread a needle for hand sewing.

We're approaching this extremely basic sewing tutorial with the bare essentials. For this tutorial, you will need a spool of thread, a hand sewing needle, scissors, and, if you want an easier method, a needle threader.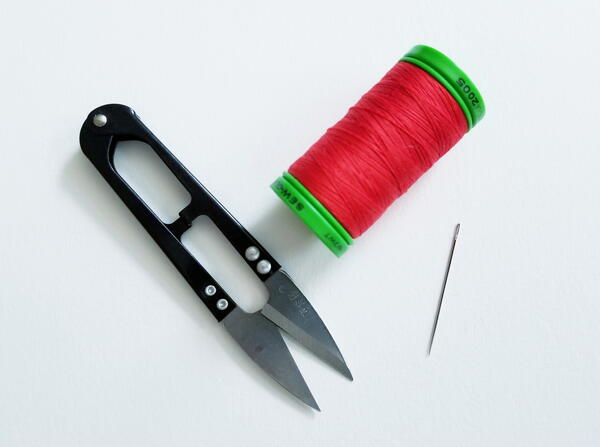 First, you'll learn the intricacies of threading a needle by hand.
Take your spool of thread and locate the tail end of the thread. It will be tucked in on either the top or bottom of the spool. Pull it out so that the thread unrolls neatly off of the spool.

Tips: Wondering how to find the end of a new spool of thread? The easiest way is to look for any loose pieces of thread. If you still can't find it, run your thumb around the spool both ways until the end of the thread comes loose.

Still can't find it? As a last resort, you can cut a piece of loose thread to make your own start. Just keep in mind that you may unexpectedly find the real end while sewing, which can result in having to knot two pieces together.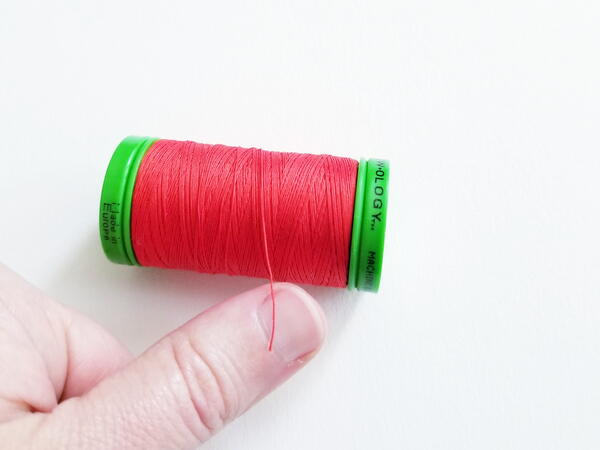 Designate a needle you'd like to use. The needle should match the thread size, which means that the thickness of the thread should be able to fit in the eye of the needle.

Tip: For beginner purposes, just ensure that the eye of the needle is one or two sizes larger. This will help you practice and the eye will be large enough for your thread to go through.
 
Cut the end of your thread at an angle so that it is slightly "sharper" and easier to put through the needle. You might also choose to wet it by moistening the tip of the thread with your mouth (this helps keep individual strands and lint in check).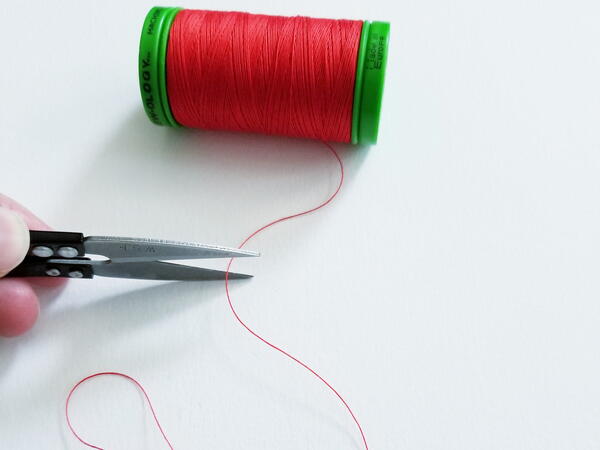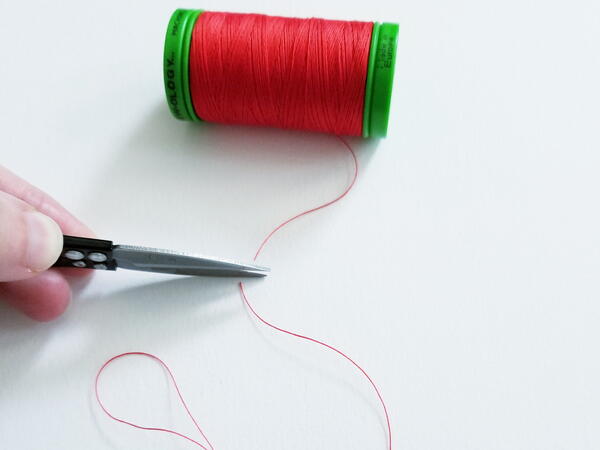 Hold the needle up so that when you look straight at it, you can see through the eye of the needle. Utilizing a background of a different color and a lot of light is helpful for this. A craft light with magnifying glass would also be helpful.

With one hand holding the needle and your dominant hand holding the thread, carefully aim your thread at the eye of the needle.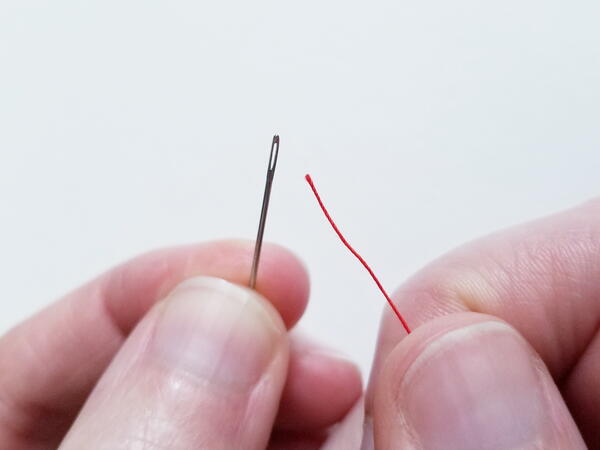 This process is made easier by holding the thread near its end to allow for less flexibility when the thread hits the eye of the needle. It might take a few (hundred) tries, but be patient; you'll get it!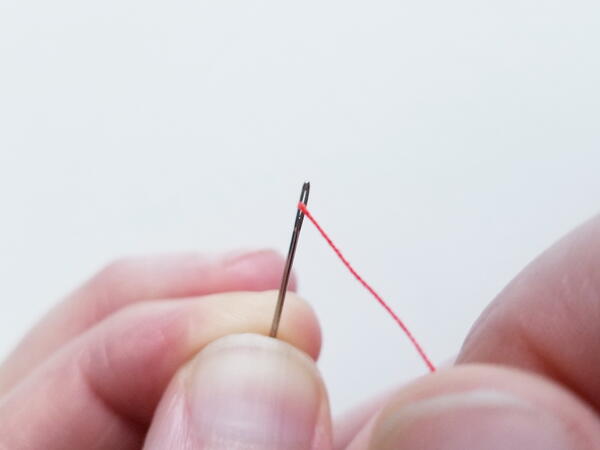 Once the thread makes it through the eye, pull as much thread as you need through.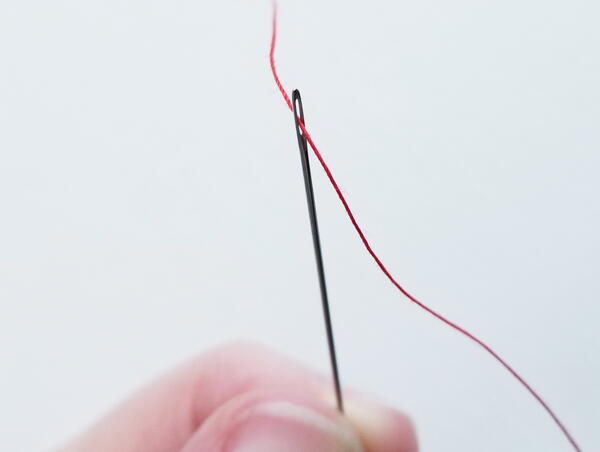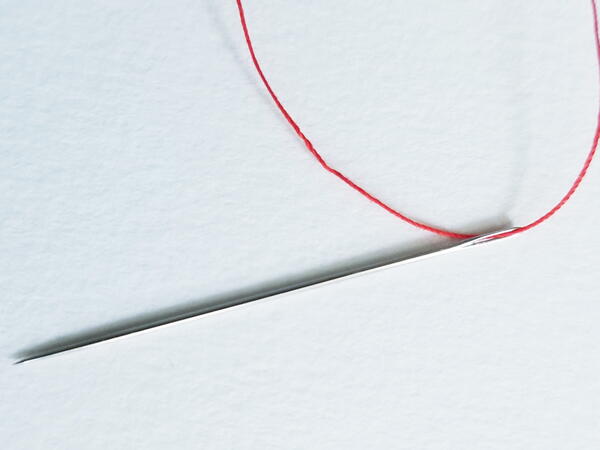 Knot the end and rest (or sew). Don't know how to tie a knot for sewing? No problem. It's as easy as it seems. Simply tie a knot about an inch from the end of the thread you're using. Then repeat one to two more times.

If the fabric you're sewing with has looser weaving, you may want to repeat this process until there is a large knot at the bottom of your thread. This assures that it will not pull through if you accidentally pull too hard when sewing.

P.S. Want a sewing tutorial for eliminating the annoying knot-tying step in hand-sewing? Use the "no knot, no tail" technique in all of your beginner sewing projects. Find the No Knot, No Tail Tutorial here.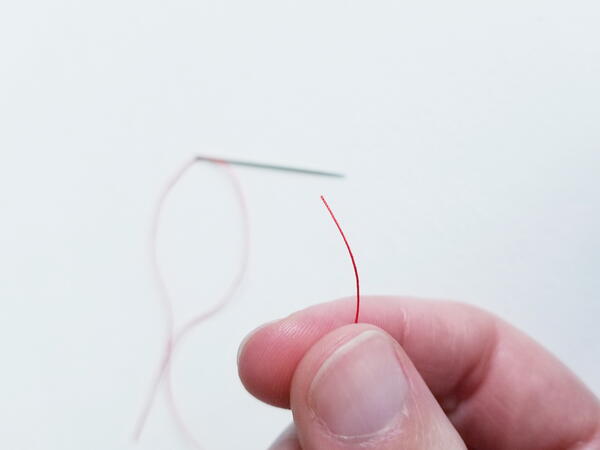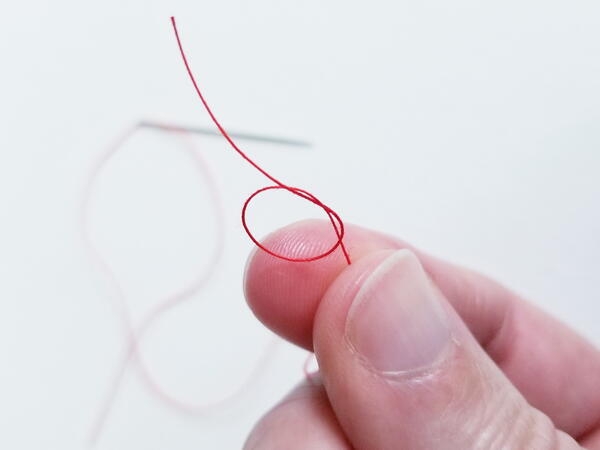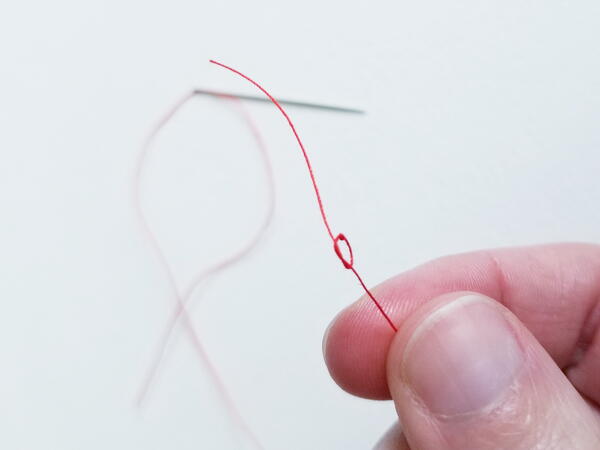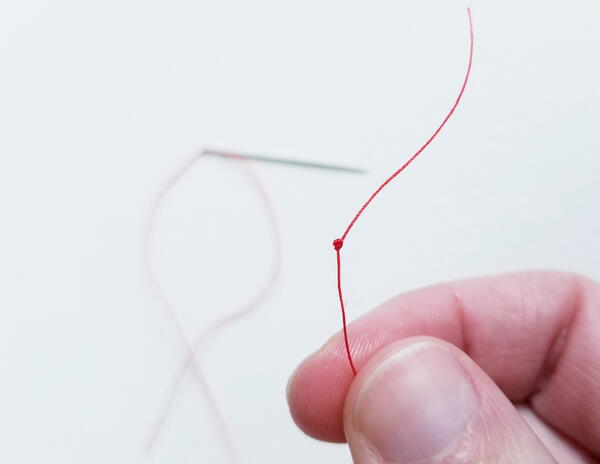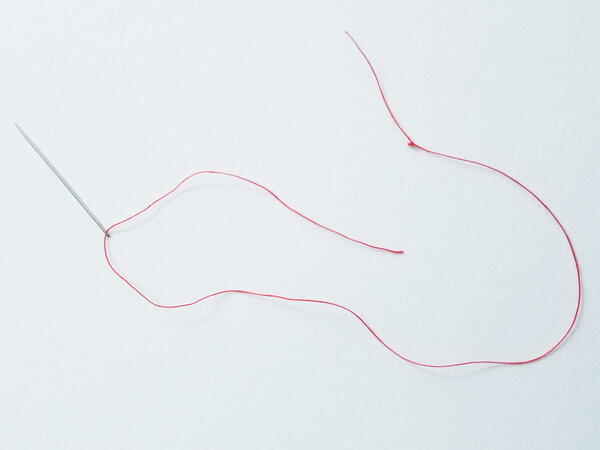 Free projects, giveaways, exclusive partner offers, and more straight to your inbox!
Tags / Related Topics
Your Recently Viewed Projects
Images from other crafters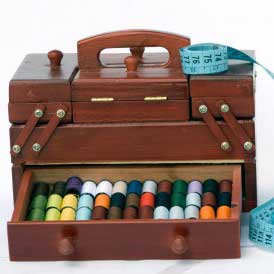 Something worth saving?
SAVE all your favorite patterns
ADD personal notes
QUICKLY reference your patterns