30 Gorgeous Free Table Runner Sewing Patterns & Tutorials
If you're looking for Thanksgiving table runner ideas or any other holiday table runners, check this page out!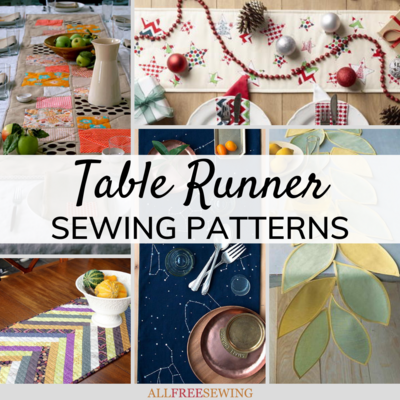 The thing that separates a boring meal with friends from a truly delightful dinner party is the atmosphere you create. If you want to have a classy and fancy party, you need to step up your decorating game.

Lucky for you, we have a ton of DIY table runner ideas that will suit just about any theme. Learn how to make table runner patterns for the holidays and more with these 30 Free Table Runner Sewing Patterns & Tutorials.

In addition to hanging some lights, trying some new dishes, and finding the right wine, you need to gussy up that table. The best way to make your dinner party decorations shine is by creating table runner patterns for the table your guests are sitting at as well as your buffet table.

This collection goes to show that you don't need to buy a fancy table runner, you can make one. Enjoy these pretty table runner patterns.

Sign Up For More Free Patterns >>>

PLUS! Check out the video tutorial below to learn how to make a Stunning Vintage Table Runner from our friend, Mary Beth Temple. This style works for nearly any occasion!
Table of Contents
Dinner Party Table Runner Tutorials
Anyone who is planning on hosting a dinner party should check out these patterns. A great DIY table runner created in the right color scheme easily transforms your party into a classy one. Amp up the style of your next dinner party by making one of these stunning and simple table runner patterns.
Holiday Table Runner Patterns
Whether you're trying to make your Turkey Day a total knock-out and are looking for Thanksgiving table runner ideas or want your dinner party to be dapper, you are going to find table runner patterns for just about any occasion in this gorgeous collection. Impress your guests this Thanksgiving or Christmas with one of these lovely DIY table runner patterns!
All Occasion Table Runner Tutorials
Your friends and family will not believe their eyes when they see the table runner sewing pattern that you have created. Your table will go from drab to fab in a mere matter of moments. Table runner patterns can be used year-around and as everyday decorations, as well. Make one of these table runner patterns to add some flair to your kitchen or dining room table.
Your Recently Viewed Projects