60+ Decorative Pillow Patterns
You will love this collection of pillow sewing patterns for any room in the home.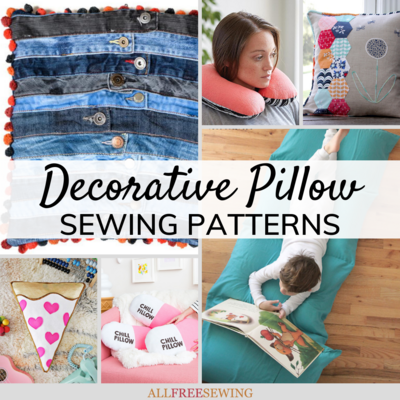 Learn how to make a pillow that fits your decor with these 60+ Decorative Pillow Patterns. These creative projects allow you to make throw pillows of all kinds!

Are you unwilling to spend a ton of money on decorative items? With this list, you can make these free pillow designs to complement any theme. You can learn how to make throw pillows and adorable decorative pillows in no time!

There's no better fun to be had than when you redecorate your home. Selecting styles, choosing color palettes, and strolling through home goods aisles for hours on end is close to paradise! The only catch? Though redecorating your home is always fun, it can be expensive.

However, you don't have to fret about the cost of home makeovers when you sew your own pieces! Bring down the cost of giving your home a new look by sewing up some pillowcases from this delightful collection.

If you don't know how to sew pillows, just check out one of these throw pillow tutorials for great tips and design ideas. Sew pillows and cushions for every room in your house, or make one to give as a gift. Once you learn the basics of throw pillows, you can spruce up every room in the house.

DIY pillows make great, safe additions to a child's bedroom or playroom, and they can become wonderful family treasures. Soften up your lifestyle by learning new ways to make unique pillows!

Sign Up For More Free Patterns >>>

PLUS! Check out the video tutorial below to learn how to make a beautiful quilted pillow. This tutorial from our friend Carolina Moore walks you through the entire process, making it easy to learn.
Table of Contents
What kind of pillow pattern do you love to make?
Your Recently Viewed Projects