How to Measure Thread Size
If you're curious about the size of thread you are about to use for sewing or quilting, read this thread guide!
By:
Editors at AllFreeSewing.com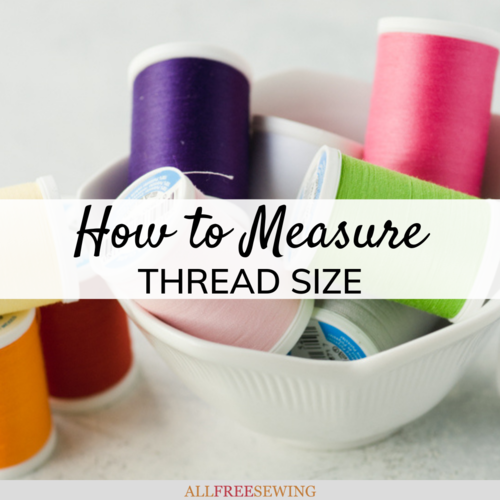 Congratulations! You've decided to embark on your first sewing project (or maybe you're simply trying to brush up on your skills). You go to your local craft store and head straight for the spools of thread.

However, as you peruse the shelves, your heart starts to sink. The thread is labeled with all kinds of confusing, cryptic numbers. 30 wt? V-46? 630d?

These seemingly incomprehensible numbers and letters might leave you feeling overwhelmed and intimidated.

Never fear! AllFreeSewing is here. Read below to learn everything you need to know to pick the perfect thread size for your sewing projects.

Sign Up For More Free Patterns >>>

Plus, to learn about different thread content and materials, check out Part 2 of the Ultimate Thread Guide.
 
FIRST! Sewing Thread Resources
If you're a beginner, then you'll want to take a look at these helpful pages. Everything below is going to help you better understand thread and when to use certain types for specific sewing projects.
More Sewing Resources and Tips
Measuring Thread Size
Thread size is measured in thickness, but the method of measurement often differs from brand to brand. The four most common ways to measure thread are listed below.
Weight: Weight measurement, designated as "wt", uses a fixed weight system. The "weight" of the thread is actually a length measurement, determined by measuring the length of 1 gram of thread.

The higher the weight number, the lighter the thread. For example, a thread labeled 60 wt. means that 60 meters of the thread weigh 1 gram. A 40 wt thread only takes 40 meters to weigh 1 gram, so it is heavier. This may seem confusing, but just remember, smaller weight number, heavier thread.


Denier: Denier measures weight in grams of a fixed length of 9000 meters of thread. For instance,  if 9000 meters of thread weights 150 grams, it is called a 150-denier thread, or simply 150d. This is the opposite of the weight measurement method, so remember, a larger denier number = heavier thread.


Tex: Tex is the most widely used method of thread measurement. It uses a fixed length of 1000 meters of thread to determine weight. For example, if 1000 meters of thread weighs 20 grams, it is called tex 20. Tex is similar to denier, but will have smaller numbers. Just like denier, larger numbers mean heavier threads.


Commercial Sizes: These are used for heavy-duty sewing, such as webbing or upholstery. They have set sizes of 30, 46, 69, 92, 138, 207, 277, 346, 415, and 554. These measurements are derived by dividing the thread's denier by 10.
Is your head spinning? Don't worry! We've included a handy conversion chart that you can consult wherever you are to make sure you know exactly what size of thread you are getting and compare each sizing method.  

Thread Tips and Tricks
Now that you understand thread measurement, how do you know which size to choose? Here are some helpful tips to help you select the most appropriate size for your sewing projects:

- In general, the thread should match the fabric in size and weight. For heavier, thicker fabrics, use heavier thread.
- Heavier threads create more visible stitches.
- V-69 is the heaviest size recommended for sewing machines.
- Heavier threads are stronger.
- The eye of the needle should be 40% larger than the thickness of the thread.

Don't forget! To learn about different thread content and materials, check out Part 2 of the Ultimate Thread Guide: Types of Thread Materials.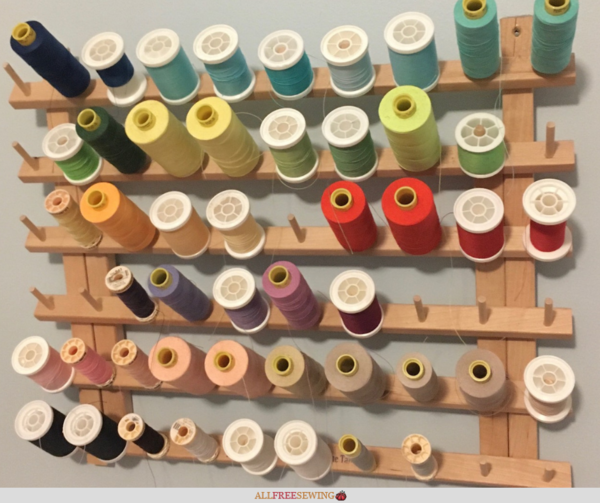 Free projects, giveaways, exclusive partner offers, and more straight to your inbox!
Tags / Related Topics
Your Recently Viewed Projects
Images from other crafters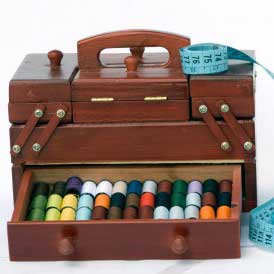 Something worth saving?
SAVE all your favorite patterns
ADD personal notes
QUICKLY reference your patterns