How to Sew With Yarn
Want to learn how to sew yarn for crochet, knitting, or to add texture to your sewing? This page goes over how to sew with yarn for beginners! Learn everything you will ever need to know here.
Updated March 20, 2023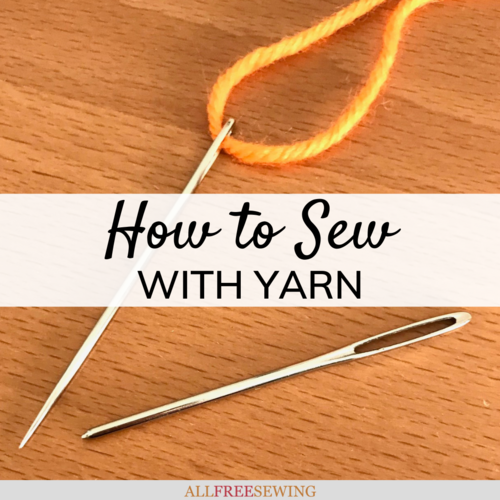 As sewists, we're used to working with a needle and thread but have you ever ventured into new territories, such as working with yarn?

If not, then let this be your intro (and extensive) page on how to sew with yarn. This is an ideal page for people who have worked with yarn but also a great guide on how to sew with yarn for beginners.

I'm answering every question you might ever have about working with yarn and a needle, going over what sort of projects you can sew using yarn, from sewing projects to different fiber arts, and proving materials and details you'll need to understand before getting started.

After going over all the background details, we'll learn how to thread a needle with or without a needle threader. Complete with a full picture tutorial that you can download!

Then it's showtime: learning how to sew with yarn using a yarn needle and different techniques and fabrics. Felt, canvas, and more.

If you knit or crochet, stick around because I'm going to go over specifics for sewing crochet pieces and knitted pieces together as well and what methods you can use.

Lastly, find free yarn sewing projects that you can use to practice and master your new skill. We know you'll enjoy this mixed media craft idea and use it in all sorts of ways.
 
Table of Contents
What Needle Do You Use for Yarn?
Can You Put Yarn in a Sewing Machine?
How to Thread a Yarn Needle
How to Use a Needle Threader for Yarn
What Can You Sew With Yarn?
What Yarn Weight Should I Use?
How to Sew With Yarn / How to Sew Yarn into Fabric
How to Sew Yarn on Canvas Sheets
How Do You Sew Together Yarn Art Pieces (Crochet and Knitting)?
Yarn Sewing Projects
 
What Needle Do You Use for Yarn?
In order to sew with the thicker fibers that create a strand of yarn, you will need what is called a yarn needle, also known as a tapestry needle or yarn darning needle. These needles are for hand sewing, larger than a standard sewing needle, with a blunt tip and larger eye.

These needles can be plastic or metal and come in a variety of sizes to suit the different thicknesses of embroidery floss or yarn. The plastic needles are slightly blunter because they are meant for sewing crochet or knitting projects, whereas tapestry needles tend to be sharper because they're meant to be used with fabric.

Many beginner knitting or crochet kits come with a few plastic needles, such as those shown below. You can also find packages with one or multiple plastic needles.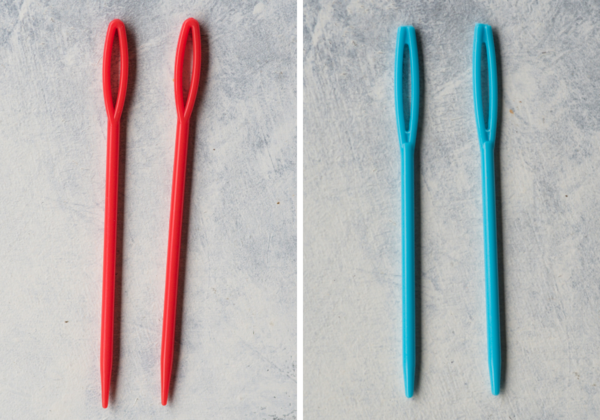 Like metal sewing needles, metal tapestry/yarn darners are available for purchase in variety packs with slightly different lengths, eye hole sizes, and needle widths. You can see an example of a package from Clover below.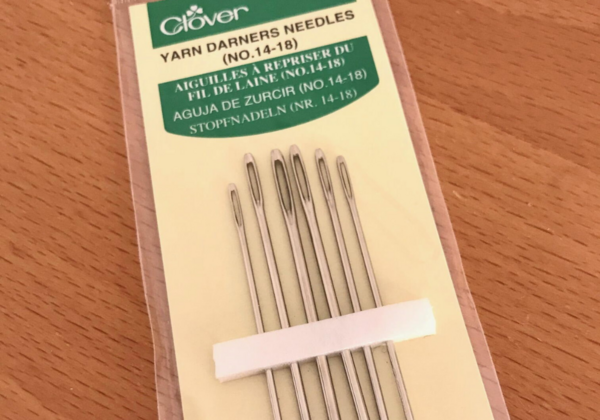 Can You Put Yarn in a Sewing Machine?
Sewing with yarn is done by hand and generally cannot be done using a sewing machine. Some machines will allow for thicker thread, but it's not advisable to try any thickness that is more than recommended by your machine.

However, you might be able to get creative with yarn and a machine. According to the article, Sewing with a Twist - Yarn, That Is! by the Coats and Clark Design Team from Yarnspirations, there are a few unique options using several strands and special sewing machine feet.

According to the article, couching is an unexpected way to achieve the look of machine-sewn yarn pieces. They say, "Stitch over beautiful yarns and let their twisted strands show through the stitching. Most machine brands offer a multiple-hole foot that allows 3, 5 or 7 strands to be threaded through the holes in front and then routed under the foot."

Another is bobbinwork, using the bobbin under the foot of your machine. According to their article, "Lightweight yarns work perfectly when hand-wound onto the bobbin and stitched with the wrong side of the fabric up. Known as bobbinwork, this technique allows you to showcase small yarns and threads that are too large to be stitched traditionally."

Lastly, "If you're skilled at free-motion stitching, thread up the machine with transparent (or matching) thread on top and a neutral bobbin thread." Read their fantastic article to learn more about how to work these methods into your sewing!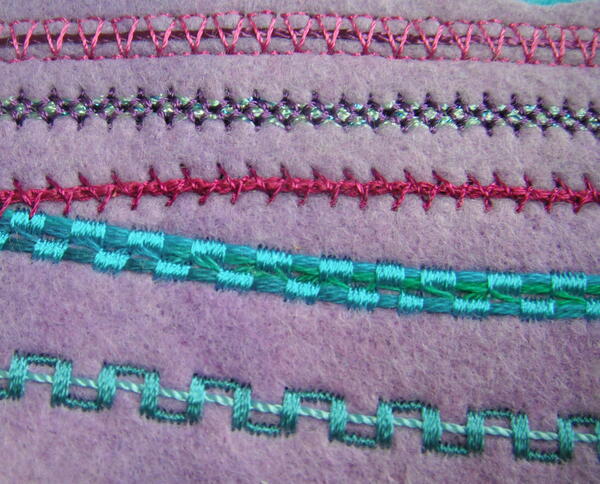 How to Thread a Yarn Needle
Wondering, how do I attach yarn to a needle? Well, we have you covered! There are a few options in order to do this. If you can't thread the needle with the yarn as is, then one of these hacks and tools we'll discuss below might help.

An inexpensive way for how to thread a needle without a threader is to tape a piece of paper (or just use tape) around the end of the yarn and cut a point that will fit through the needle.

You can also spray the end of the yarn with hairspray or wet it with water to flatten and keep the individual threads together while moving it through the eye.

Then, once the yarn is pulled through the needle, all you have to do is snip off the end and start working.

One of the most popular and convenient tools is a needle threader. You should be able to use a conventional needle threader, but there is a heavy weight threader for yarn available, too! The two types are shown in the image below.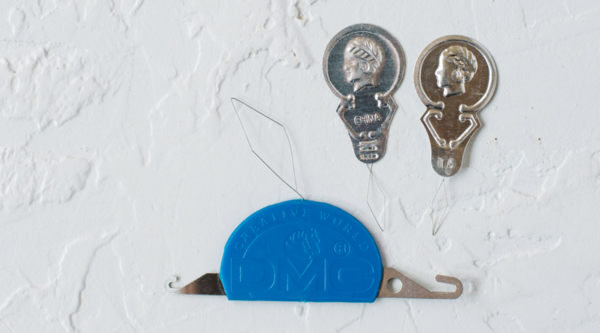 You might also see a needle threader that looks like the image below. Unlike the blue DMC threader above, it's missing the third option and plastic cover. But it does have two hooks, one smaller and one larger.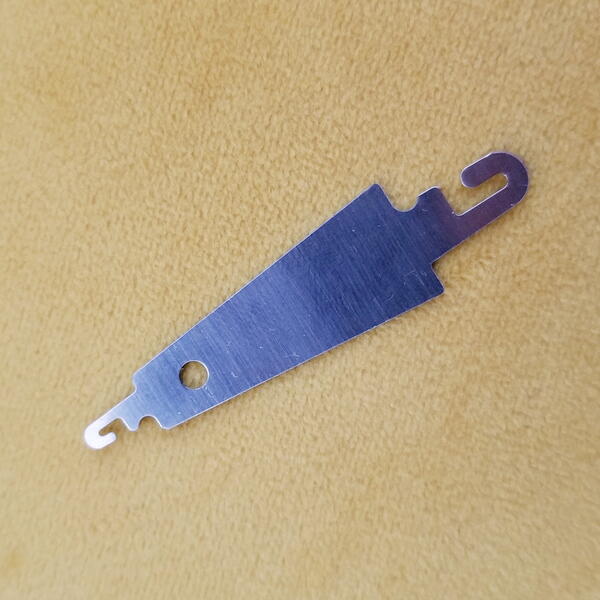 How to Use a Needle Threader for Yarn
This tutorial shows the heavy weight threader being used with embroidery floss, but the steps are the same for any weight of yarn. The important part is that your yarn isn't too thick for the needle eye or the threader.

Find the full step-out tutorial and learn more by reading How to Use a Needle Threader.

1. Choose a needle with an eye large enough to hold the thread/yarn.

2. Cut the thread/yarn to the length needed for your project.
Tips: Cutting the thread/yarn may not be necessary for certain projects. If not needed, skip this step.

3. Push the eye of the needle over the hook of the threader, all the way to the back of the hook at the threader base.

4. Put the thread/yarn over the hook with enough on either side for it to stay hooked.

5. Carefully pull the needle back out over the hook and the thread/yarn (for only a few centimeters).

6. Pull one end of the thread/yarn through the eye of the needle. Unlatch the yarn/thread from the hook if needed.

7. Once your thread/yarn is through the needle, remove it from the needle threader. Adjust the thread/yarn length on either side as needed. Tie a knot at one end (if applicable) and you are ready to sew!

Save the image below if needed to remember the steps!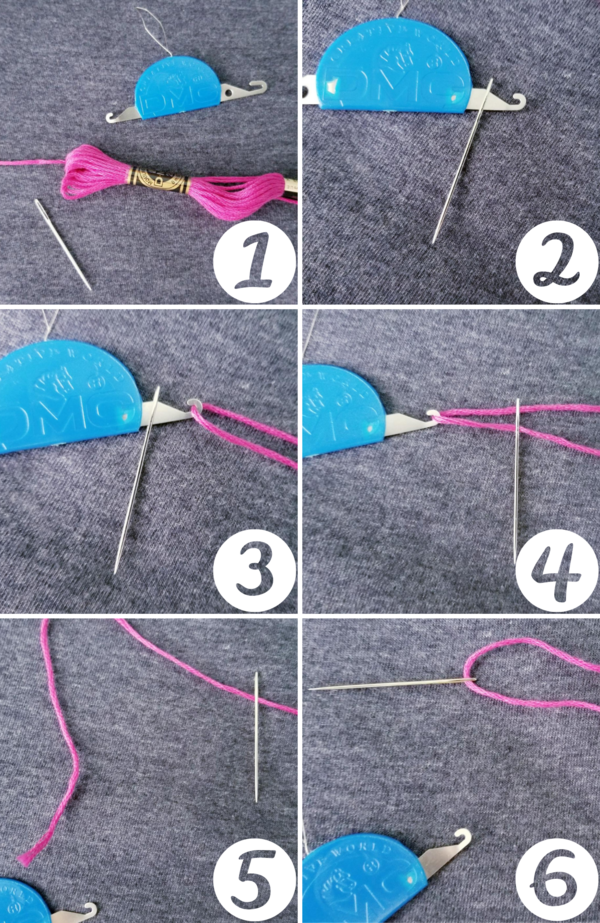 What Can You Sew With Yarn?
You can use yarn for so many projects. Or fibers similar or related to yarn. The page 10 Crafts Similar to Crochet shares several tapestry needle projects and thicker fiber art, such as macrame and canvas work.

So, what are the types of needlecraft involving yarn? Applique, needle and canvas work, needlepoint, knitting, crochet, general yarn crafting without tools, embroidery (bead, hand, punch needle), and more if you want to get inventive. Some are needle optional, such as this Felt Cactus Embroidery Hoop Wall Art, which doesn't need a tapestry needle.

We'll be sharing more projects lower on the page, so be sure to keep scrolling to see them!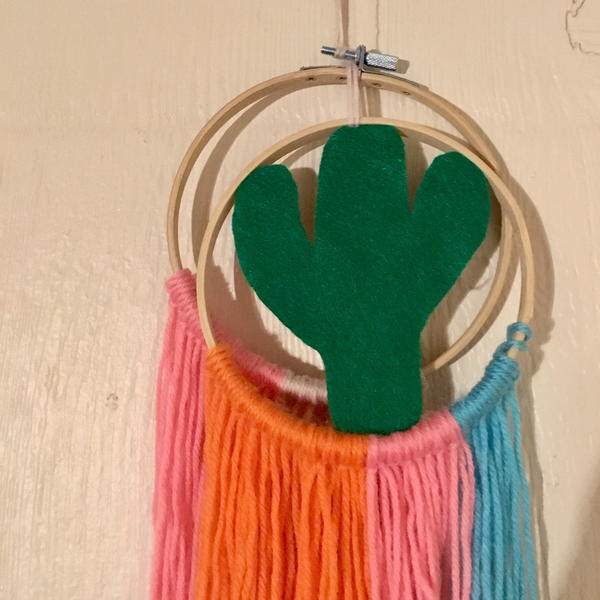 What Yarn Weight Should I Use?
When it comes to yarn weight, it really depends on the type of project you're working on. Crochet thread and embroidery floss are far thicker than the average thread but thinner than the lightest weight yarn. There are seven common weights for yarn.

Lighter weights are better for smaller and delicate work, but a heavier weight or textural yarn might be better for larger projects.

For example, the DIY Best Friend Necklaces shown below will need a light (3) or medium (4) weight yarn because of the canvas holes and size of the necklaces.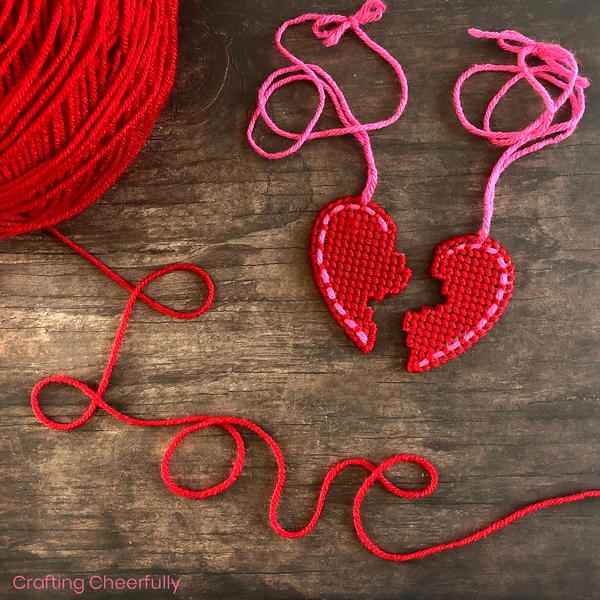 A few years ago, I decided to make a unique homemade headboard using a tapestry needle and chunky/bulky (5) yarn weight because it was a large project. The headboard example is shown in the image below.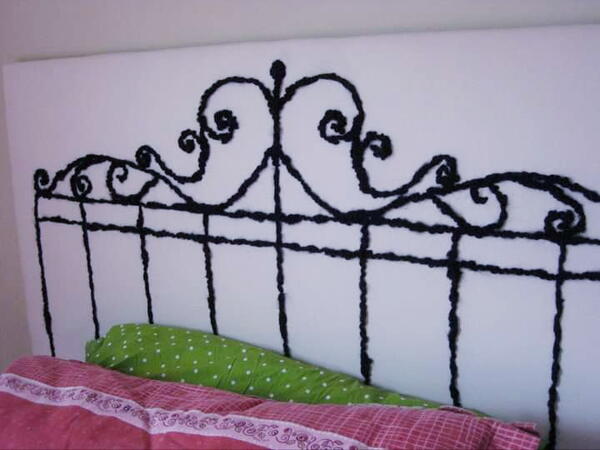 Our friends at AllFreeCrochet have a helpful page, Types of Yarn + Yarn Weights Explained, that can help you decipher the different weights available and what type of projects you might make. To see and download the full chart, click on the image.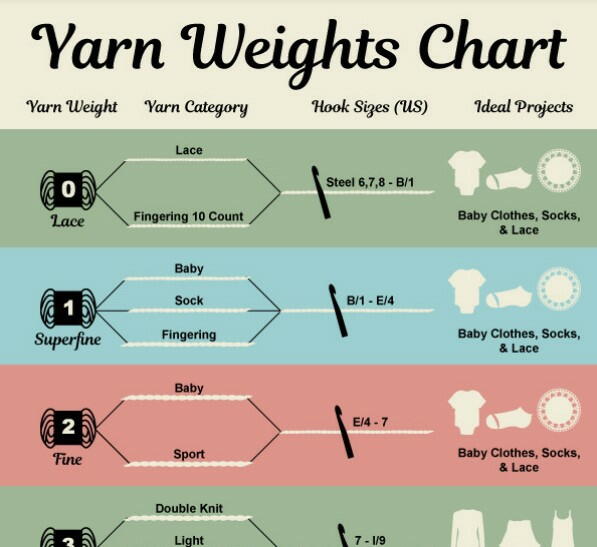 How to Sew With Yarn / How to Sew Yarn into Fabric
Now that you've learned everything you need about when and how to use yarn in sewing, onto the tutorial! This how-to is for a basic straight stitch but you can check out any of the following tutorials to learn more unique stitches to try out:

Embroidery Stitches:
  - Running stitch
  - Chain stitch
  - Straight stitch
  - Cross-stitch
  - Stem stitch
  - Blanket stitch

Mastering only a few of these stitches will enable you to begin your embroidery/sewing with yarn adventure. However, there are hundreds of stitches to choose from!

Materials Needed:
  - Large needle threader (optional)
  - Fabric or felt (this tutorial uses felt)
  - Tapestry or yarn needle
  - Awl/sharp needle/seam ripper (optional)
  - Yarn in weight of choice
  - Embroidery hoop (optional - learn how to use an embroidery hoop)
  - Scissors

Notes: Use any fabric and yarn of choice using our tips above. This tutorial uses felt, which is thicker than many fabrics, but also sturdy enough to hold the weight of yarn. For yarn, there are two used in this tutorial and both are weight 3, which is on the lighter side. The embroidery hoop is to keep the fabric taut and is optional. This tutorial uses a small spring embroidery hoop.

Lastly, an awl, sharp needle, or seam ripper are optional tools depending on the bluntness of your tapestry/yarn needle tip. Because most cannot poke through fabric, using an awl/sharp needle/seam ripper to prepare the fabric with holes is going to be important for sewing with yarn. The benefit of this is that you can draw something on printer, parchment, or tracing paper and use that to trace the holes with the awl/needle/seam ripper.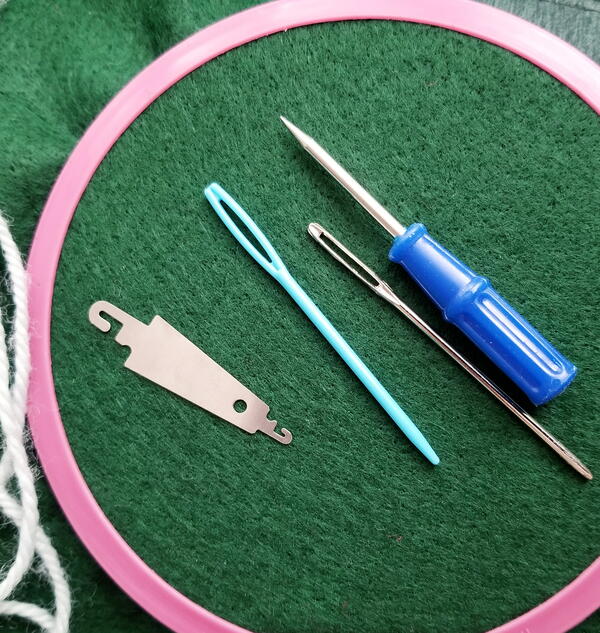 1. Thread the needle with yarn and cut the piece from the skein or ball of yarn, leaving as much as you'll need. Keep in mind that it's best to leave excess so you don't run out but if it's too long, it will take longer to sew. I usually leave about 15 inches for a small project. You can always knot together more if needed, so don't worry too much about the length you're leaving.

You will also want to pull a few inches of yarn through the eye so that it doesn't come out. Knot the end of the yarn so that it will not go through the fabric. Two knots in the same place should suffice. Leaving a tail can also help when finishing your stitching.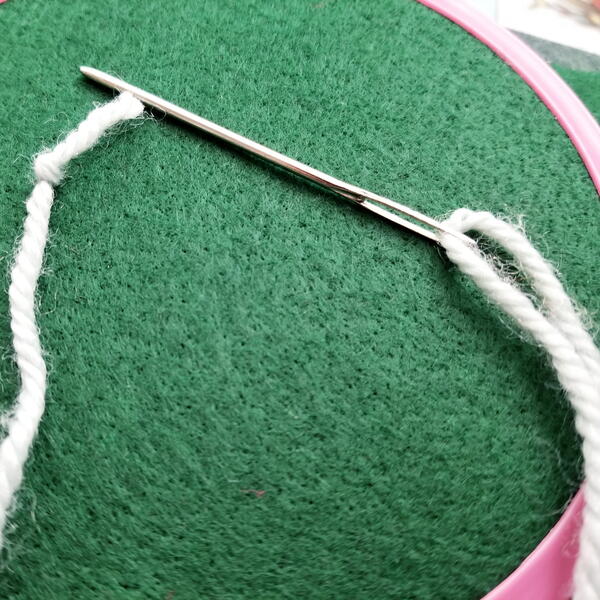 2. If desired or needed, poke necessary holes for your design with an awl/sharp needle/seam ripper. I winged my design of three hearts.

Note: Using a pointed tip can be dangerous. Do this on a self-healing mat or other safe surface. Never do this on your lap or a surface that could be damaged.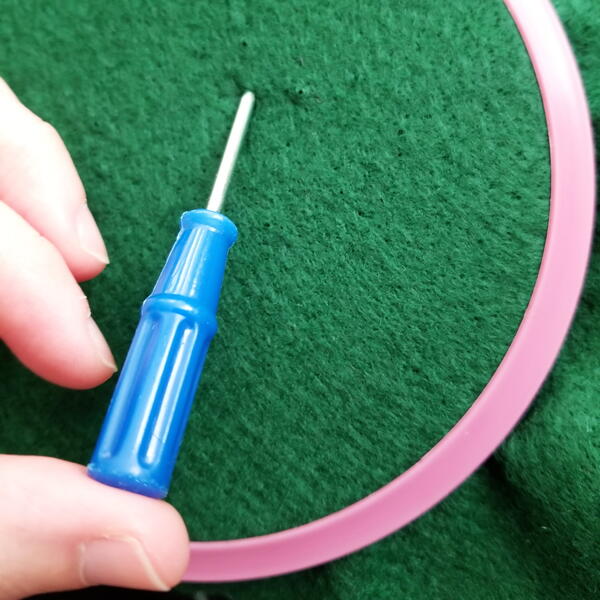 3. Start sewing by pushing the needle through the back of the fabric and up in the first hole. Pull it until the knot reaches the back of the fabric. Push through into the next hole from the front and through to the back.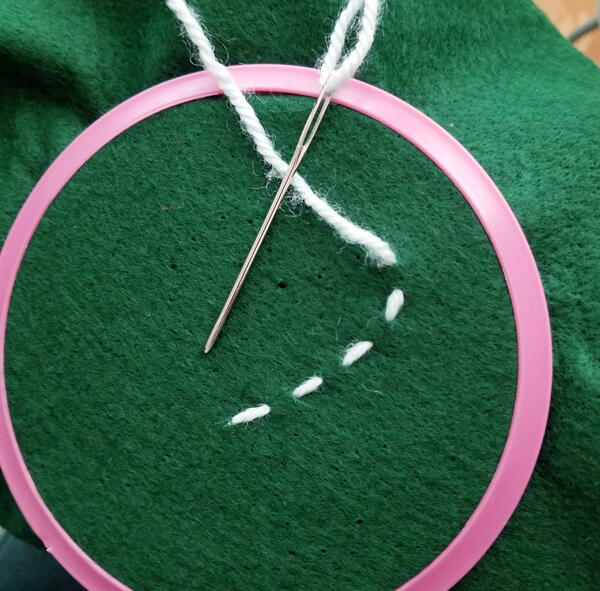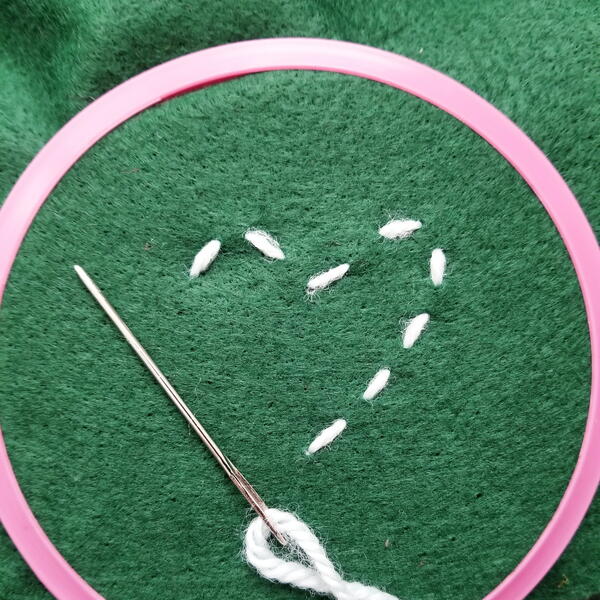 4. Continue this process until you have completed the stitching.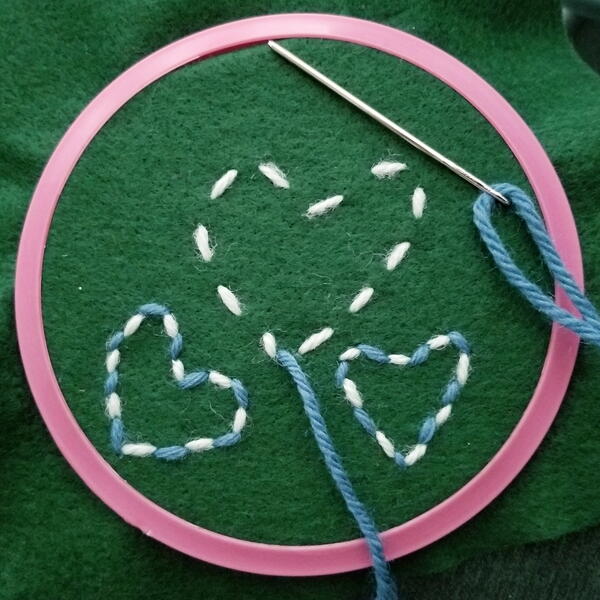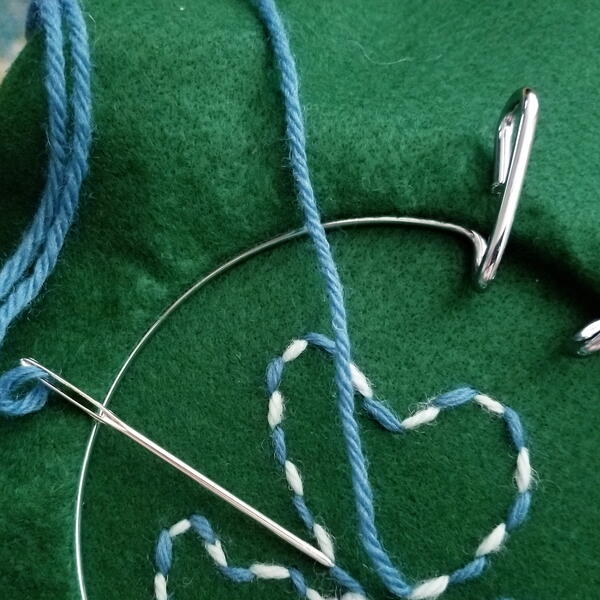 5. Once finished with your stitching, tie/knot off. You can do this by pushing the tapestry/yarn needle through the back yarn and weave to knot. Or you can use your hands to knot the tail. Cut any excess yarn if needed.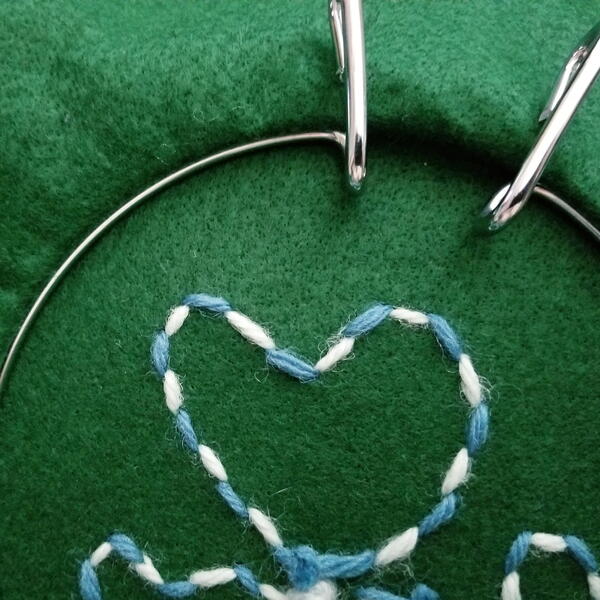 Since I used two colors, I repeated Steps 1–5 again with the second color.

Note: I decided to create a design to show each color once around the hearts. To do this, I used the same holes for the first color but pushed the needle out on the side of the existing color and continued in the opposite (open) areas.

You're done! Remove the embroidery hoop and finish your piece as desired.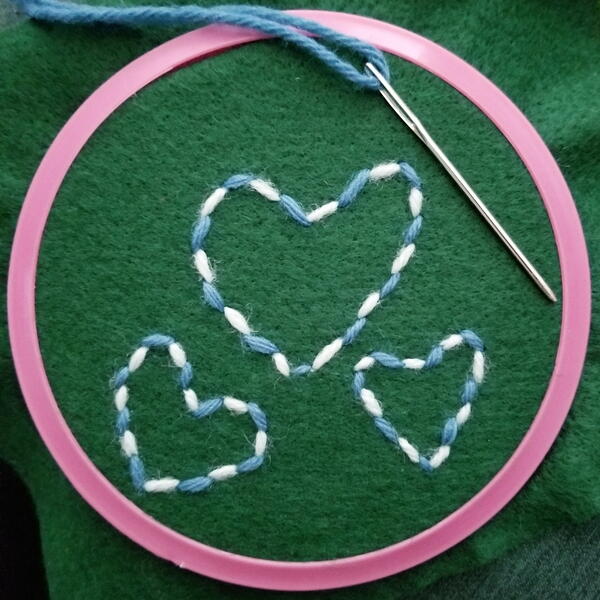 How to Sew Yarn on Canvas Sheets
Our friends at FaveCrafts actually have an awesome tutorial and project already! Complete with a video, it will show you how to work yarn or similar fibers like raffia into a canvas sheet to create all sorts of projects depending on the design and shape of the canvas. In this case, it's a beautiful placemat.

Click play to watch the video for this Spice Islands Placemat Pattern and visit the page for the full written instructions.
 
How Do You Sew Together Yarn Art Pieces (Crochet and Knitting)?
There is a surprising amount of sewing in crochet and knitting. Though you can sometimes use crochet hooks and knitting needles for piece assembly, it's often done with a yarn needle. Read the guide How to Use a Yarn Needle to learn all of the different ways it's used in crochet (and knitting). Most commonly, a yarn needle and yarn are used to assemble granny squares, clothing, and amigurumi. Also, to add "topstitching" embellishments. Here are a couple of additional resources:
How to Seam Knitting: 7 Methods from our friends at AllFreeKnitting
How To Whip Stitch Crochet from our friends at AllFreeCrochet - plus, we're sharing their video showing you how to do it right below!
Yarn Sewing Projects
Need inspiration? Check out these fun sewing projects that use yarn. Some do not use a yarn/tapestry needle but we wanted to include them for anyone who wants to get more practice working with yarn, plus it's nice to have a variety of ideas in your arsenal.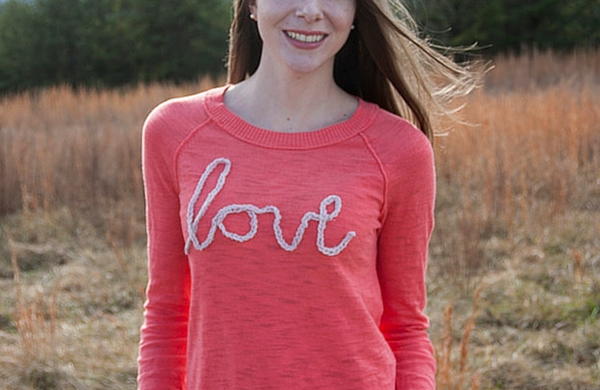 About the Author:

Krista Childers is the Senior Content Editor for AllFreeSewing. She has a passion for creative writing and trying every craft at least once. Find more of her work here: Krista Childers
Free projects, giveaways, exclusive partner offers, and more straight to your inbox!
Tags / Related Topics
Your Recently Viewed Projects
Images from other crafters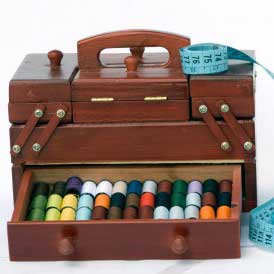 Something worth saving?
SAVE all your favorite patterns
ADD personal notes
QUICKLY reference your patterns